Essex County Correctional Facility
Prison Essex County Correctional Facility, 354 Doremus Ave, Newark, NJ 07105, United States:
38 reviews
of users and employees, detailed information about the address, opening hours, location on the map, attendance, photos, menus, phone number and a huge amount of other detailed and useful information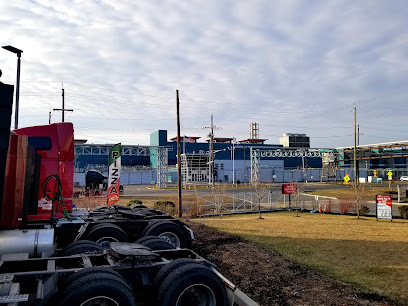 Address:
354 Doremus Ave, Newark, NJ 07105, United States
GPS coordinates
Latitude:
40.7204844
Longitude:
-74.1263218
Location on the map
Reviews Jackie Pike
I've never been there yet . Perhaps one day I'll entertain the family for brunch
9 months ago Manjit Thind
Very nice place, cozy atmosphere and good ambiance. Great place to grab a bite to eat, take a shower, and maybe get yourself a date. Highly recommended.
7 months ago ROBERT RILEY
They don't let you leave don't go there !!!
1 month ago Kai Winterton
I'm giving five stars for the irony that you're actually reviewing a jail.
9 months ago Lynn Zobel
Went there today Jan. 19, 2020 for a 2:30pm no contact visit. Two females had a fight, one of which had a visit. Her face was bruised up by some loud mouth young lady who was the aggressor!!! When the officers popped the gate for the inmates who had visits, the loud mouth came through the gate as well. Isn't that's why officers suppose to be on duty, to prevent things like that!!?? I see citizens don't get protected in or outside of a correctional facility!!!!
7 months ago Tammy English
I'm going to jail soon
4 months ago paull obrien
Terrible room service and many bedbugs. Very affordable though.
8 months ago Jessenia Nieves
You can tell the immigrants that are paid to make fake google accounts and rate places 5 stars. The staff is ghetto and unprofessional. Nobody wants to visit a jail. Families dont go there for fun.. They go to see a love one and its an awful thing to have to go through.. Please be considerate. And cordial in the least.
6 months ago Reynaldo Molina
Unprofessional. Neither of the staff is on the same page. I live over an hour away from the jail and I wanted to know if I was on the visiting list for a loved one and I was directed to call in advance. When I did so I received extremely rude service and they ended up hanging up on me when I asked about the front desk telling me to call in.
6 months ago Brian Deveau
Every time I called for information I was disconnected. I am 1300 miles away trying to check on my nephew .
3 weeks ago Jennifer Long
This place is the worst. They very nasty when you asked them a question and then half the time they don't answer the phone. I will start asking for names and making further phone calls to start holding someone responsible.
2 months ago Chris Carlton
1) The phone systems barely work for my husband to call my kids and I. It's been that way since he's gone in 6 months ago! Every single call that he's made to us in the past two days have been disconnected before the system even kicked on to press 1 and accept the call. It's very unnerving when you can't hear from your loved one. 2) Not that I expect much coming to this place BUT a majority of the staff is very unprofessional. Male guards wrestling around when waiting to see the person you're visiting. They also give you a huge attitude if you ask questions bc they give you all of the wrong info over the phone, if or when they even answer. Bathrooms are also disgusting.. Some of the toilets in the ladies room are even missing seats and the bathroom looks like it hasn't been cleaned in ages.
6 months ago jp yaduvanshi
The worst place to have to go! They make you wait forever to see your loved ones. I'm out of state in supposed to get extra time 9 times out of 10 i don't get that! Co's let people they know get the extra time or go straight to thier visit and cut your time!
9 months ago RB B
Come for the cuisine, stay for the laughs. Met some great people here!
6 months ago Jon Miller
My dad was at this Jail for 3 months. Going there every weekend was the worst. It's a disgusting place, and so are some of the Security Guards out in the front for Window area and also Contact visit. Some are helpful while others like to have an attitude. Something a security guard should not have they make their Jail look worst than what it already is.
2 months ago Kalita Blessing
I added money to my loved one through the app "connect network", he never could call me because it didn't show in his account, and some of the inmates told him that the guards take the money and then play dumb when somebody make a complain or ask for the money.
6 months ago Mike Dee
Honestly, not a fan. It hurts to write this review, but I must to show my blog buddies not to rent here. After my wonderful AirBnB at the Rahway "Jail" I was ecstatic to try another place similar when I was heading around NJ. Little did I know I would be in a surprise. Staff was HORRENDOUS to me and my son. I was told that this was not a AirBnB AFTER I purchased a 3 night stay here, NO REFUND WAS GIVEN. I was thrown on the ground and called a "skanky boy" through the window bars, which gave off a "ghetto" feel which was not homey. I still gave it two stars because the people outside were really nice to me, however a little too "nice." All together I would say it's okay for a visit but not a stay.
4 months ago Lareia Nichols
I highly recommend the Rodizio, it was great. The room service was a little underwhelming.
4 months ago David Laughon
Visiting someone in here can be challenging as Most of the staff are friends of inmates or friends of regular visitors, see for yourself. No matter how early you get there you can still be there for hours. You try to complain and they will just banned you from visiting so you don't wanna do that ether. Don't know if the side for immigration detainees is the same way though.
4 months ago Krishna Avva
Terrible food especially mashed potatoes. In general, this place is a nightmare. Avoid at all costs!
6 months ago Brandon Lewin
They dont answer phones and if they do dont want to give u no info.there very nasty to the families on the phone or in person like if they are criminals.not professional at all.
3 weeks ago Deborah O
I have a question im not familiar with jail but heres a stupid question can you email a prisoner in jail this present jail actually
10 months ago Poker Star
Place dirty, staff very unprofessional, no one answers the phone or they put you on hold for 30 min and then they hang on you. No one knows what's going on, there is never an answer to your questions... administration need to pay more attention of what is going on there.
6 months ago Theresa Pankowski
The money is great!!
11 months ago angela alverson
jail
3 weeks ago Jelani Bass
Green monster
9 months ago Debra Ehrhart
Rachet is hell
10 months ago James Budny
You come here most of the officers they treat you like you are a criminal and not a visitor. For the immigration section they make you mike a line for more than a hour and a haft
10 months ago Wasim Zeitouni
Visited my uncle once super unprofessional
10 months ago BISHOP SORONKO
This place sucks but I guess it wasn't designed to be a country club. Go figure
6 months ago CHSV Funfest
Don't go here...
6 months ago Willette Owens
Just to receive information they never return calls
2 months ago Rushil Pannu
I don't have any I haven't gone yet.
2 months ago Johnathan Rowland
Bullshit
4 months ago Johnny Forgey
Es un lugar muy bueno tratan las personas comí seres humano very good
1 month ago o i
No puedo enviarle dinero alguien me puede ayudar
6 months ago Tony Vasquez
Mi hijo esta aqui
1 month ago Daryl Richardson
mitv bueno
4 months ago
Popular places from the category Prison