Montgomery County Correctional Facility
Prison Montgomery County Correctional Facility, 60 Eagleville Rd, Eagleville, PA 19403, United States:
42 reviews
of users and employees, detailed information about the address, opening hours, location on the map, attendance, photos, menus, phone number and a huge amount of other detailed and useful information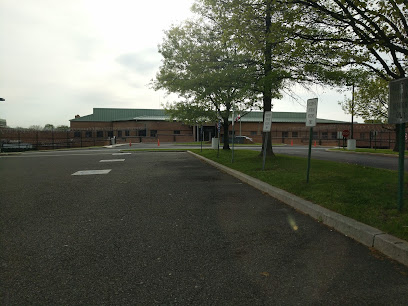 Address:
60 Eagleville Rd, Eagleville, PA 19403, United States
GPS coordinates
Latitude:
40.1588174
Longitude:
-75.4225258
Location on the map
Reviews BecDixon
Been coming here since 2017 and never fails to impress me. The staff has always been really nice, and for the price you pay, its pretty filling and the sausages they use always have the right amount of flavor. For fries, I always get large and pay extra for the white truffle oil glaze (trust me, it's worth). The only thing I'm sometimes not a fan of is the hot dog bun..I find it a bit too toasted and chewy at times. I recommend the Rattlesnake & Rabbit with Jalapeno peppers or if you want something lighter but still flavorful the Lamb with Mediterranean Spices is good.
10 months ago Bradley Grisanti
I think this place is great. Because when I go there it's on the right side of the bars to do work. The staff is very kind and easy to work with
4 months ago Eboney Grieve
I came up here to collect a family members property @11:15. It is now an hour later and no one seems to care that I'm just sitting here. Why are you employed if you're not going to do your job in a timely manner. I'm not a criminal and I don't have all day to wait.
10 months ago Erica Buzicky
no pudding.
6 months ago Bacon Ator
It is hard to say you like a correctional facility just by nature of its purpose but to run a facility down that is for the purpose of serving a sentence as a result of an offense committed is ridiculous. The officers range from very pleasant and approachable to maybe having a off day but don't we all. My one major concern if accurate is that male offenders are given a 1200 calorie intake per day which is way below the average for a male let alone one in a strict diet. This is unacceptable if this is truly the case.
4 months ago Brittany Goetting
Its funny how y'all will give PRISON a one ☆ review. It's NOT club med.... what do you expect? Personal chefs, yoga, couples massages and arts and crafts??? IT'S A REHABILITATION CENTER, NOT DISNEY!!! And IDK WHY you're in such a hurry to get booked...CUZ YA GOT ALL THE TIME IN THE WORLD NOW!!!
10 months ago Brenda Snodgrass
Yes the diet is very insufficient for a grown male/female. A cheese sandwich and hard beans for lunch. What about 2 undercooked wet hot dogs? 3 hard boiled eggs? How about getting beat up by staff who are on steroids? Community corrections "R" block does not have water fountains. Your set and locked down, there is no true way to get sufficient adequate water. Locked down and when you ask for water officers refuse you and say drink hot chlorine water out of your hands. Soap is provided but it rips your skin apart. 1 roll of toilet paper a week and if you run out guess what? Your using your hand. It's jail yes but jail needs to be humane. Then they have corrupt captains who will turn a blind eye and to the physical abuse to inmates. 25 to be exact since 2007. That's why 4 officers were fired and one was out on admin leave. It's pathetic. The medical department is a complete JOKE!!!!! So if an inmate has a seizure the officers think it's a joke. Then when the inmates are banging on the doors and literally cussing the CO's out and the CO's stop laughing they will call someone in. They do NOT have doctors on site. Maybe twice a week a physicians assistant will come in and possibly help someone. Detox from alcohol and benzodiazepines are the worst and you can die along with cases of opiate detox as well. The medical department will give these people the bare minimum if anything at all and say the inmate will be just fine. Funny because a man seized 2 hours after seeing the P.A and she told him "tuff it out". Oh yes there isn't adequate bathrooms or water systems for people on Q pod. People are locked up in a 16 man cell and he officers will joke with people and keep them locked down for hours on end. People living in feces in the corner of the cell because the officers would let someone who was sick or just needed to use the bathroom out. Really terrible. That goes back to the medical department. And when it gets so bad for people detoxing and the staff and officers are just fed up and do not know what to do officers and medical will send them to the medical block to be stripped of everything with no running water and 4 -8 oz styrofoam cups of water a day for grown adults and usually it's full of chemicals and chlorine and the cups are usually not filled up. This place is terrible!!!!! Yes jail is jail and it's punishment but really punishment should be humane and it's not it's ridiculous. And then when the news stations will investigate, everything will be covered up and all this goes on. It's awful. It's not right. There are a few officers and a Lieutenant I can give a shout of to who really do try to help the inmates and do the job correctly. Off.Wasson Offc. Newhouse Offc.Mitchelle (Omar Santiago no longer Offc due to legal issues) Offc Carfagno and Lieutenant Dolan. Thanks to all of you who actually care and aren't corrupt and that's why you guys get the upmost respect and never has anyone said anything bad about you guys.
8 months ago Angie Strader
The abuse and corrupt ness is concerning. I have been here multiple times. I understand it is a jail but I have watched correctional officers handcuff and beat two inmates on two separate occasions. The staff here are extremely corrupt. No wonder they're under constant investigation. How many people have died there in the past few years? Quite a few! The state needs to do some serious investigations here.
4 days ago Michelle Abram
Quite a great place. If this were me as a cop, i would transfer them into the prison itself. if i ever decided to work for a certain program, it has to be minimum wage. Full time, that's alright with me
8 months ago Carlos Rodriguez
refusing a birthday card because it has GLITTER on it? Are you serious????? what's he gonna do, sniff the glitter off of the card? gimme a break
5 months ago jessica seiler
The food. I was there for 3 weeks 2007. And never went back. The staff told me I'll be back cause most people do. I've never been locked up b4 I told her I'm not everybody stupid. I'm home today 10-9-2015. Fooled them I'm far more than a jail bird
8 months ago LUIS TORREZ
How do you have 25 people die since 2007 in this jail? That's a statistic for a big city. And this ain't a big city at all. It's ignorance I bet. Just ignoring the sick and letting the weak get preyed on. Just one day throw some of them guards behind them bars. Maybe they will be taught some humility. Person is a person, period.
4 months ago Clay Seaman
This is from someone on the outside: like most staff they are judgmental and selfish. Judging the inmates gives them the excuse to underperform. The judge at today's hearing did not want to lower bail b/c she was afraid my friend would regain custody of her child. But when I called the caseworker, she insisted the inmate has "no say" in custody since she is charged with child endangerment. Caseworker seemed to have her upcoming vacation in mind & did not have any compassion.
8 months ago Mark Steele
I was there2 years ago and it is a place where you can get some rehabilitation if you want it. Jail is a place where you live and learn from the mistakes that you made. The official are there to keep order for the safety of everyone. I cannot say anything bad about the staff, they are there to do a job and I am there to do my time because of what I did wrong. Respectfully goes both ways,everybody deserves to be treated with respect and I was never treated wrong while under the supervision of McCracken. Now on the other had RCF ON STATE ROAD is a place where you don't want to go. I hate that place, they treat you like animals and I will try my best to never have to go there ever again.
3 months ago Vivian Sanders
THEY WERE POLITE.. WHEN YOU ASK THEM A QUESTION THEY DONT GET NASTY THEY ANSWER AS BEST THEY CAN
2 weeks ago Iko Daniel
The staff that answer the phones when you call are very rude and when they say they will call you back, they wont. They also get mad when you ask for i formation on an inmate and tell you to look it up online. Uhm isn't that your job though? And how can we look things up on line when the system has been frozen since September 2015 when they redid their system? The COs are nice though when you visit. It's just the people behind the phones that need improvement.
2 months ago corina sims
It should be noted from the very beginning that an inmate isn't allowed to get a commisary package sent in from the internet before their $50.00 entrance fee is paid. Just to get it sent back and play hell in trying to get your refund.
8 months ago Marilyn Andress
Of course jail is not a nice place. Of course they dont want it to be a pleasent experience so that you dont want to come back. Well they are cruel here. Even punish family and friends who are just there not because they personaly broke the law or did anything wrong. except care about someone there. They treat everyone awful. They are all miserable. I have encountered about 2 pleasent c.o.s while visiting. The rest shouldnt get paid as much as they do to be a miserable pos. They sit all day and do nothing. No one answers the phones there. Or your questions. Family & friends are sometimes going through the worst thing in their lives when they come here. Think they would be a little sympathetic. At berks always a phone answer. always has answers to your questions. Here you get hung up on. Sent to voicemails that never get returned. Place is a joke. A bad joke. Wish something could get done with this place. Anything. Even if they would just answer the phones there id be happy. The c.o. if someone goes to court or the hole. Gives the inmates belongings away! That they paid for. Nothing there is cheap. Awful. This place really really needs to get itself together. Berks county jail makes this place look like a joke. Hope they get shut down.
2 weeks ago Tamara Deedrick
This place should be shut down! They have the worst people in the world working here. Im not a prisoner so i shouldent be treated like one! NICOLE, a women in change at the nurse's station lets her employee hang up on me and yell at me... This is outrageous. they dont care about the health of the inmates at all . they will let them die befor the help them. Yes they are criminals but they are also humans.
1 month ago M C
they have nice tvs if u get to c-pod and ur alowed out of the cell like 8 hours a day. Not enough food per meal tho and the male prostitute scene is scant almost nonexistant:(.
11 months ago Adriana Canto
This is a prison not a resort. If you are not satisfied with the "accommodations" Obey the law and stay out!!
2 months ago Rick Carter
Excellent accommodations ! attentive staff ! safe and secure neighborhood !
3 months ago Jonathan Davis
Worst experience in my life. No info,communication,or compassion.
8 months ago bruhwhat
Please make sure that former attorney general...K Kane, receives at least three care packages a day..from Hilliary Clinton.
4 months ago Gergana Kireva
Help I'm wrongly convicted of larceny and aggravated battery, please let me out
11 months ago Artem Martynyuk
Well I have been straying speak to someone havent been very polity ok
4 months ago Allorah Mason
It's a county jail period
11 months ago Heather MacDougall
Deplorable, woman are mistreated and basically abused! Medical treatment is non existent!!!! Worse then HELL
8 months ago Patrick Ervin
To see My husband
3 months ago natika francis
Yes I agree they are not nice at all and they don't like giving you information either, they need improvement.
3 days ago Nicky Wilkinson
This place sucks.
1 month ago Sunny Ahuja
not the nicest people who answer the phone
1 month ago Debo Darkage
Called to find out if a family member was there and individual who answered the phone in the intake/admissions department was very kind and respectable.
2 months ago Guylaine Gervais
Scumbags!!!
3 months ago rob morgan
I think that it is ridiculous that I have been calling these people all day and they do not answer my calls nor do they call you back like the voicemail says they will. They do not keep family members informed about what is going on like I was told I would be. Get your people to do their jobs!!!!!!!
4 months ago GREENZ YUTE
Feel sad for the people who work there... Are they that incompetent that they are working there? Dumbest people i have ever seen
8 months ago bfrobinson
They are horrible! they don't help you!! And have bad attitudes. Elizabeth who answers the phone to speak with case worker has a nasty attitude
8 months ago Romy Sharma
I've bee up here to visit my son 5 weeks in a row ever Sunday only to be turned away for the worst excuses ever today's excuse was you are 1 minute late check in time is at 2 not 2:01 pm smh I hate this place really just want to visit my love one
11 months ago Hedy DiSimoni
No response no help no message nothing smh
2 months ago flor fernandez
The most laziest staff ever no type of communication among each other !!!
2 months ago nate hawthorne
Trays up
3 months ago Dohn Joe
I can't seem to get any information. They aren't giving my family inside any information. They don't call back
6 months ago
Popular places from the category Prison