Attica Correctional Facility
Prison Attica Correctional Facility, 639 Exchange St Rd, Attica, NY 14011, United States:
45 reviews
of users and employees, detailed information about the address, opening hours, location on the map, attendance, photos, menus, phone number and a huge amount of other detailed and useful information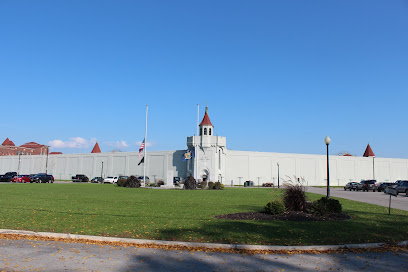 Address:
639 Exchange St Rd, Attica, NY 14011, United States
GPS coordinates
Latitude:
42.8493767
Longitude:
-78.2757215
Location on the map
Reviews ara kim
Large Gated Community in beautiful Upstate New York. Pros: Complimentary meals and lodging, on-site healthcare. 24-hour security staff on premises. Long-term occupancy available. Cons: Pretty much every resident will be one. Gate(s) do not open from your side and nightlife is reportedly non-existent.
6 months ago Sean Greeley
Excellent nightlife! This place has more bars than Las Vegas!
7 months ago dishon pitts
Average food, not much to do during your stay. It is nice to disconnect these days but not much else going for this place.
1 week ago Kolby Gordon
Ha haa these guys with 5 stars, and some amazing review comments. None of you deserve this place guys good sense of humor Lol.
6 days ago Rayne Juniors
I spent 10 years of my life in a cell. low quality toilet paper.
11 months ago Olivia Parker
I think it's a great place if you need to detach from technology and are looking to experience the disney world of western NYS. Food is not that great but if you are innovative you can make do. They don't clean your room but they do offer room service. There is a lot of exciting things that can get your heart racing. Over all I had a great time and a lot of laughs
3 months ago William Cunningham
Soap-On-A-Rope was invented here.
7 months ago kennedy james
Worst service ever, asked the lady at the desk if i could to speak to john lennons killer to see if he was ok she would not let me see him poor poor service
2 weeks ago Steven Jenkins
Service was so good that you can't leave, loved the tossed salad!
3 weeks ago hitch vvv
Lol someone wrote, "this is a prison, why are there 5 star reviews?" Well... sarcasm ????
5 months ago Joey Barker
help ive been locked up for tax evasion
6 days ago Tyla Eastwood
Food is terrible. The tossed salad is the worst ive ever had, even with ranch.
4 months ago Alejandro Henao
Worst summer camp ever!!! Longest summer ever!!!!
2 months ago Alex Roque
I was not a fan of this place, it was full of criminals and the employees treated me like a criminal too. Service was exceptionally slow, I swear it was like fifteen years to get outa that place.
6 months ago P Dobranski
A Less Than Reputable Work Staff, But Amazing Water Pressure On The Shower System, It Really Got Between The Ridges, If You Know What I Mean.
10 months ago Joyce Jemerson
Toughest part of prison was definitely the dementors.
7 months ago Svetlana Smirnova
The staff hit me with clubs when i complained about the quality of the food and how terrible the bed was. Checkout took forever they didnt get me out of there for ten years. Will never make reservations here again.
2 months ago Alexander Cook
Still trying to understand Jennifer's review. I guess it's hunted...but I didn't see any deer on the grounds. Anyway, the architecture is amazing, take the tour! But it's not worth more than one star.
3 weeks ago Neal Cannon
Food and accommodations are worthy of a 5 star hotel. However one morning my coffee was a little "less than hot". If this happens again I'm going to threaten the guards to knock them down to 4 1/2 stars.
6 months ago Carlie Sullivan
Very large and outdated.
2 months ago lori weinstein
These reviews are worth 5 stars ????????????
8 months ago Ronnie Riddle
Food's great!
6 months ago Peter Baldacci
September of 1971 the worse riot ever!! R.I.P. to those who lost their lives!!
8 months ago Brian Hailey
The guards are harsh but the food is superb! As a CO (Correctional Officer) I find the accommodations quite pleasant.
10 months ago Chesky Oberlander
Decent hospitality with friendly staff.The food was delicious and many recreative facilities like basketball,wrestling,(prison)cage fighting are also worth witnessing!Found many celebrities there !Hoping to visit them again????
6 months ago Hannah Reasons
I was in this prison in the mid-eighties. One of the worst prisons in New York. I've seen it all. Snitches getting burned out of their cells which they should be. Stabbings left and right. The officers nightstick talks, the officers dump. If you can deal with the fact of looking out your cell door and looking at a concrete 40 foot wall,, then this is the place to be. Get used to the fact that you'll never see a tree
6 months ago Averi Donaldson
I came for the riots, I stayed for the tossed salad. DAMN, I gots turned out.
3 weeks ago Alex Golshani
I was there back in 1974, it was rough, very rough. The screws (guards) would give you the business for looking the wrong way. I was doing 10-15 for running numbers back in the Burroughs, made bank, but some fink tried to interfere in my game, so I had to make him count sheep! While I was in, I was known has Gio the Leo, because I was like a Lion when it came to playing the game. Attica couldn't tame this Lion, I did my time, then stayed straight getting a job as a shoe repairman.
10 months ago Melanie Joelle
Took part in a prison riot. 10/10 would destroy the inner tower fence again. And I even got away with it!
10 months ago Bob Hrouda
It's a prison. Why are there positive reviews of this?!
10 months ago Leah Seter
Attica Correctional Facility teaches prizioners very very hard core lesson where it is when prizioners get out some of them straighten up there life's and some w them don't straighten up there life's where there right straight back to Attica Correctional facility and is Attica Correctional Facility building's really still hunted cause I saw a long while back on life time or life time movie network about Attica Correctional Facility that it was hunted and is still hunted all over every where in all and every where of Attica Correctional Facility building's is it true that Attica Correctional Facility is still hunted please get back too me I would like to know! Thank You Jennifer Rivera in Oswego Ny in upstate Ny
11 months ago Janella Slate
Please free me. I have been wrongly accused of theft
3 weeks ago bry parreault
Food great had the best rest there
3 months ago Keisha Walker
Only 2 star review.
3 weeks ago Joel Ramos
They won't let you leave
10 months ago Cherie Blanchard
I hear the food is terrible. But, as a facility it seems very safe too.
6 months ago Gordie Jackson
They don't let you leave
6 months ago Matt Turner
Black glove crew. Abuse and violence rampant
6 months ago Steven Gibson
I remember that day in 1971!! And the days following!!
11 months ago Heidi Ferring
Don't like they treat the man wrong
6 months ago Keisha Merritt
This joint is a riot!
10 months ago Ana Cervantes
Aaa
11 months ago Sveta LOP
ATTICA, ATTICA, ATTICA
11 months ago William Neal
En una cárcel de máxima seguridad la única manera de poder jugar al ajedrez es esta
11 months ago Minnie Green
בית סוהר שווה!!!
10 months ago
Popular places from the category Prison