Oral Surgery Associates and Dental Implant Centers
Oral surgeon Oral Surgery Associates and Dental Implant Centers, 740 Prince Ave Building 1-A, Athens, GA 30606, United States:
37 reviews
of users and employees, detailed information about the address, opening hours, location on the map, attendance, photos, menus, phone number and a huge amount of other detailed and useful information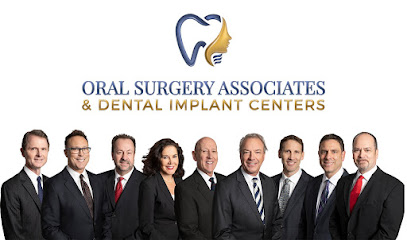 Address:
740 Prince Ave Building 1-A, Athens, GA 30606, United States
GPS coordinates
Latitude:
33.9618032
Longitude:
-83.3889111
Location on the map
Reviews Sheila Xie
Having received good care from three years ago from Dr. Gray and staff, when I recently again required oral surgery, I knew exactly where to go. Once again, a professional team was ready and willing to answer my many questions and patiently walk me through my options. I hope I won't experience another serious dental issue, but if I do, I will make an appointment with Oral Surgery Associates on Prince Avenue in Athens.
6 months ago Ggyrkrk Fkfkfpfg
Excellent polite staff. Dr Gray gave clear explanations and advice concerning some complicated issues. Treatment for wisdom teeth was painless.
6 months ago Jennifer
They got me worked in and did my procedure that same day. I have been hurting for 2 weeks. Highly recommend them. Staff was amazing from check in to check out. Dr. Pollack explained what was wrong with me and explained the options. He made me feel less anxious. Now I'm pain free.
9 months ago Joseph Weiss
Dr. Gray is outstanding! He eased my nerves the whole way through my procedure. He explained everything well, and made sure I understood what was going to happen. His assistants were all very polite, sweet, and professional. And the ladies at the front desk are just as sweet as well. I highly recommend this office.
1 week ago Angela Cunnington
Very professional Doctor and staff. They explained everything to me and all went as expected. They function as a team and made me feel good about what they do. I highly recommend to all who need their service.
11 months ago Selvie Nikaj
I had the best experience during my wisdom teeth removal with Dr. Pollack. His amazing anesthesia/nursing team made pre-op and post-op comfortable and easy. The quick, painless recovery was also amazing! Thank you!
1 month ago Lori Johnson
I didn't want to get all 4 widows teeth pulled, but I didn't have a choice. They did a very great job, and recovery was fast. If you need anything done I would recommend this place.
1 month ago Evil Bear
I have avoided having the removal of all 4 wisdom teeth done for the past 10 years. YES, 10 YEARS because I absolutely hate the thought of pain. After my 3rd consultation, I decided to go ahead with it. Little did I know...Dr. Gray and his staff are the BEST. After having surgery and removing all 4 wisdom teeth on Friday, July 10, 2020 at 11:15 a.m., I was back at work Saturday morning at 5 a.m. Dr. Gray and staff, YOU ROCK
4 months ago Cassandra Knapp
Best oral surgeon I've ever been to. Pulled out my tooth that was close to my sinus in 2 min literally
5 months ago Alexander Iono
Very good experience, thank you
5 months ago Sumit Kumar
Shayla Nash, getting ready for a tooth extraction and wisdom tooth removal and so far the staff has been very friendly and informing.
9 months ago Shivangi Chak
The people their was very nice and helpful.
10 months ago jeanie collins
Had 2 wisdom teeth removed the whole staff was great I would have to give this group 6 stars. Tyvm for the way I was treated
6 months ago Mya Page
Dr. Gray and his staff are Awesome ????, I'll refer my family, friends and co-workers, I had 2 wisdom teeth extracted with little bleeding and little pain, Dr Gray waswwas I'm a satisfied patient ????.
9 months ago Peter Harper
Anytime I need an Oral surgeon I always go to Dr. Gray. The back office staff did an awesome job and was very caring. As I was receiving the injection to numb the area to be worked on it was extremely painful and the nurse put her hand on my hand and said a few calming words. That touch brought me back to life so to speak and I realized I was not alone. Girls keep doing what u r doing. You made me feel so much better.
7 months ago Rickey Towery
I was sent to this office because I had a tooth that had a failed root canal. My dentist sent me to an Endodontist that charged $140 for x-rays to tell me the tooth is un-saveable. So my dentist and the endodontist send their own xrays to Oral Surgery Associates. When I get there they say "they never received the xrays". So they want to take their own x-rays and charge me $160.00 just for x-rays. I called the endo & regular dentist while I was there and had them re send the x-rays they took. The whole time I was there I was talked to as if I was an ignorant child. The day of surgery the nurses had a REALLY difficult time finding a blood vein for my anesthesia ( see pictures below). The nurses poking me with needles almost hurt worse than the tooth. I had bruises for 2 weeks. What was very interesting to me is that when I came to the Monroe office for my follow up after the tooth being pulled there was a older gentleman in the lobby and the front counter told him the same thing. They told him that his dentist office never sent over his x-rays and that they would have to take their own for $160.00 that day in order to help him with his tooth.
7 months ago amin shams
The staff was amazing and so helpful today. The process of an extraction was quick and simple. I was able to hold a nurse hand while I got the local anthesia. It was great that they called to check on me. I would never allow anyone else to do my oral surgeries. Best place and highly recommended. Dr.pollack explained everything as he went through it and reassured me I wasn't doing great and just fine and told me step by step what to expect as in pressure or stings or pinches. It was not bad at all. I'm healing quickly and great.
5 months ago LATICA
I was very pleased with my initial visit to Dr. Gray. He explained the proposed procedure, presented me with options, and explained everything thoroughly. I have had implants previously, and know that when Dr. Gray inserts two additional implants, I will be in good hands. I had my second visit to Dr. Gray for the actual procedure. He had to extract a tooth which was planned, but Dr. Gray did not immediately place an implant because he felt it better to let the area heal rather than place an implant tht might not fit. He explained carefully the issues, and I agree with the treatment plan. He and the staff could not have been nicer and more caring during the procedure. Even though I will have to wait to get my implants, I am comfortable with the rationale behind the treatment plan and look forward to my future visits to the practice.
1 month ago Traci Griffin
My teenage son had all four wisdom teeth taken out. The office staff was incredibly attentive and kind. Dr. Gray was awesome. They'd already called and checked on my son after being home only a few hours. Highly recommend! Kellie Scott
8 months ago Brian Schon
Awesome Facility. We were given a very fast initial appointment. The waiting area is very nice. Not a long wait time to be seen. The staff is excellent and Dr. Pollack is very nice. We were quickly scheduled to have my son's wisdom teeth taken out. I would defiantly recommend them!!!
11 months ago john larrick
Visit and staff was A+, even with our current situation the visit was smooth and quick
11 months ago Todd Lamkin
Outstanding staff, and facility. I had four wisdom teeth removed, and my recovery is going very well. I highly recomend them to anyone that's in need of oral surgery.
11 months ago Che Kevin
Was very nice and thorough have appt for extraction first time being there
7 months ago Jen Raber
Dr. Pollack and all of the staff were great. I am not the best dental patient but I had a molar extracted on Friday. The procedure was painless and best of all, I don't remember a thing. The staff is so friendly and helpful and Dr. Pollack is very calm. Would highly recommend this place to anyone who needs an extraction.
3 weeks ago Tristan Greenlaw
Great people...absolutely painless...follow-up, very professional....nice folks....UPDATE..HAD ANOTHER ISSUE!!! called at 8am, explained the situation, the first words they said "how soon can you get here" I walk in the door at 8:45...in great pain..by 11:30...I was repaired and comfortable... And on my way home...God bless these folks, dedicated professionals and bend over backwards to take care of the little people...just doesn't get any better.
3 months ago Tuhin chakraborty
Professional, friendly and detailed staff. My doctor was very informative of how things were going to go and what to expect after. I would definitely recommend this office if you are looking to have any kind of oral surgery done.
8 months ago Nicole Kendrix
Wonderful experience here! The employees are very helpful! I had my wisdom teeth taken out yesterday and it only took them 20 minutes to do it! I highly recommend going here. Very pleased with the service.
10 months ago Johnny Mesa
Everyone is extremely professional, helpful, and kind! It was a great comfort during my visit. Highly recommend!!
7 months ago Ralf Chiu
Second time visiting in two years. Staff always helpful and calming to a nervous patient. Very professional and everyone uses humor to set a calm stage for procedure.
9 months ago Brinton Smith
Love this place! The whole staff was awesome and very attentive to my son for our consultation and for his surgery!! Highly recommend!!!
8 months ago Benjamin Rose
I got my wisdom teeth out at Oral Surgery Associates & Dental Implant Centers on April 1st 2016, and it was an awesome experience. I was SO nervous for the surgery since I've never had any sort of surgery before. I feel so bad that I don't remember my nurse's or doctor's name, but the nurse made me feel so comfortable and she was awesome with my IV, which I was also nervous about. My doctor did an excellent job with the surgery. I had no complications and the pain was SO bearable. Getting my braces tightened hurt worse. And I really only had pain the first two days, and the second day was mild. The whole experience was a breeze. I would recommend this place to anyone, so glad they were who my dentist referred me to!!
5 months ago Doug Allin
Had oral surgery and 5 days later experienced a good deal of pain and an unexplained swelling. Called office and was offered an appointment two days later. Asked if they could refer me to an after hours location to see what was going on and I was told they thought there was a place in Buford, but didn't know who or have a phone number. Total lack of concern by office staff to help me when I was in pain and did not know what was causing additional swelling. I found another oral surgeon to examine me the next morning and prescribe the correct treatment. Do go here!!
5 months ago celine laffosse
Awesome people! Took my wisdom teeth out easily and as comfortably as could be expected!
1 month ago Abe Celentano
The entire staff was super sweet I was very very afraid and they made sure I was relaxed
5 months ago Tina Anthony
Took tooth out (assessed) in one piece! Friendly! No pain!
2 months ago Pam Pump
I have been treaded by this office on several occasions over the past 5 years. I have been treaded with upmost respect each time. They try to make you comfortable from the moment you walk thur the front door. It was a pleasure dealing with this office & the fact that they take any insurance made it that much less painful! HaHa
5 months ago Bill Gagnon
Horrible experience! We were referred to this office by my child's dentist. I would never let them touch my child!
9 months ago
Popular places from the category Oral surgeon