Best Buy
Electronics store Best Buy, 13107 40th Rd C300, Queens, NY 11354, United States:
220 reviews
of users and employees, detailed information about the address, opening hours, location on the map, attendance, photos, menus, phone number and a huge amount of other detailed and useful information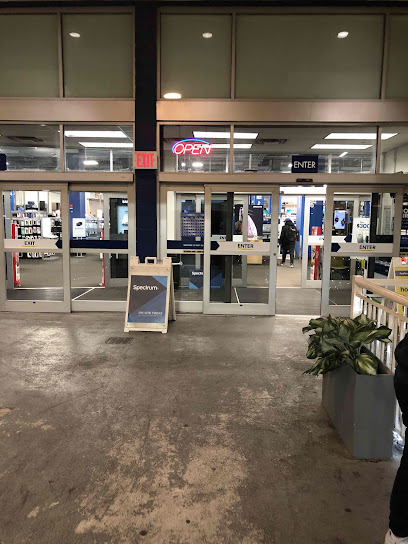 Address:
13107 40th Rd C300, Queens, NY 11354, United States
GPS coordinates
Latitude:
40.7563333
Longitude:
-73.8369441
reviews Laura Bice
Not crowded , best of all found what I was looking for. In and out of store today. Sales rep. was very helpful and professional.
5 months ago Tia K
They have everything here its so awesome and love the amount of technology they showcase. Hope they always stay up to date with latest gadgets. Great options for prebuild PCs and any style of monitors available. The nintendo area is lit ???? since they showcase all types of Mario characters.
7 months ago Maurice Young
there a lot customer service but dont want to help out. or pretending to be busy doing something.
10 months ago Carmen Suarez
Long Best Buy consumer and among this location and Regal Park, I must say Sky View mall has done a great job with all my purchases. Patience and attention to detail!
7 months ago Keyshawn Leffall
Following covid regulations is very nice as usual. The employees keep the place very sanitized. Employees would ask you if you need help time to time which I think is very helpful just in case I need help. They don't restock a lot for …
8 months ago Tammy Adkins
They say curbside pickup and at this mall it's needed to avoid the crowds and parking tickets but guess what..? You need to PAY for the parking garage and wait INSIDE the paid parking garage for "curbside" pickup. This area is a nightmare …
11 months ago ravi kavita
I went to the best buy in northern blvd... Looking for the Google pixel buds. They did not have them on stock. I simply asked a follow up question to the sales rep... Do you have them in two park? She reply, no, no other store has them! I …
1 week ago Trang La
Best buy is a store own by other vendors. No one works for best buy anymore. Its self service. No one will approach you to ask for help. Everyone works for a specific vendor. Like samsung, Microsoft,apple. Etc..
9 months ago Carissa Stone
Poor customer service! Employees talking among themselves ignoring customers needs. I can purchase everything online but decided to support the local store (even though it's a franchise) due to the pandemic, but after asking an employee for …
9 months ago Mahdi C
Part of large shopping garage, this Best Buy was pretty empty at 2pm. I was able to look around at my pace which was good. No one was pushy so it was a good experience overall.
1 month ago Brittney Bienfang
It's ok alot of stuff not in stock
6 months ago Jw Ww
Bought an Apple Watch here, service was quick.
6 months ago Robby Clerk
The staff isn't helpful at all, they don't even bother looking for the item you asked for. The restrooms are dirty and the sinks don't work.
9 months ago shashikant yadav
Great except you have to pay for parking otherwise 5 stars the store itself
8 months ago Chance Moir
The employee name kelly, the short Asian girl has a nasty attitude. Zero customer service whatsoever. When I went to the store manger Tony or Tommy whatever his name is to complain about her, instead of act in the customers best interest he …
11 months ago Mary Wedlund
I miss this more on the customer service that's online because of them I had to wait outside the store for them to open to be told I couldn't get something that I wanted to pre-order even though they told me the stock would be full the day of which sucked cuz it wasn't so I had to settle for something less and that's about it
7 months ago Heather Munafo
Good service. Helpful employees.
6 months ago Shannon Morrison
I will just say that if you can then just visit another best buy location.
10 months ago Brandon Ratcliff
Nice place. I go there regularly
10 months ago Funky Realms
This place needs better lightin or something, looks dark and somber. Other than that good service.
2 months ago Saif Aljanabi
Very helpful staff always ready to point you In the right direction answering your questions about your situation. They also carry a variety of electronic products at reasonable prices.
10 months ago keith edwards
Review is my purchase of Stove and Refrigerator from this Best Buy location. I purchased a stove model LG LSG4511ST/00 on December 2019. Prior to the purchase I was greeted with a knowledgeable store associate who know about difference …
1 month ago Bryan Dalton
Its was good! Staff is kind ????
6 months ago Nicholas Dietschler
Kenny was very helpful and knowledgable !!! Hes the best at geek squad.
9 months ago Corey Salisbury
The staff in the TV dept where super nice. But u do have to find them. They don't run to find customers who may need help.
11 months ago benjamin meholjic
Love their electronics!!! And I like going to see my favorite Nintendo games and Nintendo eShop & Nintendo Switch Online Membership cards
4 months ago Raphael Hidou
They are really improving... before I've wouldn't give even one star,but now it's the way better as it suppose to.
6 months ago Lukas Pestalozzi
I experienced great customer service.
7 months ago cleo hollis
Easy to find an employee when I had questions, very helpful. In and out of store on 15 minutes.
10 months ago Jacob Owen
The geek who took my computer at first visit promised that issues were easily fixable and acted in a fairly professional way, convinced me to get the $200 annual insurance. After payment I realized $20 is for a software that I do not need- …
11 months ago Kim Hartzog
Wonderful easy to shop , there's BJ target and all these famous store here
11 months ago Jenny Zapata
It was a nice and decent store.
6 months ago Tara Gregson
Update 3/18/2019 It's mess up your employees doesn't know much about you can pay via gift card on Wallet App iPhone. BestBuy educate better your employees, that's how you want beat e-commerce like Amazon? That's why you're broke, and …
7 months ago Gean Cannady
I saw bad reviews about this certain location and prefer to go to rego park but since it is the closest to where I live and because of the weather I had to go to this location.Worst customer service ever, management does not know their own …
10 months ago Marcin P
Flushing best buy Is like a ???? gem on the Stars every time I go there and I ask about my computer questions or my technical questions they always have an answer for me and they know exactly what I'm talking about never had any complaints with the store wow customer services very polite and it's there
3 weeks ago Talon Vanslack
The vibe is just weird lol maybe the place needs more light
10 months ago Yang Nyoum
PERSONAL SERVICE...ATTENTIVE STAFF...HUGE VARIETY...CARRIED MICROWAVE TO CAR...
3 weeks ago Nick Graziano
when I make online order and pick in up store ,when app show me ready to pick and they ask me to stay for 15 min but there got no customers, and they just make talking
8 months ago Jason Brownlee
Very good. Fast service
10 months ago Robyn Bemis
Very organized but didn't find what I needed so didn't go around the entire store. Kind and helping Customer Service Reps. ????
10 months ago Elizabeth Stanley
Draby looking place needs to be lighten a bit dark and dank
8 months ago Tim Holmes
All the staff was really helpful.
7 months ago Karla Andino
Always helpful and they encourage getting in and getting out. Super convenient. My favorite Best Buy.
4 months ago Eve Kelso
I would give this place ZERO stars if I could. Me and my fiancé went to purchase a new iPad with accessories and couldn't even get a hold of a sales person to help us. We stood at the Apple table for about 30 mins, while everybody around us …
6 months ago Debbie Wall
Worst store ever, I will never go to best buy ever again. They treated customer badly
10 months ago Adam Sandoval
Little under staffed, waits can get pretty long. Over all not bad.
11 months ago Svetka Svetka
The management doesn't know their own policy on price matching. Says they don't price match hp.com but their website says otherwise. I had to price match it online and then do a store pick up because the people who work at this best buy are …
4 months ago Fatima Abdullah
Was empty and nice
7 months ago glenn jones
Didn't find exactly what was looking for but didn't leave empty handed.
11 months ago Ricardo Olague
Normally is a good place to shop but I view looking for a laptop their limited and their stock
2 months ago
Popular places from the category Electronics store