North Georgia Hearing Aid Factory Outlet
Hearing aid store North Georgia Hearing Aid Factory Outlet, 800 GA-400 #525, Dawsonville, GA 30534, United States:
196 reviews
of users and employees, detailed information about the address, opening hours, location on the map, attendance, photos, menus, phone number and a huge amount of other detailed and useful information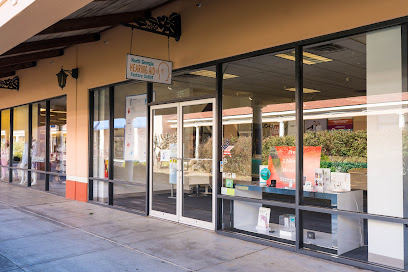 Address:
800 GA-400 #525, Dawsonville, GA 30534, United States
GPS coordinates
Latitude:
34.3572907
Longitude:
-84.0486418
Location on the map
Reviews Maryann Gay
North Georgia Hearing Aid Factory Outlet is AWESOME!! I have been wearing hearing aids for 18 years. I had purchased hearing aids from 2 other places before coming here. What a difference. No scam, no lies, no hassle! I purchased from them about 5 years ago and have not regretted it. They are always available and never charge for any of the services that are needed once purchasing. I get them cleaned, serviced and get yearly hearing tests all for just the one purchase of the hearing aids. At 57 I am hoping to need hearing aids for several more years. I will never go anywhere else. Thanks Amy and Brittany ❤️❤️❤️Beth
7 months ago PRIMA DONNA
I highly recommend North Georgia Hearing Aid Factory in Dawsonville for their outstanding customer service and attention to detail. The staff is wonderful and Brittany their audiologist takes the time to get to know you and your individual needs and takes the time to get it right. I was recommended by a friend and I can see why he did. They are now my go to hearing aid professionals.
2 months ago Keyshanda King
This is the BEST place ever! Amy and Brittany are great! I have been needing to get hearing aids and I finally made an appointment. It changed my life! I will not... I cannot do without my hearing aids now! The prices and the service you get after are unprecedented! Everything was just so easy! I paid for mine outright but they even have payment options (I believe)!
7 months ago Harps Judge
Happy with the service! Brittany the specialist is very knowledgeable. Always very helpful. They do not nickel and dime you for cleaning adjustments or repairs everything is included for no charge. Amy, Destin, and Halley are awesome as well!
8 months ago Claire Williams
I lost my hearing aids and set up a appointment to get new ones at Georgia hearing aid factory outlet The customer service was exceptional. Brittany did a outstanding job testing and getting the product I needed. Haley and Destin were very helpful and answered all of my questions. I have been wearing hearing aids for 20 years and this was hands down the best experience I have had! I highly recommend them!
10 months ago Christopher Benn
This office came highly recommended by my sister and brother in law and they did not disappoint. The cleanliness and decor of the rooms were calming and welcoming. The World Class Customer Service and expertise of the staff, Brittany, Amy, Haley and Destiny was very much appreciated. The "gift of hearing" is priceless. I'm really enjoying my new Starkey Hearing Aids for their look, comfort and technology. Rest assured that you will be fitted with professionalism and a variety of choices that best suit your needs. You can't beat the prices and care that you will receive from this establishment.
10 months ago Andrew Jordan
I'm a 21 year old college student, and I visited the hearing aid outlet a few months ago. Amy and Brittany both helped me during my visit. They did an excellent job of helping me understand everything that they were doing and explained my hearing test results in good detail. I now have a pair of hearing aids and have slowly been working up to my hearing prescription. I am not at my prescription and it is amazing how well I can hear now. Classes and projects have become much easier since I can actually understand what is being taught. I'm very thankful for these workers and the help they have provided for me. I would recommend that anyone with hearing problems pay them a visit.
10 months ago Hubert Riley
My husband and I were in the North Georgia Hearing Aid Factory Outlet Store today. Brittany gave him a hearing evaluation which revealed that he had severe hearing loss. She gave him a thorough examination and in-depth explanation of the results. In previous hearing exams no one has ever mentioned the difference in clarity and volume and the importance of both. After receiving this information Amy was very helpful in making the choice for the hearing aids that he needed and explaining the care and use of them. He can already tell a difference. He says that what he hears now sounds normal. That makes me happy.
10 months ago Jim Boumil
I've been a client for almost 2-1/2 years now. There is not a day goes by I am not truly thankful for this amazing business. From the owners, Jonathan and Brooke, to each staff member I have dealt with over the couple of years I've been associated with them, have been so accommodating and kind. You really are family when you do business here. Today, I met once again with Brittney, (she's so awesome) to have my aids looked at, she was so relaxed, not in a hurry and easy going, this made my 45 minute visit a real joy. She completely cleaned, updated and adjusted my devices so they are back operating at optimum precision once again. As a construction contractor I often forget to remove them in a dusty environment so they were really a mess...not to worry, Brittney took great care in reviving and renewing them! Professional, educated in their craft, and they have always stood behind their word. I am convinced you won't go wrong with these fine folks! One satisfied customer....Les S.
11 months ago David Rubright
While holiday shopping I walked into North Georgia Hearing Aid Factory Outlet. It was the best experience of the day of shopping and set me on the course to better hearing and the technology I needed to address the ringing ears. Brittany is awesome!
8 months ago Patrick Shea
This store is so wonderful! They'll work with you as long as you need & never make you feel rushed. They give you supplies . All hearings aids are rechargeable.No .more batteries! I have the stilettos. And no one sees them even when my hair is up. They look like a blue tooth. No regrets here.They're amazing!
8 months ago kasonia boner
I have been a customer since 2019 at this location and I can't tell you how helpful Brittany and the girls are here with taking care of me and my hearing aids. Any time that I had an issue with the hearing aids, I was able to text and make an appointment to see Brittany and get the issue resolved. They are quick and efficient in their jobs and they go above and beyond to take care of their customers. I highly recommend them for your hearing aid needs.
11 months ago Jack Boyce
On 4/3/21, Halley was very helpful and informative telling us about the different products they offer. She also described how the products have advanced since I bought my hearing aids in the past. Brittany was also there, they are both very nice, personable ladies. I look forward to dealing with them in the near future.
9 months ago Andrew Lamb
I have worn hearing aids for years but today, I can hear better than ever with my new Starkey hearing aids. Brittany was wonderful to explain my hearing test results and answer all my questions. Because of Amy and Brittany, I upgraded to new hearing aids at a very affordable price. I highly recommend these ladies and this office!!
10 months ago Karrigan Shankle
The staff was very friendly and extremely knowledgeable and helpful. Brittany cleaned and was able to fix my hearing aids on the spot, she also downloaded the latest version of the hearing app to my phone then showed me how to use it. It was a very pleasant experience for an old fellow like me.
9 months ago Jenn Folster
I absolutely love my Starkey Livio hearing aids. Brittany and Haley taught me how to use them and clean them. I highly recommend going to North Georgia Hearing aid Factory outlet in Dawsonville.
8 months ago Brian Tacke
Four people in my family have hearing aids from here; Brittany is incredibly thorough in accessing your hearing needs and Amy is so good showing you how to manage the new technology. My Dad who can barely hear went from nearly shouting when talking to a normal level and it makes such a difference in our conversations! My son who's hearing was damaged when he was young also got a set and it has made a huge difference in his ability to engage with others. None of us understood the impact of poor hearing until we experienced what it was like to hear at a proper level; our conversations are toned down now to a much more relaxed level and we don't find ourselves repeating words often.
10 months ago Claire Broderick
As a 65 yr old woman I felt the need to get my hearing checked. Not only were these profesional, curtious, friendly and patient, but honest enough to let me know I was 100%. I trust them completely and highly recommend them.
7 months ago Teresa Brunetti
Place is amazing. The employees are professional and very helpful and really care. I will always come here and refer my family and friends here as well.
9 months ago Elly Maye
Hearing test and adjustment if existing hearing aids with connection to phone. Very helpful and efficient. Would definitely recommend for anyone with, or needing, hearing aids.
8 months ago Mary Bozaan
Brittany and Amy, at North Georgia Hearing Aid Factory Outlet, were so kind, personable, and professional. They provided the most comprehensive hearing exam I've ever received. I purchased the Livio Edge hearing aids at a great price. I highly recommend them.
10 months ago Dough Boi
Brittany did a great job helping me with my hearing aids. I enjoy going to visit the office and spend time with the friendly staff. Highly recommend
9 months ago David Brooks
Stopped in even though I was from several states away. Very helpful on the information I asked about. Would buy here if closer, and the referral to distributors in my area was appreciated.
9 months ago Mike Unland
The staff are very helpful and accommodating to whatever inquiries or needs of their clients. They gonna help you to find the most affordable payment plan for you too.
7 months ago MomOfMany
This is a truly customer service-oriented business! From the moment you walk in the door to the time you leave, Halley and Brittany treat you like family. They are there to help you, and even provide many services free of charge - with a smile! I highly recommend North Georgia Hearing Aid Factory Outlet for your hearing health needs!
3 weeks ago john Sinclair
Very wonderful customer service for hearing aid follow-up. This can be a difficult and lengthy process but the very friendly and qualified people there make it a good one.
9 months ago Christi Lillie
Outstanding customer service and I feel like everyone feels like family ...
7 months ago Omar Hussein
I found North Ga. Hearing Aid on the Internet and have been very pleased with their service. The staff is very knowledgeable and very friendly and eager to assist. I am especially pleased with Brittany who is the hearing aid specialist who convinced me I needed to upgrade my hearing aids to a newer model. Their service is outstanding and I would highly recommend them.
1 month ago ASAD ALASAD
I have always suspected that I may have a hearing loss but I have never thought of seeking treatment. Luckily, Halley encouraged me to schedule an appointment with the specialist, Brittany, for a hearing exam. The entire staff was friendly, informative, and extremely helpful with my needs. They helped me with my insurance, finances, and personal care. I cannot thank Halley, Brittany, Destin, and Amy for all of the hard work they put in just to insure that I was taken care of in the best possible way.... Thank you all, my life will benefit for the better!!!
1 month ago Mo McBishop
James (Mike) Freeman - Brittany and crew are fantastic! They really care about the customer and are truly a five star company.
8 months ago Caroline Yao
One less thing I have to do today. Thank you Amy and Destin for fixing up my devices and the supplies before my trip!! See you ladies in the springtime.
11 months ago Mark Kimberley
Brittany and Halley are amazing. My hearing aids were basically not being effective with everyone wearing masks it was like I did not have hearing aids at all. Brittany retested my hearing and we realize it had gotten worse. She has adjusted them for me and I cant wait to test them out. Thank you ladies.
3 weeks ago Rosana Santos
Friendly, no pressure, obliging, professional, always available. Pleasure to do business with!!
8 months ago Jeri Frank
Great place they helped my mom.Took time with her and answered all her w Question.
11 months ago Manuel Cortez
Did what they said they would. Happy with the service.
8 months ago Ibrahim Camara
They deserve all 5 stars! Brittany and Amy are great and very professional. I would highly recommend this company for your hearing health needs
2 months ago Meagan McMillen
A very fantastic job. I appreciate the help very much
10 months ago Samantha Sorabella
These ladies were so nice fixing my custom receiver. I highly recommend this company, I did not purchase from them but they treat me as if I did! Never nickel and dime me. Thank you so much Brittany and Destin.
8 months ago Maggie Guthrie
Best hearing aids I have ever owned ( Bluetooth) !! Customer service is superb and exceptional! I would highly recommend NG Hearing Aid Factory to anyone who needs hearing aids, you won't be disappointed!
11 months ago Howard Coffman
The ladies in this office are so courteous and professional. Thanks for helping me and my wife, she has a set here too and I decided to get my new set here as well
10 months ago Hector Chaires
They have always been good to us and helped when we need it.
9 months ago Kathy Humann
I started coming here over two years ago for tinnitus in my right ear. Brooke, Brittany and Amy have given me first class service every time I've been here. They are always polite, kind, professional and helpful with any and every one of my needs. Highly recommend to my family and friends, and anybody reading this, if you have hearing loss or need any type of hearing assistance, you need to come by here. I won't go anywhere else.
5 months ago Johannes Kiewath
This company offers free hearing test and demo of the newest technology. They have Starkey and Signia hearing aids. The best part is after you purchase your hearing aids all of your follow up visits are free, all services after you purchase are free .. cleaning adjustments and receivers. The staff is awesome! Ask for the specialist named Brittany!
6 months ago Thomas Bronson
I had a great experience at North Georgia hearing aid factory outlet in Dawsonville, Ga. Ms.Halley Smallwood by far the best PCC I have encountered yet. The customer service was amazing and absolutely helpful and very knowledgeable. Thank you so much Ms.Smallwood I gladly appreciate you and everything you do. Look foward to see you again. Much love from me !
11 months ago Lorra Isom
I found North Georgia Hearing Aid Outlet quite by accident three years all and I'm so glad I did.. I bought hearing aids there and have had nothing but excellent service from everyone. They have gone out of their way to insure my satisfaction. I consider them my friends and sometimes when I'm in the vicinity I stop in to speak to them even when I don't need anything,
2 months ago Cie Siang
Brittany gave me fabulous service. I tried different hearing aids until I found the perfect one for me. She is extremely knowledgeable, patient and very accommodating. I could not ask for better service. Brittany is more than five stars. She is all the stars in the beautiful sky.
9 months ago Cie Siang
We are from out of town and have come here for my husband three different times while traveling. The best service and kindest staff always. Saved my husband a couple thousand dollars by looking to see if his hearing aids were still covered....they were! She fixed him right up for when we returned back home to get the help he needed. Awesome!
9 months ago Flamingpaper
They fixed my moms hearing aids in less than 10 minutes, I guess it was such an easy fix they didn't even charge us! A fantastic experience!
1 month ago K Bizzman
AWESOME PEOPLE TO DEAL WITH. HIGHLY RECOMMEND THEM.
10 months ago Jay Goo
This is a wonderful place - I can't recommend it highly enough. Professional, knowledgeable and friendly, the staff identified the level of my hearing loss, and educated me about tracking hearing on a regular basis. I was pleasantly surprised to notice the staff ISN'T about selling hearing aids to everyone who walks through the door. Thanks, Brittany and Amy!
4 months ago
Popular places from the category Hearing aid store