Cancer Treatment Centers of America, Atlanta - CTCA
Cancer treatment center Cancer Treatment Centers of America, Atlanta - CTCA, 600 Celebrate Life Pkwy, Newnan, GA 30265, United States:
189 reviews
of users and employees, detailed information about the address, opening hours, location on the map, attendance, photos, menus, phone number and a huge amount of other detailed and useful information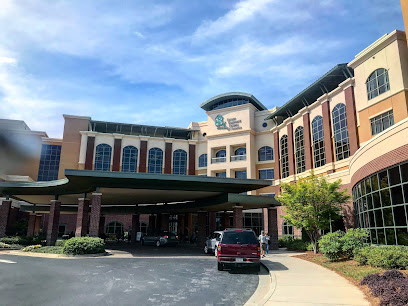 Address:
600 Celebrate Life Pkwy, Newnan, GA 30265, United States
Website:
cancercenter.com
GPS coordinates
Latitude:
33.3846018
Longitude:
-84.7580613
Location on the map
Reviews Michael Brasslett
My husband and I had to make a decision quick for cancer treatment. I called the top 2 that are listed according to Google but when the first one told me I couldn't be with my loved one while he was going through this, it wasn't even a thought to go to CTCA Atlanta. I'm glad we did as the staff from the front door to the back are very friendly and helpful. All of them encouragement was great to hear during this time. The doctors all made us feel like we were family and worth fighting for. And I promise if you got a question someone will answer quickly. I can't tell you how much peace this brought to our circumstance! Plus it's so clean and the cafeteria actually have great affordable food! Make sure you get a omelet and loaded hash browns ????
3 weeks ago Melvin Eves
I cannot explain what this place has meant to me and my family. I just can't. If you or someone you love has cancer, PLEASE come here. Myself and many others were initially given horrible prognosis, came here, and were given hope. Hope means everything when you have the C word. This place nourishes hope and your mind body and spirit. I don't think I would have made it without this place and the amazing souls who labor here. From the kitchen cooks to the head of radiation, they all care and it shows.
7 months ago Geetha Prasad
We loved this place for 4 years until they changed to Dr. Godbee, my CA-125 increased and she didn't seem to have any compassion or concern said, we will see you back in 3 months. I consuled my regular doctor and she checked my CA-125 again two weeks later and it is still going up, unfortunately I having to change doctor do to her. Please listen to your body and if the doctor is not concern with you ot might be time to find another one.
6 months ago Brian Hawley
Any one with lung cancer have a review they would like to share with me..I have been going now for several months and love it so far
7 months ago Katie Hutton
This place is putting my one of my family members through the ringer just to get treatment for their cancer. The doctor was polite and he wanted to help but it's the doctor's team that is not doing their job. They're not calling my family member to give them updates on what is going on and it seems like this team is dragging their feet to put my family member's schedule together to start their treatment. My family member is starting to get discouraged because it seems like the employees at this facility doesn't care and they're not very good at listening to this potential patient's plight.
8 months ago Vicki Darnell
A great facility for anyone needing cancer treatment. I am not being paid by anyone to say this. If you are feeling the care you or a loved one is getting for cancer at another hospital is not very good. You should give CTC a try. They have experts, who each only work with specific types of cancer. So the care given to someone, is by a specialist, who only works with the specific type of cancer on a daily basis. This ensures the care is from a very knowledgeable doctor. Not someone learning as they go. The facility is a vast hospital. With centers inside for all the needed steps in treatment. From MRI and other imagining testing and the doctors. Along with an Urgent Care unit, if someone is severely ill during their visit. The staff offer treatment with great care.
9 months ago Akim Nilausen
I went to CTCA to get guidance on my condition. I saw Dr. Parks who did an excellent job discussing my condition, the risk factors, and gave me two different treatment options based on how proactive I wanted to be in establishing a diagnosis. I went home and considered the options for a week and called Dr. Parks care team to let them know how I wanted to proceed. Dr. Parks care team scheduled an appointment for me to see Dr. Miller who Dr. Parks told me would be working with me on the treatment option I selected. I went for my first appointment with Dr. Miller and was scheduled for 2 additional tests and lab work. I had the tests and then attended my appointment with Dr. Miller. Dr. Miller told me that nothing needed to be done for a year. I asked him why Dr. Parks would give me conflicting treatment options if my condition didn't really need to be addressed for the next year. Dr. Miller said he didn't know why Dr. Parks would have recommended what he did, but Dr. Miller didn't agree. Dr. Miller never even mentioned the additional tests that he ordered. I have no idea why they were ordered and never got the results. He based his recommendations on tests that were performed before my appointment with Dr. Parks. I still have never received the results of the tests ordered by Dr. Miller. I left the appointment in tears and confused about which of the two doctors I should believe about how to proceed. I called Dr. Parks care team the following week and asked for Dr. Parks advice on the conflicting recommendations I received from Dr. Miller. Dr. Parks nurse never called back. When I called again almost a week later to get a response, I was told by Dr. Parks care team that he was not confrontational and would not comment on why I was given conflicting recommendations. I was then told that Dr. Parks wanted to just see me back in 6 months. This was yet another conflicting recommendation. He initially told me that I would need rechecked in a minimum of 3 months and now (only after Dr. Miller said I didn't need anything for a year) he tells me that seeing me in 6 months would be fine and he no longer recommended the treatment option I selected from our original conversation. At this point, I don't know who to believe. I will have to get a third opinion from a non-CTCA doctor and see if the third doctor agrees with either of the CTCA doctors. This is not what anyone needs when trying to decide how to address a cancer diagnosis. I would not recommend anyone come to CTCA to see either Dr. Miller or Dr. Parks. The rest of the staff and the facility are amazing. But, not being able to trust the expertise of the doctors and the recommendations they provide is unacceptable.
10 months ago Maura Sharp
I would not made it this far with out CTCA. With my preexisting conditions they step up took care of them also. Which made the cancer treatments easier. The team I had to begin with wasted three months. I was in excruciating pain with made every thing else worsened. So that y'all for the quick response .
8 months ago Jonathan Galvez
My experience with coming to CTCA is so Grateful and so Beautiful to see how Gods people Does such an Amazing and wonderful job to help so many sick people I am so so forever Grateful for all of them from security to housekeeping and the wonderful on site pharmacy and don't leave out the gift shop to make a person that's sick feel some Hope is still there????I am so grateful for all the staff that works with my Amazing Doctor he and his TEAM is the most Professional Angels I see working so hard to help me and all the patients there on my daily journey I tell my story and any one God guides me to open my mouth to I let everyone know how amazing they are and I'm so happy to be apart of CTCA thank you all soooo much for helping me????????????????
9 months ago Ruidi Wang
Heroes work here. Everyone is so caring, helpful and genuinely concerned about your health and treatment during such a devastating time in your life. Good bless them.
11 months ago Rashad Payne
I have just had my first and last experience with the Cancer Treatment Center in Newnan Ga. Thankfully my wife and I both agreed it wasn't the place we needed to be and came home before getting into anything other than their new patient routine. Before saying anything else let me say when dealing with people and their health it's easy to see why there is such a difference in reviews. When it's cancer those than come away doing good are going to have a totally different view than the people who are still fighting. We can probably all agree on that. We talked on our 2.5 - 3 hour drive home and agreed we should have caught the motivation of the concern when we first called for information. My wife was diagnosed here locally with breast cancer and as we received more information the more serious this began to look. She called the Center and was extremely happy with their initial response. As she weighed her options she was called by 2-3 other representatives from the center, a volunteer working their help lines and even a former patient who has now recovered from her cancer.. The sales pitch had already began but we had no clue. Once there it became a totally different story. New patients are normally ask to come in for 3 days straight to get everything going. Our 3 days were filled with waiting for an average of 1 - 1.5 hours for a doctor who was simply behind, one who admitted she somehow missed our time slot and ask we return the next day. We were still onboard somewhat until what was to be her last appointment. This was the appointment with the Oncologist so we were happy to finally be close to hopefully having some good information on her condition. We were taken back to an exam room where we waited patiently for one hour and twenty minutes. I stepped out and ask when the doctor would be there. Roughly 5 minutes later a young lady walked in and handed my wife an IPad to use for communication with the oncologist. I understand Covid caution and all so was fine with that idea until she informs us that she is in the room beside us. She never examined my wife in any form but was ready to start telling us her treatment plan. I did notice on the paperwork it actually said she examined the patient, reviewed her medical records and test info which was an outright lie. I'm guessing she billed our insurance for a full physical exam. In closing out I agree with many others here in thinking that their interest is in the stage 1 and 2 patients if not really complicated. The advanced patients bring down their so called success rate
10 months ago Andrew Metzger
Best place to go, drs. Are the best and they treat you like family
10 months ago Any Kim
I recommend anyone who is diagnosed with Breast Cancer to come and be treated here! Dr. Johnson, Dr. Durden, Dr. McKnight & Dr. Hansra are my lifesaving team! Everyone is so very nice and comforting. There have been changes to the hospital, but overall I am very happy with my treatment!
2 months ago Eli Old
Very professional, clean, friendly place. They saved my life.
6 months ago Linda Wolek
Three years ago, my husband was diagnosed with stage IV Renal Cell Carcinoma (Kidney cancer). We knew that we absolutely did not want to get his care in Knoxville, so a friend recommended Cancer Treatment Centers of America, (CTCA). We've been going the Atlanta cenyer for 3 years now & frankly if you were to see my husband, you would hardly know that he is sick! CTCA is a different kind of cancer fighting facility... It's NOT just about chemo... CTCA has Naturpathic Doctors who help you combat side effects with supplements that most other oncologists don't realize (or care) exist! He has a nutritionist, a pain team and chiropractic & acupuncturist, as well! It's a holistic approach. My husband's side effects have been managed and for the most part are at the moment, non-existent! My husband's oncologist, Dr. Patricia Rich always comes with a big hug for both of us & speaks WITH us as if we were her family MEMBERS. She works with our primary care physician here in Knoxville for routine tests and localized care. All of my husbands different departments share a common database so there is no second guessing about his treatment plan. CTCA even reimburses us for mileage & we only pay $50/night for nice hotel rooms w/ free breakfast, which CTCA books for you. If you're flying in, they pick you up from the airport (see the limo pic) and take you right to your hotel! CTCA has their own transportation team, so they pick you up from your hotel when you have appointments. The cafeteria is good & reasonably priced. Everything is made from scratch! EVERYONE is warm & friendly and facility is beautiful. For those who don't have anyone to travel with them & they're feeling kinda rough, they even have hotel rooms attached to the hospital! It's like they've thought of everything!
8 months ago Aaron Larmore
We have been seeing Dr Kevin Woods at Newnan treatment center and no words can express how wonderful this Doctor is. We are so pleased to have gotten the opportunity to be his patient he is wonderful. When we first meet him we were scared to death as we had not been able to find my husbands cancer Dr Woods found it and was able to remove it. Dr Woods has the best bedside manner of anyone we have seen so far. We cannot say enough about this wonderful Doctor. The cancer treatment center is awesome and we highly recommend it and it's wonderful staffing
7 months ago Kristopher Buchanan
The commercial sounds hopeful but the real experience leaves you confused. After seeing the commercial, I made an appointment to see if they could help me since the other hospitals in my area were taking too long to get surgery. You have to go thru 2 separate days of appointments to get a treatment plan. I drove over 100 miles on day 2 to sit in a room to have an appointment in a room with an IPad. I wasn't told the appointment would be a telehealth appointment or given the opportunity to do the appointment at home. I later spoke with a doctor and agreed to have surgery to remove the cancer before therapy. He said he does surgery 4 days a week and I could have surgery within 3 weeks based on the surgery schedule. I was told the surgery scheduler would call me either that day or the next 2 days. After a week and 3 days, no one called. I called and it took 3 days to receive a return call from the surgery scheduler and the soonest day they may have is a month and 6 days from today's date but that can't be scheduled until nest week due to a computer update. That's not helpful, reassuring, or hopeful. I'm stuck torn between finding a new oncologist/ surgeon, going to my previous team, or waiting to see if CTCA gets their stuff together. Each experience is different but just something to consider before putting your hope in a commercial.
1 month ago Adam Cohen
Staff here are friendly and helpful. They all seem to care bout your needs.
1 month ago Marjory Heminover
Everyone is polite nice and caring . The staff offer you warm blankets . If travel is far they help get you a motel room for $25 a night. They have activities for the patient and caregiver. I found a play room today for smaller kids and a pool table. This is all extra amenities besides top notch care for the cancer patient and help and understanding for care givers. Everything under one roof even a urgent care clinic for anything 24 hour help line that will answer your questions I or concerns. Love this place and my treatment since I have been coming. Thanks to all the staff and especially Greg Wells who is the person that called me on phone and was able to get me in within 3 days for a second opinion on after i explained everything that I was dealing with from my local doctors.
7 months ago Teresa Briones
Very clean. Everyone helpful. Beautiful facility.
7 months ago S
I'm sure this is a good faculty but people that really need care can't afford it you have to have really good insurance my daughter called and was told that they didn't accept her insurance so it seems only the wealthy matter to you all may God bless you
4 months ago Amanda Tillery
My name is Gina collier my husband Kelly has stage 4 anaoplastic Large cell limphoma ALK positive,he has been to multiple Drs and hospital's he has been hospitalized multiple times also and until we found CTCA,no one could find out what he had he had sever night sweats,a low grade fever for mths and ended up losing 45 bls over 4mths he has three limnode biopsy results wear no Cancers two bone marrow biopsy results wear no cancer we found CTCA and was diagnosed with ALCL AKL Positive, everyone and I mean everyone that works at CTCA are wonderful PPL their standard is the mother standard and let me tell you they treat you better then most mother's do LoL they really care about you I have not meat one person that works their that wasn't wonderful happy,careing loveing ppl this place is the olny place to be before we came I read All the reviews and their wear a couple not so nice one's I don't understand how anyone could ever say a bad word about this place if you want the best treatment from the best Drs you owe it to ur self to come hear you will not regret it they are truly to best I can't imagine going anywhere eals they in courage your care taker to be hands one in your Loved one's care pleas don't believe any one that says a bad thing about this place you or your love one will be in the best hands possible they don't believe in telling you negative things olny positive things and they will fight to save your life they have top notch Drs and surgeon's the best in the world and they believe in God and his healing powers may God bless you and your Loved one's with this hospital in your life if you need then they have your back
4 months ago Lauren Stamper
All I know about this place is they would not take my Aunt who has liver and stomach cancer and she has insurance..... So I would love to know why they would not take her, but after reading all the reviews I'm thankful they didn't, because she is still here with us. Thank you, LORD! Even though we are from a small town she is getting the help she has to have, and she's blessing our lives everyday she is here with us!!!! We Love you, Aunt ... These big companies will have to answer one day, for the way they treated people. Each and every one of them, will answer on judgment day... But I'm so thankful for the ones that had great experiences with the big corporation; we really are. I don't see how they pick certain people.... But, for them I'm grateful! And for my Aunt she has good Doctors, from our small town we just wanted a second opinion and some help, but we did not get it. SO SAD!!!!!
10 months ago Kelley Helmendach
They've been very helpful to my mom! Thank you guys!
3 months ago Miriam Rodriguez
Haven't been there yet, but the few phone calls I have had with a Mr. Brian Roberts has been amazing. He was kind, courteous, and helped me know what to do next. If I do end up going to CTCA I have no doubt it will be a great experience.
6 months ago Oswaldo Gomez
On our first visit we got a great sales pitch. It was really like when you go on vacation and get the "timeshare" seminar. We agreed to start treatment the following week. This is where it becomes a nightmare. My mother complained of chest pain all day and was ignored. We ended up in their urgent care and was just given pain medicine. That night she had a HEART ATTACK and we had to call an ambulance to go to another hospital. We were picked up at the front entrance of CCA in an ambulance! In addition to lack of concern, horrible scheduling. They are over book on things like pain management and you can forget the other services like acupuncturist etc... There is only one acupuncturist for the entire hospital. This is a total sham taking advantage of the desperately ill. I will say some of the doctors seemed great but it's just not worth the hassle and all the rest. Just stay in your local area and have the patient home at night and not exhausted from traveling.
11 months ago Ada Landry
For my husband to have been accepted to CTCA is nothing short of answer to prayers. Never have we been treated with so much kindness, concern, and friendliness at any Medical Center. The doctors, staff, services far exceed anything we could have imagine. When we first walked through the doors there was a presence of peace, and tranquility.. We felt as though we were checking into a resort, nor a medical treatment center. We thank God for you, and your staff !! We are Blessed !
7 months ago Carter Davis
A place for hope, excellent care and helpful, caring people. I speak only from my own experience at the facility. CTCA makes every effort to provide the best patient care.
6 months ago saleh Ahmed
I am a patient. I always get excellent care treatment. It starts with the first person. Everyone displays a great deal of love and professionalism. Plus, they know what they are doing.
6 months ago Samantha Sorabella
We just spent 3 days at CTCA in Newnan and I don't even have the words to express how grateful we are for the kindness and compassion we were shown by everyone we spoke to. And just as importantly, we received the comprehensive information we need to make educated decisions about our treatment plan. No one pressured us in any direction. Just presented the information for us to feel at peace with our choices. Anyone who has been diagnosed with cancer will find CTCA to be an amazing experience! Mary and Steve Fischer
8 months ago Jason Matheson
If you're middl-of-the road ill, very insured, and will make a good statistic for them they will help you. If your insurance or chances of surviving are not going to feed their stats please do yourself a favor and go to Emory. I can't tell you how much their neglect of my condition has negatively affected my quality of life. CTCA is evil disguised as hope.
7 months ago sonia deep
They are so good to my husband. Christian Based, and we love his doctors.
8 months ago Cassie Magill
At first this seem like a answer to my prayers. But as time went by. It became a nightmare. For my own health the best I can do for myself is not to return.
6 months ago Omar Reynoso
This is not a place to take your loved one to. I took my mother here to get the best treatment for her cancer and she actually got worst. My mother gotten so sick that there was nothing else they could do. My mother was slowly passing away before my eyes and this center was so busy trying to get her to leave the facility. They diagnosed her cancer late because they thought she just had a virus or bug instead of finding out the real reason why she was sick. By the time they found out the real cause of her sickness it was too late. The doctors are rude and have to be watched. I use to just pop up to see if my mother was ok instead of calling. And all the times I popped up the nurses wasn't given my mother medication on time and didn't care if she was alright. The biggest mistake that I ever made was taken my mother to this facility. I regret this decision everyday. I truly feel like if I haven't taken my mother here she would still be alive. Please listen, if you want your loved one to beat cancer stay away from the cancer treatment center of American in Newman GA.
8 months ago Avery Karkosh
My husband was diagnosed with stage four Adenocarcinoma (small bowel cancer) two and half years ago. He started his treatment at Augusta Oncologists. After twelve treatments his tumor shrunk to half the size and appeared stable. We were told that my husband would continue his treatment for the remainder of his life. So we decided to contact the Cancer Treatment Centers of American in Atlanta for a second opinion. They scheduled us to come down for a consultation visit. We met with Dr. Chowdhury and his team. They informed us that according to my husband's medical records he could discontinue his chemotherapy treatments intravenously and began taking the Chemotherapy pills. Well my husband began taking the pills. After six months of taking the pills my husband began having really bad stomach pains and ended up making trips to the local ER every other week. We would contact CTCA Atlanta to inform them of his pain. In the beginning they would follow up very good however as time passed my husband's pain got worse. My husband was scheduled to go follow up with Dr. Chowdhury every three months. We informed them of his pain and how he was in and out of the local hospitals every other week. They only test they would run on him was blood work and CT scans each visit. About six months of taking the chemo pills Dr Chowdhury told my husband he was in remission. Well my husband continued to be in extreme pain. We were thinking it had to be something else because Dr. Chowdhury said his tests showed he was in remission. A month ago we sought out another oncologist for a third opinion. After seeing doctor number three. She immediately ordered a PET scan along with an EGD and Colonoscopy which CTCA Atlanta never did the entire time we were there. The test results showed that my husband's tumor has doubled in size. CTCA Atlanta never wanted to run any test other than CT scans. I would suggest if you are a patient of CTCA Atlanta and you're being told you're in remission and still having problems please insist they run more tests than CT scans. CT scans does not show the whole picture.
6 months ago Branson Jenkins
The small light of hope was diminishing with our previous facility of treatment, and I knew we had to turn this ship around. Her local South Bend Oncologist at that time was giving us a 3-6 month life span estimate for refusing more chemo with my Mom's aggressive cancer. The South Bend Oncologist was hardly present throughout her formal treatments that I returned home for. Overall, my family was not pleased at all with her care in South Bend. Many things were missed under the South Bend Hospital care. Cancer is not just a "cut and paste" repeat process that they were offering. I knew there was more for us. There HAD to be more. There must be better, patient centric care somewhere, right? My family wasn't done fighting, and I for one, wasn't going to accept this grim news without a fight for a second opinion. I rapidly shifted my focus to back CTCA Zion, and my Dad and I prepared for a second opinion. We completed the paperwork and I flew across the country for an emergency 48 hour visit back home to get my Mom onboard with a 2nd opinion. She finally agreed (hallelujah), and we landed here at CTCA in August 2019 with NOTHING to lose. We cleared our schedules and attended the 3 day orientation appointment, in which all accommodations were made for us. They also arranged for us to meet here team of STEM Cell unit team for their final opinion. They decided on a watch a wait method (a far cry from stem cell treatment plan the original doctor was pushing) and felt comfortable taking a cautionary monitoring period. The facility does not feel like a hospital. In fact, it has a warmer, dare I say "welcoming" and peaceful ambience. The caring treatment we received, to the upscale testing facilities (we get results on the spot or next day compared to having to wait a week for answers), and their whole body holistic approach; it's everything you could hope for. They understand cancer is very personal. It's full of anger, pain, helplessness, and heartache. It takes so much from your family and their team understands that. Cancer is ALL they treat here. They go above and beyond to take the stress away, so you and your family can focus on healing. Here, we have dignity through our journey. CTCA truly makes it the best possible experience that they can. They're heart is in the fight with you. They hold themselves to "the mother standard of care" -- as in they provide care as if they themselves are treating their own mother. We are actively in STEM Unit treatment and the care here has been outstanding. Thank you to their phenomenal STEM Cell Unit Doctors, NPs, case mangers, hospital nurses, nutritionist, pastors, therapists, and naturopaths. CTCA has given my Mom a second chance on life. We finally have hope.
7 months ago Steph
I love this place. I'm so glad that this place was recommended to me. They make me feel comfortable with understanding my situation. I wouldn't have made it without them. CTCA ROCKS!
6 months ago Scot Titus
I have been going to the Cancer Treatment Centers of America Atlanta Location since 2015. It has been an absolutely wonderful experience. The people and staff are loving and kind and typically go the extra mile. The care is top notch and compassionate as they offer traditional cancer care along with naturopathic care, nutritionists, Pastoral (Spiritual) care and more. I loved when it came time for me to receive treatments and my oncologist, Dr. Hansra, gave me three options and said, "This is your journey and I wanted to give you choices regarding your treatment path" . I also appreciate the individual and private infusion rooms. They provide you with a nurse and assistant and you have access to complimentary sandwiches, salads, snacks and drinks during your infusion. My whole team at the CTCA has truly blessed me. I have sent multiple people I know to CTCA Atlanta and to my knowledge all have been satisfied. Are they perfect?...No. No business is, but you also have patient advocates when you have concerns or questions. Body, Mind and Spirit with a high standard for cancer care.
7 months ago Jay Homes
Everyone was awesome here. I had two surgeries within less than 6 months of each other and they made me feel comfortable, loved and like I mattered. I'm glad I found them!!
7 months ago Jim Shute
I absolutely love this place everyone is so nice and joyful. The food is excellent! I tell everyone about the wonderful experience I have had with you all.
9 months ago Joshua Raymond
Wish I could write a review! I called and the conversation went like this: patients name,,,age,,,where is the cancer...kind of insurance....we can't help you. Really? You would think that when you are calling for a loved one that they would talk to you with some empathy. You would think if they couldn't help you that they would at least try to guide you in the right direction. Guess I just expect to much out of people.
7 months ago Robert Gottlieb
My wife had surgery on the 2-28-19. Doing good.would like to thank everyone.they are the best. I give them 5 ???? ???? ???? ???? ???? . This is the best place. Francie's said thank you.all. me to thank you.god bless everyone there.
5 months ago doug petchkurow
This is the greatest place that I have ever seen. Everyone here has treated me like I was family and that was thru the hardest time in my life. I would tell anyone who has Cancer to come here because they sure know what they are doing. I will be 3yrs Cancer free in May that's is saying! A lot considering that I had stage 4 Cancer
9 months ago Lily Lang
We have been so pleased with the personal care we have received!! Everyone has a smile!! They're all so helpful and I'm so thankful for the education you receive about nutrition!! My favorite person is the janitor lady on the first floor!! She is amazing and looked forward to her greetings and hugs daily!! The patients all seem very happy and full of smiles!! I couldn't imagine doing all this without their support!!
5 months ago Garrett Fuller
Everyone is so nice and make you feel like your in the best hands possible and they believe in the power of God and prayer ❤️
5 months ago Roby
I have made a official complaint with patient advocate. I'm sure nothing gets done to correct the problems. Always a sugar coated version!! I HAVE NOTICED ANY GOOD REVIEW SOMEONE FROM CTCA RESPOND. ..........WHY ARE YOU NOT TRYING TO GET TO THE BOTTOM OF THE BAD REVIEWS???? YOUR STAFF DID THINGS VERY WRONG!!!! ALL I WANT IS ANSWERS!!!! FROM YOU OR A JUDGE
11 months ago HILL ARK
I am so glad I ended up going here for a second opinion. My doctors back home missed a VERY significant finding on my MRI. The doctors at CTCA were all over it.... very thorough with running test after test until they had ALL of the answers. Every single person we have encountered has been so sweet, caring and compassionate!
2 weeks ago Trevor Kelley
I thank God for leading me to this place. The staffs are wonderful, the services and care are awesome, including the food. I was able to pray with others and as I was praying, I was receiving my healing. The Lord is using everyone there.
11 months ago Sergei Rogov
This place and staff saved my life. The entire staff put your health issues first and foremost. Thanks CTCA Newnan!!!
7 months ago Dan Curran
Always the best service here. All of the staff are so warm and friendly.
5 months ago
Popular places from the category Cancer treatment center