Total Wine & More
Liquor store Total Wine & More, 380 Main Ave, Norwalk, CT 06851, United States:
220 reviews
of users and employees, detailed information about the address, opening hours, location on the map, attendance, photos, menus, phone number and a huge amount of other detailed and useful information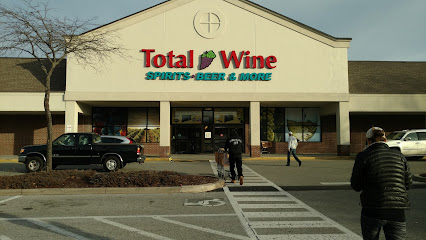 Address:
380 Main Ave, Norwalk, CT 06851, United States
GPS coordinates
Latitude:
41.1401820
Longitude:
-73.4240400
reviews Victor Danilchenko
Clean, friendly very knowledgeable staff. My go to store. Bought these today for the hot weekend!
5 months ago Gregory Morris
I hardly ever give 5 stars but this place has it all. Every wine, liquor and beer option imaginable. Service is great and the staff is very very knowledgeable. Weekends are pumping with tastings and an open bar tasting station. An awesome place but don't forget to support your local smaller shops.
7 months ago Aaron Sanzone
My boyfriend and I went here and are very impressed!! We were helped by Steve Bosies and he knows his stuff! We keep saying how blown away we are. From the wine and Steve's knowledge, what an experience. We cannot wait to be back. He kept …
7 months ago Will Puckett
By far the best selection and customer service of anywhere in the area. Prices sometimes tend to be a little higher than around, but well worth the extra few dollars for the selection and service.
6 months ago Eric Mathiasen
I've pretty much got everything, to the point where I was more than glad to drive from Long Island New York up for a bottle of the Whistler's Irish cream. The staff was extremely helpful and I was able to check out and pretty good speed as well. Would definitely make the drive again if need be.
5 months ago Charles Polley
Place has a wide selection and prices are competitive. The staff is very friendly and give good advice, but sometimes you just want to walk and look around and see there selection. This is my third time there. I bought some burbon and left.
10 months ago Derek Resmini
Tremendous selection and great service. Pricing is good too. Cigar selection ain't too bad either!
6 months ago Chris Parrish
Very big liquor store with an endless selection of any type of alcohol. Competent and quick consultation including tasting. Prices are competitive and they offer good deals for bigger events.
2 months ago Andrew Aken
This store is MASSIVE! If you can't find it here, it probably doesn't exist. Staff is very personable and helpful, no pressure to buy. Beer selection is pretty darn good, too. Cheers!
7 months ago Sarah Gerrish
One stop shopping for wine and spirits, love Maryanne, so knowledgeable and helpful!
5 months ago Patricia Rivera
Excellent service and a great variety of wines and spirits, and its staff very attentive and willing to help super recommended
5 months ago Wei Pang
Good price and many varieties spirit and wine, they have everything you need
5 months ago Milan Brlik
First time experience was great. Staff fantastic. A gentleman named Devon I think helped me with some beer choices. He was wonderful!
9 months ago James Metsopulos
Don't go there on a Saturday its a mad house, also the sales people are a little much, we get it, you're trying to be helpful but I don't need it from several different people in every isle. Is there a tag I can wear that says no thank you I don't need help.
8 months ago Christopher Russell
Great selection, great pricing. Don't ask the associates for advice. They will always steer you to a spirits direct product which is their private label and while usually cheaper, though never the best product or best value. Their winery direct wines are usually a little bit better value.
12 hours ago anna lepretre
If you can't find it here, you pretty much won't find it anywhere. Lots and lots of everything. Didn't have much time to shop, yet an impressive display of goods, with knowledgeable staff on hand to field questions.
7 months ago Gibson Rowe
They have everything you could ever want. Tons of craft beer, flavored liquors, and many variations of wine and spirits -- with samples if you need!
7 months ago Jay Winkler
Great selection of beers, wine, etc. Tons of cold beer as well. Employees were also helpful with recommendations.
7 months ago Tim S
If you want beer, or especially cold beer drive down the street to World of Beverages. you will have a much better chance of getting the beer you want actually cold having a better selection and aren't miserable and hate their job as well.
8 months ago Kevin Andersen
Huge selection of wine and spirits. I normally would go to the Jersey location living in Westchester but found this location to be better and cheaper plus you can avoid the high jersey tolls. Staff if very helpful and attentive and would def recommend for all your alcohol needs.
11 months ago Vikas Jain
Great place to find almost any alcoholic beverage you're looking for here!
7 months ago Jeff Finley
This is a big box liquor store with good prices. The abundant staff were eager to help and knowledgeable.
9 months ago Anastasia Giannakaina
Fantastic selection of wine, beer and anything liquor related! I especially love the web site where you can search for anything and it tells you if its in stock and what isle to find it in.
9 months ago Joshua Kolep
Wonderful selection and always people to help you.
5 months ago Lucy Sail
The best variety of craft beers. Soo good
7 months ago Irma Silvers
Great selection. Helpful staff.
6 months ago hunter upleger
Has tons of varieties to chose from you have to take your time going through it all. Decent prices special deals often.
8 months ago Nishana Taylor
It's an open space environment with a huge selection of wines and beers. I go there for beer shopping. The selection is so big that's perfect for beer research. The price is very good; totally beat the local liquor stores.
2 months ago Kristen Young
This place is the Costco of liquor stores. There isn't a beverage that is not carried. You name it. They have it. My friend from Turkey recommended a beer thats popular in his country and sure enough they had it. Even beers that I thought went extinct from back in the 80s. And awesome prices. Amazing place.
3 months ago Aron Whiteside
This is the most amazing liquor store I have ever seen!! It's like a high-end supermarket for alcohol!! They have EVERY kind of wine, whiskey, vodka, rum, etc. There are soooo many craft beers! A walk-in keg area! A cigar humidor! You can …
10 months ago Evfrosiniya Zerminova
Great selection, competitive prices. The staff is very helpful.
8 months ago Lukman Memon
Wonderful selection of whiskeys, especially bourbons. A huge selection of Californian cabernet wines; most are under $20 per bottle. There is also a wide variety of craft beers. I will definitely go back.
11 months ago Zifere Night
Love the store they have variety of goods
6 months ago Micah Snead
Great prices. Staff is always so kind. My pickup is usually ready days before I requested.
6 months ago Olivia C
This place is amazing! Incredible selection, even a gift section and the staff is very helpful.
11 months ago Moto Gamer
Great selection and even better prices.
6 months ago Adrian Moeller
We live in Greenwich. It's worth the short ride up the Merritt to exit 40 because their selection is the largest I've found in the area. The best part of the shopping experience is not walking the isles, it's their online shopping. You're …
1 week ago David Mayton
Very easy to move around and one of the workers was extremely hopefully he even recommended a new vodka and tequila to try
10 months ago john hall
Tonight was my second time going in and both times I was able to quickly get help from two gentlemen that helped me pick an amazing bottle of wine. They did not rush me at all, as I wasn't sure what I wanted to drink and had many questions. Currently enjoying some right now and I'll be back in the future.
2 months ago Jennifer Collins
Awesome place. Great selection of wines. Very good prices
10 months ago Marie Lundbom
Huge selection. Devon did a great job helping me with both beer and bourbon picks.
10 months ago Taktix Gaming
Great selection, friendly staff.
5 months ago Allie Traylor
Nice collection, I am sure you will find all you need here. I don't drink but got plenty of stuff to entertain my friends.
1 week ago Dj Corson
good service. lot of alchol!
7 months ago Louis DelPriore
Unbelievable variety of almost anything you want...great customer service in the aisles...fun to browse around. Safe and social distancing
2 weeks ago Chris Hall
Good Staff. Great selections
10 months ago Allen Ricketts
Total wine is the best in the business and its no secret to anyone.
9 months ago kese dcon
Super helpful friendly staff
5 months ago Allan Short
They have everything you could be looking for and some things you never even thought you might be interested in. Prices are excellent. The only reason I didn't give 5 stars was because it was a little slow at the checkout line, actually, really slow.
4 weeks ago Jamie Bruce
Rare beer picks usually get found here at this spot so what's not to love? ????❤????????????????
11 months ago
Popular places from the category Liquor store