Galloways Estate Agents West Norwood
Real estate agency Galloways Estate Agents West Norwood, 282 Norwood Rd, Norwood, London SE27 9AJ, United Kingdom:
98 reviews
of users and employees, detailed information about the address, opening hours, location on the map, attendance, photos, menus, phone number and a huge amount of other detailed and useful information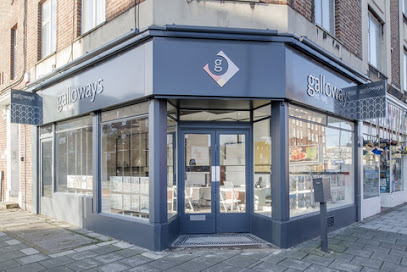 Address:
282 Norwood Rd, Norwood, London SE27 9AJ, United Kingdom
GPS coordinates
Latitude:
51.4365085
Longitude:
-0.1049860
Location on the map
Reviews Delia Viljoen
Writing a review for a sale Galloways handled back in February. They were helpful and professional throughout and Jon and Ryan did a great job marketing the flat and finding a buyer. Special mention must also go to the branch manager, Steve, who got the sale across the line right at the end when things were looking tricky. He did a great job of keeping all parties in the chain working towards the same goal. Recommended!
6 months ago Kenny McCormick
I wanted to get my own place last Nov, 2020but after having some bad and unprofessional experiences with some other agencies and I was about to give a break then I came across a new listing that listed by Galloways in Norwood. I made the contact with them and got a quick reply and also was offer a viewing right away. Ryan was my agent and he was very professional and most of all responsive. Many others I had the "privileged" to deal with didn't reply emails, phone calls and messages or a simple yes, no for my lengthy inquiries. As a potential buyer I had to keep chasing them for answers and the sellers probably wondered why nobody was interested in their's flats. Long story short, the contracts have now been exchanged and Ryan and I were updating each other along the way. He did an excellent job and I will recommend Ryan and Galloways to anyone buyers or sellers in confidence. They will be my choice too of course if I ever need to buy or sell again. Good luck and thank you for the efficient and professional help. Yours Ricky
6 months ago Mike Lawson
Couple of years ago I rented flat through Galloways. It surprised me how fair play attitude they had. They were making sure that landlord has to offer quality. They are very friendly, helpful and professional. You can ask as many questions as you want. They don't rush and never give you this condescending attitude that is very common among estate agents. I hope that one day they get a national recognition. They should be an example of how good estate agent can be with right principals.
8 months ago Jimmy C
Steve and the team were always so responsive and helpful, and very knowledgable about the area, I highly recommend them.
8 months ago James Riha
I can't praise Galloways enough, having known them for 10 years first as a landlord renting my house and then this year selling. All the team have been great this year in selling my house, taking the stress out of what could have been a very stressful year. Whilst I was living abroad, renting my house I had full confidence that my house and tenant were looked after making for a positive experience.
1 month ago Renee Piper
I do not recommend this agency to anyone. They are not responsive and won't help you when you have problems at the property. They will not pick up their phones and will answer to your emails weeks later. They did not even provide the landlord details so I could talk to him directly. At the end of the tenancy they charged me for cleaning even though the house was professionally cleaned and invoices where provided.
6 months ago Dominik Stahlke
Very helpful and professional estate agents. Special thanks to Jon for all the efforts he put in. Would highly recommend. Thank you :)
2 months ago Deana Jennings
Galloways is by far the most professional, helpful and friendly estate agent service I have ever used. The staff are knowledgeable, honest, patient and have everyone's best interests at heart, genuinely. I can not recommend their service enough if you are thinking of buying or selling.
6 months ago Rushil Pannu
We have recently sold a property with Galloways and must say we have been very pleased with all their work associated with the sale. As with many sales, there were a few tricky issues which Galloways helped us navigate carefully. Certainly the most trustworthy and straight-forward estate agent we have dealt with to date. Steve has a wealth of experience which really helped us and Harry did a great job on the day-day detail and was particularly good as keeping us up to date. Sarah and Jon were also very helpful when needed. Very happy to recommend Galloways to future buyers/sellers. Thanks guys!
8 months ago Amanda White
From start to finish Galloways have been absolutely first class. Guiding us through the sale of our property in the most professional way. Having had to deal with first the Brexit slowdown and then the Covid pandemic, we were worried that we would never sell! Steve and the team did everything to push the sale forward and finally we completed! A huge thank you also to Harry and Jon as they both worked tirelessly for us. I can't recommend Galloways enough.
5 months ago Krystal McCloud
Jon has been extremely helpful in our search for a new home and his knowledge of procedures and the local areas has proved to be invaluable. I highly recommend employing Galloways, West Norwood.
9 months ago Matt Schenkel
A simply exceptional Estate Agents. I've now had the pleasure of both buying and selling a flat with Galloways and cannot recommend them enough. As a first time buyer Darren and Steve were superb, friendly, patient, and proactive. 7 years on dealing primarily with Jon for the sale of our flat was an equally fantastic experience. Their local knowledge, and insight of the market is unparalleled in the local area. The entire process from photography, to listing, to viewings and offers was made simple, clear and efficient. I could not be happier with either experience.
8 months ago Brenda F
I've so far let two properties through Galloways and found them to be far superior to other estate agents that I've worked with. They take the time to communicate thoroughly, they are patient, and they do the very best job they can. I'm very glad that I've found them and would recommend them to anyone considering renting out their property. They are particularly good with those who aren't 'weathered' landlords, and offer frank, practical, assistance throughout the letting process.
9 months ago Rob Ratcliff
Harry and Steve were absolutely brilliant at supporting us through a rather complicated buying process. As first time buyers they were so good at explaining everything and keeping us, our solicitor and the seller in constant communication to make everything happen efficiently - such friendly and approachable guys. THANK YOU!
8 months ago Brandon Rockwell
I recently bought a flat through Galloways and they were great. Sarah kept me in the loop the whole time, she chased the solicitors when I needed her to, and she was friendly and helpful throughout the whole experience.
8 months ago nataniel pablos
We were with Galloways for 2 and half years in a one bed property. Moved in to a one bed flat that did not even have a deep clean, needed a fresh lick of paint and needed a good refurb. Never missed a single payment, we then decided to move in which all the big trouble started happening whereby they are attempting to take most of our deposit due the property needing to be painted, installing a new smoke alarm (£100.00!) which was already installed and a deep clean which we actually agreed to. BE CAREFUL IF YOU'RE THINKING ABOUT USING THEM! DEPOSIT WILL BE TAKEN AT ANY OPPORTUNITY.
7 months ago Donna Woodard
I really can't recommend Galloways highly enough. Professional and competent from start to finish. I've dealt with several south London estate agents over the last couple of years and can say these guys are hands down the best in the area. If you want to sell, don't bother looking anywhere else.
6 months ago Jan Scott
We recently sold our flat with Galloways and found the West Norwood team very helpful. They provided good feedback after viewings and answered any queries quickly throughout the process, and made sure to keep us up to date. They have good knowledge of the local area, and I would definitely recommend them to anyone looking to sell their home.
9 months ago Lalita Pawar
Amazing service, we found our new home through Steve, Jon and the team. Always available when we had to organise surveys or visits to the property, always got the feeling of dealing with honest people and really passionate about what they do. Responsive and willing to give their opinions and advice. Definitely recommend to use these guys if you are interested in the area they cover!
2 weeks ago Agatha Nelson
We purchased our new home through Galloways. Harry was excellent from start to finish. Very helpful, always contactable and always followed up all my queries quickly. Very happy and would definitely go through them in the future. Thank you
6 months ago Wanda Martin
I contacted Galloways looking to rent a property. The agency were very professional, very thorough and very informative. Any questions I had were answered swiftly and thoughtfully. They helped me find the perfect property, that fit my budget. Highly recommend to anyone and everyone. Thank you to all the team at Galloways.
11 months ago shiwanda crawford
As a recent buyer with Galloways, I was very pleasantly surprised by this estate agents. Very little evidence of the estate agent 'stereotype'. They were responsive, polite, straight-forward and transparent. No hard sell at all. I kept wondering to myself what the catch was and when it would come. It never did. Refreshing. Recommended.
11 months ago Tom Kielmar
Amazing service from Steve and the team. Let my property in less than 24 hours and tenants in a week later. Very professional and a pleasure to deal with. Highly recommended
2 months ago Jim Clem
They did a great job selling for us (to Chiara!) Great service throughout the process, and particularly helpful when a seller down the chain was awkward and delaying our exchange. Can't recommend them enough. 5 stars!
2 weeks ago Kayla Gray
Have dealt with Jon from Galloways to move into a new flat with a friend of mine. Jon has been so helpful all along the way and really made this an easy move for both of us. If you need a guy to sort you out with a sweet pad, Jon's yer man.
6 months ago Jean Atwood
Galloways were fantastic from the start. Steve was brilliant; straight forward and on the nose with getting our house on the market in the right way and at the right price. Sasha found us excellent buyers and and helped us through the process from beginning to end. Steve also gave us great advise when it came to buying another house and dealing with other estate agents - even though we were not buying a house through Galloways. We received the most honest, reliable and trustworthy information and help from all the team at Galloways. We would definitely recommend using them to sell your house.
10 months ago Emilio Villegas
Have bought a property through Harry at Galloways and can't recommend them enough - really attentive, happy to answer questions from us as inexperienced buyers, and our sale has gone through relatively quickly. Thank you so much!
11 months ago Araly Ochoa
It has been almost 1 month that I moved to the new flat, where I had the pleasure of renting in the Galloways Agency with Jon was one of the best indications that I have had through a friend of mine. being that I had been looking for a flat for 2 months but all the Agencies did not feel comfortable and confident was when I visited the Galloways and Jon received me and gave all the support that was necessary until the date of my move to the new flat, in fact I just have to thank Jon for the huge help. Jones & Juliana Demarchi
11 months ago Shiva A
I have let a property managed by galloways for the past 4 years. They are unlike any other letting agent I have ever had in London. The are beyond professional, courteous and they maintain their properties with their landlords. Highly recommend
6 months ago Antonia Harvey
Just had a good experience with Galloways. The people there like Steve are always very helpful and friendly. So really want to recommend it!
9 months ago Jerre Hoffman
We recently sold our flat through Galloways and from the first time Steve came to visit us at home, (a year before it went on the market) through to our day of completion we have had nothing but professionalism, care and support from the whole team at Galloways, and great communication with Harry our agent. There's been a lot of external stress on the sale (through no fault of Galloways) and Steve and his team have done everything they can to make it easier for us and our buyers. They really have restored my faith in estate agents and are brilliant to deal with. Proper, old fashioned professionalism, courtesy and the human touch.
6 months ago Charles Dickey
My partner and I rented a flat through Galloways (specifically, Jon) and have only good things to say about the service and the staff. Will certainly continue to rely on them for future rentals/buys and can recommend them to anyone! A big Thank you to all the staff!
6 months ago Christine Earls
I bought property through Galloways 3 years ago and can't rate them highly enough. They were the only estate agent who took sealed bids and didn't tell us the amounts of other bids to drive up the sale. They have a lot of integrity and are efficient. Would definitely use again when selling/buying. We dealt with Sasha.
2 weeks ago Jaker Ahmed
Wow, reading these reviews makes me wonder if this is the same company I'm dealing with. Daren was extremely nice when we first met him (so the two stars are for him) but unfortunately he's been off for a few weeks and it's almost as if no one there knows or even care about the business that we were doing with him. AND that woman that answers the phone, her attitude sucks. It's a shame really, I've had experiences with 3 other letting agencies in the South Norwood area and this is by far the worst. If the process wasn't halfway done and we hadn't already paid them all that money for referencing and holding property and what not then I would've just cancelled the entire thing.
1 month ago Oren Rubinpour
Lovely little estate agents. Managed to get lost and the battery on my phone died. Amazing young gentleman helped direct me and saved the day as I was going to meet my father to celebrate his 48th birthday! You were awesome!
6 months ago Wolfe Hayashi
I have been renting a couple of houses in South London with them for several years and the Galloways' team (Steve, Sasha, Darren..) has always been very helpful and trustworthy from the beginning to the end. It has been a real pleasure working with them and if I'd come back in London in the future I would go with them for sure. Warmly recommended.
2 weeks ago Abhishek Kumar
Having lost my mother 18 months ago, and having to deal with selling her property recently at an emotional time, it was a pleasure dealing with professional, caring and sympathetic people. they made that whole transaction seamless, even suggesting a few solicitors, who were also wonderful to deal with, took away any pressure. The process was quick and completely trouble free. Would I recommend them? Definitely, I certainly would. Barry
2 months ago Shane B
Having used Galloways both as a letting agent and to sell a property I can't recommend them highly enough. The staff we have dealt with over a number of years have always gone above and beyond to make things happen. I always had confidence they were acting in my best interest. On the sales side Steve made it his personal mission to find the right buyer for a difficult to sell property. I wouldn't hesitate to use them again if I needed to.
11 months ago Aidan Noon
We really appreciated all the help Jon gave us throughout, and thought it was a brilliant and seamless process searching with him. He went the extra mile, and was definitely the most helpful and friendly contact we've had.
6 months ago Edenilson Sorto
I would like to express my gratitude to Steve, Sacha and Liz for their support, advice and guidance throughout the sale process of my flat. They are a professional team with a very good costumer focus approach, based on regular update, communication and objectivity. I would STRONGLY recommend them, especially for clients with little knowledge of the property sale domain. It was a pleasure working with you. Keep it up with the good job. JCNK
3 months ago Mike Swiader
Very efficient and helpful team at Galloways. Constantly kept me updated and ensured sale went through as pain free as possible. Personable, professional and knowledgeable...would use them in future purchases. Highly recommended.
5 months ago Esbeydi Gaona
We went through Galloways to purchase our new property. The agency was pretty awesome. They managed to make the transaction possible. It would have not gone through if it wasn't for them. Thank you Galloways (and Steve in particular)
2 weeks ago Rob Sulaver
We bought our house through Galloways and they were an absolute pleasure to work with. Sasha and Steve were so helpful and friendly, I would definitely sell our home with them in future. Our experience was made less stressful because of the great team, I couldn't recommend them enough.
2 weeks ago Kelly Bosserman
Where do i start - the whole experience of using Galloways has been fantastic from start to finish! As soon as we met Steve and Sasha we knew they were a very rare breed - estate agents who are honest and will be totally upfront with you. You do not feel you are "just a number" which is very refreshing. They have years of experience in the industry and are lovely people to deal with. There is no hard sell - just honesty, integrity and professionalism. Their valuation of our property was totally spot on - unlike some of the high street names who totally over-inflate prices to win the business then tell you 3 months later the "market has dipped" and you have to reduce your price. They are local experts which puts them streets ahead (excuse the pun) of the competition! This local knowledge meant that not only did they price the property accurately, they got viewings quickly and of the right caliber. They also worked extremely hard to get us the best price and we were delighted with the end result - even a few weeks after Brexit they got us viewings and a reasonably quick sale at the price we wanted!! You really get the feeling they are totally with you every step of the way and want make the whole process as smooth as possible. We had a number of serious legal issues during our sale and purchase and this was handled wonderfully by the team at Galloways with them going above and beyond to make everything happen. They even recommended a fantastic solicitors who, coupled with Galloways made a formidable team! In contrast to the online estate agent and solicitors used by our seller they were light years ahead. Although slightly cheaper than Galloways they were absolutely awful! i did not get a phone call in 7 weeks from the sellers estate agent and had to do all their work for them - Gallows on the other hand called me constantly with updates and were always available - filling me with confidence that everything was going to happen. I cannot speak more highly of them and would wholeheartedly recommend them to anyone who wants to sell their property in the area. Thank you so much guys - thanks to you we now have the dream home we wanted!
2 months ago Lucas Thacker
Having searched for a property in London for nearly a year, I have come into contact with a lot of different estate agents. I found Galloways to be polite, efficient and professional, particularly in contrast to other agents. Communication was quick and they assisted well in negotiations with the vendor. My contact, Sasha, was always helpful, friendly and quick to respond to emails or calls. I am now installed in my first home!
2 months ago Verena Fitzgerald
We were really impressed with Galloways, having previously been pretty sceptical that a (high street-based) 'real' estate agent would enhance our selling experience. They kept us informed, took amazing photos, didn't talk nonsense and we are recommending them to our friends.
9 months ago chris smtih
We have just sold our property through Galloways. Steve, Liz & Harry were great with feedback from viewings, always friendly and happy to offer advice when we needed it. Would definitely use them again.
6 months ago Vicki Robinson
Galloways, and Sasha in particular, have always been really helpful for me. They have shown me round countless properties, both as a buyer and a letter, and helped me secure a great rental property. I cant recommend them enough!
2 weeks ago Janine Heffelfinger
Fantastic estate agents. I completed on my flat purchase a few weeks ago and Liz was very honest, professional and supportive throughout, which really helped make the whole process pretty much stress free. Would highly recommend.
6 months ago Brendon Romanski
We were very impressed with the professional and personal service we received when selling our house with Steve and his team. He offered excellent advice and was always available to speak with. We would not hesitate to use Galloways again in the future
3 months ago
Popular places from the category Real estate agency