Saint Joseph's Medical Center
Medical Center Saint Joseph's Medical Center, 127 S Broadway, Yonkers, NY 10701, United States:
127 reviews
of users and employees, detailed information about the address, opening hours, location on the map, attendance, photos, menus, phone number and a huge amount of other detailed and useful information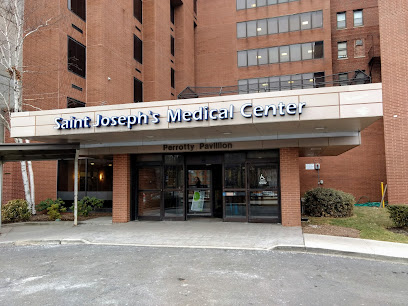 Address:
127 S Broadway, Yonkers, NY 10701, United States
GPS coordinates
Latitude:
40.9295654
Longitude:
-73.8975296
Location on the map
Reviews Tarah Garvey
I went to the ER beginning of March for Abdominal pain. I didn't wait too long before i was taken to a room. One of the first things I noticed was a hair on the bed. It was not a hair from the top of you head (that is all i will say). They told me they needed a urine sample I was directed to a bathroom with a broken lock. I couldn't use the other bathroom because it was continually flooding (i will get to that later). I was genuinely nervous to use this bathroom because anyone could walk in at any time. Then i went back to my room which was in front of the flooding bathroom. it was chaos puddles on water leaked into my area, big machines were brought out to soak up the water. Then the doctor walked in, Truthfully i didn't realize he was the doctor at first. His dark blue shirt was very stained and he was wearing jeans. He said we can't help you we don't do anything here for that and he said he's gonna give me a shot of temporary pain relief. The nurse came in and gave me the shot which in itself was so painful it made my whole arm burn and left a huge bruise for over a week. I asked how long it would last the nurse said "depends on you and your body". Which was a weird reply and I assumed she said that because she didn't know. I googled it later it lasts 4-6 hours. The worst part is they billed my insurance company for nearly $2000. For doing....nothing. DO NOT GO it was dirty, gross, chaotic. I will never go again and I genuinely wish I hadn't gone. I wish I had just fought through the extreme pain i was in before i arrived.
7 months ago Heather Hewitt
I had surgery here today. Everyone —from the greeter to the nurses to the anesthesiologist— were so nice! It was so refreshing and different from some of the "cold" hospitals I've been to on Long Island and Manhattan. They kept me fully informed of everything happening at every step of the way. I'm so happy my wonderful podiatrist made me go there for my surgery!
7 months ago Ruthie Clifton
I had surgery this morning. The scheduler called me yesterday and said that I will be the first patient for this surgeon and must be there by 6:30 am. Then got a second call saying I've been moved to the second slot. Be there at 7 am. I get there at 6:45 am. By 7:05 I am prepped and sitting in pre-surgery waiting. Couple of hours go by and I'm seeing patients coming and going. I finally walk out of the back room they hid me in and see that it's now 9:30 am. The first nurse lies and said that the surgeon signed something and went out for breakfast. Then another nurse said I am now number 4. I lost my patience at this point. Needless to say when you call them out for being incompetent liars, you lose the moral high ground. Then other patients start telling me to relax and have patience, meanwhile they've only been sitting there for less than 10 minutes. I was finally taken to the operating room, fuming and hyperventilating at 10:10 am. THREE HOURS AFTER GETTING PREPPED. Later, my wife tells me that she had to ask hospital staff about me numerous times because she saw patients come in AFTER me and LEAVE before me, yet not one staff member had the decency to inform her if I was well or not. This was no mistake or error. They just deemed me as insignificant and kept putting other patients ahead me as they saw fit. There is a scheduled list of surgical patients which was ignored. How did I go from first to fourth? I was placed in the back room and forgotten. Disrespectful. Then they try to justify this with lies. Unprofessional. I've had over a dozen surgeries in my lifetime at different medical centers and this hospital was the worst experience I've ever had. Shame on you Saint Joseph Medical Center in Yonkers NY.
7 months ago Taryn Propersi
I dont know how an ER like this is still in business.. . As a nurse, I can say that whoever that woman was at the front desk had zero knowledge of what composes a medical emergency, nor does she even have any caring or empathetic capability whatsoever. This facility needs to take better care with picking someone qualified to give a primary assessment and at least pretend to care.
7 months ago Nolan Gagnier
Did not disappoint. So organized, everyone was so kind and cheerful at the early hour. Was in and out within an hour and a half which I'd have to imagine is rare in NYC on Friday night. Hopefully you don't have to go but if you do and are in the Brooklyn area 10/10 recommend.
9 months ago Robert Bryan
The emergency room at the hospital was disgusting. I was there for five hours just because of a stomach issue. They gave me IV and Advil and then they left. Then, they let me wait two hours for a cat scan. They also threatened to call the police on a patient who was confused about the covid protocols. Then a patient came in because he didn't feel good and then the doctor said I'm not taking you, I told you to go to the doctors, you can sit there and wait and I'm still not going to take you. They are very rude there and I would not recommend this hospital for anyone who goes to the emergency room.
7 months ago Joel Vargas
I got my vaccine shots here. Very organized and the process was smooth. Highly recommend for anyone in Westchester.
9 months ago Barnita Karmakar
I received my Covid vaccine at St. Joseph's in Yonkers. From the minute I entered the front door all personnel were friendly, welcoming and professional. They guided us up to the 4th floor where the system of registration was very organized. The staff giving the vaccines and taking our information were kind, professional and friendly. As we waited in the hallway to make sure we did not have a reaction ( especially my 101 year old mother) we were entertained by the staff supervising us. We walked in as four family members and were out in less than 45 minutes. I could not have asked for a better experience! And the hospital is so clean it shines! We feel blessed to have gotten our appointments there!
10 months ago Lisa T
Horrible! Horrible! Billing is a hot mess. Treatment is disgusting !
7 months ago Adrian Crane
Just received my COVID19 vaccine at this location. Everyone was so friendly, nice, and extremely helpful! Thank you to all the workers for making the process easy and stress-free :)
2 days ago Robert Schneider
September 10, 2020 12:45 p.m. I go to visit my 86 year old mother in ICU. The first impression of the hospital is this receptionist behind the desk. You would think her job is to welcome people and put them at ease...not!!! I think she missed that day of training. As I approach her to to give her my mother's name she quickly dismisses me to answer the phone. No acknowledgement of my presence. After being discarded as unimportant I tell her my mother's name and she says without any care or compassion "its not 1:00 yet". No other verbiage just another dismissal. No, sir sorry but visiting hours aren't until 1:00 p.m. You are more than welcome to wait in the lobby. Just a little courtesy especially during these trying times The medical staff is very responsive but you have to get buy the lobby to appreciate the work of the rest of the operation. September 12, 12:54 p.m. visiting hours at 1:00. I enter hospital and am greeted by young man behind desk in white coat. He ask me softly can he help me. Well aware of visiting hours from prior experience i tell him I am here to visit my mom. Immediately the other woman barks visiting hours aren't until one. I explain that I am aware of that and I was responding to the gentleman's inquiry. How not to start your visit to see your loved one. As i sat down now angry I get called back up to the window the woman did a 180. She asked for my name, asked about my siblings and told me at 1pm she would have my pass ready. This is the type of response I would expect from a hospital. Her second approach lowered my frustration and we cordially went our ways
10 months ago Brad Kaeser
My mom had a test done on her right knee, they sent her the bill and she paid it. They sent her another bill, same date for the same test. So she had to pay ONE BILL 2X! This hospital is the ABSOLUTE WORST place to go for anything! They expect YOU TO PAY 2X for whatever the hell you paid for already! My mom went to the hospital with her receipts to show that she had ALREADY PAID the bill for her knee, they are giving her the runaround, because they DO NOT want to refund her money. So people, people PLEASE DO NOT GO TO ST. JOSEPH HOSPITAL for ANY tests if you have to pay out of pocket! They are going to OVERCHARGE you & blame it on the pandemic!
7 months ago Romy Sharma
Will never come here again! Case Manager Alexus Miles, has a very nasty attitude and was very mean to my son. The place is dirty, very unprofessional. I wish I could leave 0 stars.
10 months ago Carly Schild
It's an okay hospital I mean I'm not complaining I mean that the people there could be mean and everything so yeah.
10 months ago Valentinami Gorbacheva
In the mid 90s I was involved in a life changing accident and was brought to this hospital never ever have I been treated so unfairly as if I weren't human I curse this hospital and all who worked there at the time
11 months ago Jon Rector
my mother went to the emergency room at about 8:45 pm on December 8th 2020. I came to find out about her at about 9 pm. it's 1:54 am on December 9th and nobody has come to inform me on how she is doing, despite the fact that I asked 3 times already. I don't think that is a good service and is not fare to me. I am the only person on the waiting room and it isn't busy at all. I think they should provide a better service
2 months ago Michelle A
I went to get a covid test months ago, they automatically tell you to go to the ER to sign up for one. I did, and a nurse later told me I wasn't sick enough to get one. I was never seen by a doctor, didn't have any type of medical exam or anything. A month later I got a bill for $800 .... They said the bill is for walking in to the ER.... it's a scam and I've already reported them to the department of health which everyone else should do as well.
2 months ago Michael Deignan
Terrible. I got admitted over the weekend and they found out I was diabetic. They told me it was pretty bad and I needed to take insulin. They told me I'd be discharged Monday (it was Saturday) and then twenty minutes later a discharge nurse comes and tells me how I would feel about leaving that day. I tell her I am not comfortable without being properly educated and directed on how to test my sugar and give myself insulin. She whips out her phone and says "You can search it on Youtube. You can learn to play guitar on youtube so really you can learn anything." She also informs me if I am uncomfortable she will send me a visiting nurse. I am hesitant but its better than staying in a hospital with COVID patients on my floor. The next day CVS calls me to tell me my prescription is ready and I go to the pharmacy to find out they never sent my insulin or testing strips. They did however send over two psychiatric medicine that I do not take and that gave me a bad reaction when I took them years ago (which is documented in their system because they told me they had record of all my medical history and medication) I call the hospital and try to reach the doctor. He isn't there. The nurse informs me she will talk to the other doctor on duty and ask him to fill it. She take my number tells me she'll call back. Hours go by. She doesn't. I call and she tells me "The doctor said he doesn't feel comfortable filling your prescription. He doesn't want to get involved. Sorry. Try to call tomorrow cause your prescribing doctor will be in" I called the next day. He was not. Another doctor luckily filled it. Cvs calls prescription filled. I go and of course I can't get my insulin because the doctor has to call my insurance to authorize it and CVS said they can't get a hold of him. So I'm going on day four without insulin. If I could give no stars I would. If I wasn't going unconscious no one would willingly take me there. Trash hospital. Also one of the church people who pray for you there came into my room and started speaking Spanish to me because he saw my last name was spanish so assumed i didn't speak english (and no this man was not a spanish speaker. He was struggling talking to me in spanish)
2 months ago Mary Thornburg
Security in emergency is rude no bathrooms to drunk roaming around without a mask
11 months ago Caroli Morton
This hospital is the worst don't ever come here I'm being held against my own will in this hospital for 7+ hours and when I ask for a discharge they tell I cant when I know I can and now they holding me until further notice I hope they're ready for a lawsuit. December 16th, 2020
2 months ago Luis Vazquez
Yesterday I had ambulatory surgery at Saint Joseph's Medical center the Doctors and the medical staff there are very dedicated and were very kind to me.They even provide transportation services which made it very convenient for my visit appt. I felt very satisfied with my stay here during this COVID-19
3 months ago Ashok Kumar
The hospital staff are overwhelmed but they simply do not answer their phones at any number. I have been getting a busy signal for 40 minutes from 6 pm on. A follow up. While you still can not visit. There are continuing issues with their phones but the staff are friendly and eventually call. It is scary that they learned their lines were down only because I went up there to check on our friend.
5 months ago AHLEXB
This is worst hospital ever you will be better off traveling to the closest. Very unprofessional the nurses and doctors just sit around. No care for their patients. AGAIN THE WORST HOSPITAL
1 week ago Arturo Diaz
Being harassed for just sitting in the waiting room waiting for my wife.
10 months ago Karel Geerlings
I went here last night for dizziness and being lightheaded. They did my vitals once and 2 hours pass before anyone else did vitals again I had to search for someone to do it after my blood pressure was high when I came in. 3 to 4 hours later I didn't even get an IV, no blood drawn for tests or anything. They offer me meclizine which I declined because I have taken it in the past and had bad reaction, I explained this and their response was well we can't give anything else. So what the hell am I supposed to do at this point? The woman next to me also gave up. You can tell there's some good employees working there but this hospital has reached the breaking point I think. I gave up and walked home. I've never had this happen to me at an emergency room. You see the reviews listen to them. They should close this place or merge with another hospital and make some serious changes.
6 months ago Ethan Pitts
This was one of the worst experiences ever. Went to the ER at 7:50 was not seen until 9:30 with few patients in the waiting area (which by the way is not sectioned off for public safety) I was told my name was called to which I NEVER heard anyone call me. I get to the back and still was not placed 6ft apart (no sense of distance) the PCT asked to take my vitals to which I had to ask him if the equipment was cleaned and he stated yes. Another nurse came behind him and grabbed the same machine and proceeded to use on another patient I stopped her and told her it was not cleaned after my use. I was placed in a double bed triage area with an unknown stranger in which my information was able to be heard. The ER Dr. came in and did not introduce himself and also was not wearing his badge. I asked him did he wash his hands before proceeding to exam my hand and he said he did. I asked what was his name because I did not see any badge on his person. He said his name was Dr. Gray or Grayson I'm not sure but he is a short man 5'4 or 5'5 maybe also has an accent and of Caribbean decent. His bedside manner was very unprofessional into which I decided that I did not want him to treat me and left. St. Joseph's is very unsanitary, unprofessional and I wouldn't be surprised if many patients was exposed to Covid-19 and Nosocomial diseases (hospital infections). I hope this review and the others are taken seriously and seen by The CDC and Centers for Medicaid and Medicare. Their press ganey scores have to be below average.
6 months ago Austin Bodnar
Went for an ultrasound and the nurse just looked at my child and already decided that she can't do an ultrasound because my kid was moving to much mind you how do you think babies and toddlers receive shots and vaccines in the clinic next door. Clearly this nurse thought my kid was" too much of a hassle "so she said sorry I can't do it.
2 months ago Victoria
I would never go here ever again. I was in so much pain that the doctor in charge of the ER, literally ignored everything I said. They gave me pain medication and that didn't help. Then a muscle relaxer and that didn't help. I complained to 3-4 nurses that I was still in pain and something is terribly wrong. The doctor refused to see me and was adamant about discharging me. Apparently, my blood work and EKG was good enough for him to dismiss me. Regardless of all the pain I'm in. No X-ray, MRI, or even sonogram. I went there in pain and left in the same condition. 6 hours wasted for nothing.
2 weeks ago Allen Owens
I am so impressed with the level of professionalism, dedication and cleanliness at this facility!! I am in the hospitality industry and have been so pleasantly surprised that I have not encountered one staff member that wasn't lovely and helpful. They have all gone above and beyond: Dr. Pena in the ER said "I love what I do!" on a busy New Year's Eve! Also, Nurse Clay and Rosa (the aide who has been there over 35 years) were outstanding.
2 weeks ago Frank Gao
The waiting takes forever and there is always the feeling of being ignored by dovtors and nurses. Too much yelling
6 months ago nkslider
This hospital isn't great, but Owen Moore in radiology is fantastic. A+ P. S. Very easy on the eyes.
8 months ago Caitlin Foley
You guys didn't do enough , I was told you guys take too long to see patients . The Doctors must really be lazy , you guys could of saved my father .
8 months ago Opal
The worst medical center ever we wait for so long and I will never come here again. I would like to put 0 stars but you can't you have to put at least one star.
9 months ago Diana Bello
The ER STAFF WAS PHENOMENAL ON TUESDAY JULY 30 2019 THEY SAVED OUR LOVE ONE LIFE... THEY ALSO FOLLOWED UP WITH HIM WHILE HE BEEN ON THE ICU UNIT.. THE ICU UNIT STAFF ARE THE RUDEST POOR BEDSIDE MANNERS TO THE FAMILY WHO GOING THROUGH A VERY SCARY.MOMENT IN OUR LIFE.THEY HAVE NO HOSTILITY FOR THE FAMILY..THE STAFF ON THE 7TH FLOOR HAS BEEN UPSET BECAUSE WE WON'T LEAVE UNTIL OUR FAMILY MEMBER WAKE UP I WOULD NEVER BRING A RAT DOG OR ANY ONE TO THIS HOSPITAL..WE COMPLAINED AND NOTHING IMPROVED..THE HIGHER UP WAS EVEN RUDE SUGGESTING WE GET AN APPARTMENT (WOW) WE HAVE ONE JUST DIDN'T WANT TO LEAVE UNTIL OUR FAMILY GET OUT OF CRITICAL CONDITION .... Gail Glover They added more stess in a stressful situation..
7 months ago DaGingerBreadMan
This hospital is the worst disgusting both the facility and the service. I understand that some people may have a rough time dealing with people skills however; hospital is where they hire the rudest lease empathetic people. The service sucks for children adults and elderly.
8 months ago Bernie Lies
THIS IS THE WORST PLACE EVER!!! My aunt went in there looking for help, was put in their elopement risk unit and came out 2 weeks later worse. Now she's drug dependent and was so affected by the patients in there who were 100 times more sick than she was, it's a nightmare she feels like she can't escape. I saw the ratings and still have this place the benefit of the doubt but if you love your loved ones don't bring them here!!!!!!!!!!!!!
7 months ago Ginger Thomas
Absolutely filthy, the health department obviously does less than zero in Yonkers. I've been to hospitals in a third world countries that where cleaner than this place. The people are rude and, unprofessional. They asked me to lay on blood stained sheets that looked to be quite a few years old. The smell in this place was worse than a porta john. This place should be shut down.
8 months ago Josie Wood
Worst hospital for years. Got taken there recently and female doctor was trying to force me to get a vaccine and making it seem like i had no say to reject it. Then caught an attitude when I denied and never came back sent the nurse to treat me till i went home
8 months ago Martin Sandler
Nurse Miriam in the E.R. is awesome!!!
3 months ago Syreata Brassell
ER staff is horrible! This hospital is completely ghetto!
8 months ago Kelsey Shemanski
the hospital might not be one of the best but out of probably 10 different hospitals i have been in ny, i have to say the staff here are one of the most humble, loving, caring and proffesional. amazing people thank you for everything you guys do
2 months ago Carla Puentes
Lack of respect to patients & patient families by doctors and other staff.
2 months ago Maria Marlowe
I been admitted at St. Joseph's a few times, have had 3 surgeries there and have no complaints, and some of my family member too. We had no complaints about our care. The nurses that have attended us were professional & so were the doctors. Maintenance at one time was daily now not so much, the food was ok.
11 months ago Rome H
Unfortunately, no one wants to have to rate a hospital but in this case I have been amazed with the quality of patient care and professionalism of the staff in ICU. Everyone - from nursing, to the doctors, to pastoral services and then some --have spoken to my family and have kept us informed of my mom's situation and care every step of the way. Even one of the doctors who I found to be a bit misogynistic was still professional nonetheless. And I know for a fact that the level of care and professionalism that has been provided at St. Joseph's is not typically the case for Bronx/New York City hospitals.
2 months ago Christopher Goodman
Worst medical center they make you wait for soo freaking long. Never coming back.
9 months ago Anna Taylor
This place deserves one star because a lot of amount of times my mom has went to see what was wrong. She was puking, had severe stomach pains, could not even cross the street, and when they felt she was okay they sent her home to only see her back in there later on and to find out that if she didn't come back she could have died due to severe blood clots in her arteries, and in her lungs and throughout her body. If they would have checked correctly there should have been no coming back. It should have been that they sent her immediately to get surgery. They sent her to get surgery at a farther location literally last minute so there was not much time. Could have saved all the struggle there and just did their job. Great doctors.
9 months ago sameer patel
My wife received superior care at Saint John's Hospital. All the staff, from the Emergency Room to those who took care of her during her two-day stay were professional, courteous, and caring.
9 months ago Thomas Solberg
I gave 1 ,star but the hospital don't deserve 1 star. Its fifthy and the nurses hardly help . The hospital is outdated . The only way for me to give feedback I had to give it a star it should be zero. Want to speak to the doctor who is attending the patient they give you a around. Need to demand and argue to speak to the doctor. My son fell and the refuse to except it they call my son a liar.
8 months ago sanaa hassan
Our family member was not cleaned properly and has bed sores, rashes and infections. At times it was difficult to get ahold of a nurse. Also, at one particular time a nurse asked a family member what/how a specific medical device was used. This was alarming because it meant she didn't know what she was doing furthermore we are not medical professionals and can't tell a nurse how to do her job. There were a few kindhearted nurses/doctors; the receptionist in the main entrance was sweet and greeted us with smiles almost daily. Unfortunately our overall experience was not pleasant.
2 months ago nel toro
I've here 2 times by emergency room and they have take care of me right away. They have nice staff working as a team, really friendly and I didn't have to wait that long only 1-2hrs is better than nothing. I seen all this bad comments and is really sad seen this. But what I seen is totally opposite of all those bad comments. Hope this help to others but so far I don't have no complaints about this hospital.
2 weeks ago
Popular places from the category Medical Center