Hydraulic repair service PIRTEK
Hydraulic repair service PIRTEK, 2600 Pleasantdale Rd #1, Atlanta, GA 30340, United States:
44 reviews
of users and employees, detailed information about the address, opening hours, location on the map, attendance, photos, menus, phone number and a huge amount of other detailed and useful information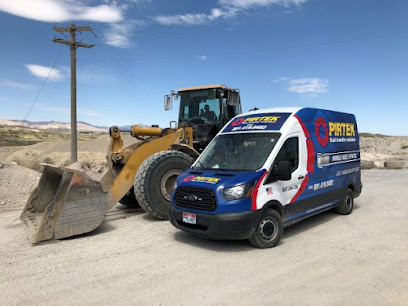 Address:
2600 Pleasantdale Rd #1, Atlanta, GA 30340, United States
GPS coordinates
Latitude:
33.9213547
Longitude:
-84.2477521
Location on the map
Reviews Sara Hassan
My experience here was amazing. After having a bad day and a hose literally busting on my semi trailer he did me the biggest favor by staying after hours to make me a new hose. Very helpful and gave me a warm welcome! I highly recommend them.
11 months ago Liusheng Zhang
Always great fast and reliable service. Everything we need is In stock and custom made to suit our needs. Highly recommended.
8 months ago Ivina Tan
Your guys have done great by me. Mario has always been able to come up with a solution for my hydraulic adventures... Thanks again, see y'all later.
11 months ago Marion Dunne
Needed a hose made....only took a few minutes....responsive staff, always someone here to help you...not much time to stand around and chat, but they are friendly and knowledgeable...would highly recommend for all hoses repairs.
11 months ago DogDog Wol
Awesome crew fast turn around! Customer service is great as well!
11 months ago Laercio Ximenes
Good service; great product. Never let me down.
9 months ago Hannes Smit
Great customer service. Get hoses quickly & precise!! Definitely the best place to get hoses made
11 months ago Angela Montoya
Great experience, repaired my power steering line in minutes and the best price anyone could ask for!!!
9 months ago Eva Jiang
Great and friendly employees. VERY KNOWLEDGEABLE ABOUT HOSEING. No excuses.
11 months ago Harris Daniels
Great customer services. Good prices. Always ready to help.
7 months ago Carla Castaldo
Very dependable. Always eager to help customers.
10 months ago Patricia Welcher
Excellent customer service & professional working people in this place.
9 months ago Brad Ehney
Place is epic. Great customer service and speed in making new lines for me.
9 months ago Cory Ericksen
I love doing business with pirtec they are very knowledgeable and fast and i sould know i was in hose business 25 years thanks for the great service
5 months ago Michael Conners
These guys are amazing! Twice I've had hoses I needed replaced at the last minute. And twice they've had me in and out in minutes. Absolutely awesome!
5 months ago Trinity Chee
I've used this particular location for over 4 years now. Never saw a problem they couldn't fix and their customer service is above all of the competition for sure!!! Highly recommend them for any of your hydraulic needs!
11 months ago Annesta Russell
These guys always have exactly what I need
9 months ago Sergey Tseona
Really good service. Definitely a recommend!
11 months ago Chris Guyer
Great service. Amazing prices .... Friendly faces
6 days ago gary woodcock
Great service and prompt arrival when called out we use them every chance we get .. @ Ogden forklifts
10 months ago Felix Malave
Very good I highly recommend this company
10 months ago Shay World
Great and fast customer service always have everything I need
2 months ago ronald abangan
great experience. always providing great service.
1 month ago Lawrence Dionisio
Super helpful with great customer service
10 months ago York Yarbro
Fast and easy to work with. Great job.
1 month ago Barbara Rowland
Fast and excellent service. Custom hoses made fast
5 months ago Justin M
Needed custom ac lines for my engine swapped car and these guys were great!! Lines look very good and they were also able to change the direction of the Hardline which required braze/ welding. Super happy!
6 months ago Shreelata Suresh
fast friendly can make any hydraulic hose in a pinch
9 months ago Alberto Figueroa
They always have what I need.
3 weeks ago john durski
Awesome service as always!
9 months ago MyNameAZeus
These guy are some of the best and fast service
3 months ago AMANDA EDMOND
No one at front counter. Waited a while and no help. Also said hi to guy in left doorway office so they knew I was here.
10 months ago Orlando Johnson
Always helpful, fast and knowledgeable.
3 weeks ago Kathy Qualls
Mario has great service..
3 months ago Donna Mason
Great customer service
10 months ago Tim Lehto
Quick and amazing service
8 months ago Joi Hood
Great service and fast
3 months ago Nasir Dahab
Get place with get prices
11 months ago Samuel Jose
Very friendly and helpful. Highly recommend.
8 months ago Ms Chell
There is never anyone there. Been by there office 3 times to get hoses made, sign on door says sales counter open till 5, no one there. Never go there again.
5 months ago R Wags
Our company has alot of hoses replaced with Pirtek. Very good customer service and they always want to make the customer happy.
5 months ago Marleine Tutor
Great service ,friendly people.
8 months ago Keyana Thompson
I showed up there asking for a price of a hose , customer service wasn't good and the price was too high . Check other places before you come here.
8 months ago MrSteal YoGirl
soy un cliente frecuente de pirtek por la razon de mis truck siempre algo pasa con las mangueras y para mi y mis compañeros que siempre acudimos a este lugar los atienden muy bien y me entienden cuando pido algo especifico para mi conveniencia es por eso que dejo mi esperiencia buenicima y los precios creoo que son justos
2 months ago
Popular places from the category Hydraulic repair service