Westfields Hospital
Hospital Westfields Hospital, 535 Hospital Rd, New Richmond, WI 54017, United States:
51 review
of users and employees, detailed information about the address, opening hours, location on the map, attendance, photos, menus, phone number and a huge amount of other detailed and useful information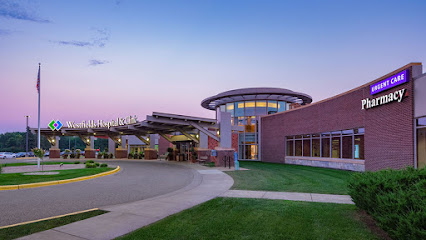 Address:
535 Hospital Rd, New Richmond, WI 54017, United States
GPS coordinates
Latitude:
45.1176605
Longitude:
-92.5551795
Location on the map
Reviews Alex Fisher
A good friend of mine was not able to get the care he required and was met with constant barriers preventing proper care. Over the course of his care it seemed the folks here were more concerned with getting their pay checks then providing quality care for their fellow man. I would advise you to look else where for quality care as there seems to be very little compassion for those in need here.
8 months ago Ian Swett
This is a bad hospital to go to if you need ER care. I have read some of the other reviews and it goes with what I'm saying. This place really needs to get it together. Please if you care about yourself and your loved ones look else where for your medical needs. Long wait times and doctors that are not helpful is not the answer. Thanks
7 months ago steve griffin
I have always had a good experience here. The staff is well qualified and caring. The GI staff is amazing.
9 months ago Ashleigh Justin
I don't like how my friend was treated and how his health care needs were not met. This place has a lot of bad reviews, maybe they need to switch up the management. People matter and to dismiss them makes no sense. How senseless of an organization to treat someone I care about the way you have. As much as medical insurance cost you think the people paying would be treated better.
7 months ago Aaron Welch
It can be unfair that Google has policy guidelines that get in the way of certain experiences. There are so many incidents were my life has been impacted because of these people. Your doctors have made mistakes and your leadership has failed. I will never let this go. I would strongly recommend looking elsewhere for your healthcare needs.
8 months ago Keillani Chamberlain
Had a mammogram at Westfields over a week ago. Ordering physician was from another clinic. They sent a copy to my PA at Westfields which was fine so it is in my record. However, they did NOT send a copy of report to ordering PA at the other clinic. Not only that, the PA at Westfields ordered another test without discussing with me, even though she was not the original ordering PA. I called and left message on their line for a staff member to call and discuss as I stated I do not want the extra test. No one called. When trying to get my mammogram report, I was told I needed to contact ordering PA. Hard to get it from the ordering PA when the report was not sent to the ordering PA per proper protocol. Medical records was supposed to fax to me. I have not received. I called med. records again this morning and left another message asking them to fax again and left fax number as well as call me so I can be certain to get MY report. No call, no fax. It is my body, it is my report. I think I am probably done with Westfields as a result of this mess as I should not have to fight to get a copy of my own test results!
4 months ago Erianna Geromitsou
Birth center staff are phenomenal. Absolutely fantastic service and attitude. The staff made my wife and I feel welcome and cared for. Couldn't have gone better.
6 months ago Cora Waller
If only you could put negative or no stars at all! All I wanted was a (ESA/Emotional Support Animal) form filled out and signed by a medical professional so I could have my service dogs with me after I moved. First, in mid-December, 2020, I was told by my MD that she could not do the ESA form because WI law requires that it is done by a licensed Psychologist or Psychiatrist. So I kept trying to get an appointment with someone, to no avail (I was told that "Dr. D" had no openings until March of 2021). Finally, I called the help line to try to get an appointment and was already completely stressed out because my move-in date was January 1, 2021. The (so-called) professional that answered the phone connected me to a nurse who I talked to for over 20 minutes, who kept telling me I needed to go to the Emergency Room! I was so completely frustrated and aggravated, I told her that it did me no good to talk to her and hung up the phone. She called the police to come to my house!! NOT kidding!! Again, I contacted Westfields to an appointment, but was told that the referral my MD gave me to see a psyche doctor was over a year old, so they could not make an appointment for me!!! OMW why oh why did they put me through hell and back? Of course, every time I contacted them I told them that I need this form filled out and signed so I can have my ESA dogs with me. FINALLY my MD gave me an "Urgent" referral and I was able to make an appointment to see "Dr. D" on January 5, 2021. I talked to this "Dr. D" for an hour only to find out that she would not be able to complete the ESA form for me! WHAT? So I called Westfields and Healthpartners numerous times the following days only to find out that Healthpartners does not allow their doctors to do the ESA form due to liability? To say this is the most outrageous, insane disservice they could have ever done to anyone would be a huge understatement. Everyone that I talked to in order to get the appointment was made aware that my goal was to get this form filled out and signed. Every Westfields Hospital and Clinic "Professional" that was involved in this scam should have known and told me that Healthpartners does not allow their doctors to do the ESA form and that would have been the end of it because I would have simply gone elsewhere. Now I have to pay them my deductible and 20% out of pocket for NOTHING. I used to wonder why people ran around gunning people down. I have NO intentions of harming myself or anyone else, but I hope to God they all learn from this so no other human being has to go through this EVER.
11 months ago Kody Clark
Someone ought to take a look at the reviews left a year ago by Ashley and Nicole Norlander. Sounds like undiagnosed COVID-19 to me.
2 weeks ago Suhail Purkar
Had an appendectomy done there by Dr. Melby last week 06/24/2020. The staff was friendly and polite and actually talked to me like I was another person rather than just another patient. Very clearly answered any questions I had about the surgery, pharmacy, work related and other topics. Checked on me throughout my overnight stay to make sure I had everything I needed and comfortable. There were so many other nurses and doctors that I spoke to, that I'm ashamed to say, I forgot their names, but would like to thank each and everyone them for taking such good care of me during my brief stay.
7 months ago Jack Blair
I'm visiting my parents from out of town, so this isn't our normal place for doctoring. My 16 month old fell and cut her forehead so we had to visit urgent care. We were under the care of Dr. Clifford Tenner and I cannot say enough good things about him. He was fantastic!
6 months ago Sergii Martseniuk
Need to thank all of you for your considerate, professional care, after my accident. There are so many of you I want to thank. EMT's, Radiologists, Case Manager, Doctors, Therapists, Food Service, Nurses and CNA'S. And a special shout out to Nurse Sally and CNA Donna!! I I hope I have not forgotten anyone. You are all fantastic!
3 months ago Lisa Meleney
The care my son has received at this place is horrible and the way he was treated was deplorable
7 months ago Dimas Martadarma
Our son was born here on September 14th via c section i cannot thank everyone enough for how well they took care of us. Outstanding service and care from all
10 months ago Kevin Lee
I'm surprised to see so many negative reviews. Over the last year we have unfortunately had many trips to the ER. Not once have we had a bad experience. We are always brought back right away and helped in a timely manner. Every single nurse and doctor has been amazing. Keep up the great work.
9 months ago Sushila Gadodia
Daughter's torn ACL repair surgery was done here by by Dr. Weiss, who was very good at what he does. You get the feeling here that staff are skillful and organized. There was minimal waiting time. Cafeteria food was pretty good.
3 weeks ago Marion Dunne
I've had routine appointments, used urgent care and had surgery here. They're so efficient, friendly, knowledgeable and caring. So glad I found them after moving to Wisconsin.
3 weeks ago Gregory Fernandez
Had a 2:45 pm appointment in Imaging yesterday, if I could have given the staff member a score, it would have been A+ ! Although I cannot remember her name, the appointment was awesome, handled with great care and compassion. Thank you !
7 months ago prakash srinivasan
I had the most amazing birth experience here and I miss my family dr Jordan so much!!! We just moved and we miss her terribly the OB staff is just amazing. I would recommend her and their birthing center to anyone!
9 months ago Magali Lily
Total worthless place went here when I lived in new richmond
3 months ago shawn r
The doctor I saw was incredibly dismissive, talked over me constantly, and wouldn't let me get a whole sentence out. This is exactly why I don't go to the doctor.
9 months ago Samantha Brooks
Always had good care here. Excellent nurses in the surgery and recovery departments
9 months ago Ashley Mittag
I came in due to my daughter having a high fever, chills, heavy breathing, nausea, cough, and headaches. The nurse, Kaitlyn K, was sooo kind and relatable to my little girl. The way she talked to her and comforted her was heartwarming and refreshing for a mom concerned with her child's well being. She made sure we knew that we could come get her any time if we needed anything, went and got a wheelchair since my daughter was feeling well, brought in blankets to keep her warm, and most importantly talked to her in the sweetest, most comforting way. I could not have been more pleased!
8 months ago arockia samy
My mother had to go to the emergency room after falling. Here was the closest emergency room. ER doc was great and the nurses were very kind. Sadly, they were slow in getting things done including pain management and nausea control. After discharging, we realized that they had not taken her IV out which was unfortunate.
9 months ago Markus Sivula
I had the unfortunate experience of kidney stones last night, however the staff in the ER made it somewhat bearable. Dr. Newman was terrific! He explained everything that needed to be done every step of the way. Nurses Dana, Karmen and Cora were so wonderful, I feel like I made new friends. The Rad Tech with the curly mustache (I don't remember his name), he informed me when taking me to imaging that it was "spa day" lol. Thank you, all of you, for making me the most comfortable I could be under the circumstances.
9 months ago T Turner
I can't say enough good things about this place! I don't know what the other reviews are about because every time I go hear everyone is really nice to me and I don't wait very long. The doctors are top-notch. I went in today to the hospital to have a small procedure done and everybody was over-the-top fantastic! The hospital rooms waiting for surgery I guess they call him free up they make them very comfy and nice. It's the little things they have a TV that plays common pictures and they have light up music flowing into the room and they even give you just a little sent sticker on your gown if you want to come down or if you believe in that or if it helps you. Not only that they give you these gowns where they can hook up warm blower to it so it keeps you warm. They explain everything that you need to know they're very thorough. It was the best experience I've had in the hospital ever. I
3 weeks ago Karen Lee
Outstanding care. The staff cared for my mom and cared about her as an individual. It is good to know expert care is available in New Richmond.
9 months ago Elizabeth Palmer
Very good staff very professional and very quick to take care of you
7 months ago Robert Ames
Jessica that works the help line does an amazing job. She is always helpful and doesnt come across as being bothered to help you. Great job Jessica!!!
3 weeks ago L Graves
Very disappointed have been to this hospital 3 times for the same reason 3 different doctors and not one could tell me what's wrong. They give me some random medicine and tell me I need rest after 5 weeks with back pain you think they would give you a MRI OH but wait it has to be scheduled and cleared through insurance first . Amazing how i have some of the best insurance that I pay a premium of 900+ to get told money comes before the patient what a joke so what do i get nothing sent home with a sore back and some glorified aspirin thanks west field
10 months ago Niki Foley
Today was our first visit with Dr. Amy Koepke and her nurse Jesse. My daughter had to get a shot and was horrified. They both had so much patience. Thank you ladies for being so nice and caring.
10 months ago Lani Perez
It's nice to live in a smaller town yet have exceptional healthcare available. Well done Westfields.
3 weeks ago Kenneth Slaughter
I don't like how this facility has cared for someone I love. I believe this little community of minions are not for helping patients, but rather are in this to get a paycheck. Just my person opinion.
9 months ago Brandon Giltz
Great staff, great physicians, great care. I wouldn't trust my health with any other hospital and clinic. Would recommend to anyone
10 months ago Chantel Cable
Very unhappy with my "diagnoses" at the urgent care Saturday 2/16/19. Was having strep/flu symptoms. Went in Thursday got tested strep was negative but then my symptoms got worse Friday night. Went to urgent care saturday morning. The PA refused to do a flu or strep test. He diagnosed me with an asthma flare up!! I had a severe sore throat. High fevers. Chills. Body aches. Couldnt stay awake. Ended up going to a different hospital and they did a flu test came back positive!! Learn to do your job!!!!
9 months ago Lasonia Waller
Excellent care takers! Would recommend this clinic to anyone and everyone. Caring staff and always a beautiful looking facility.
2 months ago Trashy Whiteboy
I love this clinic. All of the employees are knowledgeable, quick acting, polite, and genuinely enjoy their job. I had an good experience today with an LPN named Holly here today. You guys are the best.
3 months ago anthony Velez
What a joke! I would not bring my pet here!
8 months ago Nicole Flores
I have been seeing my Dr at Westfields since I found out I was pregnant 10 months ago. Since my first visit I have felt welcomed and like my health and wellbeing are top priority. I gave birth at the birth center two weeks ago and cant say enough good things about my experience and stay there. All the nurses, lab techs, diabetic educators/nutritionists, and doctors I've seen in the last 10 months have been amazing and made my pregnancy a little easier. Recently I took my baby to the ER for vomiting. They were very prompt and understanding of my protectiveness of him. He had a sensitivity to a new food and that was why he had gotten sick, but at the time we were at the ER he was better. They didn't make me feel silly or dumb (which I felt about myself) and were very nice to us.
10 months ago The Boyds
Multiple terrible experiences throughout the years. Most recently, Urgent Care missed my daughter's PNEUMONIA and O2 saturation of 89. 89!!!! In a 7-year old! Didn't even question it. Thank goodness I have experience in the pulmonologist and respiratory care field. Only AFTER I called it out did he suggest there may be an issue because her finger is small while the machine was for an adult. Neither the nurse or I bought it. Checked t with another machine and he SENT US HOME with an added albuterol nebulizer. I bought my own pulse oximeter and it should've worked right away, improving her sat. Nope. Went to Children's ER in St. Paul and we were admitted into PICU for FOUR DAYS. I sent a paper survey/review in explaining all of this without so much as an acknowledgement or a phone call to see how she was doing. Today, sat near the lab gagging and spitting into a bag with a swollen throat while at least a dozen nurses and lab techs walked by. 45 minutes later I begged for a room to save other patients the gross nature of gagging and myself the embarrassment. Then they decided I should go to the ER. NOT A CHANCE! I'd rather gag in the car and head to an Allina Clinic than give these guys even one more chance to screw up. Sad the nurses aren't given the freedom to relay poor care to management and feel as though something will be done about it.
11 months ago Nathan Elrod
Slow, lazy, uneducated e.r., obviously looking to get sued, groundskeeping is just as bad. Last Sunday, went in with 103 temp. Nearly fell on the icy sidewalk. Warned staff several times to salt it. Mom fell on the way out. Only staff witness: " you just fall? You okay?" Goes back in locks e.r. door. During visit I was asked if I needed anything. I requested Sprite for cotton mouth and rolling stomach. Didn't get it til five minutes before discharge, despite several staff members being asked over the course of the visit. Several months ago went in because I had a bug in my ear. I knew due to scratching sensations/noises and the feeling of something moving in my ear that stopped abruptly when peroxide was introduced in an attempt to remove it. E.r. doc: "couldn't see anything". Sent me to e.n.t. said autolarangologist had NO trouble remove the remnants of a bug carcass 3 months later. All in all a duck pond that has the rare swan amoungst all the quacks and it's impossibly likely you'll hit a quack before you get a swan.
11 months ago tina josh
You have to go repeatedly for the same thing, then end up going somewhere else to find out what is really wrong. Westfield's charges a lot more than other clinics in the area for substandard care. The atmosphere is very negative and people are rude. Will never go there again. And do not bother sending me a robo note saying how you can do better. You do not listen anyway.
6 months ago Donovhan Lewis
Leaving for a fishing trip to Canada and knew i was going to run out of my perscrption a couple days shy of coming back from there. I gave them plenty of notice and even had a fax sent from my Walmart pharmacy to them requesting a refill. Called and spoke to a April and said someone will contact me soon. Now i will not have the medication i need for my mental health disorder.
10 months ago Matt Perva
Most embarrassing customer service I have ever seen. Wife left job early as she could to make it close to appointment time which she couldn't get any later time for over a month so had to work with it, was 4 minutes late and waited 4 minutes for receptionist to call us over to sign in. Check in was almost complete and all of a sudden the receptionist stops and says "sorry but we have to cancel because YOU are 10 minutes late." We were both too shocked to even talk. She had a 45 minute time slot scheduled and only needed probably 15 mins with the doctor. I hope they don't do this to other ppl frequently but the receptionist didn't even flinch or care which made it pretty obvious it happens a lot. Just really disappointed since this is only place in town.
6 months ago Nanette Jaco
I am so glad I have moved back to the area. The doctors are always personable, knowledgeable and available. I delivered my daughter here and had such a fantastic experience with both the delivery staff as well as the pre and post care with the nurses. I would recommend Dr. Jourdan, Dr. Adegoke, and Dr. Cress to anyone and everyone looking for a new doctor for themselves or their family.
2 weeks ago Scot Sutherland
Excellent, caring, and friendly. The pharmacy staff are a pleasure to interact with and make my life easier.
1 day ago Steven Wright
This hospital charges for procedures that you do not need. I was sick with shingles that they did not diagnose and they insisted on giving me a MRI and charged me $6000 for that procedure alone. Total bill was over $8000 and they did not diagnose me correctly or put me on correct medication. I then went to an eye Dr in Stillwater 2 days later, the nurse diagnosed me in the lobby with just one glance. Just ridiculous. The only reason I went to this location was because I could not see to drive. The last time I went here my appendix burst and they sent me home doing nothing for me but a pain shot. Again went to Stillwater and was immediately admitted to get an appendectomy. I am very unhappy with Westfields Hospital & Clinic.
11 months ago BONNIE RUBIN
I am 48yrs old and ended up in the ER Friday Night at Westfield's in New Richmond as a result of a sports collision that fractured my nose and opened up large lacerations inside both sides of my septum. I was first helped by Sammi and then Tom. Sammi was very pleasant and accommodating and Nurse Tom was awesome. When injured it is great to have someone that is willing to come down to your level and let you vent the way you need to and be real. He took me in stride and joked along with me as best as protocol allowed, and I am sure I was out of line more than once or twice. Travis Olives MD was the ER Doc and his experience in the Metro paid off because he had seen injuries similar to mine and knew some of the dangerous risks involved (open fracture infections and hematomas that can deteriorate the bone). Rather than having to go to Regions he worked with a Facial Trauma Specialist and ENT by phone and was able to stabilize my injury. Granted this took about 5 hours since my bleeding was excessive, but he was able to keep me in New Richmond and perform all the necessary steps to insure I could be set up for the best results afterward. The later part of my stay Nurse Jake stepped in when I was moved and that guy was so good to me I almost didn't want to go home! He ran around grabbing everything the MD wanted and provided reassuring support to both my wife and I while I endured the painful steps of re-draining and plugging my nose until I can see a specialist on Monday. They knew I had 3 days to wait it out and did more than their best to make sure I got through. So - huge thanks to those mentioned in my post and although I hope to not need to ever see you again while you are wearing scrubs - I greatly appreciate your putting up with me and helping me through this difficult night in my life. Moments like this reinforce our decision to live in New Richmond, WI.
6 months ago Felix Bleyenberg
Worst trip ever I brought my daughter in to the er to see a doctor for them to tell me it's a viral infection and I waited an hour and a half to see a doctor for them to tell me that seriously!!
11 months ago Maia Holt
Urgent they are not. Long delays on an empty waiting room.
2 months ago
Popular places from the category Hospital