Memorial Sloan Kettering Cancer Center
Cancer treatment center Memorial Sloan Kettering Cancer Center, 1275 York Ave, New York, NY 10065, United States:
155 reviews
of users and employees, detailed information about the address, opening hours, location on the map, attendance, photos, menus, phone number and a huge amount of other detailed and useful information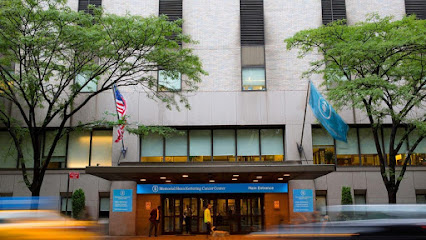 Address:
1275 York Ave, New York, NY 10065, United States
GPS coordinates
Latitude:
40.7641925
Longitude:
-73.9562403
Location on the map
Reviews Tom Steinmetz
The best of the best. Excellent at dealing with complications that also come with the territory. Every single person cares.
7 months ago Heidi Needles
I spent 4 days with my boyfriend here this week. He couldn't leave his room due to his radiation. I stayed in his room with him the entire time, not a single staff member was snotty, attitudes, or miserable. Everyone seemed so happy and funny and everyone seemed to get along. Every single person was so nice and helpful. From the parking garage attendants, security, reception, gift shop, nurses and surgeons. I mean EVERYONE was amazing. Zero complaints. I wish I could thank them all personally. *Update*. I ended up back at the hospital with my boyfriend 2 days after he was released and these people went up and BEYOND. As I've never seen a man in so much pain in my life, they did everything they could to keep him comfortable and even did surgery at 1am instead of waiting until the following morning because they could see his agony. I cannot thank anyone in this hospital enough. Really truly amazing people
8 months ago Lynette Boddie
I had uterine cancer 21 years ago. I was a patient at Memorial in NYC. Everyone that worked thare were the kindest, caring employees of any hospital or place that I have ever had an interaction with in business or medicine. Couldn't find better doctors or staff anywhere. Thank you Memorial.
10 months ago Adam Tootle
Sloan Kettering is the most Cancer centric Hospital in the world. This focus helps make the hospital the best in class... The nurses are polite and cheerful and the DR are best in class.
3 weeks ago Wiley Hopkins
So impressed with my husband's entire cancer team at Sloan-Kettering. They are so organized! Every week a nurse or doctor has called to check on my husband & discuss with him his treatments & results. There is a care coordinator who will guide & help you with any questions. All the doctors we have worked with, have been professional & caring. I work in the Healthcare for over 37 years at another hospital & can honestly say that Sloan-Kettering care has truly impressed us! Thank you, Dr Zervodkis, Dr Mantha, Dr Weiser, your nurses & Ashley our care coordinator. So glad we decided to go to Sloan. Best care he has ever received!!
4 months ago Sandra Cooper
What a huge difference from other hospitals! The staff are beyond kind, helpful, attentive and caring. I can't say enough nice things about all of the doctors and nurses at MSK! In addition to the incredible hospitality, it was so sweet to see Moxie the Frenchie making her rounds to bring a smile to the patient's faces.
9 months ago Roland Chesney
My Mother-in-law has been a patient here for the past 2 yrs +. The staff and Doctors have always treated her with kindness, respect and professionalism. Up to this morning when my wife (who by the way is the person who always takes her to her appointments) was entering the E.R. and requested a wheelchair, a female security guard on duty, yelled at her and treat her in a disrespectful manner. I quote "LOOK CAN'T YOU READ OR UNDERSTAND WHAT THE SIGN SAYS". Never addressing the fact that my wife requested a wheelchair for her mother that was outside in the car awaiting in pain and bleeding. All because my wife didn't see a signed that was posted that morning at the entrance. This is the 1st time in over 2 yrs of going there that she has been treated and spoken to in this manner. Very unprofessional of the Security Guard.
3 weeks ago Michael Khoury
I am a patient at the Early Drug Treatment center. I have been treated with respect, kindness and understanding. I am so grateful to Dr. Gounder, Erica and the entire team. I know they have my back and will do everything they can to help me. Susan Heskins Lazar
1 week ago Andrey Sokov
Great Service, Wonderful Nurses and all Employees
7 months ago Mercedes McKay
I was treated at Memorial Sloan Kettering twice. The first time for colon cancer as a second opinion and they took over the case and probably saved my life. The second time was for a non-specific growth on my foot.Both times I came out with a great outcome. Staff unbelievable,Right down to the person that washed the floors and walls every day. When I developed a foot infection, I went to my local emergency room who sent me home. The pain was unbearable. I had a friend drive me down and dumped me at the emergency room at Sloan. They took me in, it was related to my foot surgery, but not cancerous. I was there 10 days after being sent home from my local Hosp. My surgeon told me just to come down anytime I have a problem even if it was not cancer. I'm sure there's always going to be negative outcomes, The people that are happy to not write reviews as much as those that are not happy. Nothing but good things to say. They never asked me for a co-pay but I sent a bill. Yes you wait a long time to see a doctor because each one takes the time it needs for each patient and when you get inThey take the time with you too.If you are diagnosed with any kind of cancer, always go to Sloan Kettering for a second opinion, any kind!!
2 months ago gary parker
Horrible experience for a new patient! Needed a second opinion consult, after An extensive interview by intake, was directed to a different Finance department , who referred back to intake and back to another finance department. Was asked to fax all medical records , otherwise " they cant proceed". At the end of all the run around and faxing hundreds of pages, i could not have an appointment. A consult for a self pay patient is 2700$, !!!!!They will not disclose this to you before you fax all this documents and speak with multiple useless representatives, blaming each other. Dont expect any financial assistance They only assist you if you already have outstanding bills with them. How ironic!!! Every single person is "away from their desk", you keep leaving messages... This hospital and care is reserved to extremely wealthy or celebrities As i noticed from Google reviews, other people had exactly the same experience Follow up call from a hospital —-continued in same manner- insensitive and condescending. If you dont have insurance or can afford 2700 $ for a consult, go somewhere else. Once again, the most affluent hospital with much resources, will selectively help only those, with deep pockets 2 month later- very different experience with Dana Farber CI. They do offer remote consultation, efficient intake process and pleasant communication. Everything was coordinated by Dana Farber's intake staff , including document review and transfer, financial department and appointment schedule, without any aggravation on my part.
10 months ago Darshan Patel
Great service and highly professional, comes at a good price.
2 months ago Monique Mitchell
It was good ..as my friend had treatment n she is fine now
10 months ago L JOHNSON
Remote opinion is not useful at all, at least wasn't at all useful for us. Horrible experience.
1 month ago Aliaksandr Halkevich
They are so professional and amazing. My dads cancer treatment was top notch. Great staff and helped us feel great during the process. Would highly recommend to anyone.
2 weeks ago Viktor Morkovkin
Best nurses, best doctors, best hospital staff. Period!
1 month ago Kenzey Tracy
Can 3rd stage lung cancer be treated here ? Patient from India, how can they come for medical treatment here ?
2 days ago Robert Lee
best hospital ???? in new york
2 weeks ago Sd Wis
Very perfect hospital, emergancy, 4 floor dep., all people working there are perfect, I do not remember everything, but I was helped by everyone, God Bless,
8 months ago MICHAEL BASKETT
I use to work at Memorial Sloan Kettering, and honestly I am sorry that I let and now I brought in a family member for service and no word can describe, the kind of service we got . from scheduling an appointment to the entrance to the building the service was top of the line. I wish other hospital can copy the organization and management of Memorial Sloan Kettering I truly miss been part of that, Excellent hospital god bless each and everyone that work there and make every cancer patient that come to the hospital feel that there are part of the family.
8 months ago Joe McLellan
The hospital is not only state of the art, it is immaculately clean. They have an OUTSTANDING group of nurses and doctors. The doctors and nurses are so caring and made the best out of a very difficult situation. I highly recommend MSK. Thank you to all.
6 months ago Hannah Frazier
Had the pesto shrimp and it was very good. We also had shrimp fried rice which was tasty. HOWEVER, we also tried the southwest stuff pepper and it was well below expectations. Dry and not much taste. I would recommend at the very least some tomato sauce that could be added. Also ... chicken in this dish would make it MUCH better.
10 months ago Mark Stephens
I spent about two weeks at Memorial Sloan because I needed to have brain surgery. I found this to be the best run hospital i have ever been. Everyone from the man who cleans the floor, takes out your garbage, food surver, nurses and doctors are top notch. The doctors and nurses are filled with compassion. The amount of care they show you as a patient is unbelievable and truly hart warming. I feel like they have become personal friends to me and I truly am grateful for how well they took care of me. I strongly recommend this hospital to anyone.
10 months ago Adam Sweet
Memorial Sloan Kettering Hospital, Is one of the best top five hospital's, in the country leading the fight, and to find a way to help people with Cancer get back to their normal lives This Hospital has set the bar very high, when it comes to the quality of care that the patients receive, and the professionalism of its employees. I'm talking about from the parking attendants, the security guards who are always kind and helpful, the Nurses aid, Dr's, etc., Thanks so much for all your help and support.
10 months ago Sukhi Kiran
Dr. Michael Postow was phenomenal and caring for my father who had an extrememly rare form of skin cancer for 6-7 years at stage 4. He did anything he could to keep him alive and had a great bedside manner. My family was all very fortunate to end up having him as my father's Dr. at such a stressful time.
10 months ago Melinda Calhoon
Have been a patient of MSKCC for one year now with Stage 4 incurable metastatic cancer. I cannot say enough positive things about this hospital. Have been in a few of their facilities and each is superb! The doctors/nurses, medical staff are exceptional! Have never met kinder, gentler, more gifted physicians. The in-patient care, from their day-surgery center to the main hospital is one-of-a-kind. If you have cancer and you're looking for the best treatment available, this is then place to go!
11 months ago ANIRBAN PATRA
If you or a loved one needs this place, it is the very best in the world. It goes without saying that SK has the best medical technology. Perhaps as importantly, every staff member is caring and compassionate to the patient and their families.
9 months ago randy wood
Highly not recommend! They only take a certain insurance and when you offer to pay out of pocket; when you offer to transfer from another hospital they give you such a hard time. Most people answering the phones are not trained properly they send you from department to another department. They are terrible!! This hospital is terrible. So hard to get an appointment for which you wanted to pay anyway.
8 months ago Keith Owens
My mom went here for a clinical trial for her cervical cancer and they were very short with her. Didn't really explain much to her. And when it wasn't working they just treated her like a number instead of a person. It was very upsetting my mom was making trips here whenever she had an appointment and we live 4-5 hours away. She's a fighter and this place really drained her by treating her like complete garbage... she used to cry and hated it there.
9 months ago Robert Jergensen
I went to Sloan Kettering a broken man who had totally given up on life after I received the news of stage three cancer. Sloan Kettering's Dr. Hakimi and the other staff took great care of me, I left Sloan Kettering feeling like i was given a second chance. Going to Sloan was the best decision. Ryan Williams...
11 months ago Aleksey K
This is the bastion of Cancer Care when Memorial Sloan Kettering was founded. As the landmarked outside of the building shows, it has been around since the early 1900's, late 1800's. Oh, take the IRT 6 Train to 68th Street and walk North on 68th Street, away from Hunter College and away from Central Park. Oh, take the IRT 6 Train to 68th Street and walk North on 68th Street, away from Hunter College and away from Central Park.
11 months ago Tyler Jefcoat
I'm a bit late! But. I couldn't have picked a better facility to have my surgery in August 2019. The caring, attentive, and empathetic staff at MSK was phenomenal!
8 months ago Jeff Ivy
Sloan Kettering is the best..I have been going to for years now they don't take my coverage..its been about 6 years and until today they still do not take my health coverage.i hope the administrator reads this and consider taking more health insurance so for that I gave them a 1 star.TAKE MORE HEALTH CARE COVERAGE SLOAN KETTERING
7 months ago Ryan Manuel
I wish all hospitals were as good as Sloan! The staff are warm, caring and get right back to you. Highly recommended!
10 months ago Linda Fritz
My mother was very pleased with experience at MSK Hospital, thank you all Doctor and Staff for your professionalism.
7 months ago Andrew Mass
I have to say recently we have been very disappointed with the staffs at GI Oncology and Dr. Connell's office. My father has to resume his chemotherapy due to a relapse and he suppose to do it every 2 weeks. He finished the first session and the staff said they could not schedule the next one at the time, so they would give us a call. I waited a week, no one call us. The appointment suppose to be on 1/2 and we still have no appointment on 12/30. We were very worried, especially 1/1 is a holiday and the office might be closed. So I contacted Dr. Connell's office and the receptionist Ryan was very helpful and eventually got us an appointment on 1/1 at 10am after some back and forth calls. Then suddenly at 9am of 1/1, we received a call from Dr. Connell's office saying that my father's appointment should be on the next day 1/2, what a lack of coordination and communication! I said we're already on our way, so they compromised. The treatment appointment should be at 11am, we waited 2 hours and the receptionist still could not give us an estimate. Then I received another "surprise call" saying the reason we waited so long was because they had to verify the doctor's order. We were shocked! This was not the first therapy session. Besides, all the bloodwork came back normal. We would assume all the dosage should be the same as last time. Could it be that the doctor actually never placed an order? Eventually we waited another hour for a total of 3 hours to actually start the infusion after the bloodwork. What a great way to start 2020! Thank you MSK for such a miserable New Year's gift!
7 months ago Zamaira Henriquez
Nurses are wonderful and that says it all. They are competent but always willing, helpful and are able to keep a smile and a greeting. Nurses run hospitals so if they are good we are good
6 months ago Eric Fife
Nice waiting area and there is parking on 66th street and York. Sloan Kettering provides parking for under $20 for up to 3hours! That's was a great rate compared to the parking garage rates in this neighborhood. Folks were kind too. Hopefully we get good news... and that toy don't have to visit sick family in such a nice place. (Sigh)
6 months ago Nathaniel Aiken
I'm in the MSKCC hospital, Vikforiya is very concerned about me. She very responsible nurse, take care of every patient, I am really proud of you。 patient. Wan xiu ying
7 months ago Gabbie Clack
Best experience for multidisciplinary cancer treatment which is assessed with multiple members of all necessary medical assistance for each INDIVIDUAL patients needs. They found the answers where other MDS FROM Phil, Pa to NJ to finally MSK, NYC. Couldn't ask for more. Started with IR MD-DR. Bryce & her team to DR M. L
10 months ago deepa prajapati
This hospital and the staff are amazing the care that was given to my sister was nothing other than top notch I thank you for saving her life and your nursing staff rocks ????????????????????????????????????????????????????
8 months ago Joseph Nedbal
This hospital is beautiful the nurses. Are so nice. I don't know anything about the Drs because I was never in contact with them the times I've been up to see my Aunt. I heard it's one of the best hospitals for cancer. ????????????????????????. Let's keep praying for my Aunt
1 month ago roger trump
I was awed by the expediency in which the center and staff treated me and my needs. Traveled from PA to NYC when it was apparent my Drs were not giving my case the attention I felt was warranted given the circumstances. I continue to travel to NYC in order to use the Memorial Sloan Kettering Cancer Center for all my future checkups and if needed procedures.
9 months ago Shadin Turgidson
Quality of care is exceptional very friendly staff
8 months ago Chris Jordan
My mother died here but honestly the staff made sure she, my kids, and I were comfortable as much as we could be. I miss her very much.
9 months ago Tracey Pankau
There excellent I recommend them to anyone looking for hope as they did with me and continue to keep cancer away. To everyone at mskcc thank you keep it up dont give up on us. Patient for 6 years.
9 months ago Lucille Nathan
My mother had breast cancer and was treated for at Memorial Sloan Kettering. She had a mastectomy, chemo and radiation. As far as the doctors were concerned they got it all. My mother went for her yearly check up for the next five years. About six months after her last clean bill of health, she started feeling pain in her left shoulder. When it didn't get better, she went back to the hospital, before her next yearly checkup. They examined her and told her she had bursitis. About six months after that, her pain was worse. It got to the point where she couldn't raise her arm. I told my dad that that was crazy. I made an appointment for her at St. Luke's Hospital, also in New York City, for a second opinion. My dad took her to St. Luke's. My dad called me hysterical, from the hospital. He said the doctor told him that her cancer had metastasized. She now had bone cancer and 5-6 months left to live. Sloan Kettering got it wrong not once, but twice. Bursitis?! My mother died five months later.
11 months ago Ansley Crisler
I like that their nurses are very caring Attentive to patients and nice to talk to. Everyone is always so willing to help. I would definitely recommend Memorial Sloan.
10 months ago Will Farmer
I traveled to MSK to get into a trial from Cincinnati. I saw Dr. Ivyer on 3/8. He said it would take two weeks to qualify. After two weeks I started calling. I have stage four bladder cancer. The doctor told me he was waiting for tissue from Cincinnati. I called the hospital here and they said they never got a request. After five weeks the doctor finally sent the request. I followed up at the hospital and they hadn't gotten a shipping label. I got the label sent out. So after getting the tissue from Cincinnati MSK sends it back to Cincinnati. Why, who no one knows. Get the tissue back and the doctor said he was expediting the tissue at Kite in California. The tissue is actually at Univ of Rochester then onto Oregon. After over seven weeks I was called by nurse to say I didn't qualify. Offering me another trial. I didn't have medical qualifications for this trial. SHAME ON THEM. GO SOMEWHERE ELSE.
9 months ago kim walker
A Tribute to Memorial Hospital Memorial Sloan Kettering Cancer Center On the Monday after Thanksgiving, my husband who was being treated for lymphoma and was a patient of Dr. Ariela Noy since early July, was admitted to Memorial Hospital for what turned out to be his final admission. My career in health care actually began when I was 14 years old as part of the Junior Red Cross Volunteer Program of New York City; and I started volunteering at Goldwater Memorial Hospital on what was then called Welfare Island and at St. John's Queens Hospital. I worked until I graduated from high school. I have been in health care all my life, in many cases traveling to hospitals throughout the U.S. I have never seen anything that equals Memorial in quality of care. The attitude of the staff was always friendly and never put out, respectful and considerate of patients' feelings, very concerned about patient comfort and considerate of family. All details were attended to. Sitters were pleasant and helpful, being of comfort to the patient. The dietician was very agreeable and trying very hard to get what was needed to meet the patient's needs. The nursing staff was professional, efficient, always helpful and considerate, no matter how busy the floor was. They were considerate of the patient and the patient's feelings and were always trying to make the patient more comfortable. The nurse that was on the night that Jay died was kind and loving. Dr. Don Colbourn was responsible for Jay's care up to two weeks prior to his death. He was the hospitalist who made rounds daily and kept you up to date on patient care — a caring and compassionate man. He managed a team of doctors who made rounds with him daily. Two weeks prior to Jay's death Dr. Von Keudell took over his care. He was equally as caring, concerned and compassionate. They informed you of lab results, expected developments over the next 24 hours and moving forward, and who would be in attendance to care for you. As Jay grew sicker and it was evident that he wasn't going to recover, not only did the hospital extend their care to Jay, but they sent people from supportive services to check on me to be sure that I was alright and to see if I needed to see anyone to talk about what was happening. They came quite regularly until the end of Jay's life. Not to mention the fact that it wasn't unusual for the nursing staff to ask me and remind me to eat. It was a very caring environment. Memorial is still extending their hand to take care of me. I am receiving grief counseling from Memorial at this time. Supportive care asked how I wanted to care for Jay prior to his death. The care at Memorial was so excellent that I chose to leave Jay there, and I have never seen better end of life care than my beloved husband got at Memorial. Jay had constant care available from the priests at St. Catherine of Siena which added to his overall comfort. The care was so excellent that I left Jay at Memorial to die. It was the smartest decision I could have made. Jay died on December 16th 2018 after repetitively being comforted by my daughter and I. We were holding Jay's hands. There were nurses and doctors that Jay knew and liked outside in attendance to keep him comfortable if necessary. I have been a Health Care Agent four times before for very close family members. I was at the bedside for the end of life. I have never seen anything done with the professionalism, caring, compassion and consideration of Memorial Hospital. Approximately two months after Jay passed, Dr. Noy called me to see how I was doing and recommended a book for me to read. I feel inadequate to actually describe the quality of the care especially when I don't have enough adjectives to do it justice. I would like to thank all the doctors and nurses and every member of the hospital staff no matter what their position. I for one am very grateful that you were all there for Jay and me. Thank you to the staff of Memorial Hospital, many times over.
10 months ago
Popular places from the category Cancer treatment center