Cancer treatment center Memorial Sloan Kettering Cancer Center
Cancer treatment center Memorial Sloan Kettering Cancer Center, 1275 York Ave, New York, NY 10065, United States:
155 reviews
of users and employees, detailed information about the address, opening hours, location on the map, attendance, photos, menus, phone number and a huge amount of other detailed and useful information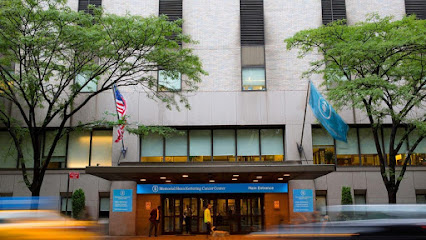 Address:
1275 York Ave, New York, NY 10065, United States
GPS coordinates
Latitude:
40.7641925
Longitude:
-73.9562403
Location on the map
Reviews Kevin Robles
I'M GOING THROUGH A THIRD TIME WITH CANCER.
7 months ago Adam Sandoval
They do amazing things here.
3 weeks ago GAVIN SMITH
The care and service provided to patients and families is excelent
9 months ago Jackie G
The staff is so kind and caring
7 months ago Reuben Hall
they take very good care of their patients. As well it is very clean
5 months ago Moshe Akerman
Great place and all the nurses are very nice!
5 months ago Arina Fedorenko
The very best place for cancer care
1 month ago Monica Garcia
My daughter and wife are in Sloan right now. My daughter is getting CARTs therapy for her Leukemia. We went across the country from UCSF Medical Center to get treatment. About half of the Sloan staff are HORRIBLE. Asking for simple things like a pillow and you get NASTY attitude from the staff (CNA, RN's). I am having a hard time forgiving one attending physician. He INSISTED she take Lasix one night (we BEGGED him not to do so). Lasix would require her to get up and pee frequently and she was very frail anddidnt do well on her feet. He was lazy didn't want to check in on her without the Lasix. Well, she broke her hip that night! He didn't care. My wife fought for half a day to get a cot so she could sleep at my daughter's side. WHENEVER a nurse or nurses aid left my daughters room at UCSF she was asked, "Is there anything else I can do for you?". Whenever a nurse or CNA left her room at Sloan I feel like she's got his/her middle finger up. Please Sloan, someone FIX IT and I'll take this post down! I'm not found of Sloan or NYC.
8 months ago Atika Ali
The care is overrated. You shouldn't have to worry about medical negligence at "one of the best hospitals in the nation".
3 months ago Mark Ross
Excellent , Staff , Doctors, NP, PA, RN's , PTC, Students, lab, respiratory , PACU - SACU support staff, CLEANEST Hospital i have ever been in . Thank you for your excellent care and concern. Most Sincerely The Varricchio Family .
1 month ago Mario Pare
My son contracted APL 3 years after 9-11. The first time, we were fortunate enough to be near Chicago Northwestern Memorial. He was in remission within a month and back in school. He suffered a second bout in 2007 and unfortunately we had to go to MSKCC. They told him he couldn't get admitted for a month, and didn't seem to understand that PAL moves so fast he'd be dead if they waited a week. We had to get the director of NWM to call them and convince them to let him get a bed. They gave him a bone marrow biopsy with no pain killer in the admissions room; then they sent him up to a drafty run-down room he had to share with a man who had pneumonia, even though I begged them to put him in a sterile environment. The room was so poor that cold air poured in through the windowframes, and the sick man's family walked back and forth past my son's bed without a mask on, no handwashing, nothing. I had to literally remind the nurses to wash their hands and wear masks around him, most of them didn't. They didn't have a specific doctor for him so we had 5 doctors we had to try to corner to get things done. The doctors NEVER wore masks, even when they were describing exactly how low his immune system was, cell by cell. I had to check his med log myself every few hours because a certain nurse kept "forgetting" to give him pain meds. One of the doctors was so brusque and unfeeling we could barely get her to talk to us, and none of them seemed to understand APL protocols. He contracted an intestinal disease, although all he ate was the food they gave him. They put him on meds so powerful they caused him to hallucinate (viconazole). He ended up dying of a brain hemorrhage.
5 months ago Jurami
Love the hospital very kind and caring personal
8 months ago Oliver Edwards
I was in the hospital (main) for a liver embolization.(this doctor and team did a good job) (I was in pain, canceled after 3 calls for help) no one really cared. Was sent home. Discharged. With no pain meds. (if you need it) I took Tylenol AT Home to relieve my pain. wife was told to take them back to the hospital. No pain meds at discharge, also Sugar went up. Would not go again. NO. First of all you where on vacation. DR. Chalasanni. After calling Basking Ridge. Was told to bring chart for blood sugar levels (from hosp.). I was denied 2 meds for cancer pills from Dr.Chalasanni so we bought both letters with us. the doctor Chalasanni said it was a waste of time to come for this appointment. We were told to show you 2 denied letters . You Said we were to tell you about it before coming (we did not know this) (communication at its best) Communicate with us. Which you did not. Doctor Chalasanni looked away when I explained about the hospital. she looked at computer, instead of us. Pay attention, when some one is talking to you. (not impressed) she Ordered blood work, which you forgot who ordered it.(Very scary). Time to get a new Dr. If you don't care I don't care. over all 1.Would not back to hospital (because I'm scared) and 2 I need a new Dr.
1 week ago Alyssa Harper
Great place to be treated for an awful disease. Doctors, nurses and aids are caring and helpful every step of the way.
2 months ago Joni Jenson
One of the best hospitals to treat cancer and related diseases. Very agressive treatment.
8 months ago Jean Bry
Great Hospital for cancer care.
5 months ago Chris Brooks
Amazing facility , going thru treatment here , Nurses , Staff and Doctors are Truly , Amazing people!!!
2 months ago Donny Smith
Great hospital with friendly caring staff.
10 months ago Santiago Puerto
It's the best cancer center.
2 months ago Marjorie Lockwood
Everybody is nice and. Respectful
5 months ago dora gala
A family member had an extensive surgery for ovarian cancer last Friday. I wouldn't want her to be anywhere else!
3 days ago LeLe Mims
Caring nurses and patients given great care.
11 months ago Andrew Diederich
Best hospital for cancer treatment in the word!
9 months ago Nancy Coppolino
Horrible health care for my grandma
11 months ago Gary Moederndorfer
I work here. Love this place.
10 months ago Katie Kristiansen
No one treats Cancer Better!
9 months ago Zeinab Raj
Great place, excellent staff and facilities
5 months ago Vuslat Ulusoy
Best cancer hospital in the world, period.
11 months ago Gwen Berry
Only here to pickup friend from work.
1 month ago Tessa Bennett
#1 hospital in NYC
8 months ago william gruben
I work there, its fantastic!
11 months ago Gary Leveridge
Great hospital!
7 months ago Miroslav Iliev
Never been here, but, Michelle Thomas died her and she was a great actor ????
7 months ago livingston bandie
One if the best hospitals in New York City!
2 weeks ago John Bowman
One of the best hospital in the city.
9 months ago Sathish Sreedhar
Saved my life
6 months ago Greg Stuart
Staff always smiling.
5 months ago Julie Thornton
Good
9 months ago Lorraine Carroll
The best !
5 months ago Olga Gorev
The staff are tops
2 weeks ago Niek Korteweg
nueses not cute
1 month ago susan frye
So friendly
1 month ago Michael Galea
My father died at this place hate it
9 months ago Ciana Sheldon
Good for training
2 weeks ago Chris Taylor
Very good.
1 month ago Kimberly Peterson
One of the best places.
5 months ago Kathryn Gillett
It's the BESTcancer hospital
11 months ago Carmelita Mendoza
I work here. I'm biased
5 months ago Kim Tran
wonderfull
3 months ago Kenny Adkins
This is a great Cancer Center.
7 months ago
Popular places from the category Cancer treatment center