Asiana Bridal Makeup & Training Academy
Make-up artist Asiana Bridal Makeup & Training Academy, 311a Wellington Rd, Birmingham B20 2QH, United Kingdom:
73 reviews
of users and employees, detailed information about the address, opening hours, location on the map, attendance, photos, menus, phone number and a huge amount of other detailed and useful information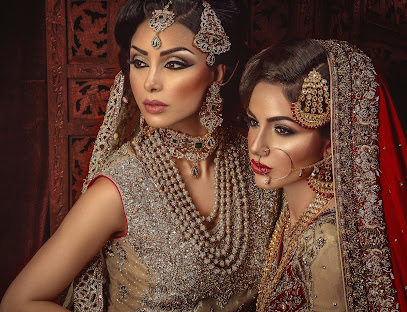 Address:
311a Wellington Rd, Birmingham B20 2QH, United Kingdom
GPS coordinates
Latitude:
52.5158830
Longitude:
-1.9037440
reviews sandy bottoms
I was searching for makeup courses, Asiana came highly recommended and they didn't disappoint. Suki shared her 20 yr experience and taught me her amazing techniques. She spent a lot of time with me and I learned so much. Highly recommended for anyone looking to become a makeup artist.
6 months ago Riyad Kellah
I was extremely worried at the start thinking whether I was making the right choice. But after completing the course i have to say it was the best decision I made by learning from such a talented and experienced individual, Sukhi. Many thanks to Sukhi for supporting me throughout my course and after my course. Zulekha Kousar
3 months ago Derek Drye
Hello ASIANA, In this most difficult of times (Post Covid-19) for all business equally and severally, those that offer exceptional service will survive. I am most indebted to your kindness and understanding but also excellent service, hence I will of course do my very best to spread the word of mouth so your business gets my fullest recommendations. THANK YOU SO MUCH ASIANA. Best wishes for a successful future. Kind regards, M .... xxx I had my bridal booked in with the very talented and trustworthy Sukhi. My wedding still went ahead during covid 19 in August 2020. She never failed to disappoint me at all or let me down. The communication between us was strong up close to the date for my booking. My booking remained during this pandemic. That itself was very reassuring and one less stress out of the way for me. The cleanliness in the salon was above my expectation and very organised and spacious. The service was more than I had anticipated. She was very punctual. She made me look and feel very very beautiful and special for my big day. She uses great quality use of cosmetics to achieve great results. She was very patient with me. She listened to me and she really is a very friendly and professional person (she's got the people skills) with great creativity ideas. With her many years of experience she knew exactly how to create the achievable desired look I had wanted confidently. She always asked me for my preferences and had shared her ideas alongside too that helped me look THE BEST I'VE EVER LOOKED for my big day. As Sukhi will remember, I walked away with a huge smile on my face because I was a very happy bride. :) I am so glad to have booked with Asiana for my big day and will most definitely continue to book with Asiana in the future too. This will be 100% my all time go to place to get glammed up. I highly recommend her for all your bridal wedding bookings and party hair/makeup. Sukhi never let me down but instead she delivered as promised truly above and beyond my expectations exceptionally and truly brightened up my covid 19 wedding for 2020. Getting ready with Sukhi was the best highlights of my wedding. I've got my wedding pictures as living proof how beautiful I looked and for my memorabilia. THANK YOU VERY MUCH SUKHI. I cannot wait to visit again soon. Lots of love M. xxxxxx
3 months ago Team Mula
Thank you so much Sukhi...???? I came all the way from Canada to learn bridal makeup from her. She is the the most talented and amazing makeup artist. I have gained a lot of makeup techniques. She is the best teacher. I just love the way the she teach. This is the best place to learn makeup. Absolutely Amazing????
11 months ago Mike Babcock
Excellent teacher and amazing classes. I learnt so much and definitely recommend to make up lovers. Suki and team are great and really invest in you and have a passion for this. Thanks so much. Faye from Bedfordshire
6 months ago Riina Tervo
I had my wedding day makeup done by this amazing lady, the service was beyond first class and she made me look and feel a million dollars on my big day. She was very patient and with her many years of experience she knew exactly what look i wanted, always asked me for my preferences. I am so glad to have booked her for my big day and will most definately continue for party makeup too. I highly recommend her for all your wedding bookings and party hair/makeup
9 months ago DanceJuan
Sukhi is a fantastic teacher!!! Unbelievable how much you can learn in 1 week!!! The whole team is brilliant. Her husband Rash with assisting, Ash for teaching hair styles, the photographer and the designer!!!! The course was a great experience and a step in stone for my own business!!! Cant wait to get started!!! Thank you for all the little tips and secrets i will keep forever!!! I would recommend this course for anyone looking into becoming a make up artist. You learn so so much in 5 days Was a pleasure being part of such a wonderful team made friends for life ☺️
2 months ago Robin Branch
It's always a great experience working alongside Sukhi Sanghera and her team at the Asiana Bridal Training Academy. I'm always amazed at Sukhis ability to guide, tutor and mentor each of her students from total novices to such high standards in very short periods of time - whilst constantly maintaining her own high standards of teaching methods. Looking forward to hearing of what exciting projects the Academy has lined up for 2020!
8 months ago Pankaj Kumar
I've come from Morocco to attend the week long make up course and can say that Sukhi is very knowledgable about make up especially bridal techniques. She gives you a lot of support and helps you a lot along the way. Very good advice also for starting your own make up business. Thank you all at Asiana.
8 months ago Keith M
So, Iv been wanting to do makeup course for a long time but always hesitated to go and apply. I went on google and found this website. I'm so happy that I found Asiana Bridal. I enjoyed it so much and learnt so much from Sukhi and Sara was so helpful. Would recommend this place for all of you looking to boost your skills or to learn from the very bottom
8 months ago Tony Gill
Amazing experience, amazing teacher (Sukhi Sanghera). Sukhi takes pride in her work and teaching. I recommend this academy to all make up lovers and those who want to exceed further in the make up industry. Sukhi and her team are lovely and kind and make you feel welcome.
8 months ago James McClay
A massive thank u to the very talented Suki for all her tips and tricks on creating the most beautiful bridal/party looks, it was a very intense 5 days, but I was very passionate to learn and absolutely enjoyed every minute. Also, thank u to Billie (Suki's assistant) who was amazing and answered any questions etc. I would definitely recommend this academy to any one wanting to join the beauty industry.
9 months ago yahya alsalmi
I would really recommend this training academy. Sukhi is very experienced and teaches her skills well. The training academy studio is a great place to learn the art of applying make up!!
9 months ago Megan Byrd
Thank you dear Sukhi Maam & dear Sara for creating such an amazing experience for Bangladeshi MakeupArtists & hairstylists.We learnt so many new technics.And we are more confident to work now on our own fields ❤️ Love for you ????
9 months ago Nandakumar Pezhery
I am newly learner. I was afraid before start this course. But after done the course i am feel more confident and thanks to sukhi & sara for help us to achieve our goal. Highly recommend
9 months ago Alejandrina Ayala
A big thanks to Sukhi for helping me with makeup and hair training. She is really a good teacher. Best place to learn Makeup I absolutely love it.
8 months ago Mark Wells
Suki Sanghera did such an amazing job. She was lovely and worked wonders on me. Absolutely happy with the results. Thanks Suki, better than I imagined.
10 months ago A Aron
It was amazing!! I learned so much and I'm so glad I attended this course, Sukhi is very helpful and a good teacher.. also I have just received all of my Pro cards :)
8 months ago jeff tan
Sukhi Sanghera is by far the best teacher. Her techniques & methods of teaching are brilliant. Not only do you learn, the lessons are fun! Absolutely wonderful soul & very professional. Highly recommended!
9 months ago Anthony Mougel
Had the best experience ever! Learnt so many different tips, tricks and styles. The 5 day course covered loads. Wish I had found you sooner! Thank you to Sukhi and her team for and amazing experience and all their help support and guidance.
6 months ago Jessica Vaquero
Had an amazing time while learning different makeup and hair techniques from Sukhi & Sarah. Would strongly recommend this place to brush up your skills. Even after the course Sukhi always happy to help her students in any way. Would definately come back in future to upgrade new techniques. Huge thankyou to both of you.
9 months ago Amanda Harker
Money taking scam artists, #Sukhi #Billi, You take peoples money and no intention of returning it.. you force and put your students on the spot to put good rating on your reviews, when you really worth not even a 1*. Your academy is as filthy and unprofessional as you both are.. I warn anyone who is looking to do a course with this place please dont waste your money, theirs much better and honest people and academies out their.
9 months ago Joe Y
ABSOLUTELY FANTASTIC MAKEUP! I had my makeup done by Sukhi for my wedding day, I never had any trial and put my trust into Sukhi for the actual day. I am so pleased with the makeup done on the day and I would recommend her to anyone I know. Lovely person great personality and makes you look amazing!!!! I also had my makeup done by Sukhi for my after event party. Book her now if you want to look amazing on your wedding day!
6 months ago Annie Hughes
I have just completed my 3 day course at asiana bridal with the one and only Sukhi And its been an amazing experience! Ive learned so much in a short time. Highly recommend. The staff are very professional and helpful.
3 weeks ago lawrence pustelak
Had to post a review from my friends account as I can't post from my own. This is because when you are there at the course they stand over you to put up a review on here hence all the "amazing" fake reviews, put on the spot and under pressure. Learnt absolutely nothing Sukhi sat on her phone most of the time, was not helpful once they've taken your money they don't care. Different prices given to different students. Her husband who is her pa is just plain rude, he jus wants to get you booked on for any price. I can't believe I spent thousands on this purse it was my savings to invest in my future for my family, but they've ruined it all. Don't go by these reviews, honestly word of mouth is the best ask anyone who's done the course. They try to squeeze every penny out of you. Sukhi the trainer is such a jealous person she would not want you to succeed constantly hates on other muas who have progressed over the years. The kit that was supposedly included was definitely not worth the price they said. Please save your money and do your research properly do not read these fake reviews given on the spot! Ask around and you will know the truth about this scam place.
8 months ago Gianna Alexandrou
I did a course last year but I wasnt feeling very confident so I called Sukhi and told her my concerns. She was so helpful and invited me to do a refresher course which is the best decision I've made. Now I'm confident to have clients and any concerns I do have, I can pick up the phone and ask Sukhi to advise me. Thanks so much for everything. I highly recommend doing the course with Sukhi.
9 months ago Heather Calcaterra
Big time thank you to sukhi... I just loved my bridal couse training with sukhi.. such an amazing person inside out .. I have learned so much and gained my confidence a lot .. once again thank you from my heart.. I recommend all new mua for more new skills please contact asianabridal. X
8 months ago Meg Fr
This training academy went above and beyond on all accounts to ensure they provided the best training possible!
10 months ago Brandon Pazera
they provide the best tricks and tips to learn bridal makeup
10 months ago Alexis Miettinen
It's been a wonderful and unparalleled experience. Now I have detailed technical skills about makeup and hair. I absolutely love this place. Thank you for all that you've done.
2 months ago Thomes Donald
I honestly had the best week working with you and Sara and learning so much, and the birthday photoshoot thanks a million i will be back very soon inshallah Love yous, Amina - Liveinglam xx
8 months ago Greg Holmes
So after many years I finally decided to take that step and do a make up artist course - I chose Asiana Bridal with SUKHI - I have heard a lot of positive feedback from there and have seen her work too. This was a one week intensive course - I must say when I joined I was so nervous - someone who didn't know much about makeup i didn't think I could do it. I couldn't believe how much I learnt in the week! Sukhi is an amazing teacher! SO PATIENT! You can ask her anything and she will answer all your questions! The atomosphere is very relaxed, for the week it became my second home, I really enjoyed attending class, Billi is amazing - helping also whenever needed (as there were a few of us so sukhi had someone else there very qualified to answer our questions) I would definitely recommend this course if you are passionate about becoming a MUA or you just even want to know for yourself! It's amazing how many tricks you learn. Best of luck to everyone x Ps. If I could give more stars I honestly would, that's how much I learnt! If you could see my day one pics and my day 5 pics! You would see what I mean!
6 months ago Summer White
Attended a training with sukhi and i learnt alot she is a very good teacher and i would definitely recommend others to attend her courses!
9 months ago Michele Simmons
Where do I start?! Being a henna artist (Haleema's Artistry) and having a love and passion for makeup, I was looking for a course where I could learn it all - bridal hair AND makeup. I did a lot of research on lots of courses and after speaking to Sukhi over the phone and telling her I can barely even tie a ponytail, she assured me that I would be able to learn bridal hair within 2 days! I still wasn't 100% sure it would be good for me but after speaking to a few friends who had their bridal makeup done by her they assured me that her work was excellent. Having followed her for 5 years prior on YouTube and watching all her videos when I was obsessed with makeup, I knew it was the right choice for me. Each day of the course I thought, it's impossible to learn more but I learnt more and more every day!!! Sukhi had SO much patience with all of us students and answered the hundreds of questions we had over and over again. Her teaching style was soo great I genuinely felt like I was learning from my second mum!!! She put so much care into each one of us students and made us all feel so comfortable. Not only did she teach us what was written in the course description, but she also shared so many tips, so much advice and told us everything we needed to know when we're starting out. She taught us the tricks of the trade and shared many stories to help prepare us for our exciting new journeys. She was so genuine and it was apparent that she had our best interests at heart. I honestly felt like I had a second mum and it was very emotional when the week ended! Thank you so much Sukhi! I didn't know it was possible to learn so much in 5 days but honestly I feel like I'm ready to achieve my goals!! It was so so lovely to not just meet Sukhi but also her lovely assistants who were so lovely to us all! (Billi and Naz). Can't wait to show you all my success and can't wait to see you all again soon! I would definitely recommend Asiana to everyone who's looking to become a makeup artist as they genuinely do want to see you succeed !
8 months ago Carey Haskell
It was a pleasure for me to learn hair and makeup from Sukhi. I learned lots of advance techniques from her. Thanks a lot Sukhi to teach me and for giving me a big box of knowledge about makeup and hair.
11 months ago Christopher Carver
Thank you so much Sukhi for such an amazing week. I learned so much in this course and met some lovely people as well . Can't wait to get set up and get started and be part of this industry . I will be recommending this course definitely to anyone interested. Sukhi is such a humble person and an awesome teacher to learn from , very professional and all my respect to her . Once again thank you Sukhi and your team x Sonia M
11 months ago Terri Macdonald
love this place so much, the teacher is amazing and i loved the look on my wedding
6 months ago Catelynn Sherman
After a thorough google search i kept coming back to Asiana Bridal Training Academy and i am so glad. I have loved every minute of it! Sukhi is amazing at what she does and has created an amazing place to learn. I felt at ease from the first day and i didn't feel embarrassed about asking questions. Sukhi walked round and pointed out any errors as we did our looks and also showed us how to correct them with useful and amazing tips. She really does know her stuff and is clearly up to date with all of the latest trends as well as having deep knowledge about previous trends and traditional looks. I would recommend this course to anyone, beginners or experienced artists looking at getting a refresher course. Thank you Sukhi for everything.
10 months ago Coco Coconut
I have done my training course here, with suki, and I must say I have learnt so much. She is an amazing teacher and was an incredible experience! Highly recommend ashiana! Absolutely great!!!
6 months ago arshi mahajan
I have learned so much within just a few days. Sukhi's method of teaching is brilliant. Not only is she informative but she's also very fun which makes learning easier. I've picked up so many great tips. Truly amazing teacher she is & very professional. Would definitely recommend. Thank you so much Sukhi!
9 months ago Erin McGonegal
I completed a 4 day make up and hair course here at the academy and it was such a warm and welcoming environment. Sukhi was brilliant at sharing her knowledge and experience and gave me the chance to learn a variety of styles, techniques and learn about different products. I would highly recommend the course and Sukhi!
3 weeks ago Scott Gross
A big thanks to Sukhi for helping me improving my makeup techniques. She's is wonderful beautiful person inside out. Very humble teacher and gave me valuable tips during the course. She is extremely talented and helped me during my photo shoot day. I would recommend this course to any MUA who has a passion to learn and improve. Thanks once again Sukhi and her partner who have sound experience in management and gave me a lot of tips to enhance my business. :)
2 months ago KTTK YT
I've had one of the best weeks ever! My friend had completed the course and had recommended it to me. The course has really exceeded my expectations! I'm so glad that I attended!
5 days ago Johann Barrios
I trained with Sukhi 3 years ago at her academy. Not only was she a brilliant teacher, she was/is a fantastic mentor. I can ask Sukhi any question and she always gives the best advice. I still do to this day! Having trained with Sukhi and obtained my industry recognised qualification, I have had the joy of working in Fashion/TV and many more including beautiful brides. All down to her! I urge anyone to take this course and learn and embrace her magic!
10 months ago Megan Collins
I loved training with sukhi at asiana bridal, she is so nice and really cares about how you learn and it was such a lovely experience! Definetly recommend to anybody who wants to go into makeup x
9 months ago donna willis
After a long hard research, I found Asiana. I choose to do the 5day intensive course. Asiana offered everything I wanted, makeup, hair and a photoshoot to give me a kick start. Sukhi was amazing. She demonstrated all the looks really well step by step, explaining to us about each product and sharing with us all her tips and tricks on how to use them. She is a kind hearted lady and goes out of her way to help her students, for example once I shared with Sukhi that I'll be persuing my career in India as well as Uk, she offered her contacts in the industry to help me get started. This shows her dedication towards her role and students. Everyone in the team including Naz, Ash and the models were always so nice and helpful with everything. I met some amazing people during the course and made good friends... the 'methi' group lol ... all lovely girls that I know I would stay in touch with for a long time. By the end of the course it felt like it all ended too soon. Thank you Sukhi and the team for a lovely experience... miss you all. Hind x
10 months ago Bob Kraemer
So where do I start, firstly I was extremely cautious about what academy I signed up too based on many factors.. location, experience and all round expectations. I can now honestly say I was overwhelmed by the welcoming and humbled environment for learning, having experience in teaching myself I have found myself to be very critical of teaching techniques and overall learning experiences. Asiana were able to create a warm welcoming and comfortable environment for learning, being a novice at makeup and wanting to learn from scratch I was able to take so much away from the 5 day course. Sukhi has developed her brand from humble beginnings, worked hard to master her trade and is able to demonstrate that with her work, coaching style and patience. It's noteworthy to credit her team, Naz has provided me with many laughs, constructive feedback and great hints and tips for my ongoing journey. Ash for his hair tutorial, experience, guidance and support when taking on hair on day 4. I would definitely give Asiana Training Academy 5*s, if your thinking of signing up then you will not regret your decision. I was able to make friends which is something I hadn't imagined during my experinace, ate some lovely samosas and spring rolls which are also worthy of 5*s, visited a lovely venue with the Asiana ladies and learnt some detailed knowledge of "methi"... hehe Thank you to the entire team and students!
3 weeks ago Ethan Yang
Amazing experience! Thank you Sukhi and Rash for such an amazing experience. I have learnt so much over the 5 days, sukhi is very helpful and her teachings were very on point. I will defo be coming back for the masterclass. Need to thank the whole crew who were very helpful, Ash the hair stylist ,the photographer and everyone else.
9 months ago Musa Goll
I took the course and loved it. Sukhi was a great teacher and always helped out. I would advise all people who want to study makeup to go to Asiana Bridal and complete this course.
3 weeks ago Brittany Childers
Sukhi was very professional and her knowledge and experience has taught me a lot. I have really enjoyed the course and I would recommend those who are beginners and looking to become make up artists should go on the 5 day course. Thank you Sukhi!
4 months ago
Popular places from the category Make-up artist