LaVida Massage
Massage spa LaVida Massage, 10945 State Bridge Rd, Johns Creek, GA 30022, United States:
111 reviews
of users and employees, detailed information about the address, opening hours, location on the map, attendance, photos, menus, phone number and a huge amount of other detailed and useful information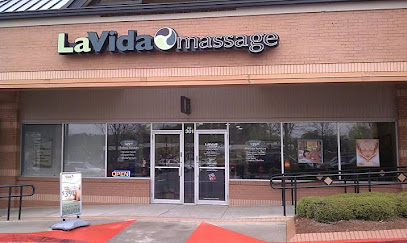 Address:
10945 State Bridge Rd, Johns Creek, GA 30022, United States
GPS coordinates
Latitude:
34.0491808
Longitude:
-84.2226865
reviews Ivan Godomar
AJ was great! Excellent massage quality. I signed up for the membership right after. Gal at the front was kind and helpful. She got me an appointment quickly and did a great job! Excellent experience.
3 months ago PHILLIP G
The place was clean. Followed covid safety guidelines. Front desk staff was courteous. My masseuse knew his stuff. Beyond just a massage, he gave me tips about working on my diaphragmatic breathing and using a foam roller to stretch. I also like their monthly plan. Family members can use the time as well.
6 months ago John
Everyone is friendly and professional. There are many different massage techniques to accommodate all preferences. Their customer service is top notch. A very consumer centric culture. I highly recommend LaVida of Johns Creek. You won't be disappointed.
7 months ago Angela Roney
I am so thankful I found LaVida Massage!!! The atmosphere is very welcoming and the staff is always professional and friendly. I see Rebecca and she is Phenomenal. She provides excellent recommendations from aromatherapy to the different types of massages and never disappoints!!! Exceptional quality!!! Additionally, she takes the time to get to know you and she is always attentive to focus areas as needed. I simply love her energy!!! I always leave feeling rejuvenated!!! Thanks Rebecca!!!!
7 months ago Shawn Thorsell
Amazing professionalism. Will for sure be back. Thanks Crystal!!
3 months ago Luke H
Eunah always is very responsive to what is bothering me most that particular session and taking time to work on that area. I always look forward to my massage as an integral part of my health regimen. Having a chronic auto-immune disease, I utilize massage therapy for several things: 1. improved immunity; 2. trigger point release of knotted areas; 3. lower leg massage to improve circulation. LaVida is a top-notch quality massage facility and has a varied staff so that you can find the therapist who works best for you. I highly recommend LaVida to all. It is also a real bargain to become a member. I get massage every 2 weeks without fail. It's not just a luxury, its for your overall health!
2 months ago Clif Flynt
I have had massages at over 100+ spas across the US, Europe, and Asia and LaVida Johns Creek is the best most consistent spa I have been to. Colin and Erika are professionally trained and very proficient in multiple therapeutic massage techniques and were able to work through back and leg issues as well as pinched nerves that remained painful after multiple trips to chiropractors, neurologists, and physical therapists. I could not more highly recommend this spa at any price point but in addition to being the best they are also the most reasonably priced. Shaun Lockhart
8 months ago Shannon Kasevich
The staff is always friendly and the services are always excellent. I haven had one bad experience yet and I have been a subscriber for over three years. I love Lavida massage and highly recommend them.
9 months ago Audrae Escobar
I had a wonderful session at La Vida earlier this morning. When I arrived, they did everything possible to ensure the safety of their clients and staff during COVID-19. I had a massage and facial, both of which were done with the highest quality of care and safety. Everyone on their staff is incredibly kind and welcoming. I've tried other similar massage places and felt very pressured into getting a membership, upgrading my service, or to buy products. But at La Vida, I didn't have any of that pressure and was able to relax from start to finish. I can not recommend this place enough. Wonderful staff. Great price. Complete comfort!
1 month ago S K
Professional service and personable staffs. Each therapist is unique, place is clean following cdc guidelines and front desk is just top notch and quick to respond. Own by people who truly care. Love2x Tamela's massage, help release my stress away ! :)
10 months ago Jason Minck
My masseuse was very skilled, I am going back next week!
5 months ago Lynn Reed
I love going to LaVida massage in Johns Creek. I'm very happy I found this place. I go and see Jason and he's amazing at his job. He's very professional and knows how to fix every little problem in my back. I suffer from migraines and carry a lot of tension in my back and every time I go that tension goes away for days.
9 months ago Bill Roggenkamp
From front desk lovely woman (I'm sorry I didn't catch her name) to my incredible massage therapist Jasen, it was an amazing experience. Thank you so much! Can't wait to return
8 months ago Tim Bennett
Always so accommodating and great price for such a quality service!
7 months ago DeeDogg
Exceptionally pleased. 100%professional, clean, very relaxing! Crystal was awesome! Can't wait to go back!
1 month ago Valentina Carlot
I have been going to the Johns creek for 3 years awesome and professional place
8 months ago Vicky Bardales
Always clean, inviting, relaxing, great owners, great employees, conveniently located between Jones Bridge Road and State Bridge Road. I love everyone there, so far. I want to keep my favorite a secret - because she is already very popular. Enjoy!
2 months ago Heather Barham
Tamela and Eunah are great. Julie and her front desk work very hard to ensure guest safety, comfort, ease of booking and on time appointments.
10 months ago Bhavna S
I had amazing massage with Rebecca this Thursday, I went for severe neck and shoulder pain and she was great! Highly recommend Rebecca and Lavida to everyone !
11 months ago Sharon Durkan
Always a great experience at LaVida! They are always consistent in the services offered, and I always leave feeling relaxed, recharged and refreshed.The value for what is paid is worth it, and allows me to get a massage more frequently. I definitely have experienced positive results from consistent massages, with less migraines, neck pain, better sleep.
11 months ago Phyllis Randall
This place is totally Fabulous! My daughter surprise me for my Birthday. Young Lady new to staff from Chicago has AMAZING hands. Staff is knowledgeable and professional and friendly. Atmosphere is the warm and calm relaxing. See you soon
7 months ago Susan Young
Very warm, welcoming, and knowledgeable staff. The perfect place for my body maintenance, peace of mind, and complete relaxation.
3 weeks ago Crystal Truman
I love everything from how professional and friendly the staff is to how clean the rooms are and relaxing the environment. Ling in particular is amazing. Always listens to where my pain and trouble spots are and is able to work them out every time knowing the best approach for fast healing. I'm thrilled I found this practice!
5 months ago Jessica Morrissey
Great service, great ambiance, very friendly & knowledgeable staff. It's always very relaxing & smells great????
4 months ago David DeMario
The team at LaVida Massage at Johns Creek is extremely professional. Julie and her team are great.
11 months ago Mary Wood
If you are in need of a great esthetician, book an appointment with Hamsa.
4 months ago John Ordovas
My massages @ LaVida have been nothing short of excellent. Sabrina was my last masseuse, an did a wonderful job, I would suggest upgrading your oil to your favorite essential oil and or blend. It makes a difference (-:.....
4 months ago Michelle Lopez
The services that are offered are incredibly affordable and the overall quality of what you receive is incredible. I thoroughly enjoyed my first visit! I signed up for the membership immediately and I'm so glad i did! Can't wait for my next visit!
4 months ago Claire L
Easy to schedule, professional, and safe.
9 months ago naslin pavithra
Great therapists! I usually see the same therapist but have seen several and I have not had a negative experience yet, after 4 years!!! Easy to make appts through app or on phone. Friendly and efficient front desk.
4 months ago David Kutcher
These guys are THE BEST!! I am absolutely addicted to the service and care that I (and my friends/family) receive each and every visit. The amazing front desk staff is so accommodating and always find me a spot to get my relaxation on. The facials are a MUST and every massage is heaven - I feel and move better and my stress disappears. I've been enjoying their services for a couple of years and highly recommend them. Treat yourself to the many benefits you can receive from their TLC!
4 months ago Pedro Tellez
I am always greeted by a friendly face and Fancy, my massage therapist, has helped me so much. Aside from being the sweetest person, she is very knowledgeable and professional. I went in barely able to walk from a back problem to now being back to my regular exercise routine. She's truly amazing at what she does!
7 months ago Adam Tootle
Top-shelf masseuses (Sabrina, Que and Rebecca are great); quiet / relaxing environment; easy app to make bookings.
5 months ago Bobby Banks
it is better to have licensed masseuse since they gets the CE classes and kept up with the ongoing trends and techniques.
2 weeks ago Tara Binder
I've been coming to LaVida almost monthly for 4 or 5 years. All the therapists are great, and the staff and location are warm and welcoming. I would highly recommend them if you are looking for a high quality and reasonably priced massage or facial! V good Covid safety
10 months ago Gatsy Dulin
I had the most divine Signature facial with Hamsa today. She is so sweet, attentive and thorough. She explained what she thought my skin needs without pushing products on me. The facial was really relaxing and my skin is glowing. I have really sensitive skin, so I am interested to see how my skin reacts. If there's no adverse effects, I will be joining their Benefits Plan.
3 months ago Georgie Georgiev
I recently got a massage here from Ivy, and I cannot say enough good things about her! She listened to me, used great pressure, and best of all restored so much of my mobility that I haven't had since before my son was born (over 2 years ago). I will definitely be returning soon to continue with massage therapy.
7 months ago Rodney Taylor
If you can handle deep tissue....Fancy is the therapist for you. Hands down...she will loosen up areas that you didn't realize needed it. I have never had a bad therapist there, actually. So far, they have all been very skilled and will adjust to your needs.
3 months ago Sukhi D
Great massage! The front desk staff is FABULOUS! Jason was great and attended to my needs. I have recommended them to many of my friends already. I love the membership plan.
4 months ago Connie Brown
Hamsa gives great facials and is just a lovely person as well.
9 months ago Daniel Nava
I cannot recommend Erika Enough. She is hands-down the best masseuse I have ever been to in my entire life. She is truly gifted at deep tissue, and I recommend her with zero reservations. I am able to reach a meditative state when I am getting a deep tissue massage from her.
11 months ago kenneth Brown
LaVida massage in Johns Creek is first rate! Great value, great massages. Always on time, and the staff is very friendly. I go there every month and will continue to do so. My personal thanks to Julie Goodwin, the owner.
3 months ago Dane Orvold
I have been going to LaVida Johns Creek for over a year now and I am extremely grateful for finding them. I am always greeted personally when I walk in and the ambiance is very welcoming and soothing. I love Dian, she's a great massage therapist and I aways walk away feeling better. I really like the monthly program and feel like I'm getting a great deal. I've recommended several friends already and highly recommend to anyone seeking a great massage.
3 months ago James Disney
Fabulous experience! Great deep tissue massage focused on trigger points...I highly recommend!
3 months ago Sarah foster
Love coming here. The staff is always friendly and will try their hardest to accommodate you. I moved about 40 mins away since I first started coming here, but I'll still make the trip for this place. Lol
4 months ago Stephanie Weller
From the very first call with Julie, I was sold on LaVida Massage! When I arrived for my session, warmth greeted me at the door. Very relaxing environment. They took the time to find out about me and my needs. I have had massage therapy at various times, but Trudy's "healing hands" made me want to make a bigger commitment to giving my body the attention that it needs! I scheduled my next appointment just after my session with Trudy! I am now a loyal client! Try them, you won't be disappointed!
3 months ago Branislava Dragovic
Love this place. Come out feeling great and relaxed.
5 months ago Jameson Weber
Friendly and absolutely great staff at LaVida Johns Creek. The positive impact of my massage was immediate and I look forward to going back. Thank you!!!!
7 months ago Marc Phuoeng
The staff here is wonderful! I have been going there over a year. Monica, my therapist, is AMAZING! She has helped me so much. I went in having trouble with my leg. She lightly stretched my muscles and went to work, getting me better! I can't say enough about her! Everyone there is top notch!
10 months ago Matt Winikates
I don't want to give you the name of my therapist because then he'll get too busy and won't have time for me LOL. This is seriously the best massage around. The therapists are fantastic, the ambience is great, the front desk staff is friendly and professional.
7 months ago
Popular places from the category Massage spa