Left Turn Driving School
Driving school Left Turn Driving School, 1635 E 19th St 2nd Floor, Brooklyn, NY 11229, United States:
164 reviews
of users and employees, detailed information about the address, opening hours, location on the map, attendance, photos, menus, phone number and a huge amount of other detailed and useful information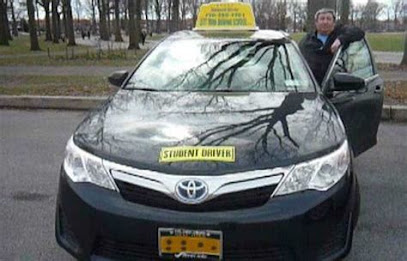 Address:
1635 E 19th St 2nd Floor, Brooklyn, NY 11229, United States
GPS coordinates
Latitude:
40.6100724
Longitude:
-73.9545168
Location on the map
Reviews Ryan Pelkey
Passed my road test on the first try after 3 lessons. Valeriy was very helpful, patient, and he doesn't waste your time. Highly recommend.
10 months ago Sabrina
Abdusamil was my first instructor! Amazinggggg ... VERYYY EXPERIENCED. He makes it soo easy! He's super nice and make sure you GET it down. He is also very patient and will go over whatever with you multiple of times! I shouldve cane to this driving school first ! Whew
8 months ago CLAUDE ALLARD
I passed my test 2 weeks ago with only 3 lessons!!! This is BEST driving school ever! Thanks to Avzal and Valera they are extremely professional, patient, knowledgeable and super pleasant to deal with. I can't remember the lady's name at the office but she is extremely accommodating she's gives great customer service!!
1 month ago Milena Vins
The best driving school ever!!!Highly recommended!!!Valeriy is an amazing instructor!!!Knowledgeable with great personality,enormous experience!I saw the results after each lesson and his unique program provides you with great results in short period of time.Thank you,Valeriy!!!
10 months ago Kim K
Amazing Driving School and Driving Instructors! Passed my test first try after lessons with Valeriy. He pointed out my mistakes and helped me fix them before my road test. 10/10 would recommend!
11 months ago Keisha Pryor
My brother and I just passed our road test last week on our first try. Left Turn Driving School is arguably the GREATEST driving school in Brooklyn!!!! Big thank you to our instructors Yuliya and Afzal for being smart, respectful and patient. We were comfortable with the wheel after Yuliya gave us 4 great lessons than Afzal came on and made us even more comfortable with pretty much everything. They explain things so perfectly so you won't be confused on the road. If you want to pass your road test I would recommend going to 2 those because they are great instructors. Lastly, big thank you to Valeriy for giving my brother and I great discounted price for the package we took. I will definitely be sending more people to you guys in the future!!!!!
7 months ago Yossi Kaufman
I express my sincere gratitude to the driving school for the quality of training and the professionalism of the staff. Many thanks to instructors Valera and Avzal. They are professionals in their field! Everything is concrete, accessible, calmly explain, patiently teach driving skills. I wish the entire team of the driving school continued success in their work!
4 months ago Cathy Spencer
Has my driving classes with Afzal and a few with Valeriy right before my road test. Passed easily!!! They will tell you everything you need to know about passing and driving safety!!! Definitely recommend anyone to take classes with this school if you want to pass on the first time!!
10 months ago Riku Partanen
Prepared me perfectly for my driving test!
10 months ago Hanan Sana
I want to say big Thank you to Valery. He is the best! He explains everything in details and he is very very patient.This school is definitely the best school. Thank you very much Valery!
7 months ago Todd Harris
He helped me pass my driving tests great place highly recommend
8 months ago Tanushree RoySarkar
Highly recommended!I like their lessons)I passed my exam after 9 lessons,I didn't drive before )
6 months ago Luke Hollis
This is the Best school to use! My instructor was Julia and she was awesome with me. she was patient and explained what were my mistakes. I Took my road test today and I passed. !!! Thank you and I'm really appreciate that to you, Julia for being so patient with me !!! I recommend this school to everyone!!!????????????????????????
10 months ago Mariya Makeeva
I passed my Road test from the First Time, very good school, instructor Valeriy helped me a lot, new car, everything was amazing, Thank you!
7 months ago Broderick Fausto
I would like to thank Valeriy for not only teaching me how to pass the road test but also how to drive safely and confidently. Everyone in this school was polite and responsive. Thank you again!
8 months ago Sarah Carnahan
One of the best driving Schools out there. Valery is absolutely excellent. So far I have had 3 lessons and I feel very confident. 5 stars is not enough for this school. If I could give 6 stars I definitely would.
2 months ago Sunniva Finch
Wonderful experience with Valeriy! He is very calm and patient and will teach you not only to pass the road test but to actually learn how to drive. Will give you an honest estimate of how many lessons you need during the first lesson and will not try to push more lessons on you then needed. He will work with your schedule and accommodate you to make sure you have the skills and confidence to drive and not just pass the test. Highly recommend him as a calm, patient, level headed and effective instructor.
11 months ago Eunyoung Lee
Best learning experience, my instructor Isaac is a talented, flexible, passionate, full of positive energy and highly professional person. I passed my test first time and it was possible because of his professional guidance and patience. 100% recommendation :)
10 months ago Lillian Rhodes
Eugene is amazing. I passed my first attempt because of him. He is very patient and a good instructor. Highly recommend this school the 5 hour class and set up of the actual road test day is very seamless. I did the 5 package class and it was perfect for me. You can book everything online and they pick you up to take the lessons. Avery was very helpful and efficient in scheduling everything for me. The 5 hour class wasn't not even as bad as I thought it was going to be. These people know what they are doing. Sign up with them. Thank you LEFT TURN!
11 months ago Gayle Edmondson
Wonderful experience with instructor Valeriy. He has been an instructor for both my parents, my brother, and lastly myself. He has a great approach to teaching his students and is very patient during every lesson. He went over every maneuver that I was unsure of, until I got it down. He breaks down every step and is incredibly helpful through the entire learning process. I have gained so much more confidence behind the wheel thanks to him.
8 months ago Cheryl Walker
It was really great experience with this school. Staff is really professional and cares about you. Prices are fair. I had a bad experience with another school. But this school made everything easier for me. Eugene is an excellent instructor. He really knows how to teach it the new drivers. I would highly recommend this school to everyone.
1 week ago Kelly Mann
This is the BEST school to use! My instructor was Valeriy and he was awesome with me. He was patient and explained what were my mistakes. Took my road test today and I passed!!! Thank you Valeriy for being so patient with me!!! I recommend this school to everyone!!!
2 months ago sean hodges
This place is great. I had Isaak as my teacher and he was awesome. He's very patient and calm. I took 2 lessons with him and passed my road test with a perfect score. Highly recommend
8 months ago Nick Blacklidge
I took just three lessons and passed the road test at the first attempt. Valeriy is great instructor. I would recommend this driving school to everyone. Don't waste your time and money on other school!
11 months ago earl kessler
Definitely recommend this school! And I most definitely recommend the lovely instructor Irina!! She was very nice, patient and open minded. I felt very comfortable with her! She is very experienced! All you ladies out there take Irina and I promise you will not be disappointed! Good luck everyone!
10 months ago Virgilio Xique
The great driving school!!! Very professional staff. Valeriy taught me everything I need to know in a short time and I passed test easly. Highly recommended)
9 months ago GINGER C
Eugene was a great a driving instructor. Very thorough & very patient. He is definitely the reason why I passed my road test and I couldn't be more thankful. I highly recommend Left Turn driving school. Ask for Eugene .100% guarantee to pass.
10 months ago Nayan Lilawala
Left Turn is an organized driving school with a true gem in the midst, Eugene! Eugene is an incredible driving instructor whose patience for an adult learning how to drive was above and beyond. Eugene would pick me up from my home and from lesson one instilled confidence in me. He was highly alert yet calm and encouraging. After six lessons I was ready for my test. The left turn driving school arranged for him to pick me up from my work, and drove me out to the testing site. Before the exam, Eugene gave me further tips and advice and allowed me to practice the difficult maneuvers. He continue to encourage me up to the very moment I began my exam. Even though he was not there with me, when I took my test I could feel him encouraging me and supporting me. I felt incredibly accomplished after passing my exam the first try. I danced a little and gave Eugene a big hug. He works for a great school, he's very hard-working and committed to helping his students learn how to drive. You certainly get what you sign up for when you go through Left Turn driving school. If you can arrange to have Eugene for your lessons, I would strongly encourage it. Enjoy, and happy driving! Be safe.
8 months ago Gabriel Dalporto
The staff is very friendly, they do not seek only the money, they are committed to teaching you and explaining to you.
2 months ago Maxine Ellis
I had Valeriy as my instructor and he was very understanding and knowledgeable. I was very pleased with the quality of the lessons, and I can now say I am confident in my driving abilities because of that.
2 months ago Susan Riffert
My experience with the school was nothing but great!!! They accommodate all your needs and requirements, are very friendly and truly professional! Special thank you to Isaak, my driving instructor, who has wonderful personality, and is an amazing teacher !
11 months ago Carly Nartowicz
When I applied to the driving school , I had concerns about driving vehicle. Huge thanks to Eugene who taught me and made my driving easy. I passed the road test on first try!!!
1 week ago john paiva
Greatest instructors ever! I started with Isaak, then switched to Eugene (And had Semyon for one lesson). They explain very well, and have lots of patience. They also have great lesson packages.
10 months ago Aly Tromer
My instructor is Eugene Arkanov. He gave me excellence guidance and clear step by step instruction and teaching. He is very patient and a wonderful person. I just passed my road test today. This is one of the best day in my life. I give him 5 stars. Thank you Eugene.
10 months ago Jack McDaniel
I'm just back from my behind - the - wheel test and I passed in my first attempt!!! Valeriy was brilliant instructor. Straight talking, very kind, polite, and incredibly patient. We spent a number of lessons working towards ironing out all my weaknesses. Great instructor couldn't have asked for anything more ! Thank you so much!!!
11 months ago Kevin Busarow
Highly recommend expert lesson package. Valeriy is an excellent instructor. I passed on first attempt after failing multiple times with another driving school. The expert lessons are well worth the price and will much better prepare you for your road test and driving in general.
11 months ago Chad Johnson
I have to thank everyone at left turn, especially my instructor Eugene. He made me feel very comfortable behind the wheel and helped me develop the knowledge and skills I needed to pass my road test. Anyone that needs a good driving school should definitely choose left turn, and if you can try to get Eugene as your instructor, you will not regret it.
5 months ago Ryan Hunziker
I had a great experience with left turn driving school!!! Valery is a great teacher he knows what he is doing he is very experienced and very patient. But more importantly he knows how to prepare you for the road test and ensure that you pass it. Scheduling of road test was fast and easy. They have Nice new clean cars. I am very satisfied with left turn and would definitely recommend it to anyone.
8 months ago Pam Hudson
The best school and professional teacher!!
9 months ago Liena Churchill
One star just so I can write a complaint. Book a driving lesson and they won't show up or answer their phones. Complete gimmick.
9 months ago Cameron Conway
I just past my road on the first try thanks to Left Turn Driving school. My instructor was Isaak, He was an amazing teaching. Very patient and lets you be in full control of the wheel. you can tell that he is very confident in his students. And that's why I give them a rating of 5 out of 5 stars.
2 months ago Bethanee Hodge
I had a great experience with driving instructor Isaak. He was very calming ( I am high anxiety person) and a great teacher. He simplifies everything and explains it in a way that you can remember and practice for life. I passed my first test with a high score. The school was also very helpful, always polite on the phone and very nice in person for the 5 hour class. I highly recommend.
6 months ago JAMEELABAD KADARBASHA
The best driving school, I took 6 classes with Valery and passed my test in my first try.
1 week ago delfine
I had previous driving experience so I only needed prominent information and detailed tips on passing the road test. Isaac was great! He made me feel relaxed and comfortable about taking the test and gave all the information necessary to succeed. I passed the road test with my 1st try. Thank you guys.
8 months ago Dan Dawson
THIS SCHOOL IS THE BEST WITHOUT A DOUBT!! I was not so confident with my driving skills and I was always so nervous until I started taking lessons with this school. They helped me gain confidence and I PASSED MY DRIVING TEST. I would recommend this school to anyone trying to learn how to drive. LEFT TURN DRIVING SCHOOL IS THE BEST WAY TO GO IF YOU WANT YOUR LICENSE. I'm so happy I choose them.
8 months ago Karen Ethier
yes absolutely five star! My instructor Issac was super helpful & awesomely patient... Especially the parking experience was thought on a very understanding basis. Ask for Issac! He just does his job to perfection.
1 day ago Tina Buck
Great overall experience. Super knowledgeable, friendly and professional. Passed my road test with a perfect score after three classes and they were able to schedule the test within less then a month of my first phone call there. Highly recommend this place. Well worth the money.
8 months ago Amber Mohammed
I decided to take lessons with Left Turn because of all the great reviews. I made the correct choice, as these instructors are not only professional, but truly understand what it means to teach. They are patient and really do take the time to make sure that their students understand every detail. As a student, I felt safe to ask any question as many amount of times that I needed to. They had confidence in me as a driver before I even did. Thanks to Issac and Eugine, I have passed my road test on the first try. Thanks so much Left Turn!
11 months ago Louisa Uduehi
I had a three lesson 90 minute package and my instructor was phenomenal. When you go there make sure you ask for Valeriy, he's the owner. Gaureenteed pass with him as your instructor, I took my road test yesterday and passed in 7 minutes.
11 months ago Stephanie Reyes
I give Left Turn Driving School 5 out of 5 stars! Instructors Isaak and Eugene are consummate professionals who make you feel at ease and not even aware that you are being taught the rules of the road. But in fact they do teach you and "over prepare" so that you will be ready for every possible consequence. Their method will lead to you getting a high passing mark on your road test the FIRST try like I did. HIGHLY RECOMMENDED!!!!!!!!!!!!
2 months ago
Popular places from the category Driving school