Printleaf - Digital Printing NYC | Large Format Printing NYC
Sign shop Printleaf - Digital Printing NYC | Large Format Printing NYC, 30 W 47th St #405, New York, NY 10036, United States:
219 reviews
of users and employees, detailed information about the address, opening hours, location on the map, attendance, photos, menus, phone number and a huge amount of other detailed and useful information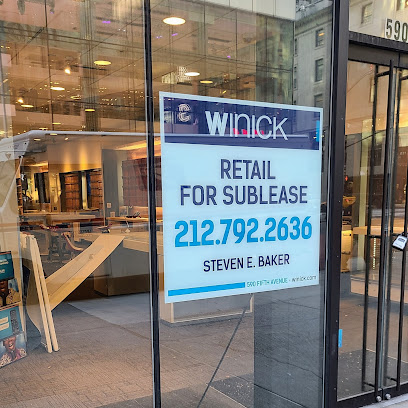 Address:
30 W 47th St #405, New York, NY 10036, United States
GPS coordinates
Latitude:
40.7571064
Longitude:
-73.9801990
Location on the map
Reviews Haitham Antaki
We ordered memo books and aluminum business cards that were full color. We are very happy with the order. Printleaf did a great job
1 week ago Elizabeth Albert
Highly recommended! Impeccable print service - even for an artwork print! Ordered a weatherproof print for an outside wall at they delivered in high quality and with speed! Very nice customer service and interactions as well!
8 months ago Natalia Mantini
Ordered soft touch white presentation folders. They were printed and shipped quickly and I do like the way they look and feel.
9 months ago Lanita Moody
Seems like no one knows what's going on with their direct mail campaign. Design services very mediocre, I never saw how printed version came out since they delivered to wrong area! I got 0 value for the money and time I invested with them. Would never want to work with them nor would I recommend them.
2 months ago Tan Ho
Amazing quality, polos were ordered for the whole staff. Staff were very attentive. The polos were great quality and super comfortable, easy to work in. We just placed our second order for long sleeve polos, so excited to recieve them!
2 months ago Fares Elkhayyat
They had so much more supplies than I expected. Staff was knowledgeable and helpful. Overall a great store.
1 week ago William Patrick
The people atPrintleaf - Digital Printing NYC | Large Format Printing NYC are great! I had a large poster I needed printed in a short turnaround for a class project and they got the job done right. I called at 9 and it was ready by 3! When I spoke with them in the morning, I said the job was urgent and they were incredibly quick and responsive from that point on, accepting my file and sending me a proof in less than an hour.
3 months ago Jake
Professional, kind and courteous. From beginning to end my experience with Printleaf and Alex a staff member who helped me it was phenomenal. Printleafs communication and flexibility is what made me really appreciate there service. Not only was the quality of my vinyl banner print superb but they allowed me to pick up my print locally in a timely fashion. This was important as they were accommodating to my schedule and deadlines. With excellent communication, excellent order of operations, and amazing printing anyone who shops with Printleaf will have a excellent customer experience.
8 months ago Eboney Grieve
Super nice guys!!! Easy to work with and professional. Highly recommend for all printing needs. Thanks so much guys!!!! You saved my job ????????????
1 month ago Donna Vaughn
We ordered half fold brochures and were very satisfied. Thanks!!
10 months ago Tom Reed
The quality of service and product was great. They created and delivered on their promises with no problems. I look forward to continuing doing business with Printleaf-Digital Printing NYC
3 months ago Samnatha McClenton
Printleaf plastic business cards are incredible, phenomenal quality and their service is excellent and very detailed in their help. Alex and Alexis were wonderful. Definitely recommend Printleaf.
2 months ago Felicia Wesley
Extremely professional team! Highly recommended! They helped with the design and printing process of custom calendars/booklets. They printed fast and with great quality!
6 months ago Imelda Maguire
They had the order on time, they were very kind and the turn around time was amazing! I'll be definitely coming back.
6 months ago Garrett Fuller
Great pricing the vinyl banners. I was able to get then we'll below below my budget.
5 months ago Brandon DeRocher
Great place! I would recommend this place to everyone who is looking for quality products. As a new owner of a business, I was looking for many items and they took care of all my needs. I appreciate it! Talked to me thru the whole process and even recommended other items I may need. Will be back
9 months ago Brajan Ilievski
Great company, Great and very professional looking posters and signs. We ordered one for our business in the area and customers keep saying how appealing the signs look. Alex the owner of the shop really helped us in find the best possible looking sign. Thank you to him and his team
1 week ago Ty Goodman
Printleaf provides great services and their staff is professional, friendly and knows what the customers want! My brochures and posters turned out to be great, I will definitely come back!
8 months ago Winton Koh
They have 1 day turn around time if requested. Now that's awesome
6 months ago Janie Barnett
Our dental office has been using this company for the past 5 years for all of our printing needs. The service is exceptional! They are always very fast and help with designs if needed. We have ordered business cards and flyers in the past. Highly recommend for anyone looking for good quality to promote their business.
10 months ago Glenn M
Bulk Custom Booklet: Amazing team, thorough and efficient. Final product was done a day sooner than quoted and looks amazing. Will use again.
1 week ago MaryJo Dennis
Printed A-sign boards, and we were happy with the quality and the service. Recommend.
2 months ago Camille Dunoyer
I printed a vinyl indoor banner and it came out perfect. The service was good and very affordable. Awesome value for money!
11 months ago Sydney Klein
Placed an order for a retractable banner loved it! The quality was perfect. Definitely coming back here again!!! The staff was supper friendly and efficient!
10 months ago Dan Jipson
We were going to AI Summit in short notice, Printleaf did a good job of proofreading our materials and delivered flawlessly on time! We ordered large posters, handouts, retractable banners and custom print tablecloth, all ready in a few days. We corresponded by email and when ready we examined the products at their office in midtown, so there's no surprise (compared to mail order from other places)
9 months ago Clay Rodgers
Quick service, quality execution, and well priced. Alex was helpful from start to finish. Thanks!
9 months ago Denny Sanderson
I ordered flyers and they turned out great! The quality of their printing is excellent. Not only the ordering process was easy but the professionalism of their employees went above and beyond my expectations. I will definitely continue ordering from Printleaf
8 months ago Laura Flora
We are very pleased with the vinyl banner that printleaf printed for our store. It was a large banner 20 feet by 4 feet. And it came out great! highly recommend them.
2 months ago Imre S
I received a custom promotional tumbler as a gift. Really satisfied with the quality of the tumbler. Using it everyday. Love the stainless steel material which helps keep the beverages hot for an extended period.
9 months ago Renee Clark
Love working with these guys! We order our carbonless forms from them as well as other goods. Quick turn around time and great customer service! Would definitely recommend :)
11 months ago Romeo Ortiz
Printleaf turned around high-quality business cards and postcards for me within a very tight turnaround time. I've worked with Rafael on multiple projects, and he's always been very helpful. I'd recommend their services.
10 months ago Zakiya Brown
Easy to work with. Fast shipping & excellent costumer service. I ordered a costume step & repeat banner for hubby's birthday. The banner came out beautiful!
10 months ago Britt Lane
EXCELLENT service! They were able to accommodate a rush order which saved me! I will continue to have my company use them for all print orders!
10 months ago Chad Jennings
What a great experience! These guys were super responsive and create great materials. Highly recommend!
9 months ago Gopika Raj
Staff is extremely professional and eager to help. I was in a spot and needed my notes printed for a presentation and they were very accommodating. Printed them while I waited. Less than five minutes. Next time I'm in Manhattan I definitely will consider them again for my printing needs.
10 months ago nazanin zaheri
Fantastic quality. Superquick turnaround. Pleasure to deal with. Would easily use again.
10 months ago John Burke
Needed a print made on short notice for my Engagement. Printleaf got my poster made on time and stress free. Will be using them again for future prints.
11 months ago Brett Elmore
They were great. We had to print out banner stands, poster printing, custom tablecloths with a very short turnaround time and print leaf made it happen.
1 week ago Kreativeguy
Ran in on Christmas Eve to get important documents printed for the holidays and they were open, quick, great service and quality. Highly recommend!
1 week ago xiao chen
Nice place for name card and really quick response. Thank you so much for your help @Gala
11 months ago Kelli LaPoint
I was in a tight schedule and worried where to print my presentation but then Printleaf saved me. Ordered custom poster printing, came out excellent. The people are nice and organize, service is fast and price is right. I highly recommend. Thank you Printleaf.
11 months ago Jas Mamak
Incredible service! I'm so grateful I found Printleaf! Quick turnaround, exceptional quality as well as friendly and supportive staff who are very patient.
10 months ago Samone Overshown
Had a great experience here with quick turn around on my order. Quality is very fine and will do business here again.
1 week ago J Miller
Amazing print quality. And they have got really helpful staff. Pleased to be here for my printouts. Thank you printleaf!!
2 months ago Teresa Lesure
I had a simple color printing job for three pages. The staff is friendly, efficient and generous. Will definitely use them again.
9 months ago Yvonne Michaels
I printed standard business cards from, the quality is excellent and the staff is extremely friendly and helpful. Definitely recommend them.
11 months ago Adam Nickerson
Amazing work for my custom business cards. Quick turnaround and great pricing!
9 months ago Chris Barter
I've reached printleaf after I quote few companies in New York City and online. They gave the best price so I thought I will give them a chance even though I was scared because my company is everything for me. Kalyani and Rafael help me design my company logo and help me design my business cards. I had to change numerous times my design so it will be exactly like I wanted. They help me every step of the way with so much patience as I change small details on my business cards and logo. I literally drive them crazy because it's so important to me and they kept adjusting it to fit perfectly to what I wanted. They have so many designs that you can work with and so much knowledge. I was so lucky to find them and I will definitely work with them again. Excellent costumer service Best prices ! Best quality ! Thanks David Davidthejeweler LLc
11 months ago Christine Fagan
These guys are very professional, they helped us with every step of the project, created an amazing design, and we received the final product very quickly! Highly recommend.
1 week ago Yevgen Bush
Great products and service! They really work and cooperate together with the client to satisfy their printing and design needs to the fullest at great prices. I have done booklets and banner stands with them and had no problems with their services. Excellent print production services. Recommend them to anyone. Will be using their services in the near future!
8 months ago
Popular places from the category Sign shop