Auto parts store Ground Up - SS396.com
Auto parts store Ground Up - SS396.com, 91 Great Hill Rd, Naugatuck, CT 06770, United States:
157 reviews
of users and employees, detailed information about the address, opening hours, location on the map, attendance, photos, menus, phone number and a huge amount of other detailed and useful information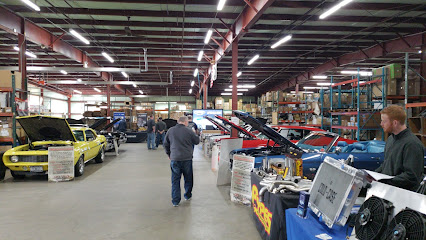 Address:
91 Great Hill Rd, Naugatuck, CT 06770, United States
GPS coordinates
Latitude:
41.5076208
Longitude:
-73.0328137
Location on the map
Reviews Mark Snyder
The Customer Service at this company is awesome! Christina and Maria have always helped with any questions. Products are very good quality. Descriptions are accurate. Good customer service will always keep me coming back vs other places you can source parts from.
5 months ago Barbaranne Branca
The best Chevelle restoration parts site period. Can't say enough about the customer service. As an example I was building my own cowl hood setup. I needed some measurements for the seal to go on the adapter I was fabricating. A staff member I called took some measurements for me and I was able to make it work. Of course I purchased the seal from Ground Up. Awesome people to work with.
11 months ago esmeralda beltran
Ground Up has been my go to place for over 5 years for 90% + of my needs. They are local to me, 20 to 30 minutes, and I have enjoyed being able to go there and "hold things in my hand" before purchasing, the service has been exceptional. Even though occasionally they cost slightly more I always strive to do business locally. Today I went there with a friend who recently purchased a Nova to find they are no longer doing over the counter sales and will not be doing anymore, strictly mail order from now on. I'm sorry to see that they have now become just like any other mail order company to me. I'm sure they are still great to deal with but from now on I'll just shop price since I have to wait anyway. Because of the disappointment they get rated like the rest... 3 stars.
5 months ago Dionisios Melitas
First of All I would like to Show my Appreciation and Praise to Miss Christina B!!! My order got messed up (different brand hood hinges)and She single handedly fixed it after being told sorry. Christina B deserves a RAISE!! She really is Good at Her Job!!!
6 months ago Albert Bienvenu
Used Ground Up several times, always polite and knowledgeable on the phone and received items in a timely manner. Would use them again
11 months ago Anna Crofford
Very disappointed, bought 1968 Chevelle Door handles, got the handles opened the box the driver side handle was great passenger side handle had a dent in the metal itself and was chromed over, and in the chrome it had pitting marks and other little marks in it too, good luck trying to get a hold of someone waited 20-30 minutes just to get a hold of somebody, and was told "were understaffed" finally got a hold of someone and was told to take pictures of the damage in the product and was told they would they back to me. Didn't hear anything back, so had to call them again another 20-30 minute wait and the excuse again "were understaffed" they wanted me to send them back and wait till they had to do what they had to do meanwhile I have a Car here with no door handles on it. They wouldn't send me another passenger side door handle, so I could exchange the damaged one out. WILL NOT BUY PARTS FROM HERE AGAIN, AND JUST LOST ANOTHER CUSTOMER.
6 months ago barbara couto
Ordered a wiring harness from Ground Up, manufactured by M & H Electric Fabricators on 12/31/2020 and on 3/10/2021, cancelled my order because it still wasn't shipped yet and was going to be another 2-3 weeks before it did. I will never order from Ground Up or M & H Electric Fabricators again. It taking a long time in transit is more understandable than it taking MONTHS to even leave the building! Their customer service sucks! On the phone, through email and through chat! I got the same woman every time I called and got Dan every time I used the chat. He was rude to me every time I interacted with him until the last time. Maybe because I left a complaint after our last chat? I don't know and don't care. I will be glad when my order is refunded and I'll never use either company again! -Rocky
8 months ago Amy Collins
Order arrived quickly minus the one part that is on back order. Christina helped quickly with the only other issue on the order and got my parts on the way.
6 months ago Nick Grady
Caution, I ordered Metro SoffSeal Trunk weather striping made in the USA from Ground-up and they sent me a Cheap Taiwanese brand Weather striping instead, and then said they can substitute brand of product ! How do you trust someone who will do that to a Customer who has spent Thousands of Dollars with them. I would Consider that FALSE Advertising ! I ordered Metro it will be here June 1st I will not waste the money to send it back
5 months ago Marco M
I try buying a Umi pro kid for my Chevelle and never got a stray answer wend it was been delivered after 2 1/2 months I call customer service and try to cancel my order they was very rude and tall me I need to send the rest of the parts back at my Spends. Now I am stuck whit some parts that can't used, then after we go back and fall at the end she says. IT WAS GOINT TO BEE DELIVERED IN ONE MORE WEEK BUT NOW IS TO LATE YOU ALL READY CANCELED !!! Very disappointed. No bueno no compren aquí tengan cuidado !!!!!
5 months ago R Mac
I ordered Cowl vents for my dads 1968 Chevelle N-4512 and got them, they were packaged real nice, definitely will buy more parts off you guys!
6 months ago neilsdunn
Had a problem communicating with one of Groundup's Suppliers and Christina B got it all straightened out, in short order, and it's not the first time. She knows her job, and how to take good care of a customer. Thank You Christina
6 months ago Kyle Patrick
When placing orders for vehicles I have been told that the items would have to be drop shipped each time that I have attempted order. The sale staff was not able to give me an approximate date for the drop ship. Recently I ordered the TMI headliner for a 69 Camaro and was sent one for a 67, I have been corresponding for a week with support staff to exchange the sunvisor as it does not fit. I was ask to take measurements and send pics. I did so and have not received a replacement to date.
6 months ago Vidhi Bhaiya
Phenomenal company which strives to maintain a positive customer experience while providing exceptional products. I've purchased thousands of dollars worth of parts, all of which were priced competitively and shipped extremely fast. The customer service is second to none. This company is the best option when restoring your next classic.
1 month ago Donald Brown
Christina B was the person I needed yesterday. She went through each order and updated me on the status of everything we ordered for our 1974 Firebird Formula 400. Christina clarified ship dates, corrected our errors, and was extremely patient with our concerns. Best customer service in the industry. Respectfully Everett Robins GetVet. RMP LLP
6 months ago Die Schweisshelden
Ordered about 2k worth of parts. F&R discs had to be machined to fit, leak constantly, and best of all no technical help. You have to fill out an email and wait a few days to get a call. Do yourself a favor and just order from somewhere else.
5 months ago Shelida Walcott
They do everything in their power to not reimburse for returned items. Stay away.this place is not customer oriented. Christina B has no idea how to treat a customer.
6 months ago Faigy Engel
We are restoring our 1968 chevelle ss and purchased alot of parts last year in October, its been quite the process we recently were able to get it on the road. We pulled it back garage and discovered the water pump was defective , we unistalled it and sent it back thru Ups the cost for that was 19.00 I asked for that to be refunded to me and was told no because I bought it in October , very disappointed in SS396 . thank you Cindy Lewis
7 months ago Flossie Melvin
One of the worst customer service experiences I have ever had. I have been buying parts from this company for a few years now. For the first time; I received a defective part and sent it back in for warranty. The warranty was refused because it was scratched up from being installed; then they charged shipping to return the defective part back to me. Very disgraceful. As you can see from the response from the company; they completely missed the point and left out the customer service issues. After receiving notice from the company that they would not stand behind the warranty on a product due to normal wear and tear of installing and removing it; I replied back to try and find out the status of my part. I received no response so I replied back again 3 days later on 1-8-21 and still received no response; I replied a final time on 1-11-21 and again received no response. Finally; i got on the phone and waited on hold until I was finally able to get ahold of someone that would at least talk to me about sending my part back, after paying for shipping both ways of course. I approved this and as of now; i still have not received any notice of the part being shipped back to me from Ground Up, but I do see that they charged a random amount to my credit card. I am guessing that they sent it; and maybe one day I will get the defective part I purchased sent back to me. I probably shouldn't expect very much customer service from a company that doesn't stand behind the products they sell. Oh well.
11 months ago Juan Vazquez
With several purchases, there was always great, knowledgeable people, providing great customer service. Competitive prices and quick shipping. I highly recommend Ground Up - SS396 for all things Chevelle.
11 months ago Manny Paulin
I ordered a simple trim piece, in stock according to the website. 23 days later still hadn't shipped, emails would go unanswered. Called, they said my order number wasn't an order number, they had no info. Had to get PayPal involved to get my refund. Never did get a response. No phone call which I asked for multiple times and they simply ignored emails. Terrible experience, not friendly to Canadians at all. Keep all this in mind when placing an order. Ended up using RPM out of Saskatchewan, same parts, cheaper and they sent it out same day. Great customer service too, spoke to a human being..... buyer beware.
3 months ago Dan Owens
Absolutely horrible customer service. Beware and look up all the bad reviews. When you google them sort to lowest rating. The last several months this company has alot of negative feedback. I dealt with them for years and they have completely lost customers and service. My last order was a disaster and been working several days and hours to get a simple return on items that are missing and wrong fit and finish. Dealt with Matt that admits he is very new and dont have a clue on anything, was passed on to Another staff member that basically talked in circles for hours on several phone calls and emails to finally admit the parts I received dont match and admitted they misplaced pieces to other parts. I pleaded to talk to the owner or manager last night before closing and right before the transfer I heard her giggle and click hung up. Well today they open at 9 and no call so I called them. Talked to Edwin and he said the phone calls from customers are a priority and we dont check our email. I stated I am a customer with an issue . He said he would leave a note for someone to call back but no luck. Again there are many places to order decent parts . Do not put yourself thru the bs runaround and inferior parts.
7 months ago Ashley Buss
Can't stand the shipping situation with this place they charge $275 to deliver a $99 floor pan 10 minutes away from their shop
7 months ago Nitin Tate
The employees at Ground Up are awesome, very knowledgeable about products they sell. I've purchased items for my classic cars a few times and have sent friends of mine to shop there also. Thanks and I look forward to deal with them again in the near future.
2 months ago Kellie cunningham
Since March 23rd of 2020, I have yet to get all four of my floor pans for my 1962 Chevy 2. One of the three pans that were delivered were bent, spoke to a customer service rep immediately and was kind enough to get the bent pan reordered. New delivery date was May because of the COVID. Completely understood that aspect. No delivery still as of July 21st and with multiple emails and conversations on the phone being guaranteed delivery at the end of June. Every call you will get the reminder of how amazing the customer service and dependability is with this company. Why is that not true with my order? Wish this first purchase would have been as good as the sales pitch each time I call in for questions on my undelivered order of 4 months.
5 months ago Nganji Joyce
This place has really gone down hill!! Edwin is who answers the phone is rude and honesty seems as you are bothering him when you call, I won't be buying anything from them anymore. I'll spend my money where it is appreciated, I'll be purchasing from southern Camaros where they don't mind taking your call and assisting you!! And I'm a customer that spends thousands of dollars a month on parts!!
6 months ago Ferenc Wagner
I have always had great customer service and received my parts in a timely manner. Impressed at the amount of parts available!
1 month ago Smail more
Order a break upgrade kit that was in stock. 12/12/20 said it would be a 2-4 week delivery process order was pending until 01/11/21 called told me they need to check on the order enable email me in a few days got to email later that day saying it would be 4 to 8 weeks moor i called and cancel order
10 months ago Nichole Etienne
When will over the counter sales come back? I dont live to far and would rather pick up parts than pay for shipping.
6 months ago adolphus kisseih
Great customer service. They've had everything I've needed at a reasonable price.
2 months ago Mo McBishop
I ordered a dash bezel for a 71 Nova it was a a/c dash with warning lights dash bezel arrived and it was a non a/c dash. I called and spoke to a sales rep the day after I received it. I told them if they could discount the dash they sent, i would buy it and they could send me the right one. They said they couldn't discount it and sent a call tag for it. Now they said they can't ship the correct one till they check the one I returned. Remember this was the wrong part they pulled and shipped. The order was placed 6 weeks ago. I sent them a message explaining they i would share my story if they couldn't figure out how to ship the part that I ordered. Well here is the first of many. Please deliver the part I ordered and I will erase this. I did pay for the product. Order 785961
8 months ago Christina Green
I've had many great experiences with these people and will continue to deal with them for as long as I can . And they also have great price's I have shopped many other places and I have always come back to them
9 months ago Husejin Dervic
My husband & I have been buying parts from Ground Up SS396.com for years. They always have what we've needed at a great price & their customer service staff are extremely knowledgeable & helpful.
3 weeks ago David Guardino
I've been dealing with ground up for a couple years now Caitlyn the rap but I've been dealing with has been absolutely amazing very knowledgeable and helpful
1 month ago Christine Erickson
Just received my order. Great customer service and fast shipping. Highly recommend!
3 months ago Amy Goodie
I purchased the super sport wheel kit from this company less than a month ago and paid to have the wheels and tires balanced and installed. Within a matter of days the paint started flaking away. Two weeks later after watching the paint continue to flake off with time I decided to call Ground Up and spoke to Kevin who after checking with his manager, offered to send me a complimentary rattle can of touch up paint and told me, "once they are installed there is nothing we can do for you" and that was his "company policy." I don't remember GM's factory steel wheels flaking away after a couple days. Spend your money elsewhere or be prepared to get bent over.
6 months ago Kerry Warren
Tried to help but the steering wheel I was interested in was an optional sport wheel for a 65 Chevelle that SS396 sells as a kit. It does not come with instructions and I need help installing the horn contact. Again this is the two spoke sport wheel kit, not the factory wheel for a 65 Chevelle SS.
3 months ago Benjamin Kalish
I called to place an order this morning, and the guy Dan is very rude. I have been buying from Ground Up for many years, and he acts like he may be the owner, and just doesn't care. I don't know his title, but this is how he acts. I like Ground Up, but not Dan's customer service. I saw some one else leave a review also stating Dan is rude. He is costing the company money.
3 months ago Treasure Mkwebula
Ground up is Great to work with. Thank you so much for your quick response Caitlyn to my Email and my own issue with dealing with the internet You're awesome
4 months ago MG Durham
If you own an old school Chevrolet (Camaro, Nova, or Chevelle), you need to learn about this great parts supplier. I first heard of them years ago while watching Horsepower TV. Luckily enough, it turned out they are located right here in CT. I actually went to their location to save on the shipping and get my parts that much faster. They have a showroom with some amazing examples of what can be done to return these muscle cars to their glorious state. The parts are good (from what I've seen) and the staff is friendly and knowledgeable in regards to these types of vehicles. Whether you're doing repairs or a full restoration, you would be wise to give these guys a call with your needs and see what they have available and what they can do for you in the way or price, availability, and perhaps technical advice. Beautiful resource for Chevy parts right here in Connecticut...
8 months ago Nicole Alawady
Most of the parts I ordered arrived and were great. But, the el Camino tailgate that I ordered arrived damaged. I understand, stuff happens. I called on May 20, 2020 and Aileen asked me to send pictures. I did, same day. She confirmed that she received them and said "Thank you so much I have forwarded them to my rep at Dynacorn and will have this taken care of asap!" Never heard back. Sent multiple requests for update. Finally on July 10, 2020, Theresa replied "I will make sure this is taken care of on Monday." A week later, no update. I sent another email asking for status. Crickets . . . Here we are on July 22, 2020, two months after the claim and no status. All I want is a new (undamaged) part or a refund. Seems simple but for some reason they cannot get it done. Very frustrating. 8/3/20 Update: Finally got a refund on 7/29/20. Appreciate that. Still don't know why it took over 2 months to resolve. FYI, local shop had the same part, undamaged for $100 less. They will be my go to from now on.
6 months ago Jack Baker
Got the order and the packing slip says cover and accompanying emblem that is supposed to say SS396 375 HP ? Got a big SS96 emblem that does not even sit flat on the curved cover and has a peel and stick back and no sign of the HP emblem? Other issue is it was shipped VIA postal service and they left it sitting at the road by the mail box? I hate ordering from places that use the post office for delivery. Wish i had noticed that and I probably would not of ordered it. Only good thing is the door hinge looks correct.
11 months ago Cameron
Great prices been ordered from them for 15 years order some parts last week and got it the next day thank you ground up your are the best
7 months ago Nic Jooste
Home run! These inner fenders were a correct fit and good quality. Indistinguishable from the originals other than they had no rust!
8 months ago ahmed dinari
I Was dealing with dan on the phone and it was like talking to a brick wall, I ended up ordering from southern camaro and They were great and got my parts to me super quick.
4 months ago Kathy Oneill
I would give 5 stars except the fan shroud hardware kit did not have 3 bolts as required for a 68 Big Block Chevelle, it had 2. Otherwise, I am very happy with the purchase!
7 months ago Phoebe Pun
I only received a small part of my order and when I requested an update on the $200 part of my order (LED taillights for my Camaro) I got a vague response. I have reached out 5 times to this Theresa D and I have not received a tracking number nor a specific update and it's been over a month. My car is in the shop and this is the last part needed to complete the restoration. Incredibly frustrating...
6 months ago Michael Lynch
VERY NICE , LOOK GREAT, SHIPPED VERY QUICKLY, TOP QUALITY
5 months ago Sruthi Kumaran
Terrible. Ordered exact fit radiator. Didn't fit so sent back my cost. They said we can only give you half your money back because you attached shroud how are you going to see if it fits if you don't try it. Will never do business again. And our small racing team . After talking with Theresa all turned out good. Will do business again.
7 months ago KungHao Wang
Spoiler need some adjustment but no big deal. Hardware kit for spoiler was not good went to parts store and got bolts for instillation.
6 months ago
Popular places from the category Auto parts store