Roller Magic
Roller skating rink Roller Magic, 60 Harvester Rd, Waterbury, CT 06705, United States:
220 reviews
of users and employees, detailed information about the address, opening hours, location on the map, attendance, photos, menus, phone number and a huge amount of other detailed and useful information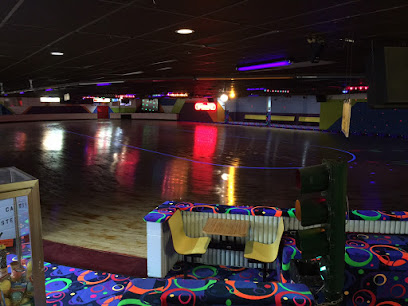 Address:
60 Harvester Rd, Waterbury, CT 06705, United States
GPS coordinates
Latitude:
41.5410497
Longitude:
-73.0385691
reviews James Fruze
I grew up skating as my dad owned a roller rink so we come here all the time. This particular time though, Kathy who is the manager was extremely rude. I went in to ask about the mask policy because specific businesses can require you to …
5 months ago Brent Johnson
I love this place so much. I've been going here since I was a kid. I just enjoyed being here at the rink. Great music, great food. Good vibes is always here and this is a place where you can chill with your friends and skate. I would extremely recommend coming here. This is honestly the best place to go with friends. I promise.
5 months ago Brandi Fest
Roller Magic is the best spot to be. It's full of great people and good vibes whether you're a skater or not you'll enjoy being there. The adult night is amazing and everyone is one big family. It's a perfect place to take the family and …
8 months ago Raunak Shrestha
they don't follow mask regulations and it's always crowded but so what. it is fun and the food is over priced but affordable.15 bucks for a pizza, 10 dollars to get in, 5 dollar skate rentals.love it.great music too.
5 months ago Molly Glaser
I love this place. The people who skate there and also everyone who works there are so friendly and encouraging. I have also held a couple events at the rink and all the managers have been incredibly accommodating. The events turned out awesome. Music is pretty great too. The rink is one of my favorite places to be.
8 months ago Linda Hall
Dated but good enough to enjoy skating need more traditional skates then the heavy plastic ones.
5 months ago Brett Mccormick
Super nice and kind when i fell they gave me ice super friendly I went there yesterday.
5 months ago Ashley Jones
I used to skate here as a kid in the 80s. I loved it then, and I love it even more now! Beautiful rotunda wood floor (a skaters dream!), decent sound system, and I've truly found family in the amazing community of adult skaters on Monday …
9 months ago Merv Matthew
Good place to skate. The floor here is BEAUTIFUL. Smooth and fast, probably the best floor to skate on. If you know a few tricks and wanna dance/jam skate, etc. Monday night is the night to go. Its an adult night (ages 20+) and you dont …
5 months ago Nicole Cummings
Fun place to hang out for a few hours. The food isn't great and you can't bring your own so eat before you go.
6 months ago Dennis Witte
Best rink in ct! The live dj plays up to date music on a great sound system. The floor is smooth like butter. Definitely needs better food , but KEEP THE PRETZELS ???? i go every Monday for adult night. Its my favorite night of the week
10 months ago Erin Benado
This is such a wonderful skating rink! Always good people, great music and just overall wonderful vibes! The decor is awesome and they have a good floor to skate on! I ALWAYS HAVE A GOOD TIME! If you haven't been you are missing out!!!
8 months ago Elia Saville
Not many will be able to say they've been coming to this place for over forty years, but it's true. It's so great to see that, even though the neighborhood around this place has continued to deteriorate, once inside, everybody just enjoys …
4 months ago Juliana Fonnegra
The staff was great me and two other friends went there and we loved it. I also how you can put songs in. There is a small space where people sit and I love it there. I recommend go there!!!!
5 months ago Sandra Maria
Love this rink so much. The Monday Night Adult Skate is the most fun to be had on a Monday. The skaters are like family here and always welcoming to new comers/new skaters. So many talented skaters to learn from here.
6 months ago Margaret Jensen
Love love love this place! I go weekly and family night and adult night are equally fun. The DJs play great music...a good mix of current & dope old school mix. During COVID coming here was a savior. Always a blast!
5 months ago Diamond Wilson
Great family skate night! Everyone had their masks on except for time to eat and drink.
9 months ago jrr krs
FUN FOR KIDS AND BIG KIDS LIKE MYSELF. MY FAMILY HAD A GOOD TIME AND GLAD THIS PLACE IS STILL OPEN IN TODAY'S GAMING WORLD. JUST GO!
9 months ago Brian Souter
I have been skating here for many years regularly and absolutely LOVE it! The people are friendly and I always invite friends to join. I especially love the adult night on Mondays
8 months ago Angela Ison
Love coming here! Music is great, environment is friendly and clean. It gets a little crowded but overall still a great time!
8 months ago Mandy Sancic
During covid, was fun but VERY CROWDED. Not enough tables and people sit at tables instead of getting a locker so they hog it for hours on end. Also a couple large birthday parties while I was there from 2 to 5pm. I'd go on a less busy day …
7 months ago Laquisha Hall
I love yo roller skate! This place was great. It was a little busy and we had to line up outside but we got inside and enjoyed our 1 hr & 1/2 session. It was kind of hot after skating like the AC wasn't on. But it was lovely and affordable. The prices is only about $15 for the serious and skate rental
1 month ago Jamar Wright
My son loves skating and loves this place. I had his birthday party here. Wish they were a little bit more organized, more/better games for us not skating and dislike parents have to pay just to get in and not skating
6 days ago Renee Banek
Roller Magic has the best Adult Night (Mondays) and best and only Rotunda wood floor in Connecticut! This rink is a real gem. Dust off your quads and come for a skate.
8 months ago Molly Parr
It was a great time my husband had a blast.
8 months ago Magnolia
My 5yr year old had the time of her life and wants to go back every weekend great exercise and friendly environment
8 months ago Carlos Lyons
Friendly service and fun atmosphere! Will definitely make this a frequent spot for skating!
7 months ago Chelsea Torres
First time skating at roller magic was great . Really nice floor and nice friendly people. Shout out to the CT rollers, talented group with a passion for skating.
8 months ago Kelsey Johnson
I've been going to Roller Magic since I was an adolescent! The music is great, and the vibe even greater. Adult night is where it's at!
8 months ago Gregory DuCharme
Not many places to skate in Connecticut and this is the best place i've been. The crowd was super friendly and fun. Well maintained rink and clean facility.
9 months ago Larry Thomas
TERRIBLE PLACE I have just arrived here around 515p on 4/16...The manager is extremely rude with no empathy towards kids. My husband and I along with our two under age kids got here for the first time, and my kids unfortunately left teary …
6 months ago kevin white
It's a fun place to go with your friends and family!! 100% recommend!
7 months ago Caroline June
One of the few nostalgic family fun venues left. Everyone is friendly and had a nice time. Kids enjoyed it
10 months ago Dieter Heck
Its a little expensive, $15 a person just to get in, $5 to rent skates that are extremely beat up and to play the games you have to buy a card for $5 and add money to it to play. The snack bar is also a little steep. It's extremely hot …
9 months ago xenia doroshenko
Great place for a party, kids had a blast. The place was very clean and the staff was super nice. Party time of 630pm to 1030pm on a Friday night. Party tables were covered w colored tablecloths to show those tables were fir a specific …
8 months ago Chanda Sreeraj
I went here on a Wednesday, and so the admission was VERY reasonable!!! Free parking and easy to get to. Dont get confused by the run down building in the front. Roller Magic is in the back. This place is a gem. It's exactly the way I …
9 months ago Alexis Plascencia
The best skating rink ever....
4 months ago Katie L
Ita everything I would have thought of a roller skating place . It was fun , organized. The only thing I wish is that they had places for people to sit and eat if not a part of a birthday party. But other than that it was great .
4 months ago Quentin Barnett
Gretlat place to skate. Music not too loud. Good selection of arcade games. Pretty clean for how busy it was. Even with a lot of people didnt feel crowded . Friendly staff.
4 months ago Albert Fierro
A decent rink. It has a nice wooden floor and well distributed sound systems. The session i went to they didn't do any games or anything so I'm not sure how that normally is, but it's a nice rink.
3 weeks ago T McLean
This weird white lady that worked there tried to sell me pills. Then when I asked to talk to the manager she told me to leave and that it was private property so she doesn't have to send the manager out.
8 months ago Ronald Beauvoir
Great birthday party experience and super cheap..
7 months ago John B
Monday nights are for grown ups only!!! Definitely $15 worth of fun. We'll be back ⛸
9 months ago Peter Schultz
This location should be closed. There is no protocol for distancing or any restrictions on limiting the number of people coming in. We still in the middle of the pandemic. Where is the health department?
8 months ago Jesse White
Without covid, might be amazing, with covid, it's ok, no place for spectators to hangout really. The ticket count earned from the games being integrated into the game card is nice. Decent menu, live dj is cool.
9 months ago Scott Early
I like to give thanks to Roller Magic to have adult skate night on Monday 7:30 to 10:00pm. 20 years and over no kids. if you want to learn how to skate and you like 70s 80s and 90s music this is the best night off the week for adult to go. Thank you
3 weeks ago Kurt Affhauser
Very happy with the efforts of the management team to make this not only a safe, but exciting place to skate for ALL age groups!! CT ROLLERS is proud to call this our home rink!!!
8 months ago Denzel Ded
Covid central! Waaaayyy too crowded with adults and kids birthday parties!
7 months ago Austin Waldrop
Monday nights are for adults over 20 years old. I love it without kids!
8 months ago Brenna Keller
A decent roller rink but I don't see any enforcement or real encouragement of COVID-19 precautionary measures.
3 weeks ago