Auto parts store AutoZone Auto Parts
Auto parts store AutoZone Auto Parts, 2820 E 10th St, Sioux Falls, SD 57103, United States:
104 reviews
of users and employees, detailed information about the address, opening hours, location on the map, attendance, photos, menus, phone number and a huge amount of other detailed and useful information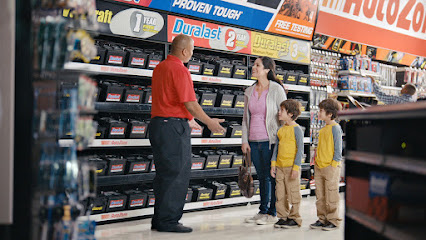 Address:
2820 E 10th St, Sioux Falls, SD 57103, United States
GPS coordinates
Latitude:
43.5472106
Longitude:
-96.6906470
Location on the map
Reviews Suresh Kutty
Excellent customer service from Robert D. Not many people come outside to check fluids etc. He did take the time found out i had no oil and my radiator fan was unplug. Because of the service I got home safe with my family. He deserves a raise.
8 months ago Emily Reece
Both staff I interacted with we're very helpful and nice.!
6 months ago Mike Larynx
Friendly service is always good. Young staff could be a little more knowledgeable about vehicles.
7 months ago Emily Sanders
Came in looking for an odd sized wiper blade and Robert came out to the car to help put it on as well as checking a different store for a part. Great service from nice guys!
9 months ago Linda Southern
Worst customer service experience of my life. Go anywhere else because these people do not appreciate your business.
7 months ago Ken Ip
Autozone is my favorite auto parts store around. Helpful employees to answer your questions.
6 months ago mikael rinto
It was snowing, and when I turned my windshield wipers on, both of them were shredded! The nice young lady that sold me the blades accually replaced them for me. The only downspot was I had to go inside to pay for them. I have COPD, so I go into very few places, if I can help it. In answer to your response to my review, I bought windshield wipers, not a battery.
11 months ago Lizbeth Vazquez
My fiance went to Autozone today on Jan 4th for diagnostic tests. He had the battery and alternator tested. We were told the alternator was fine and the battery was at 50% charge. They offered to sell us a battery and put it in. We opted to go somewhere else later. We had a few important appts to attend to and figured if we had to, we would just jump the battery before getting to the shop. Well, on the way to the 2nd appointment, our car died. A jump didnt help because the alternator they said was good, was toast. We had to pay $74 dollars for a 2 mile tow. This is negligent. If we had known the alternator was bad or weren't given poor advice/diagnostics, we would have went straight to the shop from autozone. Instead it cost us a tow. I did contact corporate because I dont think this is right or that they should offer the service when its not even close to being correct. Please dont use autozone to diagnose things.
3 months ago Saeid Hamzai
Anti-masker gathering place.
7 months ago Mark Butterworth
Had the parts I needed, at low prices!!!! By far, the best customer service. They even helped show me what needed to be changed and how to put the part in. Much appreciated thanks guys.
3 months ago Troy Maierhofer
I went in explained my problem to staff person. ( bad battery cable connectors/solder/etc) He came from around the counter and took me in store and showed and explained what I would need for the job. Knowledgeable and friendly. Offered tips on DIY which made it easier for me then. I got what I needed went home able to fix it like he said. Great service!
5 months ago MATTHEW DELPHIA
Former Service all ahy are very friendly
11 months ago Nevaeh Hunter
Fast, friendly, knowledgeable service! Thanks!
11 months ago debbie poetzsch
Staff was super sweet and very knowledgeable.
11 months ago Nqueka Bae
Good employees good prices
1 month ago Joel Prather
Ben was very professional and went above and beyond to help
6 months ago steve desisto
Always helpful and have the parts at a good price
3 months ago Vinay Kumar
Auto zone is always good even when they don't have the part
2 months ago Morgan
Eveyrytime i come in the store , im never greeted , the managers just lounging around taking about their favorite drinks , when I needed help in the store . I've lived here in Sioux Falls for a year and not one time ,I have went in this store and felt comfortable just aggravated , confused ????. I will drive across town to another store next time
3 months ago Carrie McNeal
Good service and so helpful
9 months ago Prince Korang
They have what's needed in stock generally
7 months ago Duncan Moffat
Gotta love you some BBQ with out the prep, serving, enjoying the gathering, and the hassle free cleanup. Nice every so often
8 months ago Stefanie Smith
Very helpful
6 months ago Mason Parker
Always seems to have exactly what you need when you need it.
3 months ago michael cripps
Had what needed, and made sure more of what needed was available, helpful.
2 months ago Jordan Goode
Very helpful!
8 months ago Mary Young
Many thanks to Wayne and AutoZone on East 10th. After I loaded my groceries next door to AutoZone, I discovered I had no brakes! Walked over to AutoZone. Wayne offered to take a look, diagnosed the problem and offered his assistance for me and my groceries. Five Stars for Wayne! Martha J.
9 months ago Alan Grossberg
Service was great just in California!!! ????????
3 months ago Frank Bolden
Very helpful staff.
1 week ago kejerria parker
Join the Club, and earn points on every purchase. Can Use points off future purchases!
8 months ago Adri an
There was only one employee in the store who had to take phone calls
5 months ago Lisa Raw
Great prices and friendly people
8 months ago Michalis Sotiriadis
Found what I needed.
7 months ago Charles Love
Manager is very Knowledgeable.
3 months ago Dana Ploof
Great place with great employees. My husband and I went there the other day for brake pads and the gentleman that helped us was very nice, knowledgable, and so helpful! Thank you Jacob!
8 months ago Angela Walls
I was stuck in Sioux Falls with my power steering pump not working. Shops were filled to Wednesday, understandable because of the weather, so I called my step dad to walk me through doing it myself. I went to autozone to get the pump/pulley and a few tools as all mine were back home. The guys were super helpful and even came out to help while I attempted this myself (the most id done previously was tire rotation and oil change????). If I lived in Sioux Falls I'd go back all the time! They were all fantastic!
1 week ago Bevan Wang
I purchased a drivers side tail light from AutoZone a few weeks ago for my personal 2011 Honda Accord with 220,000 miles on it! Which I purchased from Vern Eide of course! ;) I was impressed with the knowledge of the employee I spoke to that could recite the part number and knew exactly where it was located.
9 months ago alfredos buybacks
I went to this location today because my gas cap wouldn't come off. The guys were super helpful and had great customer service skills! They went above and beyond to help me and from now on, I'll only go here. Thank you so much for your kindness as my dad just passed away and times have been rough. It's nice to see there's still caring people in this world!
1 month ago karnig beylikjian
It's ok most know the knowledge to get u the right part
8 months ago Channon Smith
Im not normally one to point out incompetence i let it speak for itself. However!!! That amount of ignorance the staff has for the field in which they are in is insane GO TO 41ST STORE! It never fails you can always expect to get the wrong part the wrong order lack of communication lack of automotive knowledge from this store. You have managers tell customers meaning myself a automotive technician for 10 years that i dont need a part i want its something else after ive diagnosed the problem. With my snap on scanner and double checked the ohms to confirm. Personally id take the trip to another store. It isnt worth the unprofessionalism. And the lack of automotive experience the staff has.
10 months ago P S
Great help and quick service
5 months ago K Bizzman
The AutoZone in Sioux Falls is a really nice place. Great customer service at this location especially. The management really seems to care for their customers well
1 month ago Sylvie Cloutier
Very nice manager and very helpful.
6 months ago Martin S
It was clean
7 months ago Simon Willmon
Very helpful, friendly, and they actually listen to you
6 months ago Benjamin Bogaert
Morons that know nothing about vehicles
3 months ago Rod Major
Employees try to be as helpful as possible. Are personable and enjoyable to talk to.
1 month ago Cindy Knox
Nate is very knowledgeable and helpful
5 months ago Jayme Martin
Always helpful, eager to ensure you have all you need the 1st time.
10 months ago Roman Solodoff
Fast friendly service. they'll get what you need.
8 months ago
Popular places from the category Auto parts store