Mariella Creations
Bridal shop Mariella Creations, 2192 Silas Deane Hwy, Rocky Hill, CT 06067, United States:
113 reviews
of users and employees, detailed information about the address, opening hours, location on the map, attendance, photos, menus, phone number and a huge amount of other detailed and useful information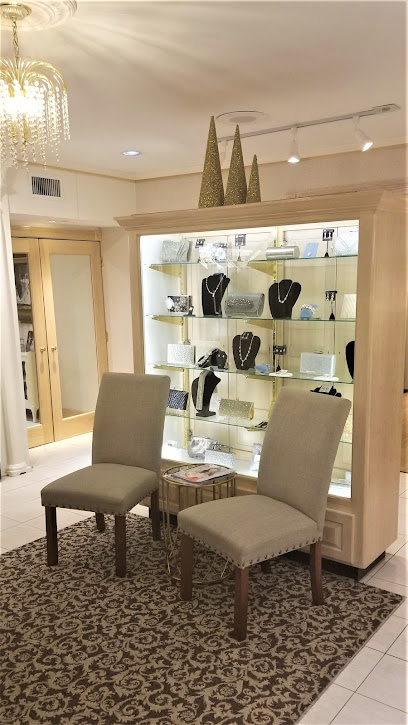 Address:
2192 Silas Deane Hwy, Rocky Hill, CT 06067, United States
GPS coordinates
Latitude:
41.6687196
Longitude:
-72.6416365
Location on the map
Reviews Alex Moise
I would recommend Mariella Creations a million times over! I got my dress here for my high school senior prom and had an amazing experience. When it was time to look for a wedding dress, I knew exactly where I wanted to look! Today I said yes to the dress and my experience was positive in every way. They have a beautiful selection of dresses to choose from. Macanna was my stylist and she was so knowledgeable, professional and attentive throughout the entire process. Thank you for helping me find my dream dress and for making the process a seamless and positive one!
8 months ago Serg K
Friend was getting a bridesmaid dress. Salon looks clean festive well lit. Has a very wide selection of styles. The girl who was helping us was mellow but very patient. Took off one star because of the general energy of the place
2 weeks ago Weronia Kwiecinski
Went there today not wanting to shop for a dress because I hate shopping but I had to get a dress for my sons wedding. Found the perfect dress had a great experience. Fantastic women working there all helpful.
6 months ago Sebastian Duhm
Would give more stars if I could. Did both bridal and bridesmaids appointments back to back. Super friendly staff, clean and well presented. Christine was our stylist for the bridal portion, pulled great dresses, really took the time to listen to what I liked or didn't. I felt zero pressure to make a purchase or pick a dress while I was there. Sarah helped with the bridesmaid appointment and was extremely knowledgeable and kind. Absolutely recommend.
9 months ago perla ramos
The Service was great! Beautiful dresses.
10 months ago Ruth Green
Nella was absolutely wonderful - so pleasant and knowledgeable. She walked me through the process and provided gowns that had qualities I wanted while also pushing me to explore options. So thrilled to have found my dream dress that day. I couldn't recommend her more!
10 months ago Walter Noland
I would highly recommend Mariellas.. Everyone was truly Amazing & really treat you like family! I found a gorgeous Wedding gown... thanks to Mariellas .
7 months ago Edward kiperman
This was the first wedding dress store that I went to and I found my dream dress (which I did not expect to happen at the first store). Staff was very friendly. My stylist listened openly to what I had in mind and was always checking in to see if I wanted to try anything different versus something similar. Staff even worked to show alternate options for alterations to parts of dresses which was very helpful. I've heard horror stories about wedding dress shopping, but Mariella's made the experience very positive. I would recommend to everyone! Beautiful gowns to choose from! Overall very smooth and easy process.
5 days ago Ann Ocker
36 years ago I purchased my wedding dress from Mariella's Creation. It was a wonderful experience then and continues to provide brides with that special moment today. I brought my friend's daughter there last week. She was met by a very caring, friendly and helpful staff. Her consultant took the time to listen, and ultimately helped her select her wedding dress. This wasn't the only salon we visited, but it was the one we kept going back to. The only one that made her comfortable and helped her make her dream come true. I can't say enough about this salon. Thank you to the entire team, especially Christine.
5 days ago Reese Funk
I had the best experience at Mariella's! I went to Mariella's and was very honest with my stylist about the fact that I already loved a dress at another store. My stylist listened to this with open ears and brought in other options to compare it to and in the end I found an even better dress at Mariella's!!! She took the parts I liked from the other dress (layered flowy skirt) and parts of another dress I liked (a more classic satin dress) and pulled a dress for me to try on that was the perfect mix of the two styles & I fell in love with it. My stylist was Christine and she was the perfect amount of supportive and excited for me without ever being pushy. At the end of my appointment Mariella herself came in to answer some questions about tailoring the dress. She & Christine were so friendly and made the whole experience at Mariella's a day I will never forget!
6 months ago Vasu Ratanpara
The ladies here are all great. I was very indecisive and they were all so relaxed about it and not pushy at all. Their gowns are gorgeous. I highly recommend Mariellas.
10 months ago michael cripps
Christine made the process so nice for us! She also has a great eye...I said YES to the first dress she chose for me :)
2 weeks ago Ailean Dunsmuir
I had such a beautiful experience trying on dresses at Mariella Creations. Nella, my consultant, was fantastic I would highly recommend working with her if you are able to! With COVID making wedding planning a bit unorthodox it was great to be able to bring 3 people to the shop with me so they can experience the fun stuff with me. I cannot wait to pick up my dream dress from here in a few months and walk down the aisle in it! Also really loved that they offered a small discount for purchasing the dress from them, and additional discounts if my bridesmaids and MIL/MOG purchase their dresses here as well. Worth the trip!
10 months ago Desert Dawg
Beautiful dresses, great staff, and reasonable prices
7 months ago macee acosta
I had a great experience at Mariella Creations! I had a a bridal appointment here. I came here really nervous and anxious. Christina was great! She made the experience enjoyable and less nerve-wrecking. She listened at the style I was looking for. She was patient through the whole thing. I ended up finding the one! I will be making appointments here for my bridesmaids soon.
8 months ago Mohammed Iqbal
Nella was amazing! Helped me pick the perfect dress!
8 months ago Jeremy Collins
I had gone to David's bridal and told them my vision for what I had in mind for a dress. They rushed me and put me in everything I said I didn't want. I then went online and found Mariella's and saw they had a dress I had my eye on from the start! I had no idea when I got there just how big it was! They were friendly, welcoming and made the experience so enjoyable. They have a Wishlist option on their website to add your favorites too. They had the dresses I wanted to try on ready to go when I had my appointment. They let me take my time, asked my opinion and didn't pressure me in the slightest. I had one more place I was going to but cancelled because I found the dress of my dreams and the staff was just so amazing to work with. I worked with Christine and she was amazing right from the start. I would definitely recommend them. Very courteous, professional and make you feel special!
1 month ago Diane Hill
This place is absolutely amazing!!! The staff is incredibly professional, and the salon itself is very clean and sophisticated. Thanks to Christine, I found the perfect wedding dress that I am fascinated with! I am very picky with everything, and the fact that Christine knew exactly what I would like after asking just couple of questions mesmerizes me! I said yes to the first dress that she brought me! Also, my sister found her wedding dress at the Mariella Creations, which I believe is not a coincidence, because they make sure that their gowns are high quality and beautiful! Mariella Creations is definitely a place to check out! Five out of five stars!
8 months ago Noel Aviles
Christine was amazing. She made sure I loved my dress, and was patient with me when I needed more options before I found it. Mariella was also great, and made me feel beautiful when measuring me in the dress I chose. I highly recommend this shop!!
3 months ago Bob Materka
Nella was so helpful and wonderful to work with. She really knows her stuff! I would recommend her to anyone looking for their perfect dress! 5 stars from me!
5 months ago Hari Subhash
For my first experience trying on wedding dresses, especially during covid, I was so happy with my experience! Not only did I find my dream dress my consultant was patient and kind. I'm looking forward to bringing my bridesmaids back to look for dresses
3 months ago Eisa Abusida
Nella was a pleasure to work with ! I went in unsure of what I wanted, and she knew all of the perfect styles to flatter me and make me feel my best. I am so excited to have found my dress at Mariella's!
1 week ago Martin Shain
It was a great experience thanks to Macanna She waa verry knowledgeable.
11 months ago J Brat
Mariella and her team are the absolute best! They made the entire wedding dress shopping process so easy and worked so closely with me when covid-19 necessitated a date change!
5 months ago Elliot Wight
My fiancé is too nice to say so, but (our) experience here was disastrous. I overhear tales of insulting attendants and stress, then months later... a dress that did not fit like at the shop... After taking the dress to countless alterations places, it was clear the measurements were taken wrong here. Long story short, she has purchased another dress to replace the one bought here because it can not be salvaged. Mariella Creations has added heaps of stress on to our already stressful COVID wedding planning. Would avoid.
3 months ago mammon mammonov
The ladies at Mariella's Creations took excellent care of me and made sure my gown was exactly what I wanted and arrived on time. Also, Margie and Irene's, who did the fitting and adjustments for my gown were amazing. They helped me and one of my bridesmaids out of a jam last minute with alterations and we were so grateful! I have just taken my gown in to be preserved and Mariella's took care of everything. I highly recommend their services and I am so happy it was suggested I go there. The ladies made me feel special and beautiful as a bride and I will recommend them to any bride in the future.
6 months ago big Cadillac
Nella and Sarah were an absolute joy to work with. They were very attentive and friendly. The store has an extensive and beautiful inventory. Nella is a queen of her craft—she listened to my style, wedding date and venue, and concerns, and then used that information to select a stunning array of dresses for me to try. The dress I picked was something I never would have thought to try on. I got my perfect dress thanks to her amazing expertise. And once I said yes to the dress, they immediately had a mimosa ready for me to cheers with. Nella and Sarah also were great about keeping things Covid-safe, and we're very accommodating with setting up zoom chats so family who couldn't travel could participate.
1 month ago Bob Kristopher
Great variety of styles and sizes for not only bridal gowns but bridesmaids as well! Such a fun experience!
2 months ago Edgar Montes
I went into Mariella's for a bridal appointment and had Macenna as a stylist - the appointment was so wonderful! Macenna was friendly, knowledgeable and so polite. She helped me pick out the perfect dress and get some ideas for accessories as well! I would highly recommend her to any bride looking for a dress!
2 months ago You Gotit
Amazing place!! Words can't describe the feeling I got when I went to Mariella's for my dress. The experience and staff were so wonderful. You get a private room for you and your guest and they allow you to play music and provide you with a robe for in between changes. Totally awesome place I would recommend Mariella for every special occasions. I went for my brides dress and ended up with bridesmaids, mother of the bride and even tux deals for the men!!!!
9 months ago Jubal Slone
I found my wedding dress at Mariella's and my experience was fantastic. Both my mother and my sister found their wedding dresses there, so it was a really unique family experience for me to go, as well! For a girl who never wears dresses, they made the entire process smooth and enjoyable, and I found the perfect dress! They were happy and kind the entire time. I have gotten bridesmaid dresses from them in the past, and I have always had an outstanding experience.
8 months ago Joann Riddle
I have been pounding the pavement to find a mother of the bride dress with no luck. After being given a tip on this shop in Rocky Hill, I was reluctant, but I thought I would give it a try before having to go to New York City, well I was pleasantly surprised at the beautiful store , great selection and superior service. Not at all pushy, very interested at what I was looking for, I found the most elegant and drop dead gorgeous gown. The entire staff made this a relaxing and painless experience
2 weeks ago Gami Lannin
Kathy was so attentive and helpful during my bridal appointment. She went through every dress, within my budget, with a fine tooth comb. You can tell she loves doing her job, and puts her heart and soul into it. Bridal shopping dread was quickly turned around by Kathy. My advice is to get an appointment during the week, that way you have the whole top floor to yourself; however, if you went on the weekend, you are still treated one on one, so don't worry.
9 months ago John Andrews
I worked closely with Nella and it was such an amazing experience!!! Everyone was super nice and attentive. The dresses were gorgeous and Nella knew exactly the style I was looking for.
7 months ago Arvind E
Had an appointment for a Saturday and it was extremely crowded inside when we got there. The staff was very nice, and we were all so happy to know we were getting a separate room upstairs to try on dresses (away from the chaos!!). Then we sadly find out once we're settled upstairs and put our bags down that we have to move our stuff because ANOTHER GROUP is joining us (mind you the room is not big and the 4 fitting rooms are tucked one corner). Once the other group came that was bigger than ours, we were *literally* pushed to the side and against a wall, with 4 of my girls sharing 2 dressing rooms, we were clipping, tying, and zipping up the dresses (we didn't know what we were doing since some dresses were complicated), and felt very rushed.... Not the best experience for my bridesmaids and I. We really wanted a fun day to drink champagne and try on dresses and that's not what we got.
8 months ago Michael Luckhardt
Mariella is nothing short of amazing! She's very detail oriented and committed to perfection. Mariella Creations is hands down the best place for anyone looking for the perfect dress!
7 months ago Adalee brown
Very Professional. Beautiful Selections.
3 months ago Will Morales
Nella was amazing! She really knows her stuff and I'm so glad she could help me find my dress. Mariella was great too and made me feel very special.
7 months ago Bart
Fantastic experience. I didn't feel rushed or pressured. The dresses chosen were extremely well thought out. I chose my first dress brought to me because it was perfect. Highly reccomend going there!
7 months ago Jack Kim
Everything went so well with picking out my dress at Mariellas! I'm so excited to wear it on my wedding day. Thank you!
7 months ago Haiying Fu
12/26/19 we had the pleasure of shopping for my daughters wedding gown at this fine establishment. What a wonderful surprise to find such a great selection and our very knowledgeable Bridal Consultant Kathleen was so very helpful with the process. Having been to two stores prior to Mariella's our experience here was much more professional and our consultant assisted us soooo much. Thanks to the Mariella team our daughter found the perfect dress for her big day. Highly recommended for selection and service!!!
6 months ago Brandon Dixon
Best experience I've had wedding dress shopping. Nella was fantastic and helped me find the dress of my dreams. I would recommend Mariella's to any bride to be!
9 months ago Robin Hood
I had a great experience at Mariella Creations purchasing my wedding gown. I got bridesmaids dresses there before, and my mom bought her gown there almost 40 years ago. I was so excited to look there for my wedding dress. Christine was an absolute joy to work with. She really listened when I said what I was looking for. I tried on some gorgeous gowns and picked my top couple choices. I tried these on again to see how I felt in them compared to one another. When I picked my top choice, Christine said how after knowing me just for that time it really did seem like it was a good fit for me/my personality. She knows her stuff - she was totally right! I got to walk around the upstairs room to see the dress from all angles and see how it looked and felt when I walked around. During measurements, Mariella double checked everything herself to be sure I would get the best size for me. I never felt rushed or pressured to make a purchase. On top of all that, it was snowing when we went to make the purchase, and a man who was there to pick up an employee brushed the snow off of our car. Great experience overall and I can't wait until my dress comes in!
6 months ago Brian Miller
They had the most beautiful dresses, our guide was great! She got everything my daughter wanted and added her own opinion according to my daughter's body type and my daughter just glowed with happiness. Very satisfied. Great prices.
9 months ago Rob Jackson
My step mom had a great time and also got 30% off of her very sparkly dress!
10 months ago Natan Hagopian
I absolutely love this place. I have bought my prom dress here both times (junior and senior prom) and each time I had a truly fantastic section of dresses to pick from. The service there is great and they have many gorgeous marked down dresses for less than 150$. They have dresses for evening gowns and brides as well. They have connections to get dresses altered and will give you the information if you ask. Overall, great place to shop for prom. I would definitely recommend.
11 months ago Kariann Holland
Mariella's is a beautiful bridal shop that really has the "yes to the dress" atmosphere. I had gone dress shopping a few times before this at other boutiques, and I was not nearly as excited at them, as when we went upstairs into the bridal area of Mariella's shop- they have lots of newer and trending designers so I was excited to check out the various and newer styles that other places don't carry. A big thank you to my bridal attendant, Margarita, who was very helpful and kind. She was knowledgeable in the available dresses of the Designers I requested. She was wonderful at listening, adapting, and helping give feedback to ensure I was going in a direction towards a dress I loved. In addition to my requests, she pulled dresses for similar styles and designers in various price ranges so I could get a feel for what else was out there. This actually helped give me perspective and reduced any dress regret or FOMO! I was grateful for her help during the dress fitting, as well as her following up on any questions or requests post visit. Special shout out to Lauren and Kristine for helping post visit as well- I appreciate their resourcefulness and patience in helping to review my options to get me the dress I wanted in time for the wedding.
6 months ago Cameron Daffinrud
Nella helped me find the perfect dress! I went in with one idea of what I wanted (fitted and lace), but when I realized it wasn't me, Nella helped me figure out what was (full on sparkly princess gown!). She was patient through my indecisiveness and never pressured me at all. My dress came in as expected and they pointed me to Margie and Irena's Alterations to have it fitted. I was lucky enough to have Margie as my seamstress and she was amazing! My heavy strapless dress never moved as I danced the night away! I would highly recommend both places.
7 months ago Angeliki Wilson
Love this bridal salon!! Great service and always accommodating. Got both my wedding dress and my bridesmaids dresses here.
9 months ago Jason B
Where do I even begin... my experience at Mariella Creations was amazing. Nella was a dream to work with. She instantly took what I had and mind and got multiple gowns to show me. She listened to me and I could tell she genuinely cared that I found a great dress for me. Even when I changed my mind, tried on the same two dresses over and over, she was sweet and really hyped me up. The dresses were all beautiful and there was no sort of pushing to get expensive gowns. The dress I found was amazing and Nella along with the girl who brought me to my room who had an adorable baby bump where so sweet and really added to the experience and truly helped me with my decision. 5 starts and 10 out of 10 will recommend to any girls I know who are looking for dresses! Thank you Nella ❤️
8 months ago
Popular places from the category Bridal shop