J&L Harley-Davidson
Harley-Davidson dealer J&L Harley-Davidson, 2601 W 60th St N, Sioux Falls, SD 57107, United States:
220 reviews
of users and employees, detailed information about the address, opening hours, location on the map, attendance, photos, menus, phone number and a huge amount of other detailed and useful information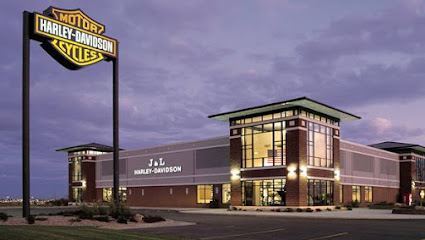 Address:
2601 W 60th St N, Sioux Falls, SD 57107, United States
GPS coordinates
Latitude:
43.6009363
Longitude:
-96.7619192
Location on the map
Reviews Tori Rudd
J&L treated me like family from the moment I walked in the door. They were right there to answer any and all questions I had. Being a new rider and my very first bike I was a little timid right from the start. They helped make me feel …
6 months ago PRAGATI SINGH
Great friendly staff especially motor clothes department. Home decor selection is unique and reasonably priced. Online sales guy was very helpful as well.
8 months ago John Westmoreland
Bought a new 2021 Street Glide Special, what a pleasure to business with A+ to Derek and the whole team!
6 months ago Kerria Dixon
Thanks to everyone who helped me when I stopped in to buy my first Harley!! The salesman helped me find a bike that fit me perfectly. The parts department helped me get a better fitting seat and other things I needed! Top notch service!
7 months ago Eunsun Choi
We walked in with a particular bike in mind after talking on the phone with Scottie. Once we saw some of the other bikes we went with a different bike that was in our price range that had very low miles. It happened to be bought and traded back to J &L so they were very knowledgeable about the bike which helped sell us on a great bike!
6 months ago Jinsun Baek
Fantastic place and people! Thanks Todd your the best! Love the Softail!
5 months ago Crystal Sugar
The staff worked diligently to find me just the right bike. Great crew!
6 months ago Allison Stark
Professional and caring staff. They were a joy to spend time with. The shop area was clean, organized and customer orientated.
8 months ago Barbara Johnson
The staff at J&L were great, my salesman Todd, and Darrin in parts were very friendly and helpful. The gentleman from clothing and accessories was also very helpful unfortunately I don't recall his name. Proof they say is in the pudding, first time there and I left with a 2020 road glide! Come on spring!
9 months ago FKJ
My experience at J&L Harley Davidson was a wonderful experience. Derek was so helpful and answered all my questions, moved bikes out so I could have a better look at them. It was the third one, a beautiful 2016 Sportster 1200 ! Chaz …
11 months ago William Rinkcov
The sales staff along with the finance department were both TOP NOTCH! The poor rating given by me is for the higher management. I found the man in question to be rude to the point that his employees were uncomfortable under his …
2 months ago Starion Black
Everyone from sales to finance were helpful and great to work with. You have a customer for life
7 months ago Kaneez Rizvi
Very nice Harley store compared to many. But what gets my 5 stars is the staff. I was just passing through, not a local or regular or one they're gonna get much repeat business from and they went beyond what's expected to help me and then lead me to other stores that could.. Awesome staff there
2 months ago Pat Mattiacci
I would recommend this place to everyone!!❤️❤️❤️we were treated with kindness by everyone...from the parts,to clothes,to finance.(Chaz????) is awesome ????...and brekkyn(our sales person)..THANKS FOR EVERY SINGLE THING YOU ALL DID FOR US!! WE ARE ???? CUSTOMERS...Husband will be looking for his next year!!
8 months ago Robyn Bel
Wanted to say how well Toni & I were taken care of last week when I purchased my 2017 tri glide, used or new excellent experience when we go to J & L enjoy it all thankyou to Derek,Shawn & Amber look forward to my next visit ????????????????
8 months ago Oxinia Oxi
Love the customer service all the time, good variety of products available
6 months ago Amanda Howard
Couldn't be happier with the way I was treated and helped out! Also I didn't feel pressured to buy anything, if I didn't like what was in, they asked what i was looking for and when something came up, they contacted me about it! Very satisfied and will keep coming back!
9 months ago Kali Muhlbauer
Friendly and able to make the deal happen. Easy no-stress experience.
8 months ago Sudipta Das
Todd was very friendly. Made you feel like you belonged at their store. Great customer service!
9 months ago Lyndsay Anson
Nice store, friendly people and it's a good size dealership.
6 months ago Jose Moran
Great dealership joe is a awesome guy appreciate you and dj for your hard work...
9 months ago Eric Weinstein
They have a Lvl 3 charger for electric cars. Easy win.
9 months ago David Robbins
Never seen a cleaner shop with nicer inventory than that....and bill sappingfield was More than helpful... Would be a nice place to work! Great atmosphere, I'm from Minnesota when I get my next bagger I'm definitely going to deal with j&l and Bill sappingfield.... Definitely a five-star rating
2 weeks ago Shea Boo
Great dealership. Stopped to look. We were pulling out motorcycle in an enclosed trailer and we forgot to tie down the back and it had shifted. I went in and asked if they could help us move it and two big guys came out and moved it in a couple seconds! So friendly and helpful! Love Harley!
4 months ago Andy Ballard
The J&L Harley Davidson family has been a pleasure to work with and a community we are now proud to be a part of. They made the entire process easy and have been there to support us every step of the way. No matter how many questions …
2 months ago wam clam
These guys provided an awesome experience i will never forget!
7 months ago Timofey Russkih
The new atmosphere of the store and all the employees is outstanding! The staff is straight forward and no BS. Honest and upfront. Took my '06 ultra classic in for a price to sell, they took the time to put together an honest estimate,and …
6 months ago Robin Prober
Wonderful experience here at J&L Harley...Very clean establishment and extremely knowledgeable staff. Thank you
8 months ago Alejandro Morales
Have purchased two separate times from them. They dropped the ball both times.... I am currently on day 12 waiting on a replacement flannel. I have called and was told to leave a message for Dustin he will call me back.... guess what yet to …
3 months ago carl ebach
Wonderful knowledgeable sales people fun atmosphere. Overall loved the whole experience plan on purchasing again from J&L
5 days ago Cali Huffman
Purchased an accessory for a helmet I bought through Motoplex. Offered competitive pricing plus a discount. Shipped part directly to the store and sent me a post card when received. Very interesting way of communicating that I enjoy. Took …
6 months ago Rooban Kumar
Just bought my second new bike from J&L. Everyone was very helpful and encouraging. Not in the sleazy salesman way, but genuinely happy we could reach an agreement to get the bike I wanted. Don't be afraid to stop in. Helpful, knowledgeable staff and no pressure.
4 months ago Aleena Elasmar
I have always been a fan of Harleys. I finally stopped in here because my wife's cousin was in town and owns a couple Harleys. I walked through the whole store. They sure do have some really nice bikes sitting around. Harleys are pricey. I …
10 months ago S B
Just bought my 2019 Harley Davidson 750 Street here last week. Super great bunch of guys and gals, Brekken was my Salesman. He was Super friendly and knowledgeable about the bikes. He helped me through the whole process and and very pleased …
6 months ago Kimberley Krumm
Awesome experience. Everyone is always friendly. They found the bike I wanted and had it to me in a few days. Special thanks to Amber, Derek and Darin who made me feel like I was immediately part of the Hog family.
9 months ago Tasha A
The staff was excellent! This is the second bike I've purchased from J&L and they remembered my first purchase 8 years prior. They made everything extremely easy and my husband and I couldn't be happier!
4 weeks ago Betty Jackson
My 1st HD! And we couldn't possibly be any happier. The buying experience was easy and everyone was super knowledgeable. Will definitely be coming back. Sales, parts, and service had been impeccable. J&L is doing it the way it was meant to be.
5 months ago Liza Blue
Very helpful and knowledgeable staff. Good selection of parts & clothing.
1 month ago Tomas Kunickij
I could have spent a butt load but kept myself contained for now.
7 months ago Carolyn Scarebrook
An interesting experience.
6 months ago Vasudeva Pai
Todd and Shane were awesome help!!Thanks guys!
11 months ago peter faulkner
Loved the 2019 Easter egg hunt. Lots of options for your ride.
8 months ago Neil Cowley
Best buying experience I've ever had. They made us feel so welcomed and appreciated for our interest and purchase in the bike. We loved the walk through they gave us of Harley Davidson. They definitely know how to run a business. Great job!
8 months ago Saaf Arsh
We had an amazing time with the staff at J&L of Souix Falls. Especially with our salesman Derek. He was awsome from the get go! Very informative and wasn't afraid to go the extra mile to help make the purchase of our new 2020 Tri-Glide Ultra a very enjoyable experience!
4 months ago Judie Bucholz
Always great service, friendly and knowledgeable employees-techs willing to assist you. Very attentive to make sure that you've been helped, without being to pushy.
5 months ago Karen Whitley
Stopped in on our way to Sturgis to pick up a poker chip. Had our picture taken with their J&L Sturgis backdrop. Nice place, friendly staff
3 months ago Paul Santoleri
Great experience and great people
7 months ago Paul C
Well supplied local Harley dealer, helpful knowledgeable staff.
2 weeks ago Julian Pastarmov
Just stopped in to pick up chips for a friend but they were very nice and friendly.
9 months ago Francis Mingomba
These folks help you, care about all riders even if a H.D. isnt your bike. There name should be 'awesum bike place'
5 months ago
Popular places from the category Harley-Davidson dealer