AutoZone Auto Parts
Auto parts store AutoZone Auto Parts, 16500 Sherman Way, Van Nuys, CA 91406, United States:
201 review
of users and employees, detailed information about the address, opening hours, location on the map, attendance, photos, menus, phone number and a huge amount of other detailed and useful information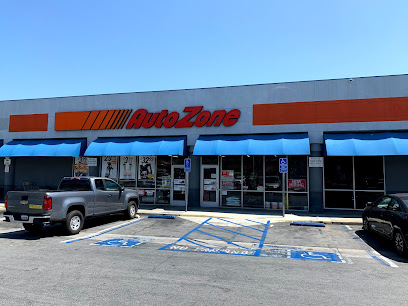 Address:
16500 Sherman Way, Van Nuys, CA 91406, United States
GPS coordinates
Latitude:
34.2004386
Longitude:
-118.4928834
Location on the map
Reviews Anthony Cortigiano
Autozone is my go to place for auto parts. They have good quality parts usually in stock. Good service with somewhat knowledgeable staff. I'm a retired automotive instructor. Some items are really expensive (which I don't know why) so shop around. This Autozone store is good.
6 months ago Carlos Sanchez
The cashier who was also possibly the manager refused to sell me a part for my car and continued to ask questions that were completely irrelevant to the part I'm purchasing. Purchased a Clutch Master Cylinder and she kept trying to sell me …
2 months ago Beatrice Maimon
Can take awhile to get help from parts or out on the floor but a good parts inventory for my 3series BMW and Ford F-350
6 months ago Gracin Williams
Autozone is so over priced on some items its just ridiculous. I realize they need to pay the lease but at least try to be competitive. There is never anyone at the cash register. I mean never. How Sears was just before sinking for good. I'd …
7 months ago Maria Martinez
The lady and guy in the store were very helpful. Someone broke into my car and broke my rear view mirror. They gave me the job weld epoxy and alloy wrenches to fix it. I was in and out with a new window in 10 minutes. Thanks you guys you have a great system going on in there.
4 months ago Barakat Gazi
The store manager was busy but got to us and was great, gave her honest opinion and worked out great too !
9 months ago Jon Secor
Really bad custumer service Called for part check said the have it. I drove for 25 minutes when I get there they said was a mistake the don't have it
6 months ago Jose Ortiz
very nice people working there. very willing to help u. will return for auto parts needs
1 month ago aaron jepson
Great friendly service. Good prices and quick service.
7 months ago marla Summers
Super nice and friendly. She (the employee) helped me find the right light bulb for my car.
9 months ago James Henderson
Not as good as I wish, I was doing the line and a guy skipped it and the lady at the counter noticed it but decided to ignore me after she made visual contact with me
6 months ago Raphael Solis
Wonderful service. Friendly staff.
7 months ago Teresa Lesure
This store used to be my go-to for all my car replacement parts and accessories and that was largely due 2 the individuals who managed that location. Garson, Jenny, Chris all of you guys get five stars all day, however since you guys have …
11 months ago Matthew Rellin
I came into Autozone store #5496 to diagnose an issue with the horn on my Toyota not working. Bought a new relay but that didn't resolve the problem. Garson O. Took a look under the hood and realized that the horn was disconnected. Thanks for going out of your way to help me and save me money! Wendy S.
2 months ago Rebecca Swab
Easily one of the worst managed Autozones around. They always seem to be busy, even when there's only a couple of customers in store. You can be standing in line have one person working in the front, and you can hear the others chatting in …
1 day ago Al Aholloman
Go there knowing what you need, no one will be available to help you.
6 months ago Kraig Beale
Everything that I look for is there the people who work there very nice they're very helpful
10 months ago Diane Kyle
I like AutoZone the people that work there help you out with everything even install your wipers if need be great customer service great knowledge of everything that is
1 month ago Lian Duan
I get alot of stuff for free here...I love Auto Zone Auto parts.
5 months ago mahannie bijou
Jorge R was awesome! He helped me twice tonight. My first stop was for jumper cables and second was to test my battery after getting my car started. The battery test showed it needed to be replaced and Jorge found the right battery to …
8 months ago Jordan Davis
Great service even when busy. Place gets crowded quick but they do their best to speed things up and still provide good service. Thanks for the battery
5 months ago Atik Faysal
I have been using this store for 18 years, now they have a couple of ladies as managers without any experience in cars and trouble.makers , in the las week i went there 3 times and on this 3 times this blonde lady wasn't of any help with …
1 month ago Dennis Dalton
As usual, had the parts I needed. No hassle parking.
3 months ago Sara McNicoll
Loved their costumer service ❤
9 months ago Idabel T
Today's visit was the worst experience I've had with them..I came to buy supplies to tune up my car and every time I asked to look up an item , the cashier would give me an attitude. It was like I was inconveniencing him..I asked him if my …
7 months ago John Crump
Very helpful, professional and courteous crew. Found all my items too!
7 months ago Vita Lisevuch
If you need the part they will or wont have it but it makes a good trip to check and be sure. The staff were very helpful with my Econoline van same with the one in north hollywood. Excellent service and very helpful when you need something …
6 months ago Dominik Naiser
????
6 months ago Hix Hardy
The store manager at this store Garson is AMAZING. He goes above and beyond for his customers. I came to borrow jumper cables for my wife's car and he switched out my battery (after I purchased one not too long before from a different …
7 months ago Gordon Sanders
Really great experience, Jesus hooked up me up really good, I'll be shopping here everytime I need to definitely nice people
9 months ago Leticia Oseguera
Went here the other day when the first heavy rains in LA started; the lines were longer than usual but a gentleman by the name of Garson was extremely helpful in finding the right wipers for my Audi. It seems that suppliers had changed …
7 months ago Deborah Bigelow
Great service always
7 months ago Frank Ruggiero
Good parking, lots of car parts and supplies options, friendly and helpful staff.
5 months ago Scott Bradbury
great help with a battery replacement/swap from james, and manager jorge!
1 month ago DevSanjeev AnandKumar
Jenny g is a great and sweet lady she knows a lot about cars I love her personality she is been with autozone so long from victory, magnolia store, Ruben Dm both great people...
8 months ago Brian Corizzo
Good quality car parts and not so expensive
2 months ago Bob Marley
I'm just surprised by the quality of service at any AutoZone I visit. The manager and the worker let me do the ac test with no charge and they even checked my front lights as a courtesy. Good I'm very loyal to Autozone and I buy batteries and motor oil so on. You guys are doing amazing jobs serving the community.
7 months ago Catherine Gillmor
The place to pamper my toys!!
1 month ago Tim Lana
There's eight customers in line two guys working the counter and three guys messing around sweeping doing nothing this AutoZone sucks.. Nice comment raising the star.
5 months ago Jian C
The customer service was great ????
1 month ago Mikko Korhonen
I love my store
2 days ago brenda rice
The manager cut someone in front of me and gave me a poor attitude when speaking to her.she was very rude and disrespectful to me her client
1 month ago Alon Mor
Very good people and they help you the moment they see you walking in
9 months ago Gokul prasad
Amazing Experience, nice employees and 100% would recommend
8 months ago Gaylord Hanson
now at sherman way and white oak branch...we always look forward to find autozone...store you trust to find your items you need
9 months ago Amy Jones
When in doubt and don't have it with you to ask someone they will lead you in the right way if your doing it on your own or by someone else great service and customer satisfaction at excellent when is knowing the price ahead of time than hmm THAT'S why AutoZone is the place to go if you don't know anyone #froyozombie
6 months ago Chris Sulda
I get extremely fortunate that I meet the most phenominal people when I'm in horrible positions when i want to just say eff the world. The employees here are legitimately great individuals. The store is neat orderly and for the most part well stocked.
7 months ago Evo Guy
Worst customer service. I bought a sensor and its not working and I wanna get a refund. But the cashier keep asking me why? again and again And didn't get my refund!
1 month ago Victor Young
Great service great deals what more can you ask for..check engine light on they'll check it for free #froyozombie
7 months ago Norbert Schuff
If you make an order with them, the order isn't completely delivered on the day you're meant to pick them up. The staff is also unprofessional, most don't even work.
1 month ago
Popular places from the category Auto parts store