Tomball Ford
Ford dealer Tomball Ford, 22702 TX-249, Tomball, TX 77375, United States:
220 reviews
of users and employees, detailed information about the address, opening hours, location on the map, attendance, photos, menus, phone number and a huge amount of other detailed and useful information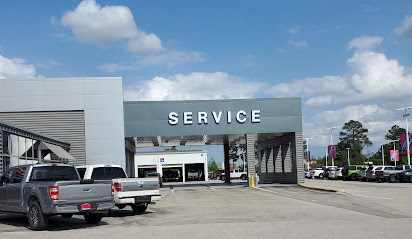 Address:
22702 TX-249, Tomball, TX 77375, United States
GPS coordinates
Latitude:
30.0150576
Longitude:
-95.5899910
reviews home brewer
Lori contacted me through my recommendation from a family friend. She was nice. My sale rep was JT. That guy was awesome. He showed me two options of the type vehicle I had in mind. He let me test drive them, and I made my pick. The process was pretty quick. JT displayed great hospitality my entire time there. I recommend this dealership. Thanks guys.
4 months ago Heather Ghali
Tomball Ford deserve 10 stars!! They are welcoming and very professional from the office staff to the service dept. I called them when I was on my way with my vehicle that was about to break on the side of the road. They offered to call a wrecker to come and get me. I dropped off my car with the service dept that was truly helpful and I didn't expect to get a loaner car. The next day they had a car for me. My vehicle was fixed within a week. Awesome staff and amazing service dept!
5 months ago g p
Originally I reached out to the online sales and a woman named Lori responded to me really quick when I got there Steve was my sales rep but they used car lot office he was real chill Romeo he let me test drive a few trucks and I eventually got one of their trucks. Thanks for everything I really appreciate it.
4 months ago Margot Noel
When my check engine light went on, a closer dealer wasn't able to make an appointment to diagnose the issue for 2 weeks, so it was worth the longer trip to go to Tomball Ford, where I brought in my car the next day. It took less than a day to figure out the issue, and even though the part wasn't in stock and they had to keep my car, it took several days less than expected because they were able to get the part from another dealership. I was really happy with the service there and would recommend it.
6 months ago Antonio Jaramillo
Great experience at Tomball Ford. I did not need a new truck at the time, was just looking to see what was out there. Taylor did a great job of answering questions on initial contact before handing me off to David. David did a great job from there. Really happy with the experience and really happy with the truck. Thanks Tomball Ford Team
5 months ago Morgan Hunter
Kenneth Robinson in sales worked hard and got me the deal I wanted. I'm pleased with his knowledge and time he took to explain things to me. Jana Baker helped me in the past and also worked hard at getting me a new car deal. She also went out of her way to explain everything and make my experience a good one. Over all I'm pleased with my experience and would recommend you see either of them
6 months ago mimi shufelt
Took my 2011 F-150 King Ranch in for recall notice work. Service advisor Ashley was prompt and courteous in getting me checked in and set up for the repair. Account was verified and validated via text message. She kept me updated on progress and was readily available when I returned later that day for my truck. The service department even protected the interior of the truck with plastic covers, something not seen before. The in-person service couldn't have been better. The only disappointment was trying to use the website to schedule this service. I tried using both the Chat service AND the direct email request methods; both failed completely. The Chat service specifically told me that the service tech would have to verify parts were on hand before an appointment could be finalized, but promised a call from a service advisor within 48 hours. That was completely false, as I never did get the promised call from Tomball Ford despite waiting 5 business days. I finally called the service department directly. I was surprised to learn that this service was readily available, first come, first served. I was able to get the service scheduled and done on the same day, no delays. Tomball Ford really needs to step up the online scheduling process, because it's not working, and this is not the first time I have encountered such a disconnect.
7 months ago William Bruce
My husband and I went to Tomball Ford about 4 days ago, and I was shocked at the way we were treated. I'm not sure if it's because of how young we are or what, but I was appalled at how rude and unresponsive the salesmen were. My husband has been blessed with an extremely good paying job and was prepared to buy a vehicle from Tomball Ford. He requested a buyers order for financing through his bank, and two separate salesmen refused to give him one. They insisted on test driving and numbers. My husband was fine with the price, we liked the car without needing a test drive, and were wanting to purchase the vehicle within the upcoming 48 hours. He just needed a buyers order. However due to 2 salesmen being incompetent and rude, we left angry and unwilling to ever do business with Tomball Ford. Buyer beware.
4 months ago Ashley Maleson
We took our truck in for service and Bobbie was awesome she kept us up to date while our truck was in the shop she was very nice and polite they also replaced our front windshield and they did an awesome job they put the original windshield of our truck. And because of their awesome service we will continue to take our truck there for service i truly recommend Tomball Ford to everyone.
6 months ago Jason Howe
Tomball Ford Quick Lane continues to be my "go to" when I need my Ford SUV fixed and running well. Great customer service and reasonable prices for auto care. The customer service representatives will keep you informed of your car care and assist quickly while having your car serviced. Special thanks to Thomas and Dolores!
5 months ago Sydney Ho
I would highly recommend Tomball Ford.Tomball Ford deserve 10 stars!! They are welcoming and very professional from the office staff to the service dept My sale rep was David he did great job , this guy is absolutely awesome ????????????, I give him 5 *****stars
4 months ago Nel Bonilla
Today I traded in my car. My sales rep, Lori was amazing from start to finish, she didn't just settle for the sale but definitely gave me the best car buying experience I've had in more than 23 years. She worked with the bank, finance manager to get me the best deal. Big thanks Lori, Andres and George. You have a customer and a friend for life!
5 months ago leeah miller
Sherif Elsherif was an excellent sales consultant and helped me and our family for two whole days finding the perfect truck to fit our needs. He didn't try to pressure us into something we didn't actually want and helped us keep looking for the truck that hit every need, Even the color that we wanted. The finance department helped us get a great rate above my expectations. Will be definitely coming back for future Ford vehicles. This is my third F-150 and so far the best one I owned.
5 months ago Shelley Fannin
I went to this location around 30 minutes ago this and delt with the salesman Roosevelt truly the worse experience I have ever had at a car dealership the salesman was rude and disrespectful but when his manager came around his entire atittude and tone of voice changed tremendously acting like he was trying to be helpful but instead he was talking down to my brother and my wife because he didn't want try and work with us. It was his way way or nothing at all unless his manager came around then he pretended to be doing his job and on our way out he said thank for wasting his time if you want to do business with these type of people then go ahead just consider this warning
4 months ago Minnu Taylor
Wow, I should have worn my good shoes. 1. Was flat out lied to about being able to use my own bank. I would have considered yalls financing. But at Tomball Ford you can't use your own bank. 2. Waited for 15 minutes for a rude salesman to refuse to give me a buyers order. Thanks for nothing.
4 months ago Nicole Marsh
I sent my car here for all my past oil changes and noticed after a previous oil change that oil was spilled on the belly pan of the car and a few of the belly pan plastic fasteners were broken or missing. I tried one more time recently to have the oil change completed and asked the advisor to have the oil cleaned from the belly pan and broken or missing fasteners replaced at which he agreed to have done. After picking up my car on my most recent oil change none of this was corrected as promised... Guess I'll be doing my own oil changes again.
3 months ago Kun An
It took 5 months to get center caps for my rims, and the ONLY reason I got them is because I paid for them. Every call to get them was a complete run around and ultimately I was told to order them myself. Find a better place to buy your car!
4 months ago Mike Mitchell
Took my 2000 350 dually for an oil change. The change took less than 30 minutes and was provided recommendations for additional maintenance items, but no pressure to have done the same day. Staff were very courteous.
4 months ago Nick Penland
Ask for Sherif. Very knowledgeable and patient. Best car buying experience I've had in a long time. I will never ever go back to Planet Ford- which I've bought my last 3 vehicles from. Sherif earned my continued business for Tomball Ford. Couldn't of asked for a better sales rep. Also, Ahmed was a huge help as well. He answered any questions I had pertaining to financing and just general advice. Great experience with him as well.
4 months ago Leif Millar
Great experience with the service department. Would recommend to anyone. My service writer Shelby was super.
4 months ago Adrian Chia
Purchased a Ford Expedition Max, the sales rep who helped me with our purchase was Lance, he was such an awesome guy from the start! Walked us through the process the whole way! Corey introduced himself he was polite and helpful, there was Doc who stopped by to introduce himself also very polite. The gentleman in finance and the manager all very nice people! I'm not sure why this place has bad reviews, I was super skeptical coming in, but they all were amazing and super helpful! Super excited to be a new owner of an expedition, leaving my Chevy behind.
8 months ago Smail more
So i came to Tomball Ford to get service work done on my 2017 Escape. Just like the nightmare of my 2014 Focus both of which were bought brand new, both have now experienced transmission replacements before 50k miles. Was told to put my name on waiting list for Transmission tech, and would be called, 2 weeks later got the text brought in the SUV. 2 weeks go by before my vehicle is even looked at, no loaner. Once diagnostics was completed was determined a warranty repair and surprise a loaner is available, and it wasn't from an outside agency as stated in other reviews, it was a vehicle off the lot, still on web page as new at time of this posting. Saw the we will pay off your trade sales event, made the appointment, came into dealer, had vehicle appraised. Was told too late to confirm or deny deal, would be called next day, that was 6 weeks ago. The warranty issue with my SUV took 4 weeks to get parts, due to NATIONWIDE back order. Nationwide? sounds to me like a common problem, Ford don't want to admit. As stated in other comments, Tim the sales manager, does not like to return calls or emails, hence the not knowing, after pulling a hard credit inquiry, I was too upside down to trade my vehicle in. I decided to write an email to the GM Brent, explaining the history of both my Ford vehicles and the issues, the lack of communication in the sales department, and the praise i gave to the service advisor, only to receive a brush off, and not addressing any issues except the praise I gave Ashley. 2 brand new vehicles, both requiring transmission replacements, probably won't be buying another Ford, and after service received, if I do, it won't be Tomball Ford
6 months ago Arnold Pradhan
Today we have been there to buy one of F-250. After drive test we started talk about prices. We were wanted to trade in our car. And they checked our car and gave to us 20K offer. But our cars market price was 25K. We got 2 estimate from Planet Ford45 and Carmax. We told them this was not the right price! After 2 minutes Manager updated trade price to 24.5K. They tried to cheat us! Doesn't work. After than sales guy started to asking about how much we can pay a month! And I stopped him! I asked him more than 5 times! How much is this truck! And he never give to me the answer! Just he wanted to know how much I can pay monthly...Math is easy. If I pay $600 a month x72 months = $43.200 If I pay $700 a month x 72 = $50.400 What are you guys talking about! This is the difference! They don't letting you know how much the Truck! They just want to cheat you! I am M. Colpan. This is not fraudulent review! You should manage your store and sales team than social media reviews!!!!
4 months ago Charles Kirk
I brought my truck to be checked for warranty issues. When I dropped it off it was great the service tech was super nice and explained what was going to happen . The next day he called and explained that the majority of the issues were not covered by our warranty. This is where the issues began .... when we purchased the truck we purchased the best warranty we could for our truck because We were told that that warranty would cover everything that had to do with electric components in the vehicle as well as engine issues. We also purchased a warranty that would cover any dings or scratches that were smaller than a quarter. When the tech called and let me know what the issues were he proceeded to tell me that they were not covered even though two or three of them were electrical in nature. There was only one issue with pedal that was covered everything else was going to be out of pocket and was going to cost me about $2700. When I called to have the warranty manager explain to me why they weren't covered she told me that she was trying to find loopholes to help me out to get it covered she was very nice and I have no complaint with her work she told me she would try to get it down to the bare minimum for me to pay to get these things fixed that came down to $2100. We decided not to fix the $2100 worth of things on our truck and just go ahead and fix the pedal issue that we were told was only going to be our $100 deductible from the warranty. Well today I went to pick my truck up and I was charged $225 instead of the $100. When I called the service tech told me that he explained to me that the $125 was a fee for the diagnostic and that because I declined to fix the $2100 worth of issues I will still be in charge for it. When I dropped it off the way he worded it was that if there was an issue that was covered by the warranty I would only have toPay my $100 deductible and that the 125 fee would be waived had he explained to me that if there were other issues that were not covered by the Warranty and then I Klein for those issues to be fixed I would still have to pay the 125 I would have told him not to fix the pedal and just paid the 125 but now I am out of another $125 which to some people may not see much but in this economy in these times it is some for some people when I called him to ask him why I had been charged the 125 the niceness went out the window he was very snappy with me and told me pretty much called me stupid and told me that he had thoroughly explained it to me when he did not do that appropriately. My entire family has done business with Tomball Ford for Decades unfortunately due to this issue they are losing business from a family that has bought several vehicles from them in the past. We will never be returning to Tomball Ford
7 months ago tina hardigree
so nice! we had Sherif as our sales person and he was very helpful and fun. we weren't looking to buy today only test drive, but he still took us seriously and was very welcoming.
4 months ago J Eugene
I would definitely recommend Tomball Ford. Roosevelt Woods was very helpful and took great care of me.
3 months ago Christopher Lewis
The staff at Tomball Ford was helpful and friendly. My service adviser, Mr. Jim Baker worked with me in a timely manner and was knowledgeable of the problems with my vehicle. Thanks to all!
4 months ago Phil Flynn
Just to let you know Tomball Ford does not charge a $125 diagnostic fee if several things is wrong with your vehicle. If there is 3 separate issues you will be charged $375. Thank you for not telling me in advance Shelby.
4 months ago Susan Crowther
Buyer beware of this dealership unless your idea of a good dealership is one where you walk in the door and pay their 1st asking price for a car. I have had 3 experiences with Tomball Ford in the last 18 months. 1) Late 2019 I went in to look at an advertised car only to be told that the advertised price was a $4,000 "mistake". 2) Early 2021 I negotiated a "drive out" price on a car but when I came back with a certified check was told that $1,934 in "fees and charges" were not included. 3) This morning, 5/6/2021 I went down prepared to buy a car that was advertised for the 1st time yesterday, 5/5/2021, only to be told that it wasn't available because it had been wrecked on a test drive yesterday, 5/5/2021. Maybe, or maybe a bait-and-switch? Caveat emptor.
4 months ago Richard Miller
I had to go into a Ford Dealership on a recall notice I recently received, so I chose Tomball Ford. My service was EXCELLENT!!! Warren my advisor was extremely friendly and went above & beyond to be sure I got out in ample time to get back to my work client. I was then contacted with a nice follow-up call to be certain I was happy and didn't need anything else. What a SUPERIOR Service Dept.!! Kudos to their department manager for running a terrifically fantastic group of service men & women!!! Thank you all for a job WELL DONE!!! SOOOO HAPPY!!!
9 months ago Luke Randall
Fast and Efficient service they kept me in the loop every step of the way. Would go back and recommend their service
5 months ago A K
This place it's a joke. Claudia Mejia it took her 4 day to check my application and never said yes or no if I was approved . I send her messages and no response thanks for wasting my time
4 months ago Ronald Neal
We had a very positive experience with Jim in the Service Department. He got our truck in, and repaired sooner than we anticipated. He was very thoughtful and mindful of our needs. Highly recommend him! Oh, and Tomball Ford for service needs!
8 months ago Matthew Garcia
Bought 2 new trucks from Tomball Ford, one in 2013 and the other in 2015. Exclusively dealt with Jorge Lopez both times and things went nicely on those two purchases. Went back this past weekend to buy a new 2021 F250 Diesel and of course I asked for Jorge looking to trade in my 2013 F150 XLT with 120k miles in excellent condition. George said they didn't have any 250's available. We talked about an Expedition and I became interested in buying one of those instead. He took my truck over to the used car location for appraisal and came back offering $6500. To be fully transparent I did have an accident during the 1st year after purchasing it and called Jorge seeking advice for repairs. He advised me it was best to have all repairs done there at Tomball Ford with OEM parts to better maintain the trucks value. I followed his advice, repairs were done and truck was in pretty close to pristine condition. When I asked why the offer was so low he referred to the accident. I reminded him that I had followed his advice and had the repairs done there with all OEM parts to which he replied "I don't remember any of that, I don't think that was me". He is literally the only person i've ever dealt with at Tomball. I told him we both know the truck is worth WAY more than $6500 especially in today's market and that we owed 10k so $6500 would leave us $3500 upside down. He said that's the best he was going to do and we could just add the difference on to the new vehicle. I then left there and went to Texas Direct Auto where they gave me an offer for 12k and then to CarMax where they gave me an offer for 13k. Called Joe Meyers Ford to see if they had a new F250 which they did and asked if they'd match the CarMax offer to which they said yes. They also informed me that it was common practice to sell the trade ins to Carmax anyway. So I took my offer there, they matched it, sold me a new 2021 F250 and threw in some great incentives to sweeten the deal. Basically I felt Tomball was lowballing my trade in knowing they could get another $6500 more by selling it to Carmax while leaving me $3500 upside down with no conscience about it at all. So long Tomball Ford, you lost a sale and a repeat customer.
3 months ago asmita subedi
Mr.Baker was very knowledgeable about the truck recall and repairs and explained them to me well. Several maintenance items were discovered during the eight point Routine check out, and they were added to the work order. I felt relieved that my daughter's car was being made ready for her to move away and start her new job. During the morning wait, I was able to get some work done in the socially distanced waiting room while using the quest WiFi and the warm beverages made available.
7 months ago dale leddy
I purchased my 2014 Ford Focus here. Had it 6 years. My clutch went out and I had it towed in only to be told after that there were 30 cars ahead of me and it would be a week and a half before run thru diagnostics. My rep Bobbi was very inconsistent with information. I was told my clutch was under warranty and then she checked and i was told that it had expired 2 months ago. I had a 7 year extended warranty but it was from the manufactured date. Never was told that. Cost me $2100. They had to reprint my ticket 3 times for brake light bulb which they charged $33. Ford customer service told me I would be reimbursed for my rental then I was told there was no notes taken on that call. I was not reimbursed for over $600 in rental. Horrible experience. Very disappointed.
3 months ago Janie Caine
I took my 2020 F350 SRW for its first oil change and driver rear tire repair last week. I stated to the clerk I needed an oil change. Nothing more. Not "the works". Nothing. An hour later (which is the timing I was told) the clerk said they were "just adding some DEF then it will be done in 5 minutes". Great. I checked out and paid using my points. Later on when I got the receipt I saw I was charged $25 for DEF. That afternoon a manager texted me asking on experience. I stated the same as above. She apologized. Soon after the clerk texted me apologizing for the DEF and said I would have a credit for next time. I always get DEF at the pump because it's cheaper and I'm not throwing away plastic and cardboard; wasteful. I was irritated on not being asked if I wanted DEF not the $25. We will see in 6 months if I get that credit. I'll return for service but there won't be a third visit if they pull this stunt again.
4 months ago Dawn Hanson
I recently purchased a new f-350 4x4 diesel platinum from Jana!!! I received the best customer service throughout the whole process. Jana looked out for my best interest through the whole process. I didn't realize that I was eligible for the A-plan because my son works in the superduty plant in Kentucky. But, Jana pointed it out immediately. She informed me that I could buy a truck cheaper than she could and that I should buy new. I was looking at lightly used trucks. I drove all the way from Austin to purchase from Tomball ford for one reason. I am in sales myself and once I spoke with Jana I knew immediately that it wasn't about her Making a sale it was about me getting the best fitting vehicle for my needs. Thanks again for everything ????
10 months ago michael wells
Website claims active pricing, but unable to get a real price online or over the phone. Visit the dealership at their request and still unable to get a price the entire next day. Spoke with 4 different employees and the manager who all passed me off to someone else or said someone would follow up. If you are looking for an honest upfront dealership, this is not it.
7 months ago David Daugherty
They ask you to wear a mask but the majority of their employees including their managers do not wear them. They either have it hanging over their ear or just flat out don't have one on. The guy serving their food has it over his chin. Lady in the office was going through files and liking her fingers to go through them ????????‍♀️. Overall service wasn't good either. Didn't answer my questions and didn't offer to help.
2 months ago David Brooks
No need to look any further! My fiancé and I went to 4-5 different places and never made it past the car sales representative. The days of talking, looking and being involved in a purchase as big as buying a new vehicle we thought were over... we were wrong! The moment we arrived, we were greeted by Roosevelt Woods Jr., we were not rushed inside because of the weather being "too cold" just to look at a website. He was very knowledgeable and extremely attentive to my wants and needs for a vehicle. I didn't feel like just a number or a commission, furthermore I didn't feel forced to agree to buy from this dealership before finding one!!! (Which was the experience at other dealerships) Once I found the one I wanted, Roosevelt knowing it wasn't going to be a cut and dry sale; he didn't discourage us into finding something else, he simply went to work. Two days and he contacted us to come sign the paperwork... he didn't give up, he was there during the whole process and now we are in the truck we wanted with the fair deal they promised. The best experience and it all had to do with the professionalism at Tomball Ford but most importantly the experience we received from start to finish by Mr. Roosevelt Woods Jr.
9 months ago Ty Moffett
My differential was leaking and they wouldn't cover it under my warranty because " it has to be dripping oil, the minor wet spot is nothing". Took it to another ford dealer, fixed it no problem. Do not go here for anything, they'll find a way to screw you.
5 months ago Lynne Nunya
As always Jim Baker always goes above just being a service advisor and keeps me up to date on any service I need on my truck that's why I always ask for Jim. Before that I sways took my truck to the quick lane service with Wendy Lazer she did a awesome job as will. I don't know why she left QL but after that service at QL was not the same after Wendy left is when I started my service with Jim Baker again great job Jim
4 months ago Thomas Erichsen
Excellent service and customer care! Quick, easy, and efficient!
4 months ago Julia Mroz
We have purchased 5 cars from this dealership since 2015. I recently purchased a brand new 2020 Explorer last year. A rubber piece fell off of the back drive side window. Took it in to get it fixed. Service/ communication was horrible. After getting my car back. We notice that the small back window was no longer tinted. Service guy should at least told us they had to change out the window. Call to see if we can get this correct. Waited four week and no call back. Had to call the sevice center 3 time before we finally got a call from the service guy. Was very rude and short, like we were wasting his time. I can sadly say we will no longer purchase cars from this dealership.
6 months ago Bonita Caldwell
We normally do not keep vehicles long so we've leased our last few. I fell in love with the truck and decided to keep it when the lease was up. I'm not sure why they have phones at this dealership, because nobody answers them. After trying for over 3 weeks and working around messages and even coming into the dealership (to no avail), I finally was able to come in and do the sales paperwork. After assuming that I was done, I received a notice from Ford Motor Credit stating that I was almost 30 days overdue for an additional lease payment because they had not received the payoff on my truck. The chase was on again to get a call back from the dealership. Apparently there is one sole overworked guy that handles leases and not even a manager can perform this salesman's duties. After speaking with him, I was assured the payoff would be sent the following day. I was also told that if they didn't, I would have to make the extra payment (through no fault of my own) to keep a late payment off of my credit, and they would just refund me later. Or I could use my credit card and "I would probably have the refund before I have to make the credit card payment". I guess I should be lucky that I have the resources to eat an extra, unexpected payment, as too many people cannot. I called Ford Motor Credit the next day to verify the EFT and of course they had not received the payment from the dealership. So I'm making an extra payment to keep my credit clean, meanwhile the dealership can offer no consolation, only the excuse that they're really busy right now.
11 months ago Simon French
Outstanding service was provided. I was there for about 30 mis (the most) my trucks oil change. Great service in the front desk, the lady handling the keys was also very prompt. Thank you!
7 months ago Mo McBishop
Andres Muniz is amazing! He's incredibly friendly, honest, professional and personable. He made our experience buying a car easy and was sure to explain and go over every detail with us.
8 months ago Carmen White
Awesome service!! Loved the atmosphere and the convenient amenities! The only suggestion I would make it to tell your service manager is a little grizzly ????????
8 months ago Javier Rosario
I went to Tomball Ford on Tuesday to trade in my car! What a great experience JT was awesome!! Treated me like a queen! Helped me connect my Bluetooth and find the door lock number on the side! If you go to buy a car definitely ask for JT!! Thank you i love my Explorer!!
6 months ago
Popular places from the category Ford dealer