Copeland Auto Body Inc
Auto body shop Copeland Auto Body Inc, 506 E 2nd St, Hedrick, IA 52563, United States:
79 reviews
of users and employees, detailed information about the address, opening hours, location on the map, attendance, photos, menus, phone number and a huge amount of other detailed and useful information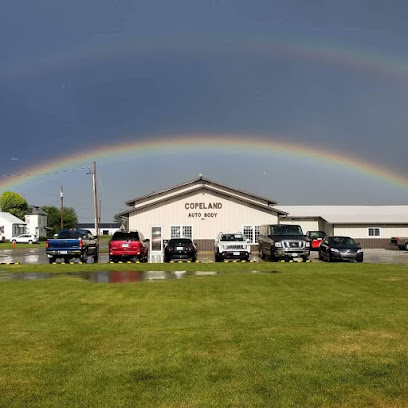 Address:
506 E 2nd St, Hedrick, IA 52563, United States
Website:
copelandautobody.com
GPS coordinates
Latitude:
41.1723392
Longitude:
-92.3039877
Location on the map
Reviews James Curry
I had Copeland Auto Body work on my car to fix a dent. Nearly everyone I asked told me they were a great business to have work on my car. I was thrilled that they were able to fix it without having to buy parts. You can't even tell there'd been a dent. The work done was incredible! It is a professional business!
9 months ago Scott Tolman
High quality work with great communication on the status and progress on your project. They restored my 1969 Mustang in 2000 and it still looks like it came out of the booth.
4 weeks ago Melissa Sumner
Great people to deal with. Out of town for work and kids car broke down needing a tow. Copeland's towing was towing my kids car back to town with in 15 mins! They was professional fair and honest something you don't see all the time anymore! Thanks
7 months ago ANDe Demetriou
Copeland Auto Body was recommended as one if the best body shops to work on the newer Ford trucks. Getting a new estimate was quick and simple, and I was scheduled in alot quicker than I was expecting. Highly recommend anyone needing some body work done.
7 months ago Carla Calvert
They always do an amazing job! My family uses it frequently, always happy with the work they do. Very knowledgeable staff!
7 months ago James Wray
Copeland Auto Body is the only business I trust with my vehicle when it comes to body work. Do an excellent job and do everything down to the last detail correctly. They have excellent service and staff that treat you and your vehicle like it's their own. Well above 5 star wok!
9 months ago Daniel Strong
Steve and Holly are awesome to deal with. Brandon is helpful and personable, always makes sure to explain timelines and what is needed. I have been a customer for almost 20 years and highly recommend them. They are a preferred auto body shop for State Farm.
5 months ago Clyde Wenger
Very straightforward repair service from the estimate to the completion of the work. The electrical problem required complex analysis which Copeland did very well. If my cars need these types of repair, I will go to Copeland again.
7 months ago Shawn Hickman
The trim below the right front door had fallen off and I called to see if I could get the repair done Friday, March 12, 2021. It was a busy day, but they would work it in. I dropped it off in the morning and went on to Albia with my husband. I told them just to call me when it was finished. I got the call just as we were heading out of Ottumwa so the timing was perfect. We always are well satisfied with the work we have done at Copeland Auto Body.
8 months ago Mike Wirick
Highly recommend, they are quick to get your vehicle done and back to you in a timely manner
6 months ago Tabby H
A job well done! Courteous and willing to answer all questions!! I will recommend Copeland Autobody to everyone I know!!
7 months ago Joe Gordon
Very professional and friendly staff. Did a great job on the body work for my Buick Enclave. I am very happy with the work they did. I would recommend them to anyone! Thank you Jaimie
10 months ago Merve Daylak
Work on car ! Always so friendly and good fair prices
7 months ago Dayton Harmon
Very friendly, very courteous. These people went out of their way to help me even for a low priced repair. I definitely feel like I was treated good and will definitely recommend them to friends and family
3 months ago Matt Bohlen
Hands down the best service experience I have had from a towing and repair shop!! Smooth and professional. High quality work. Spectacular communication. Easy to deal with. If something goes wrong, this is the place to call.
5 months ago Steven Mao
Great work and even greater people!
6 months ago Sarah Dolinar
Very few businesses rate 100% with me but Copeland Auto Body rate 110% with me. All dealings with them had been a great experience.
11 months ago Ray Day
Very helpful getting my car towed from a tight spot.
9 months ago james kendall
Great customer service! They kept me updated throughout the entire process. Even sent photos. I couldn't be happier with my experience. I will recommend and will return for future services.
6 months ago abdelhakim ouchabab
Great business and professional.
6 months ago Monte Mahler
Tjis is the second time I have had body work done by Copeland's. They are just the best! There is no other body shop for me.
6 months ago Immortal Dragon
They kept us up to date on the progress as it was happening...their wrecker service is the best..and every employee that we interacted with was very friendly
3 months ago Ashley Rooney
Copeland Auto has the friendliest people and the knowledge to work on anything. You will not find a better place to have vehicle work done in the area. Steve and Holly have surrounded themselves with great people and hard workers. Copeland auto is my choice and will be for years to come.
7 months ago Kara Cope
On time , complete excellent job.
9 months ago gagandeep kaur
Copeland's has done a wonderful job with several vehicle repairs for us. The quality and workmanship is second to none and they do their best to get vehicles repaired and returned to you as quickly as they can. There is no where else I would rather have my vehicles repaired.
6 months ago Bonnie Gross
While I may appear biased because I work here, I was a customer long before an employee. I have had all my body and mechanical work done by the Copeland family for the last 10 years and have always been completely happy with the results. Now that my wife works for the company as well, it should emphasize how much I trust this family run business. You can trust them too to do what it takes to get you back on the road with a safe, quality repair.
6 months ago Alan Frumkin
Was in a real situation being 600 miles from home and hit a deer. Copeland went far above to get my truck going In 5 days when it was at least a 2 week repair. Best service, and quality I have seen in years.
7 months ago Emily Cintron
Copeland auto body did a great job! I will use them for all my auto body work from now on!
4 months ago Kevin Cassesse
Great allround!
7 months ago Zack Hofbauer
Always good to work with, great, quality service every time. Super grateful to have a great business like this in our community.
6 months ago Sana
I dropped my truck off this morning to get fender flares installed that Copelands had just painted to match my truck.They did a great job a professional finish that matches my paint on my truck perfectly and the installation was top notch job. Employees were very pleasant and professional I would recommend this place to anyone who wants a top quality finished product.
6 months ago Pamela Nishizawa
Excellent work, very communicative & professional. Highly recommended!
5 months ago Ken Craver
The gentleman that I had pull me out of the ditch was very professional and did an expert job in a difficult situation. He let me know in advance of anything that might go awry and managed to pull my car out without inciting any further damage. Would definitely recommend for all towing service needs.
8 months ago Jerome Joseph
Excellent and fast service.
11 months ago rebecca fansler
service was excellent
6 months ago Ana Torres
Excellent experience. Very nice people great communication excellent work.
6 months ago Leona Naiki
Very, very good at their profession, very courteous and obliging and great people to get to know! I'd recommend them to anyone!
6 months ago John Dunlap
Very satisfied with the service received at Copeland Auto Body. They were very courteous and loaned me a vehicle while my windshield was being replaced. Highly recommend them.
6 months ago Edi Campis
Always a positive experience with the team at Copeland's. Work is done on time and is beautifully done. We'll always use Copeland's for our body repair work!
6 months ago Hailey B
Quality service. Everything was explained and estimated correctly. Ive had four vehicles worked on over the years and have never felt I was taken advantage of.
7 months ago Ida Floyd
I had a great first experience with Copeland's doing my repairs!
6 months ago Art Duncan
Did an awesome job in a short time.
10 months ago Michelle
I am pleased with Copeland Auto they got us in quickly and they were very professional and they did a excellent job on the car ????
9 months ago Nick DiFabbio
Not only did they do a FABULOUS job on the car repair, they detailed my car too. My car hasn't look this good since I day I drove it off the dealership lot! Highly recommend!!!
9 months ago schaarschmidt carl
Did a great job on the estimate and repairs. Recommend by my sisters and was not disappointed with the service.
7 months ago Lastgal NJ
Very professional. Gets things done in a timely manner. Very friendly people. Great service.
6 months ago Shane Gorski
Quality and speedy work. Was amazed to see someone took the time to clean my interior, when my car was in for minor front end work. Shows there care for there work and the customer.
8 months ago Jesse Morris
Quality repair in a timely fashion, they were able to repair from start to finish in less time than originally thought
6 months ago Allyson Chew
Brandon and the Copeland team did an out- standing job on my Honda CRV. I will be using them if future repairs are necessary!
7 months ago Rebecca Greenlee
Many thanks to the staff at Copeland Auto Body in Hedrick for getting my vehicle in & repaired so quickly! Greatful to have a local, reliable & trustworthy Auto Body shop~Thank you!!!
9 months ago