Goodwill Southern California Store & Donation Center
Thrift store Goodwill Southern California Store & Donation Center, 7919 Beverly Blvd, Los Angeles, CA 90048, United States:
177 reviews
of users and employees, detailed information about the address, opening hours, location on the map, attendance, photos, menus, phone number and a huge amount of other detailed and useful information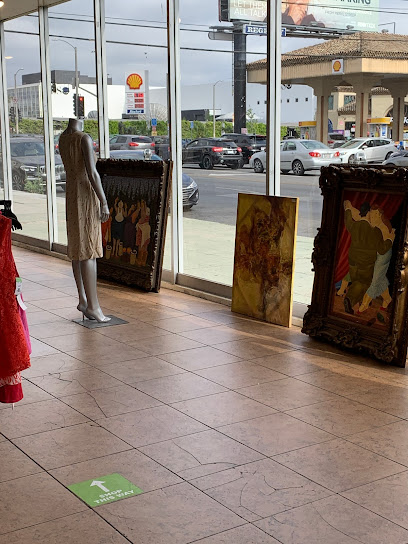 Address:
7919 Beverly Blvd, Los Angeles, CA 90048, United States
GPS coordinates
Latitude:
34.0763829
Longitude:
-118.3622829
Location on the map
Reviews Alvin Thomas
Well on 23rd of May we went in to shop, duh. We were waited on by the nicest young Mexican cashier. He so pleasant and courtesy to us. I just felt that I needed to say that. I hope your manager sees this and I will realize what a fine man they have working there.
8 months ago Walter Swett
Usually find name brand items for cheap in hip spots. That's generally the case in Los Angeles. Thrift store shopping hey.
5 months ago Rachel Anderson
They have very strict rules there. You can be kicked out of the store for numerous reasons. The manager is a character to say the least. Don't really know how to explain him. I will only go there on dollar day.
3 weeks ago Thirukkumaran Srinivasan
Super spacious location with well laid out store. Parking lot was a bit tight but areas it was free.
9 months ago Viviana Jianopoulos
Selection seemed a little sparse today. Also very long line to get in.
5 months ago Katie King
This is a good store for gifts, or for a one-off purchase for your own child. However, I have found the prices way too high, and not a great selection. It's too segmented: pink and girly or blue with trucks and animals. One exception: the Zutano collection is good. They also carry the cushies sleep sacks, that snap at the shoulders. These are the best sleep blankets ever.
6 months ago Krystal T
Google is pretty good I work there it's pretty respectful people going there with the animosity from out there and they should not bring it into the store because it causes problems with other people everywhere when I go in there to be away from everybody else in the shop so when you coming to the Goodwill going there with respect
11 months ago Monier Alduais
Great finds. Decent prices. Friendly staff.
10 months ago Jennifer Carrier
Awful setup/customer service. You'll want to call ahead before you decide to donate. They close when they "fill up" and there's no telling or way to know when it's donation center is full. The associate was firm and direct with its messaging(not a bad thing) but it sucks being turned away by the goodwill. Glad to donate elsewhere without any expectations.
10 months ago Ashis Mondal
People are great. Henry is really good employee very nice and polite.
11 months ago Sami Omar
Road my bike here once left it tied in the parking lot and came back got a flat tire which was very sus anyways you can find very good things here but don't bring your bike
10 months ago Ken Miller
Yes I can donate much appreciated
9 months ago Vadym Latysh
My favorite location, go there all the time, I like their DVD section(though they get stolen pretty often) and the staff is always friendly ???? good job.
6 months ago Bronson Roper
Excellent deals every Thursday and even more through the week
10 months ago Ian Davis
This particular location was easy to get to; it had plenty of parking in the rear. When looking at shoes, we received quite a lot of help from an associate who patiently described everything from the different soles to the different brands.
3 months ago Debbie Weaver
This is my favorite Goodwill location. Even though stuff is donated the clothes are always in good condition. Some stuff even has its original tag on it. This is like Zaraland. They always always have stuff by Zara here, and I love it. They always have a lot of Forever 21 clothing as well. I bought a Forever 21+ bodysuit in brand new condition. Awesome.
7 months ago Ygot Nepthale
Unorganized. Smelled. Products were filthy.
10 months ago Dennis Bozuhoski
unbelievable.. theres not hand sanitizer few person ask for the same thing Specially This place need sanitized and hygenic No alcohol Not hand sanitizer Not paper .. unbelievable
5 months ago Wesley Rouse
The store was in complete disarray. Couple of suggestions: improve floor care, pre-scrub with goo-be-gone to remove price stickers that were stuck to floor, disinfect, clean and wax floors to help refresh the overall appeal of store.
5 months ago Mark Franusiak
This was the nicest staff ever!
10 months ago Gijs
This Goodwill is horrible, the management is nasty, hostile and uninformative. Build on a foundation of ugly misleading regulations that don't comply with those described by Goodwill as a whole and their practices! Suggesting to all to boycott this location!
6 months ago Tia West
I went to this location twice. The first time I was there I was with a friend and after going through all the stuff I found only one shirt I really loved. Compared to other goodwills I've been to this one isn't very organized and is kind of dirty. Anyways I loved the shirt I got that time though. Later in the week I stopped by with a friend and picked up a film camera. After I bought it the lady working there told me that if it didn't work I could return it in a 7 day period. I got it checked to see if it worked and it didn't so I returned back to the store to return it. The lady working there then said that "returning" an item meant exchanging it and not getting the actual money back. I told her I had already looked around the store earlier that day when I made the purchase with my camera and there was nothing I wanted to exchange for. She then told me to come back another day and I told her I was leaving the next morning for the East Coast. She then started telling me that the policy regarding exchanges was written "all over the store" and that it wasn't her or any of her workers job to tell people what the true exchange policy was before they bought an item. Also she said the exchange policy was written at the bottom of the receipt to which I pointed out I was handed the receipt after I made the purchase, and that if I had known that was the exchange policy I wouldn't have purchased because I was told by the other employee there would be no problem returning it if it didn't work.I asked her to repeat a sentence she said because I didn't hear it and she made a snarky comment. I understand if a place has a policy they have to follow it but I'm upset because the policy should be made clear to the customer before buying it and I feel like the first employee saying it would be no problem for me to return it was false advertisement. Also the lady working was very rude to me. All in all you might find some hidden gems here but you're going to have to look very hard and at least the workers I dealt with aren't very kind and the store is a mess/dirty.
11 months ago Ribhav Bose
Horrible selection unless you are looking for worn shoes or VHS. One stained chair as far as furniture. The VHS selections where amazing though!
6 months ago Harley Weathers
very picked over and dirty store
9 months ago Gustavo Rojas
Always find something
9 months ago Julio Heisser
The store is usually pretty chaotic, but good for a thrift store as far as the variety. It's a very busy Goodwill compared to others in the area, and clearly the people who shop here just toss things around. So the workers can't or don't seem to bother to keep up with keeping things organized. It can often even be a hazard walking around. The clothing racks are always packed full, so you're bound to find something you're looking for. Overall, it's a good one and stuff is always rotating out quickly
10 months ago Michael EL
I absolutely LOVE this goodwill, great selection, nice staff and obviously good price it's usually a mess but easy to look past since they have great things. I've been a regular here for three years. Only reason I'm giving this bad review is so hopefully corporate or the owner can see this and let this negative person go or they will be losing a lot of money. I come here frequently and try on LOTS of clothes because I like to find really good pieces! Today while shopping I was followed by the new security guard a youngish black women maybe 30-35 years old. She kept beside me nearly the whole time shopping and even stood beside my door while changing and made me switch out every three items. Which is her job I guess but the person beside me had just as many items as I did and so did the people in line for changing room. She literally singled me out and it was very uncomfortable and embarrassing especially since I was the least to be worried about. She even stood beside me paying! I've been here over 100 times probably and have spent SO much money and donated just as much as I've purchased. Im extremely upset about this incident and I really hope the upper management hires better security. Or at least let her go for poor profiling!
9 months ago Elizabeth Huether
a lot of choices thing there
9 months ago mohammad imam
ART what a great and sincere sales associate/Cashier. Just the friendly face I needed to see. He kept telling us at the line. "I will be right with you! Sorry for the wait!" We got my little niece little cute dresses and an awesome umbrella for me! We will be back! We live in DTLA ... People like ART sure make this world a better place!
1 week ago Dan Demsky
Always able to find a bargain
8 months ago George C
Great place to shop
1 month ago Jennifer Hiles
This Goodwill location has got to be the worst one I have encountered, of any Goodwill in the country, thus far. Clothes are scattered in a disorganized fashion, and several garments have markings that indicate they were either damaged or not pre-washed before being put out on the floor. My friend asked the cashier a question about the restroom, and the security guard immediately put his hands on my friend's shoulders to move him back as if he was going to attack him. The cashier eventually let us in through - but I can see why you need them to open the bathroom up for people to use, because there is no way in hell the bathroom is up to code. A thoroughly disgusting place, they need to clean up both their bathrooms and their staff, or people will not come back again.
9 months ago Megan Fowler
Came here on Sunday night looking for Halloween costume pieces. Arrived at 6:45. Security said they close at 8. After searching for 30 minutes, went to the cashier to ask her to unlock a dressing Room. She replied dressing rooms are closed. I asked why she said "we decide when dressing rooms are closed!" However, on the other side of the store, customers were trying things on in the dressing rooms!
10 months ago ameer hawa
A pretty disorganized Goodwill store but found some great items just had to dig around a bit
8 months ago kim pisinski
Bought a great pair of sunglasses for $6!!!
1 month ago Malcolm Hardy
Hit or miss.. The furniture is why I keep coming here, the electronics are okay sometimes as well. Other than that, I can do this store in 10 minutes flat.
6 months ago Amy Windus
Zero effort, don't even put in the base effort of sorting clothes by S, M, L much less pant sizes. We thrift store all the time and were very let down, especially considering its proximity to a fashion capital... they don't even filter out torn and stained.
11 months ago Shanaia sunshine
I stopped in the other day. Didn't find what I needed but enjoyed looking. Store was organized well.
2 months ago Joshua Kidwell
Excellent place to buy cheap but good quality stuff. There are all kind of things you can imagine. The luggage I bought was only $9 and on perfect state.
8 months ago Jordan Goode
It's your typical goodwill store. I feel like this chain could use an overhaul to make their stores more appealing. But, I understand the money isn't really there.
1 month ago Lavanya Gowda
This place is a trash dump. Floors are littered & clothes thrown over most clothing racks. It's a real shame this store looks like this, there's no excuse for it to look like garbage when I've seen other locations in and around the LA area look fantastic. If this store wasn't so messy I would've stayed much longer to shop & would visit more often but it's not so left early & will only go as a last resort. Thanks!
4 months ago amit kumar
I make a stop here whenever in the area. You just never know what you can find like any other thrift store.
10 months ago Michael Murphy
I just want to write about manager of this place. OMG! I am even not sure is this is legal what he does to his employees. I just witness a terrible scene of him yelling at bunch of employee for nothing! He humiliates them that much that I was about to come and punch him in the face. I even not gonna write how miserable this person is! He shouldn't work anyone before intense rehabilitation program with psychologist !
1 month ago Lauren Fetky
Dirty store...very unorganized. Arrived at 1130. Busy with people but put away items I was to purchase due to only having one person at check register and 10 people in line. What ever happened to hiring disabled? Isnt that what you are supposedly doing? They could at least run a register....
11 months ago Tara Lynn
I was going here just for some sweat pants, and walked out with 2 pairs, some nice tee shirts, and a book for under $15!! The men's selection is a bit small, but quality items can be found all throughout if you keep looking. Clean store, friendly staff, and a nice layout.
11 months ago Laura Jacobs
I bought a CD yeterday and when I tried it out it skips I went today to explain and to ask if I could exchange it for something else the Cashier refused and I asked to speak with a manager maybe I could reason with her so the Cashier calls another employee that does not look like a manager so I explained to her that I purchased a defective CD that keeps skipping the so called Manager said no I can't exchange or return it. Terrible customer service I don't recommend anyone to buy DVD or CD's there. Basically I wasted my time and money for trash. Worst experience ever. I will make sure to email corporate regarding the matter.
11 months ago Space Gangster
Not very organized, but you can still find several good things with extra hunting. The clothes are densely packed making it harder to find thrifty treasures. Friendly staff though!
4 months ago Eeman Suhail
Not enough clothes
11 months ago Emma Kruse
Great selection, staff is always friendly and helpful. Good selection of upscale and vintage clothing, lots of good condition kitchen ware. They also carry a small selection of new goods for holiday decorations.
5 months ago HJDCTTPL
Went to drop stuff but there was nobody there, so started unloading and a homeless guy started taking stuff, then a staff member came out and asked me not to allow the homeless to take anything.. The place has parking, and does good work... but look out for the homeless addicts that loiter in the parking lot.
2 months ago
Popular places from the category Thrift store