NuMark Credit Union
Bank NuMark Credit Union, 1654 Terry Dr, Joliet, IL 60436, United States:
20 reviews
of users and employees, detailed information about the address, opening hours, location on the map, attendance, photos, menus, phone number and a huge amount of other detailed and useful information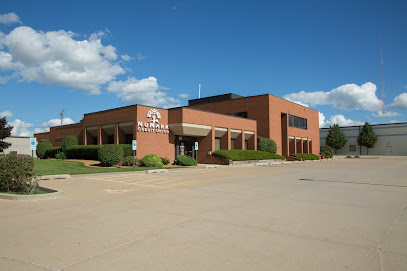 Address:
1654 Terry Dr, Joliet, IL 60436, United States
GPS coordinates
Latitude:
41.4916965
Longitude:
-88.1424525
Location on the map
Reviews MMM
I have had this account for 30 years. This location has been very good to me. For some reason now it takes forever to get someone to answer the phone. I have been on the line for over 30 minutes now and the location doesn't close until 1pm. I just need my app reset so i can access my account. What is the hold up!? I can understand if its a weekday during rush hour but this is 11am on a weekend.
7 months ago Danielle Cullen
The one teller inside was professional and helpful. But... i need to close an account and the one person that can do that has 4 people waiting to see her and does not schedule appointments.????????
8 months ago Stephanie Holmes
Very clean friendly, and polite peoples also helpful.
11 months ago Marco M
I dnt have a problem with the staff but I do find it incredibly frustrating that it can be this difficult to get a loan for a person who has committed so much time and money to this bank..ive placed my home, auto and personal loans through here ..I dnt miss payments im current on everything.. When all I want is a hand I can't get it..Its sad I have to go to an outside lender than the place that is supposed to be there for you.....Makes me wanna reconsider where I hang my hat..
3 months ago Khalil Qatu
NuMark Credit Union is horrible both my wife and I have banked there for about five years now and are definitely closing our accounts and switching to somewhere who cares about there customers there interest rates are high even with co signer and even after completing the Loan they are still hassle we applied for personal loan for holiday and they didn't wanna work with us at all even after banking with them for five years and completing loans I highly recommended staying away from them and finding different credit union not to mention I transferred 500 to my wife's account last year and they deposited into someone else account figured mistakes happen but one to many were done with them
9 months ago Heather Novak
Candice was very helpful getting me help with Bill Pay. Thank you. J. Young
9 months ago Jeff Zuban
Customer service is very important to me and that's why I love NuMark in general. Everyone there is welcoming. Plus they care about you and receiving the help that you need. Really glad I came here over any other place!
11 months ago Judy Avery
Shout out to the Numark bank in Joliet. I've been banking there for years and the entire staff is awesome...!
7 months ago Ashneet Lalli
Thank you! Candice D. You have Awesome customer service skills.
6 months ago Karina Roldan
Went in a couple weeks ago to inquire about opening accounts and spoke with a very nice woman. Went in today to open those accounts and was brought over to an area right in the middle/open area of the bank where other people coming in and out could hear my personal information, etc. If that wasn't bad enough, two separate instances of people walking in had the woman helping me be taken away to help them. What happened to first come, first served? Not the biggest deal, and I didn't make a fuss because I don't think it was the woman's fault. I think this establishment put her in this position. It's a crappy set up. Hopefully I don't have any further issues at this bank and I can change my rating for the better in the future.
5 months ago Randy Wigginton
They over drafted my boyfriends account by charging him 5 months of payments at once....and they said there's nothing they can do about it...that it was an accident...almost $1000 over drafted now what are we supposed to do??? Next paycheck will completely go to the bank....We took out a loan obviously because we don't have that type of money to just throw away all at once. Just freaking ridiculous
9 months ago Duane Sulley
Professional and kind service with everyone that I have interacted with. We have used them for two car loans and one home refinance as well as our normal checking and savings. We love their banking options and love that it is community owned. Save money and stress and pick a credit union - big banks are the worst.
9 months ago hayden bingham
I thought the staff was friendly enough, however, there appeared to be only one person working in the financial office. I considered the wait unreasonably long. I applied for an auto loan. I would not have bothered filling out the application had I known the rate was going to be so high. The flier stated rates from 1.99% on new and pre-owned vehicles. However, after I submitted my application after I was told that the best rate that they could get for me was 7.75%. I was told that, that was the best rate for a used car. I told her that "the flier didn't explicitly differentiate between the type of cars." She stated that the 1.99% interest rate only applied to a new car. I told her that "the flier is misleading, and that I already have a lower interest rate that 7.75%." To that end, I would have never applied for the low if I had known that they were starting at a different interest rate, thus, the result of this waste of time, is that I got an unnecessary hard hit to my credit rating.
11 months ago Gene Fignar
I would recommend NuMark Credit Union. And the customer service is #1 for me. Thank you NuMark for always going that extra mile to help me.
5 months ago Julia Lloyd
Awesome staff and service.
8 months ago Doug Moore
Love coming here and the girls are always so nice ♥️
5 months ago DKalKun
No starts! Horrible service I was treated differently unprofessional I had to call back to check about loan I apply I was told she will give me a call back she never did
8 months ago Regret
They never answer the phone you can be on hold 20 minutes before you give up. They are also slow to credit your account with a deposit through Night deposit or wire.
5 months ago Kenneth Heinhold
If I could I would give 0 stars! The worst service ever! I traded my car in and was given a pay off amount, then the dealership called them and they were given a different amount! Then I was told I have an amount in my savings account and when going to withdrawal that money it is $244 less then what I was originally told! So I had to pay for a car that was not even in my possession anymore!!!
5 months ago Kyle Nystrom
Having hard time , one month behind ....they call daily their very rude .....
8 months ago
Popular places from the category Bank