Habitat For Humanity of Berkeley County ReStore
Social services organization Habitat For Humanity of Berkeley County ReStore, 1 Belknap Rd, Goose Creek, SC 29445, United States:
188 reviews
of users and employees, detailed information about the address, opening hours, location on the map, attendance, photos, menus, phone number and a huge amount of other detailed and useful information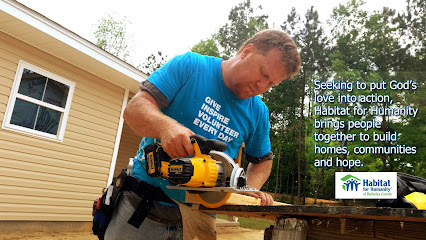 Address:
1 Belknap Rd, Goose Creek, SC 29445, United States
GPS coordinates
Latitude:
32.9960750
Longitude:
-80.0376880
Location on the map
Reviews Lan Duong
This is my go to spot when ever I have a project around the studio that involves building something. The 2015 renovation of my studio was greatly fueled by the materials acquired from this store. The amount of money I saved was 85 - 90% off of retail. Everyone here has the greatest attitude. They are always welcoming and helpful. The only thing that could make this experience a little better, is if they had a complimentary coffee station funded by a tip jar. When I am out making my Saturday rounds, it would be nice to grab a cup here and donate a dollar. I guess I could get a soda from the vending machine, but it's just not the same.
10 months ago Jessica Thies
this is lindsay leininger i loved this place Habitat store
10 months ago Derek Parlee
While we love the organization, and have been to many very GOOD stores-this location was worse than a bad yard sale. Items were falling apart, dirt, and extremely overpriced. The place was a literal mess. No organization, but unfortunately, like looking through someone's garbage. There was even broken glass lying in an aisle.
7 months ago Glenda Th
this place is cool to me. some of the staff act as if were captured and forced to work base on there attitudes and body language but it may have just been me or a bad day for some... regardless i would return...
8 months ago Vashminee Seepersaud
Had what was expected. Nice store. Friendly people.
7 months ago Tina Schrader
Almost every item you need to replace or fix something. Love this place!
7 months ago JOSE Calderon
I have shipped at Habitat for Humanity to n several occasions. I have always found something that I could use, or that I had needed. No matter if I was window shopping, or if I was searching for merchandise for my home projects.
11 months ago Zeala Dorsey
A little dusty but the people who work there are always kind. If you're looking for something specific it doesn't hurt to call ahead! We got our washing machine there and it works wonderfully.
1 week ago Amy Brown
I really enjoy going to this store. They have a large selection to choose from. I gave them 4 stars due to the fact that one of the ladies putting out merchandise was very rude to me there today! 1/12/2021. I passed her with things on the cart & a roll of Christmas ribbon caught my eye. I just picked up the roll to turn it over & look for the yardage with no intention of removing it. She very rudely said 'mam, mam I am putting this stuff out! I said I wasn't removing from ur cart I only want to see the yardage. She curtly replied 'Just take it, take if u want it!' Huh!??! There was no sign saying not to touch the items on the cart! I just tried to remain calm & placed it back down & walked away! I am not sure what the issue was here??? I frequent goodwill & they have no issues with u looking at items as they are placing on shelves. I really don't get it?!!? Can someone explain? I thought the items were donated for people to purchase. I mean it was a $1-2 item! Very sad as others in store are very helpful and cordial!
3 weeks ago R W
If you're just doing minor repairs around the house or do you want to try something different and change something out who is try this place here it's a little bit difficult to get to it's beside Wendy's off of Red Bank Road in Goose Creek but you can do it and it's excellent prices everything that's got a red tag is 50% off
11 months ago C O
Location is good. Kind of high. Friendly.
1 week ago Marta Banegas
Huge store completely full of items, there is literally no empty spaces. Free cart item of choice with any purchase.
1 month ago Yitty Witriol
Hate coming here with the mother-in-law and wife. They always seem to find something that can fit in the back of the truck
8 months ago Al Smith
The one down town prices are for the new white community not the people of color to high for the original community I won't be shopping there nor will my family or friends the one off North Rhett I love 5 stars there
3 months ago Marwan Waber
Great location. The selection of furniture was a lot. The various cabinets and storage containers were many in number. The location was ideal and is viewed from main road. I will go back for sure.
4 months ago joseph long
Before you go to Goodwill, stop off at habitat you might find a good buy good quality stuff
1 month ago Brianna Khublall
In Goose Creek found a few goodies really looking for a dish washer but not tested Because of Covid19 many workers not able to work
1 day ago Matthew Gervais
Our organization in Mount Pleasant volunteered with this organization for a half day in 2019. The representatives on site were professional and informative. They provided encouragement and training for a variety of skill levels. This experience provided a great team building experience as well as an opportunity to give back to the community.
7 months ago Jacob Sweeney
Neatly displayed. Process are good.
1 month ago R R
Just bought me a washer and dryer from here that is amazing!! Got an extremely fantastic deal on it! The place is full of great deals! But honestly the best part about this place is the friendly helpful staff! They were able to answer all my 800 questions about the washer and dryer with a smile, and when I came to pick it up a couple of days later they helped me load them and two of the guys even took the time to show me how to use the straps I had gotten to hold everything on my truck. Highly recommend this place and I will definitely be returning!
2 months ago Liu Tim
You can always find hidden gems here.
2 months ago Stephanie McIntyre
Inventory changes daily, so visit frequently. Picked up an amazing mission style over the table lame for $40 (retails $120). Last visit they had a large selection of tiles. When you visit bring your extra groceries bags, they are always in need of them.
7 months ago Sopiko Kharadze
Love it, love it, LOVE IT!!! A must see!
1 day ago Ann Martin
I've wanted to stop in one of these for years. Now that I have I can see the reason they're so popular. It's an excellent place to stop for those must needed projects and ideas
6 months ago Bob Johnson
The store was well stocked with numerous selections!!!
1 month ago Andrea Quormby
Whole lot of different stuff there. Friendly staff.
6 months ago Sonya Williams
This Habitat is close to us. We go to habitats whenever we travel, so we see a lot of them. This one is above average, but not the best. I do find some nice things occasionally. One was an antique bathroom sink in GREAT condition. I took the valves and handles off to clean or repair them. I also found milk crates for $1 each to use on a fishing kayak.
2 weeks ago Andrea Stevenson
I visit from time to time. Not always a good selection. I have only found what I was looking for here one time. I also think things here are a little over priced. Still doesn't hurt to look once in awhile. Most of the staff is usually friendly and helpful. You always have those few that are just rude unfortunately.
8 months ago Steve Thiel
Lots of decent users furniture and chairs
2 months ago Javier B
Drove from west ashley only to find they haven't edited their hours online to reflect the changes due to covid. Weak.
8 months ago Shawn Lasiter
Showed up at 4 to shop and they said they were closing. All signs display 5pm and the web site says 5pm. Guess they wanted to go home early today.
6 months ago Brian Foulkes
I normally love exploring these stores, but this one did not have the great selection of building materials and supplies that I am used to, coming from Kansas and Tennessee stores. It is mostly used furniture. Disappointing.
7 months ago Preston Stevenson
love this place....
9 months ago pretti crissy
I love everything the store does for the community highly recommended for donations and if you need anything for your home.
8 months ago Kendell Carey
You can find about almost anything you need for your home or other needs.
3 months ago Christopher Atchison
They really dont have much
10 months ago Sheila Williams
They have a lot of great things thereAlso alot. Of new merchandise
7 months ago Joe Moore
This place helped me when I was starting over. You need it they got it! They also have tons more. I was able to buy a screen door and even a sink to replace the one in the kitchen. They literally have most things you need. Definitely worth checking out.
1 month ago Teresa Briones
Great deals to be had
4 months ago Shane Sayers
Love! And the people who work they are fabulous!!!
3 months ago Muhtadi Elasmar
Most items were worn out or broken, and priced at new retail prices. There were a couple items that were reasonably priced, but only a couple.
10 months ago Xzavier Alexander
They are good and my first option before making repairs.
8 months ago Jeremy Candelaria
It was a pleasant ,visit,fouud what I needed! Thanks. Employees were help full!
7 months ago Jillian Joyce
I love my job!!!! Most of all I love my co-workers and my volunteers. ❤️
8 months ago Trace Rivera
Obviously this is a second hand store. So the store selection can vary week by week depending on donations. Note that they are closed on Sunday and Monday. Prices are great and negotiable if you are buying a lot of stuff. The store is great for getting furniture at a good price especially if you are only renting a place or on a budget. Personally, I bought a new king size zinus mattress and bed stand all for $225. Now getting to the building is a little tricky if you aren't familiar with the area. It is hard to explain, but if you plan on stopping by your GPS should guide you there successfully. I would advise looking at the roads to it from satellite images prior. Be wary of the poor short stretch of road to the building. Small cars could be at risk.
6 months ago Isaiah Pride
It's amazing what you'll find in there. But most of all the staff is awesome.
8 months ago Susan Callozzo
Love the new item deals.Some older items are.priced a little high. You just have to bargain shop. Great deal on the new platform beds and new mattresses.
8 months ago Bre Banks
Great for odds n ends at a cheep price for fixer uppers and great handy man stuff paint doors fans frigs etc
2 months ago Devin Oxford
Love this store. Always something new.
8 months ago George Everett
Great place to look for a deal. Never know what you will find. But don't ask for help no one there knows
10 months ago
Popular places from the category Social services organization