Guitar Center
Music store Guitar Center, 3910 University Ave, West Des Moines, IA 50266, United States:
220 reviews
of users and employees, detailed information about the address, opening hours, location on the map, attendance, photos, menus, phone number and a huge amount of other detailed and useful information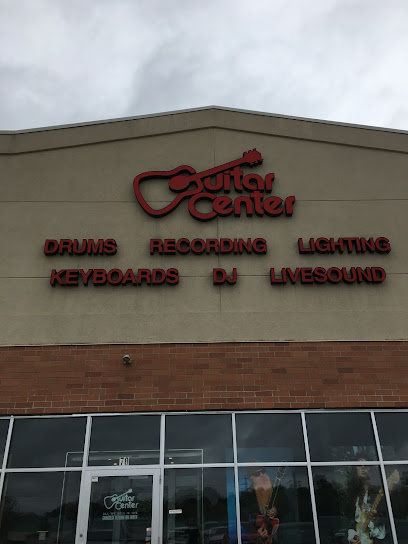 Address:
3910 University Ave, West Des Moines, IA 50266, United States
GPS coordinates
Latitude:
41.5993097
Longitude:
-93.7585869
Location on the map
Reviews Seth Mcclanahan
I just sold some used gear to the store today. Store manager, Seth, was a delight to work with. He was kind and accommodating, gave me a fair price, and did all this while having to juggle 4 other customers who were already in process. And …
7 months ago Buffy Minkler
Super helpful a friendly staff. Had some good deals when I was ther like they usually do. I ended up buying a Gibson Les Paul. It was originally like $1300 and we ended up getting it for about $700.
7 months ago Daya Commodities
My husband and I were here looking for active pick up for one of his guitars. The staff was great. Very pleasant and knowledgeable.
6 months ago Joi Taylor
Tried offering $200 for a 2 week old $600 guitar.... Better off using a different vendor online. Their stock is very limited as well won't be returning.
7 months ago Darvy
Great working with these guys and doing the construction buildout for them.
6 months ago Bob Holt
Shopped for a keyboard for my 5-year-old. Chris R. helped us. He was kind, knowledgable, and super excited about my son's interest in piano. We thought about buying elsewhere, but after the service we received at GC and Chris specifically, …
7 months ago Varsha Hulekal
I've bought a guitar from here before but this time years later I was asking for simple things. The guitar was priced 100 dollars higher than its cost everywhere else. I asked them to throw in a case and a few little things. They said …
7 months ago David Humston
Much like many big box chain stores, you're only going to visit here because they have the lowest price on items you need right away (busted drum head, guitar strings, sticks, etc.). If you can stand to wait a few days, ordering online is …
11 months ago Armagan Sezer
Stock is limited. Sales folk are friendly and helpful, though. Just make sure you're not being suggested something more expensive than you need.
7 months ago Adam Lueb
All of your guitar needs in one shop. Gibson, Fender, Ibanez, Martin, Taylor and many other brands. Marshall, Orange and other amps available. If they don't have what you are looking for they can order it quickly. Great pedal selections, …
10 months ago tim hayes
I was wanting to purchase some monitors. They couldn't get any of them to sound right that they had for display either they didn't work at all I r there's was alit of static or muffled their headphones displays had building music source and …
9 months ago Omar Cruz
Nice ambience. And good supporting staff
7 months ago Jessie B
Good times, great prices. Bought a practice amp below Amazon price. And I took it home!
7 months ago Kelly Christensen
Guitar center is a big box stores I do shop there for a few things but there are smaller Guitar store's in the Des Moines area I shop at alot more
6 months ago David Zukerman
Helped fix my guitar quickly and the tech went out of his way to do so.
9 months ago David Moore
Good atmosphere. I did get you guys a guitar sell though by playing a guitar in your acoustic room so... If it happens again I'm going to consider it my hiring date lol
13 hours ago Sunset Blossom
Horrible customer service. Went in to see if they had record players. Person that was helping me walked away while I was asking questions? Said something to the manager and he made me feel like I did something wrong? Horrible group of people work at this location and would not recommend
9 months ago Catherine Sykes
Awesome guys. Wish the selection was better stocked for left handers.
9 months ago Jennifer Bockenstedt
Guitar centers pretty rad, they get a lot of flack from people but when you're like me and have zero patience for online ordering and you want new gear, you can count on guitar center having something in stock and available. I've also sold lots of gear at guitar center and I feel I get a fair price.
1 week ago Philip Weinstein
I have had great experience's here .Great service always..I love there store .Went to my 1st Gutiar Center in LA ..great Service there as well..But I live 1/2mile from the store in West Des Moines IA great place for Music lovers.They give musical instrument lessons to..
9 months ago Omar Duenas
Some the the best customer service I've ever experienced. Store manager was extremely helpful and answered every question and concern we had. Highly recommended for any guitar needs.
4 months ago Kyra Kennedy
I've been going to guitar center since the first store opened on Sunset Blvd in Hollywood. Always a great time with great people.
10 months ago Cecilia Gorgon
If you want to wait 4 weeks to get a set of strings put on your guitar, then this is the place to go. Better cancel all your lessons for the next month after dropping off your guitar.
11 months ago Dean Eilers
Love Guitar Center. Friendly and knowledgeable staff.
10 months ago Ismael Buezo
Fun City. Wonder if the guitars are sterilized though.
8 months ago jandy delacruz
The staff is really nice and I love shopping here, 10/10 will shop here again
2 weeks ago Stephen Wilde
This place absolutely shafts musicians when they buy used gear. The associate offered me $70 for a PRS guitar. I sold it on marketplace for $400. I sold them an Amp in the past for peanuts and they put it on the shelf for 6 times what they paid me for it. Do not waste your time!
5 months ago amberly hulon
I always buy my drumsticks and drumkits from here
7 months ago mobilautos risaralda
Excellent service, great staff, just picked up a new guitar from there! Definitely a musicians heaven got my eye on a Jackson, next, plus they have 30 day layaway and if you have something on layaway and they have a sale you get the sale price on your purchase win win
2 months ago jolene bevier
What an awesome place. Very helpful staff. Thanks
3 months ago Amrutha Raju
Staff are always helpful and friendly, and welcome my ten year olds curiosity and eagerness to learn to play drums!
2 months ago Aline Guillaume
Been shoping guitar center since the first store opened up in Hollywood on sunset Blvd
9 months ago Jake Stewart
Great place, friendly staff and great prices.????
1 week ago Marina aziz
Friendly staff. And a large selection of items. Many guitars and supplies. They have the largest percussion section in town.
4 months ago Mark Becker
Very helpful with recommendations on pedal systems
9 months ago Jero Sanchez
BEST CUSTOMER SERVICE EVER!!!!!!! Major thanks to Collin, who spent nearly an hour with us trying to problem solve what turned out to be a complex microphone dilemma, and also to Tanner... These guys went above and beyond in every manner possible and have created two Guitar Center customers for life!
2 months ago Layla Holloway
Happy with customer service! 10/10
1 week ago danny lee
Its guitar center what can I say
11 months ago Garrett Bradley
Great people very helpful great place
1 month ago Hilla
Excellent staff and service.
10 months ago Lacey Bing
I'm autistic and I usually go in here with my partner and the Manager is very helpful and so is everyone else working there. I've gotten my Jackson dinky, my studio monitors and my soon to be Dove Pro' and everyone is super nice and …
8 months ago Jonathan Presto
The crew at this Guitar Center are awesome. I'm usually unable to afford the guitar of my dreams so I'm usually a window shopper but these guys are so full of information and are super helpful.
4 months ago Davie Miz
Guitar Center is full of a lot of fun energy that just wanna play guitar. They never seem to disappoint. The people are friendly and are full of advice to give you the best rock and roll experience.
2 weeks ago David Oluoch
Just left there. It was hard to get service. I was in line to get help and they helped people that just walked in before me. When I asked questions I felt non important.
10 months ago Maher Banks
Heard good things!
14 hours ago Zoe Koe
CLOSED! Nothing on their website or google to find out they were closed. Several people were here at the same time as me who apparently thought they were open too. Google actually says they're open. Their hours report their open today. I …
2 weeks ago Janie Smith
Helpful and friendly staff.
11 months ago John Tu
Has a lot to take in as soon as you walk in. A lot varity from guitars, percussion, to dj equipment. Another amazing part about the store is that they allow you to demo almost everything in the store. That is a big plus in my books. And i thank them for that
6 months ago Erica Bowie
Same as everywhere. Meh.
9 months ago NAVEETHA KOWSER
The manager is nice. His name is Cody. John is the guy always on the floor who acts like he's cooler than everyone. Avoid him at all costs. He's very rude.
7 months ago
Popular places from the category Music store