Music Go Round St. Charles
Used musical instrument store Music Go Round St. Charles, 1059 Regency Pkwy, St Charles, MO 63303, United States:
105 reviews
of users and employees, detailed information about the address, opening hours, location on the map, attendance, photos, menus, phone number and a huge amount of other detailed and useful information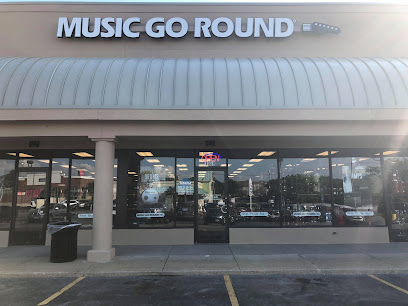 Address:
1059 Regency Pkwy, St Charles, MO 63303, United States
GPS coordinates
Latitude:
38.7842237
Longitude:
-90.5293647
Location on the map
Reviews Billy Johnson
I've traded 1 cymbal here, good trade in value and decent prices for the stuff they have there. They bought a used electronic Roland drum set for good price as well. The team has been friendly and easy to work with when I went. Right now, best (basically only) used music shop in st chuck. Good selection of guitars, some really cool ones! Amps, drums, electronics, definitely worth taking a look.
19 hours ago Niculaie Ciotlos
What an amazing donation for the operation freedom jam. Thank you so much
6 months ago R Cappellano
Very helpful and friendly staff. I like the laid back vibe and shopping at a local business. Will recommend.
9 months ago Divya Rajpal
I recently started playing guitar again and I picked up a used acoustic Ibanez. I happen to find this place because it was close to where I live so I figured I would go in there to get some supplies I needed for my new guitar. The staff there Chris and Jerry are incredibly helpful and helped me get everything that I needed I will definitely return to this place and refer my friends here.
11 months ago Mary Henning
An amazing resale store with a great bunch of knowledgeable people, that will help you get your money's worth on some really awesome gear.
9 months ago Dana R
Great selection and great customer service and knowledge of the products they have.
7 months ago CHRISTINA RANDOLPH
Good place for deals. I always check here for good used equipment.
9 months ago Larry Diamond
Wouldn't give me the time of day even though I new exactly what I wanted! My money wasn't good enough so I spent it elsewhere. Guess I didn't dress the part!!
10 months ago Steven Booth
Great place to shop nice people will work with you
8 months ago Arken Oritz
Good prices in my experience. I've purchased a couple of things from here. Staff has been friendly each time I've gone in. Highly recommended!
4 months ago Frank Wu
Bought a used guitar and an employee, by request, changed the strings and filed down the nut for lower action on the fretboard (no extra charge).
3 months ago Sergio Sanchez
It's a nice store. They have high quality instruments and the people working were kind and helpful.
1 month ago Svetka Svetka
Nice guys, and pretty decent prices.
7 months ago Albena Ivanova
Initially I found the store owner fair-minded making this store far less the mercenary greed of the St. Louis store. They have a fair amount of intermediate instruments and some high end. Since opened I purchased several of both here but now it appears the owner's gotten a little big for his briches, making the buying experience unpleasant. Most know these stores (Guitar Center, Music-Go-Round, etc) pay on average 40% street value for used gear. That gives them a lot of room when you factor people are getting 40% value trading in on a 100% price of their purchase so the store makes it on both ends. Of recent a couple pieces caught my eye but upon dealing directly with the owner cash in hand he was not flexible or even reasonable. I felt I was dealing with some little snot at Guitar Center. No denying these stores have to make money...not denying that nor should they cave on disgusting lowball offers but when a repeat buyer comes in and offers just a bit South of their asking price on a used item, especially a brand few have heard of and are told only if it's still there in 3 months will they consider $20 less you might as well be dealing with Guitar Center. Best to just go deal with Reverb and eBay from private sellers and not give these stores your money as well as paying tax for the privilege. During the pandemic these brick and mortar stores should appreciate and respect buyers coming in to deal with them again, especially those that have the money in hand and have purchased from them before.
2 months ago En Kur
Great staff, cool place
6 months ago Joe Husted
Getting a guitar from here
6 months ago Norman Holub
This place always surpasses expectation.. always friendly, never in too much of a hurry to explain things or just gab with my boy who plays guitar. The staff is generous and just nice to hang out with while we're shopping or having repairs done. Always end up staying longer than planned.. just an all around good experience and great people and environment. I love this place.
8 months ago Sue Wells
Pete was the gentleman that helped me out on Tuesday, June 23. He was extremely helpful, took his time to make some great suggestions. I would recommend this place if you are looking to get equipment at a fair price with good service. There were quite a few folks coming in and out dropping off things for repair and talking with the staff which was reassuring as well. Their pricing seemed very reasonable and the service was quite good. So it is now about a week later: Service is still fantastic, today is the 27th. I had bought some Behringer pedals used. All of them were fine except one of them when you opened it up, it appeared to be missing the battery connector, all the rest worked fine. I ran it up there and Pete was there again. He took the whole thing apart, turned out the battery connector had somehow gotten down under the battery compartment into the bottom part of the pedal, put it all back, works good as new. I had broken a string over the course of the week and he helped me out with that as well. Super nice folks, store seems busy with folks coming and going. Service is first rate and very willing to help someone like me who has never played. I have a beat to death Strat I am going to bring up next week and have them restring and to the setup on it. Great people,great service, very fair pricing.
6 months ago Khadijah Burrus
Great folks to do business with -- friendly, fair and hassle-free. Very accommodating in letting customers try out amps, guitars and drums, and very quick turn-around on restringing a guitar for me.
7 months ago Dan Nichols
Great pricing, helpful staff, and they offer good trade-in pricing. Great selection of equipment as well.
7 months ago Briana Jordan
They didn't have Gibson mandolin strings . Really nothing for bluegrass musicians. But if you play country or rock good place to go. AMP'S, ELECTRIC GUITAR 'S, DRUMS ,BASS ,ACUSTIC GUITAR AND OTHER ACCESSORIES .
8 months ago Brad Kennedy
Good cheap bass strings.
6 months ago Jessica Ely
When something wasn't quite right with the product they sent me (arrived in 2 days. WOW!) , they responded quickly and took immediate action to make it right. The best customer service.
2 weeks ago Chauncey Hulbert
Great service and help.
1 week ago Jim Laville
This location is extremely overpriced and low ball you when selling them your used gear. I just took $750-$800 worth of gear and received a quote for around $300.
3 months ago cliff hughes
Just purchased a 412 Peavey CAB and a couple guitar cases today from music go round in St. Charles. I just wanted to say the staff was super helpful in answering all of my questions and helping me out with some gear. I highly recommend Music Go Round in St. Charles, MO, check it out they are always getting new exciting gear in!!! NOTE: I am not paid or affiliated with music go round in any way shape or form, just a very happy customer for finding some gear I'm really enjoying and the help I got from them!!
10 months ago Britt Baker
A humble shop that provides everything you need to make music. From the novice who has never touched a guitar before to the trained professional, this store has something for everyone at a discounted price. There are plenty of second hand instruments that still play like they are brand new, yet are being sold for half their asking price. It is clear that every piece of equipment is cleaned and maintained with nothing less than love and passion. The staff are all knowledgeable and geared to providing you with what you need, rather than what they want to sell. I may never go anywhere else for my musical needs as long as this place is around.
10 months ago Hilary Bond
Its like heaven with strings.
3 months ago Mariah elmer
Awesome selection of used gear. Spacious store with a great variety, from budget starter instruments to high end and vintage gear.....what a mix. I spoke to the owner and several of the sales team, everyone was very cool. Prices were very competitive, and I got a great deal on a bass here. I will be back.
9 months ago Giuseppe Berlioze
I would recommend this place to everyone! The friendliest staff I've ever had the pleasure of meeting! They buy used gear, and will give you the best deal! They also have a vast collection of music gear that I've ever seen too! You will be amazed! The location is great, right off of Veteran's Memorial in Saint Charles MO. They also have in-store guitar lessons at this location. We've been waiting for you Music Go Round, and we're glad your here!
10 months ago Lelan Hanson
They had the guitar strings my husband needed and were very helpful.
8 months ago Lily H
Only been there once, but they took good care of me!
8 months ago Maria Smerdova
Great store, seems larger & has better selection than South City location, though both are good. Lot of nice and appealing guitars, especially electric guitar & bass and pedals. Didn't think prices in general are nearly as good as at So. City, where I do a lot of business, tho there were some good bargains. I flip guitars & saw no profit in the inventory in St. Charles. Prices run fair to high. Lots of quirky stuff impossible to find at GC or other stores. Really nice cats, check it out. I'm a guitar guy, can't really comment on other sectors like keyboards and drums tho' they had all these things. I did not see much in the way of brass or other wind instruments, just a few.
9 months ago Nancy Trang
I loved it
9 months ago Jennifer Porter
It's a good place Define vintage gear at a decent price
8 months ago Ziaulhaq Fazilhaq
Awsome store with amazing staff. Who are super chill.
2 weeks ago Jean Bui
Be very careful if you sell this place any gear. Especially if he folds the check before he hands it to you. He offered me $95.00 for two pieces off equipment and then wrote the check for $90. Now $5.00 isn't going to bankrupt me but it seems like a pretty shady way to do business. Beware! Not an auspicious start.
10 months ago Robbie Hafner
I've been in here twice now. The folks are super friendly and really seem to know what they are talking about when it comes to instruments. ( I don't, so they could be fooling me????) if I need something I'll definitely check them out.
2 weeks ago Aaron Beal
Great resale shop. Friendly workers, clean and organized store. Quality items, both clothing, shoes, purses, and home decor at reasonable prices. Love this place!
9 months ago Morris Worsham
Great Music store, friendly people and The owner knows his stuff and knows who to contact if he doesn't. He willing let's people test instruments he let me mess with violins and violas it was great. Highley recommend.
9 months ago Luke Adams
The best place in town for a set up or vintage gear. They'll work with any trade ins you might have.
2 weeks ago Chaotic Spectrum
Wonderfully kind and knowledgeable staff who are all enthusiastic about what they do. Great selection of gear and instruments too!
7 months ago Christophe COLLOBER
Lots of cool gear, I bought a few items when I was there
8 months ago newlife s
Always fresh clothes they keep it organized and moving and next door discount clothes ($1). They charge a fee for credit cards.
9 months ago Jack Lenihan
This is definitely my favorite music store I have ever been in. Very organized too. We went in shopping for a new electric guitar. We had our 6month old and 2 year old with us... A 2 year old who is obsessed with "trying" the guitars. The owner was so incredibly nice and spent time talking to me and my kids. He even gave my son a little toy guitar. We ended up buying 2 guitars, an interface, a Dean uke, and some cords. The prices are AWESOME. We will 100% be back.
3 months ago Suzanne Johnson
I didn't know they were located in St. Charles also. This store specializes in Used Gear. I clearly missed it when I bought elsewhere a few weeks ago. Great choice of acoustic and electric guitars. Drums, Amps, and lots more.
6 months ago Claire Williams
A young woman working there sounded very sincere and kind over the phone but upon entering the store made me feel very uncomfortable like the instrument I was selling was stolen or something :( Then upon leaving one worker followed me out the store. cmon now. Just felt like I should share this.
11 months ago TheOGJosiah
Great vintage gear - drums guitar synth microphones - and great new stuff, too - cables cords hardware - inexpensive and accessible
8 months ago Jennifer Edge
Purchased a used guitar for my daughter. Quickly found what we were looking for, knowledgeable staff, no hassles!
6 months ago H S
Very nice and clean had a large number of guitars and drums and people who worked there was very knowledgeable
7 months ago
Popular places from the category Used musical instrument store