Fishermen's Factory Outlet
Fishing store Fishermen's Factory Outlet, 1803 18th St, Spirit Lake, IA 51360, United States:
166 reviews
of users and employees, detailed information about the address, opening hours, location on the map, attendance, photos, menus, phone number and a huge amount of other detailed and useful information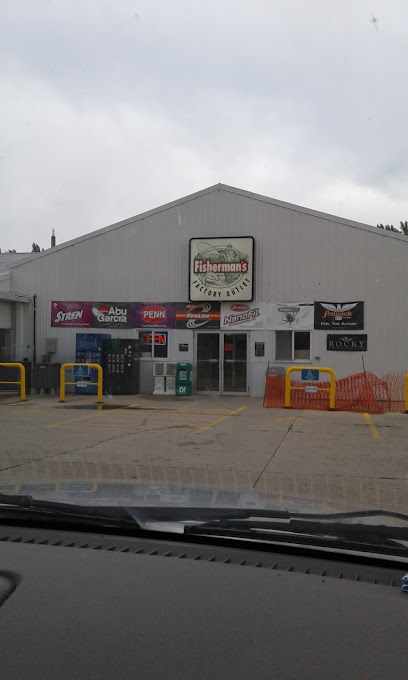 Address:
1803 18th St, Spirit Lake, IA 51360, United States
GPS coordinates
Latitude:
43.4220770
Longitude:
-95.1181644
reviews kevin slumkoski
I don't know much about fishing, but I know great prices when I see them. $6 for a refurbished reel and dock rod, $10 for reel and traditional rod, $12.88 for an extendable rod/reel and mini tackle kit for kids, plus they don't make you feel dumb for being a newbie. I'd go back in a heartbeat.
7 months ago Benjamin Friedland
I love this place. This is Pure fishings outlet from across the street. Abu Garcia, Pfluger, Fenwick, Spider wire, Berkely, Ugly Stick etc. It is all here. From the $.99 reels of line to the $500 Abu Fantasia series rods and matching Revo MGXtreme reels. They have it. Clothes too and some Columbia gear. Fly rods,bass,walleye, ultra lights,Musky... It's here. I am Team Abu Garcia for life and this is a kid in candy store for me as BPS, Scheels, Sportsman's Warehouse etc do not carry the Hi end gear most places.
7 months ago T Vu
I wish I didn't know about this store. I've spent to much there already and will be spending a lot more there as well. They have a great selection at even better prices.
8 months ago Laura Culbertson
They have very good prices on the rods and reels and everything in the store
7 months ago Karandeep Singh
had some great deals with a good variety
11 months ago Ruby Beatty
It is a fisherman's dream. Quite the variety. Being from the Musky Capitol of the World, I was very impressed.
9 months ago Iwhale Travel
The best place to get all the fishing gear you need
7 months ago Matt Diglio
Great location and they had everything from bait and tackle to a few sporting items and clothing
9 months ago brittney touchton
We stop here everytime we are up this way, great deals on great products.
9 months ago James Stout
Always nice people and good quality products whenever I stop in there!
2 weeks ago Josh Massey
Great store even better prices
7 months ago Robin Herbst
Great selection of lures, soft baits, hard baits, you name it. A large number of rods and reels with a lot of them being very affordable. There are name brand rods and reels over $200, but they also have the low-end rods and reels around $10-50. The title of the place basically tells you what you're going to get. Large selection at a discounted price (never seems to be higher than online pricing).
7 months ago Matt Colley
Little pricey, but the staff is always helpful with any questions
11 months ago Ron B
I placed a order and paid for it on Sept 2nd and today is the 8th and was supposed to get shipping info within 24hrs and still nothing. Try to call all you get is leave a message which they don't return and email comes back undeliverable. I would suggest shopping somewhere else.
5 months ago Melany Chicoine
Great place to shop if you're into catching fish! Very good selection of most everything you need. Helpful staff.
4 months ago Haji Nakhkeh
Lots and lots of stuff! I'm no pro, but my kids and I wanted to put together some cheap rods and reels for a weekend of fishing and we got what we needed! Lots of rebuilt/closeout/bargains to be had. I'm guessing there's plenty of the good stuff there also, but that wasn't our intent that day. Staff was friendly and helpful. Will be back.
8 months ago Thijmen Bouwman
Great place to get almost anything you're looking for. They have a great selection and are more than willing to help you out if you have no clue what you're looking for but have an idea what fish you want to target.
6 months ago Mathew Grimm
Only been here once but I'll be back. Me and two fellow Shriners from the El Riad Shrine in Sioux Falls needed some fishing related items for a fund raising banquet we were hosting. We found lots of quality items at great prices. When we were checking out we expressed to the clerk what we were doing with the items. He said if we happened to have a promotional flyer of some sort he would get us an additional discount. Luckily we had one with us. The savings in the prizes we got allowed us to get more money to the shrine temple. Thank you for helping us help the kids.
7 months ago Bethany Mack
10% discount if wearing a mask. Brilliant! It's beyond comprehension people refusing to do something so simple to hasten the end of the virus and lessen the misery of so many. I'd pay 10% extra if all businesses required masks and their EMPLOYEES WORE THEM.
9 months ago P Langley
Being money. I love this store. I only stop by one or two times a year but always worth every penny.
8 months ago Ciera Colvin
Great prices and got really good service when looking for a reel
2 months ago Steve Shield
Great deals on 'extra' fishing gear. For higher quality items price is comparable to online merchandise. Staff is friendly and courteous. Hard to walk out without 5 fishing reels.
7 months ago Jon Fitzgerald
They have some great deals and good information.
2 months ago Morgan Faulkner
There were some good buys on fishing gear.
6 months ago Coochi Chronicles
Good deals!!
7 months ago Bill Freeman
A fisherman's paradise. Great selection of rods, reels, tackle and even clothing. High recomended.
10 months ago Andres Cifuente
Great selection and even better prices!
5 months ago Stephen Lewis
Lots of good brands for sale and very good service!
6 months ago Cathy Purvis
Love this place
9 months ago Wes Forster
Great place to grab your fishing gear for every season. Always nice service people and they have exceptional values.
10 months ago Vinod Shankar
Great place Great prices A must for anyone that goes fishing. Novice to pro there is something for everyone. Best prices around
8 months ago kushi interiors
A must stop whenever your close to the IGL's. Their are plenty of good deals to be had.
8 months ago sagiv reich
Hi I just wanted to get a great little gadget that covers a child's fish hook SO VERY MUCH for the safety of FISHING. We are still looking for a little hook cover so no one is accidental caught on a hook up with the barb and deeply in your friend hand or head or in there child's body or our child or spouse. We were told Berkley doesn't have it an if they don't MAKE it IT'S not in the store.
10 months ago Brian Brown
Nice selection of fishing gear and great prices
6 months ago Tom Jedli
Got hooked up with plenty of fishing gear. Friendly staff.
5 months ago Emily Roepke
Love the factory seconds there
5 months ago Chris Thomas
Great selection you will find what your looking for and then some. Great staff!
9 months ago Michael Duah
Kind knowledgeable staff, unreal prices. (In a good way)
3 weeks ago Diane Gray
It was a blast to shop here. My boyfriend and i love the outdoors and love to fish. We bought some cool things, great prices. Will be going back soon.
9 months ago Louisa Sanford
The guy working there didnt know where anything was. Also gave me bad info about getting a tag for my side by side which lead to me getting $130 ticket. I am not a IA resident and I asked if I needed any sticker or registration for my side by side and he told me no.
2 months ago Jacqueline Lamar
Good deals if you get there on the right day. Otherwise prices are competitive but they do have some specials that you won't find anywhere else being so close to the manufacturing.
6 months ago Shontell Johnson
We go there every year when we are in the area. Sometimes we get discounted baits, other times we find fantastic deals on higher end fishing gear. It all depends on the stock at the time.
3 weeks ago Eric Rawson
Got my license there, looked around at their stuff and it's legit! It has a good assortment of pools, lures and bait as well as accessories and odds and ends! They have tent days and deals often it seems like, good buys here.
3 weeks ago sean collins
Best place to go for bait and fishing supplies
8 months ago Mike Harry
Awesome place to go this time of year. Very educational for all ages.
3 weeks ago Jim Shute
I wish I lived closer to this secret spot! I got an $80 rod for $18 and a $40 reel for $14. Their hard and soft baits are so numerous! If they don't have it there, I doubt that it is made.
6 months ago Brad Smith
Great place! If you're looking to resupply, replace, or restock, you can save quite a bit.
3 weeks ago Charles Robbins
Good prices great value and a good selection!!
10 months ago Jody Windham
Always find what we are looking for and friendly service.
6 months ago Mohammad Khodaparast
The vertical finest gear at an unbeatable price.
9 months ago
Popular places from the category Fishing store