Twin Towers Correctional Facility
Prison Twin Towers Correctional Facility, 450 Bauchet St, Los Angeles, CA 90012, United States:
44 reviews
of users and employees, detailed information about the address, opening hours, location on the map, attendance, photos, menus, phone number and a huge amount of other detailed and useful information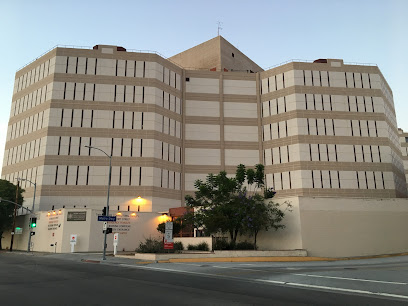 Address:
450 Bauchet St, Los Angeles, CA 90012, United States
GPS coordinates
Latitude:
34.0592396
Longitude:
-118.2305160
Location on the map
Reviews Kevin Heinrich
I went for a night stay, couldn't find a motel. Weird form of payment, wanted to crime first? So I stole my neighbors sweetroll and got to spend the night. They had a recreational electric chair, I took it for a spin and it was quite nice. Would recommend nice and cheap too. Operator is real nice too.
2 months ago Lynn Allinson
CO-ED???????????? FACILITY !!!!Have NOT RETURNED TO THIS INSTITUTION SINCE... 20th century ???????????? Deputies are serious; can be silly. Nice day rooms... BASKETBALL COURTS ARE STURTDY. CELLS ARE EXCELLENT ???? COMPARED TO VAN NUYS/ "SYBIL Brand"???????????????? State is correct"DON'T DO THE CRIME;IF YOU CAN'T DO THE TIME"quote PEER SUPPORT SPECIALIST CERTIFIED-PET121208-16
3 months ago doug petchkurow
The maid didn't turn over our sheets. Will never go back!!!
9 months ago Hanks Wang
Home sweet home my fun house
3 months ago Chiche Ahoofe
I fell harder on knees than twin towers on 9/11
10 months ago Nancy Mcfall
Came in here with simple charge and left a criminal mastermind. You learn from what others mistakes and improve on that. Thanks.
7 months ago Brandon Casper
well you need to see what happened to that one big case we had there was millions of dollars involved it was for the 74 hotel on Vermont and 4th y'all be the inner law of the family wants to threaten me and Chase your own eyes in the morning I want to make sure you collect that person and make sure she and that family member has no more interaction with my eye or my or my head okay so make sure she's put away somewhere real quick and careful or nobody can get to her visit her and see her and she can eat all by herself in the in and of course for sale and her family would be great protection custom to do they can't Andrew or harm Google Earth which to me you guys have a great day and a better tomorrow at 2 in the morning again can we open the case
8 months ago Grant Sperry
Not so bad to be honest, I'm a costumer of this establishment, I've been here at least 3 times, warm but tasteless food once a day and a bed no so comfortable, nothing differently from the real world. To tell you the truth I didn't mind coming back, but I have to mention that the last time I was here on my way out the deputies beat up an inmate real bad because he was asking for food repeatedly. And after that to protect themselves they got our testimony on tape. I dont think im coming back any time soon.
9 months ago Sylvie Roger
Where do you have instrumental mentally ill patients that they do climb they're not all mental but we do have Dad's available so any of those gaps or need to be to be on a special again did you have a person bringing them will take him
8 months ago Corey Monroe
I've spent most of my life in this institution. A lot of violence. Boredom. But I learned valuable life lessons.
8 months ago Russ Lillig
2012 deputy misconduct. Making California citizen despite deputy. It sound good Joseph Solano got shot. Quit beating and obstructing evidence report for all inmate.
8 months ago Dalton Suddieth
Very lovely. Everything a toy jail ought to be but then again only someone who has experienced it the way it once was would appreciate it... when a letter was your only means of communication with the outside world.
2 weeks ago Josh K
Considering its a long as drive to get here... Ita whatever not like i wanted to come. But a cool place ????
10 months ago Elizabeth Sala
The WiFi sucks, my phone only got 2 bars of reception even on VERIZON. The food is absolutely horrible, like worse than 6 month old McDonald's type horrible (don't ask;) I would not recommend this business to anybody, I wouldn't wish staying here upon my worse enemies and this is my review after 1 day and never again. Housekeeping doesn't clean up after you like most hotels, the water is cold all the time and the room service is basically non-existent. 1 star hotel for value. However stays here start at $0 dollars and some (shoplifted) candy from Target so if you're in the area and need free room and board I suppose you could give it a try. Don't say I didn't warn you though????
10 months ago Ichigo Ryu
Shower time with julio is something no mortal man ever forgets. Positive vibes and wishes your way julio❤❤
9 months ago Jay A
I'm not going to give it 5 stars ,,,it is not a hotel it seems but not
6 months ago Jen Scruggs
I got to have a nice stay here (across the street) back in 2003. Of course the food sucks, no windows so you never know what time it is, smells bad, rumor has it that there is 16 unknown species inside the ventilation system so its covered....
11 months ago Baskar Baskar
I was here♥️
7 months ago Dmitriy Fedotov
The worst thing about prison was the dementors. Also they were very rude when I went to go get McDonald's. They kept saying "Sir stop and go back to your cell or I will taze you!" But other than that I had a very nice stay. P.S they should probably change the name
11 months ago Jovan Veskovic
Usually everytime I go for my visit, I'm always at Men's Central jail. But this passed Sunday I was at Twin Towers Two and honestly i like it waaaaaayyyyyyyy more better than across the St. It's not packed, the check in doesn't involve filling out a slip, and you go up to where their at instead of them coming down.
11 months ago Ian Schmidt
Stayed here back in 08-09 , was a really corrupt place to be back then. After a month the bran cereal starts to taste pretty good. Nice place to relax and play Pinnacle or spades. Caught up on some religious reading and also learned how to make pruno and Mexican glass.
11 months ago Alex Schkiper
You all take Care of my son thank you Klara
2 weeks ago Jeremy Jones
officers here are just like the uniforms they are stuffed in "StiFF" although theres a few that ya just gotta love like the deputy lady thats at the entrance.
9 months ago Nancy McMillan
Terribly organized, inmates constantly "lost" or "missing" by the hour sending the deputies into a confused craze. Takes three days just to be processed and assigned bedding. Took 6 hours to get first meal and toilet se. DON'T GO THERE. Dirty unhygenice, if you need a special diet, good luck.
11 months ago M S
Visiting has really improved . While hile visiting inmate has to stand phone line too short .
2 weeks ago Pugs Pugliese
General Ryan thick bitton michael bitton. Ceo ben besley Fran stanley
2 weeks ago green kitty
I am having problens tryi see an inmate
8 months ago Alex Smith
It's sad that you only have an hour to visit your loved one
1 month ago Shana Lee
i have to tuen my self in tonight, for 90 day's, in which ill most likely serve a week. Not my first rodeo, but i just hate the process of getting booked in. i believe that they process people in so slowly so you dont go back.
11 months ago Afanasyeva Maria
Really nice place to relax with fellow brodahs.
11 months ago Jenny Delgado
This place is nothing like the brochure
9 months ago Patricia Raburn
Miss this place can't wait to go back
11 months ago Betty Miles
Yeah id rate it about a zero but i cant choosr that so.. A 1 u get...
9 months ago Despina Gatanas
Great parking ????
6 months ago Sam Harris
Nice
10 months ago chris pavelic
Twin towers? Hah.
6 months ago Lex Johnson
Please try not to be here if necessary
6 months ago Ruchira Vitharana
Horrible
11 months ago Ronald Viers
This place is hell
10 months ago ismail hossain
Not the place to be. Stay as far away from here as you can
4 months ago Janet Mcdougal
Accha h
10 months ago Gordon Hages
No entiendo la jente que busca Este tipo De trabajos publicos si no saben tratar con la jente...
11 months ago Kris G
Покода
2 months ago Paulette Carlisle
My Familias salute
10 months ago
Popular places from the category Prison