Moses Jewelers
Jeweler Moses Jewelers, 19141 Stone Oak Pkwy #103, San Antonio, TX 78258, United States:
220 reviews
of users and employees, detailed information about the address, opening hours, location on the map, attendance, photos, menus, phone number and a huge amount of other detailed and useful information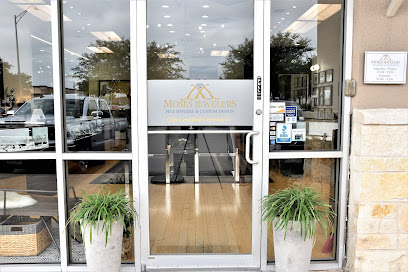 Address:
19141 Stone Oak Pkwy #103, San Antonio, TX 78258, United States
GPS coordinates
Latitude:
29.6251886
Longitude:
-98.4953276
Location on the map
Reviews Sonja Montgomery
This is my one and ONLY jeweler. I've been a customer here for 5 years and the service is impeccable. The staff are friendly and knowledgeable and the prices are on point! Their custom jewelry is remarkable and their selection of watches, rings and other jewelry is fantastic. I can't recommend this place enough!
9 months ago Skye Shirley
Working with Moses Jewelers on our custom design project was truly exceptional. It was important to us that we could work with a jewelry designer who could fabricate our vision down to the last millimeter. Moses Jewelers designers and …
3 weeks ago Dee Smith
Moses Jewelers in Stone Oak is a best in class jeweler and an awesome custom jewelry designer! They can literally create anything you can dream up! I've been to many jewelers in San Antonio over the years but I can honestly say they now …
9 months ago Thomas Haedrich
Got my engagement ring customized here. They did an amazing job. "This ring is perfect" - my new fiancée. They worked with me to get the ring right, and even let me watch as they took my grandmas stone and put it into the ring we designed. Professional, cost efficient, and the most helpful. Highly recommend to anyone
9 months ago Yaseerah abdulmumin
I am so grateful I trusted the reviews and checked these people out. I wanted to take my mother's wedding ring and my grandmother's engagement ring diamonds and make a wedding band so I could have them both with me. I originally went to a …
3 months ago kadi
Today I took my mother's gold bracelet to be appraised. It was given to her by my dad in 1959. She wanted her first granddaughter to have it when she got married. That's this weekend so I was in a rush to get it cleaned and appraised. Thank …
9 months ago susie si
This was my first time getting a custom price of jewelry made and it was fantastic! All the workers at the shop were very welcoming and professional. The jewelry that I had made was exactly what I asked for and very well made. I will definitely be returning here to have more pieces made.
9 months ago Katheryn Heath
I have gone to Moses Jewelry several times over the years, mostly for watch batteries and jewelry repairs. The staff is always respectful and efficient. My watch received a new battery in a matter of minutes! Thank you!
8 months ago dave selby
The experts at Moses Jewelers are capable of creating anything you can imagine. Joey was a joy to work with, I had him tweak my design at least 4 times before we got it to perfection and each time he did so speedily and without complaint. …
10 months ago Gregory Crowell
Just picked up my class ring I had made with Moses Jewelers. Joey helped me, and he was very good about communicating with me regarding the price expected and the design of the piece. My ring was completed in a reasonable amount of time, …
9 months ago Matthew Barrelle
I came in to have a new battery put in my watch. The customer service was great! They are friendly and promptly took care of my watch battery replacement. I was grateful to get in done quickly and not have to make another trip back later to pick it up.
9 months ago dan tibbetts
Amazing customer treatment and perfectionists! My engagement ring was personally designed by Moses son. I receive compliments everywhere I go. I took the ring in to be sized again following the honeymoon, they adjusted the ring to fit …
3 weeks ago Shae Arneaud
I worked with Moses Jewelers to have a custom engagement ring created, and I could not be happier with the experience and service that the team provided. Clarence and Joey were always available to help answer any questions I had and walk me …
2 months ago Donna Downie
Moses Jewelry is the most helpful and friendliest jewelry store that I've been to. From changing a watch battery to ordering just the right silver earrings—they do it all. They are honest and reasonable too!
10 months ago Shawn Myers
Had a couple of watches repaired. Everything was done perfectly and very reasonably priced. Staff is very friendly and attentive. I will definitely come here again.
10 months ago Erik Getman
Came in to get my watch re-sized and they were amazing & kind. Love the environment - come here for all your jewelry needs!
9 months ago charles shull
Professional, courteous and prompt service. Came in for a watch battery change and was immediately attended to and promptly serviced. Excellent experience overall.
9 months ago Kyle
I can't say enough good things about the people at Moses Jewelers! My son and I visited Moses Jewelers in the summer when we were shopping around for a jeweler to create a class ring for him following a custom design which my son …
1 month ago terry boyer
I stopped by just before closing time on Saturday to have the battery replaced in my watch. After the battery was replaced, the back of the watch would not seat into the body properly. They informed me that they would need to clean it so …
9 months ago Suzanne Stroup
Amazing store with beautiful jewelry and great variety. Exemplary customer service, make sure to visit !
9 months ago Geoff Scott
Great experience. Clarence was awesome. Amazing customer service. Kept us informed every step of the way while completing our rings. Will definitely recommend them to others.
11 months ago Jessica Horner
Super nice people. Very respectful and extremely reasonable prices. Re shanked ring for my wife.
10 months ago Alice Camp
I purchased fire opal stones from an on-line auction house and I wanted to have a ring made. I had a design in mind and Mr. Moses was able to create a ring design based on my description. The finished product was gorgeous!! I have never …
5 months ago Don Robinson
Stopped in Moses Jewelers for a repair. They were quick and exhibited a high level of customer service. Many thanks!
9 months ago Alif Aiman
I'm happy with the service the provided me when I was at their shop. They were able give me the information I needed for my ring and did an excellent job resizing my ring! I will surely go back there. Thank you!
11 months ago Radar Meds
Everyone at Moses Jewelers is so talented and friendly! We had our wedding bands custom made and Joey was certainly up to the task! The rings came out beautiful! I also brought in my engagement ring to be sized and when I went to pick the …
3 days ago Dani B
Excellent service. Fixed my watch in one minute. Love this jeweler
9 months ago DebraLee Hawkins
I've been doing business with Moses Jewelers since I was stationed back in San Antonio from 2015 until now. Moses Jewelers has never disappointed! I've had multiple pieces custom made and I'm always amazed at what they create for me...this is the latest all the way sent to me to San Diego, CA! Forever my go to team!
2 months ago Furqan Khan
I came in to resize jewelry, and it was fast and super friendly service. Definitely my go-to for any jewelry needs!
9 months ago Afshin Bakeri
I am pleased to review the service I have received from Moses. He has helped me with my jewelry for a long time. BettyDickens
9 months ago Shelby Taggart
Moses Jewelry is very quick and efficient! I highly recommend their service. Stephen R.
9 months ago Karthik Narayan
Been coming to this store for many years . They are always prompt and professional and have lovely jewelry !
9 months ago Kurt Wesseling
Spoke to Clarence and was very knowledgeable in all the items I inquired about. Thank you again .
9 months ago Bruce Pelligra
I am SO pleased with my new ring...a combination of a Princess cut stone with 2 Marquis stones on either side....plus some smaller diamonds for more pizzazz!!! Thank you, Moses Jewelers, for a superb piece of artistry!!
11 months ago Melvin Allen
I received courteous and professional service from Clarence . He changed the battery in the exquisite lady's diamond bezel Tag Huer watch I purchased from him two years ago. They are servicing it on warranty.
9 months ago Ryan Whipple
Went in for a bottom grill piece and they did not disappoint! very professional and courteous and made excellent timing on it! will definitely be back for another one ! Customer service was A1 and iv recommended the place to several of my friends.
1 month ago Cory Carmouche
Moses Jewelers is wonderful. I was able to walk in and have watch repair right away.
9 months ago Evelyn Rice
An amazing service and quality, Thanks MosesJewelers for your service Thanks Edgar V.
9 months ago stiles douglas
My husband came here for my engagement ring and was able to design a totally custom ring. The craftsmanship and quality of the work is amazing! I ordered my wedding band from another place and it was NOT what I wanted. I brought it to Moses …
6 months ago Coy Frazier
Great jewelers.Ray was extremely helpful and I will us them again.
9 months ago Travis Howe
Wanted to say I was very pleased with Moses jewelers and the employees are very professional specially Isaiah, very helpful
9 months ago Todd Carstens
My Wife and I wanted to have our wedding rings remade for our 15th year. We stopped at a few places on the west side of San Antonio, but the honesty seemed to be lacking from these other places. We had some repair work completed by Moses …
4 months ago Amy Loewy
Recently we puchased an engagement ring and we chose a venue in the local area. We called around to see where we could get the ring cleaned, polished and appraised. First we called Americus Diamond, they would not appraise anything not …
6 months ago lichen sister
Great business, excellent personnel and facilities! Highly recommend!
9 months ago hollie williams
The staff at Moses jewelers are awesome friendly and knowledgeable. They have great selection on jewelry and very fair pricing on jewelry repair. We've had three different pieces repaired and have been very surprised at the pricing and speed.
4 months ago Gail Brower
We got engaged Sunday night before Labor Day 2020, with my Nana's 60+ year old engagement ring. It was too small and the prongs were wearing away. We walked in to Moses ON Labor Day just prior to closing and they not only squeezed me in, …
7 months ago Susan Berry
I LOVE my custom made engagement ring - it is exactly what I asked for! They listened to everything I wanted and were so helpful in my design. I'm so happy with the whole experience and now will be coming back to create earrings and necklace with family heirlooms.
4 months ago manpreet kaur
I found Moses Jewelers after a discouraging experience with another custom jeweler and had lost hope of bringing the custom wedding band I was dreaming of to reality. I had a very particular idea in mind and admittedly a complicated …
5 months ago Jorjick
I recently brought in two bands with both my children's birthstones. With the inspiration of one of their pieces, they made the most amazing custom ring for me that combined the two rings into one it the most beautiful way. I was thrilled when I picked it. Thank you so much Moses Jewelers!!
6 months ago Rui Fernandes
Good atmosphere everyone there is kind and gonna help you through it all from necklaces to grills you name it they can do.. Mention #offtop on your next visit
3 weeks ago
Popular places from the category Jeweler