Los Angeles Trade Technical College - LATTC
Community college Los Angeles Trade Technical College - LATTC, 400 W Washington Blvd, Los Angeles, CA 90015, United States:
145 reviews
of users and employees, detailed information about the address, opening hours, location on the map, attendance, photos, menus, phone number and a huge amount of other detailed and useful information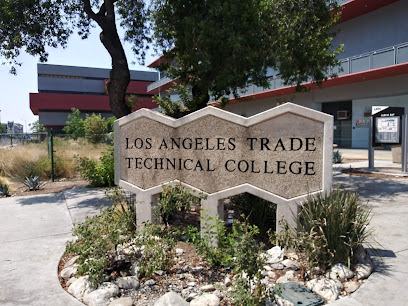 Address:
400 W Washington Blvd, Los Angeles, CA 90015, United States
GPS coordinates
Latitude:
34.0323370
Longitude:
-118.2697727
reviews Jared Veith
I am currently in the third semester taking the carpentry program. It is a very good school. October will be 3 years that I have been attending trade tech. I also got my GED through trade tech. Currently majority of classes are online. I will definitely recommend it for a person trying to learn a trade.
3 weeks ago Trever Simes
Excellent fashion program, comparable to some of the best schools in the world. The teachers really care about the students' development, and because they all work in the business, you'll learn real life skills. Love LATTC!!!
2 weeks ago Francis Portugal
Unique institution serves Los Angeles and surrounding areas. Great faculty and staff with interests in student successfully completing the courses. Student support (tutoring) is in place also for handicapped students. I successfully completed my AS degree in 1971. The two most difficult years of my life but the most rewarding. Now I'm at "The Sunset" of my life and can not say anything negative about LA Trade Tech Community College!
3 months ago Double Tapped
Trade Tech is unique among the L.A. community colleges, given the strengths of its varied departments, from electrical and construction to culinary arts. Its focus on training students for specific vocational and technical paths makes the school a highly practical, and affordable, choice. As with the other L.A. community colleges, Trade Tech also offers courses appropriate for students interested in a strong path to an Associate's degree and transfer right into a major program at a 4-year university. From my observation of several students' experiences, the college also effectively supports students with learning differences, or those who are new to college-level courses and are interested in certain trades. From a cost perspective, this college gives students, especially those seeking to transfer, an excellent value compared to private technical schools.
3 months ago Alba Figueroa
Graduating Student of 2021. A good community college for all!!!
2 weeks ago Hope Mitchell
I am very glad I attended Los Angeles Trade Technical College - LATTC. I had been dabbling in different web development technologies for years. For example, I knew how to build web-scrapers with Python and Selenium. But I never had any formalized knowledge of the best practices to build a full-stack application.
6 months ago Jo Hawkins
I've taken several classes at trade tech with different professors. Mr. Rochford, M video class will go further than above and beyond, Dr. Navarro will show you the way, Mr. Maroufhkani will open your eyes, Mr. Caesar in the graphic arts department will teach you how to be the best, professor Oliva at the architecture department will inspire you. All of these professors actions interchange with each other as well. If you are not sure what to study and are fearful of college go to the architecture department. The amount of resources there is amazing.
5 months ago Damian knox
Great professors and staff inside counseling and financial aid Really great parking situation
9 months ago Mary Danaher
Sanders Bricks recently completed a job for us re-paving an existing drive. Eric showed up promptly for the estimate and was thorough in his explanation about what his company could do for us. Since they had previously done work for some friends and we had seen their work and we felt confident in moving forward with the work. The cost was reasonable and less than what we had expected. The crew showed up promptly on the scheduled day and worked very hard the entire time they were here. I highly recommend Sanders Bricks.
1 month ago jeff grau
Former two time graduate. A.S. Degree. Currently employed there.
3 months ago Madi Mantell
A place of knowledge and training. Los Angeles Trade Technical College is my current home college and my experience here has been phenomenal. Great class times, flexible schedules, a lot of parking, etc. A must visit college whether you're looking to start over, get certified, or need your degree, LATTC can get you there. Thanks trade tech. ✌
4 months ago Vagando PorElMundo
Very nice atmosphere. Best professors, I done most of my learning here. The business office is a mess but get the Qless app so as not to wait in line. The library is also great. You can return borrowed books late at no fee.
3 months ago Naomi Sexton
A place of knowledge and training. Los Angeles Trade Technical College have Good management & discipline. Great class times, flexible schedules, a lot of parking
1 month ago Edward Fogarty
I've been to at least 10 colleges. This college is unique. I went here for 2 years, because I loved their Labor Studies program, especially the weekend classes. You can't find a Labor Studies program at the community college level like LATTC anywhere else in California, and probably in most states either. Many people drive from San Diego just to go to their weekend classes. I loved it! If you're old and white stay away from the general classes because the teachers treat you like you're a cop sent to spy on them, and they're not shy about it at all. The Labor Studies classes are not the same online because sometimes labor leaders from across SoCal come to speak at the weekend classes. There's also some classes taught at the ILWU local 56 in San Pedro that is still part of the LATTC Labor Studies program, and they were really chill in San Pedro. Most people in those classes are LongShore workers.
4 months ago Bill McKee
I do not have any complaint. Here at LATTC, I have reached my educational goals. I highly recommended to anyone who wants to be successful in life. Also LATTC has a lot of trades careers such as Plumbing, Electrical etc...thank you LATTC..
1 week ago Suraj Bala
Fashion Program is foundational essential, and traditional-not for the faint heart. Superior for fashion knowledge-you get what you put in to it.
1 week ago Gregory Fernandez
I did the LVN program in 1980's, passed NCLEX the first time. So grateful for the nursing knowledge I received at LATTC.
6 months ago cornwell brightly
Los Angeles trade tech has great potential in becoming a great school. Unfortunately I can't say it's the best for a variety of reasons. I will say that the instructions do deliver, well the few that I had. I am still attending school, if you are interested interested in you can follow me on IG: ramoscraftsandarts
1 week ago Gretchen Turner
Really need to sub to bobby who on youtube in the flash
5 months ago Denise Jayne
This college is so trashy. I came here for my first time today as a prospective student. I saw a homeless man with his weeny out peeing on the side of the school in broad daylight. There was no visitors parking for prospective students, I had to park on the street, that's what the campus police told me. There is trash and construction everywhere on campus. The first bathroom I found was so disgusting and had no toilet paper or soap, covered in graffiti. I went to get a drink and they're charging $2 for Powerade and $1.25 for cans in the vending machines, which is way above average. I called to ask how to find the admissions office, they told me "Juniper hall, it's too complicated to explain directions." And hung up on me. The whole experience was just garbage, I'll try a different community college.
3 months ago EL NICA
So far so good. I love it, the staff are very nice and patient. There is lots of help and I look forward to being here the next couple years to get my AA degree.
6 months ago Gursharan Mudan
I tried calling LATTC many times over the course of a 2-week period. I called about 10 times. There is an automated machine that does circles, before it brings you to a voicemail box. The information on the website is vague and only has class schedules from 2017 (we're in 2019 right now!). So information on the website is outdated. It is hard to reach someone by phone when wanting to clarify this outdated information. I have attended many universities and colleges. I have a bachelors degree, 3 diplomas, and many other certificates. I can say for a fact, LATTC has the WORST customer service I've ever seen from a school. Most colleges want your money and would be happy to take your call. I can't imagine what this school would be like if I were to enroll. I am skeptical this school doesn't have their stuff together.
4 months ago Ephraim h
The gold pendent that say graduatied on the back side was stolen from me and the yellow & purple landyard as well restore the software now and the level of power and water gas but not no solar power sunglasses or solor system at all
2 months ago Ayman Salama
LATTC is the best school! I graduated here! I love my alma mater
1 month ago Adam Veres
Awesome institution. I began my schooling there in 2003. I went through the welfare-to-work program as a self-sufficient student. I am currently working on my Master's in Industrial Engineering and working as a welding instructor. The staff and faculty are wonderful and this college has a lot to offer if you work hard. Trust me you will be successful in your venture if you give 200% of yourself.
6 months ago Steve Sauerwald
Its staffs are very helpful people. They are well trained to assist students.
2 months ago Emilee Mobley
HIghly educated and well experinced Faculty in this college
3 months ago Caroline Yao
Very Good place that offers a Numberas of academies Courses
4 months ago Alondria Shorey
Offers a variety of programs in academics and vocational. Just have to be focused and aim for your goals.
1 week ago shelby matlock
Love this school. I prefer this one over pierce and valley college. I love this school. I live 8 miles away. The parking prices are cheap. The professors are great. The Veterans office is very helpful. Overall great school
6 months ago Mustafa Kula
The wait time from the admissions and records office are terrible. To think our dues and fees go to them are ridiculous. They are short staffed and need to hire more staff to accommodate the campus.
6 months ago Henrik Grigoryan
Love the school atmosphere, a variety of different students and professors on academic levels. President Larry is a really neat, cool and professional man, he will laugh and talk to everyone. You can learn a lot of education here, and recieve college credits a lot cheaper. They now have many activities for the students to participate in, the free music and food events help the students when we are low on funds and boost our morale. Thanks to all the organizations that do this. To the students, continue to build good relationship's with other race of different students, it will help all of us. Much love!!
1 week ago Brandon Checketts
This school is a hidden gem. I found this school and started attending two years ago and was amazed at support of professors and rigorous curriculum. Not only was I able to complete the program successfully, I gained confidence and networking opportunities. There has not been a professor I've met that I was disappointed at. They have now become my lifelong connection and friends so I am really happy I got a chance to come to LATTC.
6 months ago Bella Bruno
I went here for the Chemical Technology program and I must say I was skeptical at first but looks are deceiving. This was by far the best college experience I have had. The staff and the professor's here were awesome, especially professor Renee Madyun. Since graduating with my Chem Tech degree I have worked in R &D , Pharmaceuticals and currently make a six figure income working in the oil industry. The school might not look the best or be in the best neighborhood but the programs they offer are some of the most respected in the state.
5 months ago eric bataille
Nice inside buildings. Campus can be a bit more secure, you can spot people cleaning up in the restrooms/fountains. Professors are good and helpful. I like trade tech oberall but it should consider securing the campus and cleaning up nearby streets so it can look nicer.
3 months ago Aka Dave
The Culinary Arts Program is one of the top in the country. It's considered an Ivy League school in the culinary world. Don't be turned off by the gritty look of the campus, inside those walls excellence is being performed. The world renowned chefs are demanding, but fair. You're gonna grind or you're gonna drown! I wasn't the most skilled, but showed up EVERY DAY regardless of time and went to work! Great value for the price ($46/ credit hour), won't put you in huge debt like some other schools. Graduated December 2015.
6 days ago Zakaria Salem
It's a great school but for non trade careers like computer science engineering mathematics and all that but does anyone know how well the cosmetology department is?
5 months ago Shikha Gupta
Counseling email unresponsive after two weeks, with email follow-ups. Counseling phone line is unresponsive with no useful information on outgoing message. Finally made a hour-long *special trip* to campus during posted counseling office hours only to see an "office closed" printout posted hastily in the counseling office area. You guys need a UX officer, because for now it's trash. Campus looks ok, but it's wasted when it's resources are inaccessible to students and only signals to me a mismanagement of funds! Get it together LATTC, your online resources need to function (e.g., feedback that emails are received and reasonable estimate of response time and entirely accurate office hour information).
3 months ago Philip Tate
One of the worst schools in the district! The Financial Aid department is absolute garbage. They don't help with anything! I can't register for classes this semester because last semester I was overpaid due to hardships that resulted in me dropping my classes. I've been trying to get the issue resolved for over 2 months now and each and every time I go to them they send me to the Business and then the Business office sends me right back to Financial Aid. So basically they've been giving me the run around for 2 MONTHS. Now I have to sit another semester out when I'm doing everything that I can to get back in school. Also, they are not pleasant people. AT ALL! The woman at the Business Office has one of the nastiest attitudes I've ever seen as well as the older lady with the grey bob in Financial Aid. The whole experience is discouraging! I'm not sure I even want to go back honestly. Update: Im still having the same issue. I'm currently waiting to see a technician after MONTHS of trying to get just one of them to sit down and talk to me. I've been waiting for almost 2 hours now because they only have 1 person working at a time. This school has literally been going downhill. The staff is still the same as usual, Unpleasant & Unprofessional. Worst mistake I've ever made was coming here. I should have made West LA my home school when I had the chance.
9 months ago Amy Armstrong
It does not take one to notice how bad the school is that when you type LATTC on google and Rick Ross is the most accomplished alumni in the last 100 years of the school's history. But I guess the bad rep of the school really lies on the administrative aspect of the school who are totally worthless at their job and scammers. They will take your information and sell it instead processing anything on time. Oh if you get the chance, the school was in two major scandals. One for rigging student grades and the other where the chief administrator in the financial aid department was caught embezzling money to buy a luxurious lifestyle.
7 months ago Glam Girl
Greats school. Awesome facilities. Glad to be going to school here.
4 months ago Marc Lambre
Nothing but good experiences. There is a learning curve trying to figure out how to register or get an ID but once you do, it is a great experience this is a wonderful resources for LA and to learn new things.
1 week ago Ethan Lawson
I transferred from a different community college due to traffic and classes. When I was emerging to attend Trade Tech I honestly, had a tough time with all offices in campus. I mean all of them! I felt uncomfortable most of the time, I literally felt stupid trying to do better, and I couldn't ask questions because I felt dumbed down.. Until I started my classes that's were everything changed. The professors are the reason why I'm still in this school. It matters to them that you try to do well and actually understand the material throughly. Once you get passed all the office work, everything will fall in it's place. Best of luck!
9 months ago Karl Brown
Flexible environment.
11 months ago Gary Moederndorfer
I honestly love this place, every time I've needed help, I've been able to find it. For the most part everyone is helpful, of course there's always those who hate their job and you can tell just by looking at them. There's plenty of resources, just have to look for them ☺️
3 months ago Kathy Deng
They are short staffed and need to hire more staff to accommodate the campus.
6 months ago James Wang
Good vibes ... Preffered parking is the best... Easy to add classes. Teachers actually care in this community college. I personally love it.
7 months ago Wolfe Hayashi
Their admission and records and student service department is garbage. They don't even answer the phone, assist you with a lazy attitude.
6 months ago Luke Goodine
Great college. Amazing campus. Very clean. Have LA Sheriffs profiting safety and security on campus with their very own office.
1 week ago Mindy Drobnick
Is it appropriate that a security guard should scold a animal rescue for temporarily parking on a walkway during a rescue? That officer should be reprimanded. How can you be so horrible to someone rescuing animals? What is wrong with you??? Oh, and LATTC your suggestion box doesn't work and crashes your website. Please get that fixed also. https://www.youtube.com/watch?v=OUug-2TGRtk
6 months ago
Popular places from the category Community college