Sweat Yoga Playa Vista
Yoga studio Sweat Yoga Playa Vista, 12105 E Waterfront Dr #105, Playa Vista, CA 90094, United States:
148 reviews
of users and employees, detailed information about the address, opening hours, location on the map, attendance, photos, menus, phone number and a huge amount of other detailed and useful information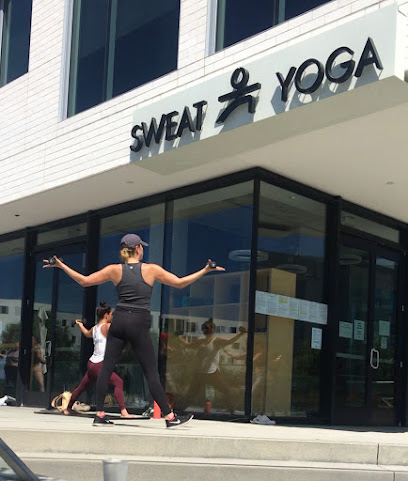 Address:
12105 E Waterfront Dr #105, Playa Vista, CA 90094, United States
GPS coordinates
Latitude:
33.9816521
Longitude:
-118.4065795
Location on the map
Reviews Jerome Haines
This is preliminary review; solely bases on the impressions from the outside. The patio area looks inviting and the seating area seems to provide comfort and shade. The umbrellas are big and are made made of natural materials. All in all, the place looks welcoming and down to earth.
9 months ago Raven Robinson
Sweat Yoga Playa Vista is an all levels class, which is often said at other studios but rarely enforced. All levels from first day in yoga to professional contortionist are welcome, and all have something to learn from the brilliant instructors. There is an instructor there for everyone, no matter what you listen to or how you practice. Even the assists are amazing - you might not even understand how that's possible until you've had Travis assist your class.
7 months ago Emmalie Dropkin
I love this studio! One of my favorite versions of hot yoga. I'm not going to lie, hot yoga is not my favorite but I love this studio! They play great music, and walk you through three flows plus give you time to explore each flow on your own. This is a great workout but doesn't lose the spiritual aspect of yoga. The space is super bright and cute, and they keep all the equipment very clean. Inside the studio the candlelight and warm colors create an inviting space. The highlight of every class is the cold lavender towels at the end! There's tons of street parking as well as a lot and they validate for.
9 months ago Roger Epperson
I love this yoga studio so much! Amazing music, great vibes, knowledgeable instructors and always super clean!!!
5 months ago KONSTANTINOS DIAMANTIS
I've been a few different yoga classes but it's never felt like it was my thing. Sweat Yoga changed that for me though! They play great music and walk you through three flows with time to explore the flow on your own. It feels approachable for a beginner but also a place to grow at. The space is beautiful and I appreciate how its dark without mirrors. They also give these cold, lavender towels that will make you keep coming back!
6 months ago anthony sculley
Love this studio! Any yogi can take theses classes and there's freedom to make the flow your own. Staff is super friendly, lockers are provided and the studio is always clean. Each instructor has their own style but you always come out with a good sweat. 5 stars!
10 months ago Lina Damien
Amazing studio! This location is perfect for me as it's a 5 minute walk to work. So, i can work before or after work. I love how clean and spacious the studio is. The staff is always super sweet and welcoming. Definitely would recommend! Amazing classes and great music selection as well.
9 months ago Francisca Cochran
I had never done yoga before coming here. NEVER. And now I'm hooked thanks to Sweat. Taking a Flow class here is the highlight of my week and an easy way to sweat out toxins. The room has a great oxygenated air system so it never feels muggy, which is what I imagined with hot yoga. Great music. Amazing instructors. All around awesome experience.
10 months ago Joseph Belanger
Love this studio! Everyone is so nice. The music and mood is perfect. Love the way the teachers inspire you to push yourself, while also listening to your body and doing your own thing during the free flow. A great addition to my practice.
9 months ago Mick Reid
Sweat Yoga has become the reason I started liking yoga, I had been to the Santa Monica location a couple times but once the Playa Vista location opened I knew I had to try it out again because I enjoyed it so much before in SM, the traffic was just kind of intense getting back home in the mornings. This studio is super convenient for me and parking is great! All of the instructors have been amazing too! All of the sweaty goodness and the studio is super clean.
9 months ago Flora Romero
I absolutely love this studio! The staff, the welcoming atmosphere, and the integration of music in the yoga movement makes Sweat Yoga stand out amongst the numerous studios in LA. I started going to the Playa Vista location when I had class pass and now I am going to get a membership exclusively to Sweat Yoga. The BEST part is at the end of the flow (when you are the most sweaty and exhausted) they come around with cold lavender washcloths. It is the best way to end the workout and wipe all that sweat off!
9 months ago Pam farnum
I love this place. The music is amazing (which I didn't think I would like) and the heat is on point. They teach you a flow and then give you a chance to practice it however you like, so it's a good amount of structure and individual expression. Sam is my favorite teacher!
11 months ago Joe m
I LOVE this studio! I'm so happy that I found it through ClassPass. I live in the area so it's a short walk which makes it super convenient for me. The staff here is super friendly and welcoming - so refreshing! The studio is also VERY clean and doesn't have a weird smell like a lot of studios I've been to, which surprised me at first since all their classes are heated. I go at least once a week!
8 months ago Michael Michael
Great local yoga studio! I've done yoga on and off for 15 years, but this is quickly becoming one of my favorite studios. The instructors have all been great, the classes are always challenging but fun, and the temperature/music is perfect to get you sweating and in the zone. I'm so happy to have this studio a few minutes from my house so I can continue to go a few times a week.
8 months ago Javi Ayala
Amazing, clean, yoga studio. I love Sweat Yoga Playa Vista! The instructors are so nice, and extremely attentive. They are constantly challenging me and helping me to have my best practice. Great music and not-too-cramped classes as well!
6 months ago Diana Herdt
My favorite yoga spot in LA! Great music, instructors and I love that they allow you to flow on your own speed so you can get the most out of the practice. I use this as an active recovery and it is exactly what my body needs in between tougher workouts. This space is a bit larger, so I like that I can spread out more and not feel as crammed.
6 months ago Mike Mo
I love this studio! I was not a yoga lover until I went to sweat yoga and took the 7am rise and sweat class. This studio is beautiful and the instructors are awesome. It is perfect for every level, as they show beginner, intermediate and advanced positions for each flow. I have built this class into my life and have not missed a Tuesday am in 9 weeks!
11 months ago Manuel Moreno
I LOVE this studio. I've gone to 10 classes so far and each time it's been such a pleasant experience. The studio is very clean, and the staff/yoga instructors are all incredible welcoming, supportive, and beaming with positive energy. It's just a place that makes you feel good, not to mention gives you an incredible sweat, leaves you feeling stretched out, energized and rejuvenated. I love the little cold lavender towels they give to you at the end after shivasana. It's such a nice touch.
6 months ago Carrie McNeal
I was never a yoga fan until I found this place. Unlike other studios, the heat here helps you get through the flows and it's not overpowering. Everyone who works there has a super positive attitude and they are beyond knowledgeable. Great environment overall!
9 months ago DM MY
Overall Sweat Yoga has been awesome! I got the first time free and loved it so got the unlimited. I'm now on my 7th class and cannot complain about the price. I wouldn't give it any higher though because 1) the shower situation isn't great (you have to pay for a towel) 2) The speaker system has been muffled once or twice in class because of the moisture/sweat. Other than that, the people and atmosphere are fantastic.
8 months ago Regina Brito
Sweat Yoga is a very clean, friendly, beautiful, and hip yoga studio. I have attended about 7 classes here on ClassPass and I this is my go-to yoga studio. There is a perfect balance of calm and relaxation with getting a good workout (they have weights if you want that extra push!). This studio is so mindful in the clients experience which is shown by the sweet little surprise of a lavender towel given at the end of each session. Highly recommend this studio!
6 months ago AFerr
Walked in to a very welcoming crew, explained the studio and was provided a quick tour! Not to mention— first class is FREE! EVERYTHING from the walkway to the locker rooms/ storage space was clean, new, and fresh! The studio itself is well ventilated, perfect lighting and has a great sound system! I personally have taken class from 4 instructors— all very experienced!
10 months ago Kathy Day
New to sweat yoga and I'm in love. The studio is welcoming and nice. I always come out of class like I've gotten a great yoga session in the warmth of the heat lights. Great music. It's nice after a session to cool down outside on their nice patio furniture. At the end of every class you get a cold towel to put over your face or on your neck during shavasana, and you can't beat that.
6 months ago Jacqueline Walls
Sweat is an AMAZING studio! It took me 2-3 classes to get used to the heat, but now I refuse to go anywhere else. The studio is clean, the staff members are friendly, and the instructors are very encouraging. They play fun and motivating music to help you get in your zone, and the flows are structured to be very customizable. It provides a great workout for both your body and your mind. Make sure you're well-hydrated and ready to work, and you'll get so much out of any class at Sweat!
1 week ago Michael Guetzko
Loving the new studio! Parking is easy and free. The staff is super friendly. The teachers are great here too, they all have their own unique teaching style. I love the variety and I am always guaranteed to get my "sweat" on. I leave class feeling more limber, relaxed and refreshed. Great addition to Playa Vista.
8 months ago Tini Goedhart
There aren't a lot of great hot yoga spots on the west side, so I was very happy to have found this studio! Parking is easy for the early AM classes, and the showers/locker room are great. Both teachers I've had are fantastic and I really like the structure of the class. It's very similar to Y7 but in a way bigger and cleaner space. Only downsides so far - rentals are a little pricey and there are only 2 showers in women's locker room so a line can build up.
9 months ago J Jakubo
I've loved all of my experiences at Sweat Yoga studios, especially my recent class at the Playa Vista studio. Everyone working in the studio had calm, friendly energies, and the half way filled class was energizing yet restorative. The music is always perfectly timed and (my favorite part) they end the class with a cool lavender towel. I especially loved the flow that Sam Wyman led us through that day because she consistently encouraged us all to flow at our own pace, and gave helpful notes on adjustments for better alignment. I had taken 3 weeks off from working out and left the class feeling strong again! Another important note, parking was a breeze, they validate parking in the structure but I just parked across the street. Can't count the times parking has caused me to avoid certain studios.
9 months ago Jamie Hribal
I love this place! I have taken classes with 3 or 4 of their instructors and they are all WONDERFUL! Such nice staff, welcoming environment, and you always leave feeling detoxed with a great workout under your belt for the day. I would recommend this studio to any yogi whether beginner or expert. They also have fire playlists that they play during all classes.
9 months ago robert glenn
I love this studio! My favorite instructor is Leigh, he provides such a good work out and always a lot of variety. All of their classes are heavily focused on music which I really like, I was never one for silent practice. Plus the chizzle classes really kick your butt, I always bring friends! The mister on the ceiling is a nice touch and provides some relief during particularly sweaty sequences
11 months ago Angela Rose
Sweat is an amazing studio - there are so many well-informed, kind teachers. I leave every class feeling reborn, its a great option for hot yoga. The studio itself is beautiful and they sell awesome merchandise. Love!
6 months ago Danielle
Out of the yoga studios I've been to in the West LA area, Sweat Yoga Playa Vista is one of my favorites! Very clean facility & the instructors encourage you to challenge yourself & always have great music. Also love the format of the class - would recommend to anyone who is looking for a good sweat.
9 months ago Asia W
I love this studio and I'm actually not a fan of hot yoga. I like the free flow time at the end of each asana. That coupled with great music and a ice cold lavender towel at the end got me hooked.
10 months ago Emily Wiles
I love Sweat Yoga! I have taken classes with a variety of instructors and always get a great workout and leave feeling accomplished and more calm. The lavendar towels at the end are such a treat, too. The evening and weekend classes can get pretty crowded which is why the 4 stars instead of 5.
6 months ago Fabiola Mendez
Amazing hot yoga place with engaging teachers, beautiful facilities, friendly desk staff and easy street parking! Classes are paced well and structured so that everyone feels comfortable moving at their own level. I somehow never "got" hot yoga until I started going here--their heat/humidity/ventilation control in the studio means that it's pleasantly toasty, not gross, so I always look forward to practicing here.
6 months ago Joe Pusta
An overall wonderful place so far! I am really happy with the decision of trying hot yoga for the first time and choosing Sweat Yoga Playa Vista. The facilities are brand new, there is a great and super friendly atmosphere, plus the Assistant Manager, Linnea, is super nice and ready to welcome everyone with a smile. I especially like Toni's classes!
11 months ago Joel Wilcox
Best yoga studio without a doubt. Great staff and amazing classes that really give a workout that is hard but satisfying. The energy is so positive and sets me up for the rest of my day or night with a clean mind. If your looking for yoga this is the place to go.
11 months ago Renee Read
Love going to Sweat Playa Vista - The instructors are very professional, they aim to give you the best experience personally and promote freedom in the practice of yoga. The music is always on point + at the end of the class, you are served a cold lavender towel (amazing way to end your class).
2 weeks ago James HUNTER
Amazing studio and staff! Classes are challenging but can be modified to fit any level. Music is always on point and the dark room allows for personal reflection during flows. I always leave class dripping in sweat and feeling amazing! Would highly recommend!
2 weeks ago Deborah Phillips
Amazing studio, wonderful facilities, and the staff is always so sweet! This is truly my favorite yoga studio in the LA area. Also one of the only studios that offer late night classes for those of us on a strict 9-5 schedule! You have to visit!!
1 week ago Joshua Harris
I love this place! There isn't a class that isn't amazing! The ambiance, the music, the instructors, the cleanliness- everything is top notch. If you love hot yoga and you want a killer workout, this is the spot!
1 week ago Dawn Allen
Sweat Yoga is my favorite studio in LA! I LOVE the hot, dark, music bumpin' room!! I feel comfortable each class to get out of it what I need to. Every instructor leads you through challenging flows and gives you space to make the practice your own. They will push you to challenge yourself, but they also know that you need to listen to your body and can alter any position. They are the BEST!!
9 months ago Erik Vilar
I absolutely love Sweat Yoga Playa Vista. The people are always nice, the space is beautiful, the locker room and showers are extremely convenient, and it does not feel like a corporate yoga environment. The music always puts you in a great mood and the heat is perfect. I am by no means a yogi, but have seemingly become addicted to this studio. *I also appreciate that the teachers are hands of and judgement free!
2 weeks ago SJ Ran
Love this place. Best yoga studio in LA! Classes are fun and hit, music is great, showers are nice, and the staff is friendly. And the cold towel they give you at the end of class is a dream.
6 months ago Veronica Jordan
We've been going about once a week for the past few months and we love it! Every class is slightly different but all end in a great feeling of accomplishment (especially for those terrible at yoga like me). It took me a few times to get use to the heat, but I now always leave feeling that much more refreshed as it's a great mix of cardio, strength training, and yoga.
9 months ago Tina Johnson
The studio is beautifully done and extremely clean. Parking is free alongside the road, and the instructors I've had have all been great. The class will help you clear your mind and tone your body. I highly recommend if you like hot yoga!
9 months ago R T
By far my favorite yoga studio in LA! The teachers and space are awesome and they have the best music! So glad I found them through classpass. Highly recommend the half and half class!
6 months ago Carlos Dominguez
This place is great! I am fairly new to Sweat Yoga Playa Vista and I have felt welcomed every time by the front desk staff. The staff are helpful, diligent in keeping the place clean, and pleasant, which is always a plus when a attending a new business of any kind. I have had the pleasure of participating in class with various instructors (mainly in the AM) on different days, and all of them (Toniann, Kimberly, and Alyssa) have left me feeling confident and fulfilled after the one hour sessions. These instructors are informative and are always willing to offer advice on how one can improve their yoga skill sets. This is a therapeutic experience, you can actually feel the toxins and negativity leave your body, and at the same time you feel the strength building and improvement in vascularity, at least I felt that way. If you are on the fence about attending Sweat Yoga, give it chance, you may be pleasantly surprised on how much your body can achieve in one hour of sweating it out. My only complaint is that I did not start doing Sweat Yoga earlier in my life. Keep up the hard work and positivity. God bless.
2 months ago Gibo Geebmeister
I've been going to this studio regularly for the past 2 months. I enjoy being greeted by their friendly staff. I typically go to Sam's classes, she has such a great energy and the time flies while going through the different flows she puts together. I love being encouraged to make the flow my own. Highly recommend Sweat Yoga in Playa Vista!
8 months ago Robin Byrd
I took a break from yoga for a few years and just rediscovered it through Sweat. This is THE BEST studio I've EVERY been to. I absolutely love it. The style, the classes, the teachers, the details. All top notch!
2 months ago Jimmy Yao
I really enjoy this studio. The location is great, ample parking, easy and accessible to get to the studio. The Playa Vista studio is a hidden gem. Located in the new "techy" area of offices in that area. It's clean, bright and relaxing. I really like the outdoor lounge area. The showers and locker are perfectly sized for the amount of people who use them. The room is dark and cozy, enough to get an unbelievable sweat. I have only done sculpt, but I'm sure the yoga is wonderful too. Studio manager is extremely inviting. I haven't had a bad experience except I overheard a guy choosing his yoga classes based on if the instructor was "hot" or not. Smh. Otherwise, it's hip, classy, fun, great music, and looks like they have lots of events. I look forward to my classes there.
11 months ago
Popular places from the category Yoga studio