Vehicle Registration Services
Department of motor vehicles Vehicle Registration Services, 12331 1/2 W Washington Blvd, Los Angeles, CA 90066, United States:
39 reviews
of users and employees, detailed information about the address, opening hours, location on the map, attendance, photos, menus, phone number and a huge amount of other detailed and useful information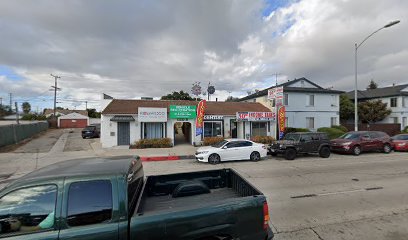 Address:
12331 1/2 W Washington Blvd, Los Angeles, CA 90066, United States
GPS coordinates
Latitude:
33.9972040
Longitude:
-118.4278010
Location on the map
Reviews Benedict Cruz
Great Service and Easy to work with. I chose this place based on reviews. I came from out-of-state to register a car I purchased a while back. My paper work had to be taken to the DMV, to be registered properly. I dropped it off on Thursday, and everything was ready for pickup on Monday. Paying the fee was a non-issue when your short on time and not familiar with the registration process in a another state.
8 months ago asaad alam
Told me they knew the answer to my 5 second question about how the DMV works but wouldn't help me because I didn't purchase their services. Way to burn a potential future customer.
7 months ago Stacey Velez
Best service in town If I could give them 10 starts I would! Amazing stuff! In and out with new title in less then 5 minuets! Thank you guys.
1 month ago Tianesha Drayton
Vehicle Registration Services to CA from out of state and wanted to avoid DMV during the pandemic. I was skeptical of all the five star reviews but decided to go anyway. Long story short, this place deserves all the great reviews it gets. I was in and out within 15 minutes and for a fee a lot less than other places. Thanks Vehicle Registration Services.
4 months ago Joe Goode
Wow! Vehicle Registration Services and is just the coolest guy you ever want to meet. Works fast and is completely competent at all things DMV. Renewals are $34, title transfer and registrations are $50. Costly but so worth it to avoid going to the DMV for hours.
2 months ago lou crabtree
Great place. in and out in 30 min Cost me 90 bucks to transfer title my car. Put paper work to the DMV still haven't heard from them
3 months ago Nathalie desroches
Vehicle Registration Services was awesome! I was in and out in 7mins most definitely worth it!!! I'm also going to get new plates and he's going reregister and pick them up. Boss!
4 months ago Kyle Rider
Since I got in as a senior and handicapped, it was fairly easy to renew. I had to wait about 10 minutes. Nice people, eat directions. So glad I did not wait for a later date.
8 months ago Satvik Kamath
Didn't bother looking at reviews here, but they had obviously fake reviews on yelp (positive reviews are cheap and easy to buy these days). Some real reviews that were good too. I'm sure people save a lot of time compared to the dmv. Not exactly a high bar to clear though is it? After 3 interactions with them, all I've done is waste my time. I called them for a quote and they told me $45. I told them my smogger said I could get a discount. They said $35, I confirmed that was the total price because I was calling a few places to price compare. They said it was the total price. Then when I get in there with my paperwork the lady says to come back again because they can only process your paperwork 72 hours after you make your dmv payment (seems like asking someone when they paid before telling them to come in would be the responsible thing). Then I wait a few days and return. They try to charge me $45 again after I already told them they gave me the $35 price. Then he agrees to the $35 price and tells me there's a $22 dmv fee. If they had said that the first time I would have gone with another place as $57 was not the lowest quote. I explained this to the guy and he said "she shouldn't have done that, I'm sorry but there's nothing I can do". I said "how about we split the difference and you drop $11 off the price". He said no. That said, if you don't care about honesty, and you don't mind paying whatever price they decide when you show up, and you've already paid everything else more than 72 hours ago... it's probably faster than the dmv.
8 months ago CARLOS HOENICKA
Extremely unprofessional. They tried to charge me double from what they told me over the phone. Stay away
6 months ago Mike Jones
I've never written a public review on anything before but this place was exceptional. I walked in at 10:20 shortly after they opened expecting a line - there were no other people in the building and I was helped right away. The guy who helped me said if I had chosen to go to the DMV for a walk in I probably would have waited in line for around 3 hours. I just moved states and needed a California registration / plates, they were able to process my information and provide both of these in less than 50 minutes including the 25 minutes it took me to get a smog check nearby. Highly recommend this business to anyone who needs a similar service - these guys were extremely helpful, friendly, efficient and professional. 5/5 stars thanks!
9 months ago Balaji V
This place really came through for me. I am out of state and was having trouble getting my registration updated because there was an outstanding toll violation on my truck. DMV said I could mail in a check and they would process it and send back the registration a process they said would take 2 months. I went here and the guy paid the violation and had my new registration and tags printed out and ready in 15 minutes for a great price. Highly recommend this place!!
8 months ago Dave thomas
Great experience! I didn't have to wait for service. It was easy, painless and an efficient way to transfer title and pay for registration. The owner helped me and he was polite and helpful. Happy to know this service is around to bypass the DMV.
10 months ago Angela DeLeonibus
Highly recommended! Super friendly & helpful. I'll put it this way - there is NO scenario where you leave here thinking 'I wish I would have gone to the DMV instead'. Absolutely worth it!
2 weeks ago Irene S
Great service with a smile! To register my car I shipped from another state it only took few minutes, no line, no wait - this office provides very cordial and professional service and information - THANK YOU!
10 months ago Nick Fernandiz
These guys are great! Super friendly and courteous. Total time spent in the office doing business was 5 minutes and they had my registration ready for pickup a few hours later. No stress no mess!
2 weeks ago Danielle Pureifory
Since Sean and Scott left this place is slow and lacking dmv knowledge... I used to recommend to friends would not any longer. steer clear folks!!
6 months ago Regret
Terrific. Skip the lines for a small fee. Couldn't be happier with this service!!!
8 months ago Ria Laroya
I sent some documents to Scott in order to determine whether it was safe to buy a bike off of Craigslist. Scott gave me an immediate assessment that it would be a tremendous hassle to purchase this bike due to dubious paperwork and because the seller had no proof he actually owned the bike, so I passed on this and was saved a lot of trouble. Scott really knows his business, and I'm thankful for his good advice.
2 months ago Wen Zeng
I used them because of the great reviews and I'm glad I did. I moved from another state and ended up having an interesting situation where I needed proof of no out of state title. It was a bit of a hassle but these guys helped me though it!
2 weeks ago Jubal Slone
In and out in about 10 minutes. Huge time saver. Friendly guys. Easy process.
6 months ago Becca McDonnell
These guys are absolutely awesome! Don't waste your time with DMV, come here and get your issues solved in minutes! I read reviews before visit this place and ten minutes later i realize that all good reviews were written because of a great service! I was need to get my new plate number, cuz i moved in from another state, i came there at 1:20 PM, spent 10 minutes to let the guy fill up the application, then he said : I'll call you at 4:30 PM same day. At 4:35 he did a call and i make another visit just to pick up my new plates! Thank you guys! That was AWESOME!
6 months ago Mary Miranda
I liked them until 2014. I feel to charge $28 for a service, and then to tack on a $4 credit card/debit card fee is highway robbery. Additionally they did not process my request using priority mail, which they did the previous year. I will not use them again for any reason unless I am paying cash and the DMV is being unreasonably slow or bureaucratic with the process. People today cannot just pay your exorbitant fees and get average service.
2 months ago gerard Stumm
If you need to register your vehicle (and don't belong to Triple A), then this is where you should go on the west side. DMV appointments are currently out 2 to 4 weeks (WeHo and SM, respectively), and walk-in service means you will waste HOURS sitting. I went into Vehicle Registration Services (VRS) and knew this was the right move. I'll end the suspense--it cost $70 on top of what you'd normally pay at the DMV. For this very reasonable sum, I was able to transfer the title (pink slip) of a recently-purchased vehicle from a private seller, i.e. submit form, and pay fee and sales tax. I don't know the VRS's full menu of services and fees but I was in and out in 15 minutes with a printed, color copy of my updated registration--worth it! The older gent I dealt with was competent and polite. And he was very careful to get all the required information, make photocopies and ensure everything was in order for the DMV to process. Updated title will come directly from DMV in approx 4 weeks. If you value your time or really hate long lines, do yourself a favor and drop in on VRS.
10 months ago Gabriella Lopez
I almost went straight to the DMV instead of coming here. I'm incredibly glad I didn't. If you're having any car-paperwork-related-worries, PROMISE you, coming here will save you time, and it will save you a huge headache. Depending on what service you need, it may even save you a little money. This could have been a bureaucratic nightmare - instead it was a huge relief.
6 months ago Ro HopelesS
Great way to skip the DMV and get EXCELLENT service. The people that work here are awesome and know all about LA if you have any questions.
11 months ago Shree Sanjel
Amazing! They're friendly, knowledgeable, and efficient. The whole process was super easy. I would have spent countless hours in the DMV without them. I really couldn't have asked for anything more.
1 month ago Tracy Bullock
Just had the best experience at this location. Scott was professional, patient and persistent in every way possible. I totally recommend this location to everyone for their vehicle registration services.
4 months ago Gina Sharp
Shaun was amazingly helpful and honest to help me solve the issues I was having with my registration. Great service.
2 weeks ago Jash Hirani
What an AMAZING place!!! I had a huge issue with trying to register my car because of previous problems. I was extremely frustrated because I didn't know what needed to be done and the DMV I went to originally didn't do registration... Scott took me under his wing and not only took care of everything for me, but also got $200+ waived for me in penalty fees! I am so relieved and happy to have happened upon this place!! Scott was such a HUGE help! I will now being going here for all my DMV transactions.
2 months ago Danielle M
Never going back to the DMV again, these guys are great! Worth every penny.
2 weeks ago Edith Chase
Very helpful. Didn't have to set foot in the DMV which is always good and they helped get my late fees waved for my vehicle registration. I paid them $25 bucks and they saved me $90 off what I paid the DMV the year before.
1 week ago fendy chen
Guys why the bleep are you listed as "department of motor vehicles", if you are not actually dmv?!? Spent literally 20 minutes driving around the block looking for Dmv, of course did not see it because this is a tiny office in the back of some buildings. Finally found it only to be told no drver print outs. Ouch
3 months ago Leah Teitelbaum
Scott helped me out with some questions I had about vehicle registration. He gave me his time and information freely and it was very helpful.
11 months ago Otilia Chavez
So fast.
8 months ago Todd Ostrowski
fast, efficient & friendly!
11 months ago Simon French
GREAT service, thanks Scott!
6 months ago fon suo
مهنية وجودة في كل شيء مع جميع الوافدين سواء
11 months ago marisa yoser
The best dmv ????
9 months ago
Popular places from the category Department of motor vehicles