Santa Monica Sunday Main Street Farmers Markets
Farmers' market Santa Monica Sunday Main Street Farmers Markets, 2640 Main St, Santa Monica, CA 90404, United States:
137 reviews
of users and employees, detailed information about the address, opening hours, location on the map, attendance, photos, menus, phone number and a huge amount of other detailed and useful information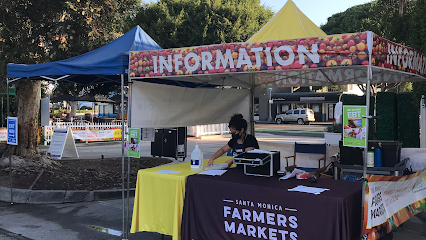 Address:
2640 Main St, Santa Monica, CA 90404, United States
GPS coordinates
Latitude:
34.0015785
Longitude:
-118.4834398
Location on the map
Reviews kevin hiss
Really great little farmer's market. It's not massive (maybe 10-12 vendors on the day we went) but it's really accessible, has lots of parking, and great produce. Everyone was really nice too!
6 months ago akhil raheja
What a beautiful morning spent at the market. Lovely performance for the kids and adults. Great food and all the fresh food and vegetables. Loved the arts and craft, although I was expecting a bit more of that. I was very surprise with the beautiful clothes items tho. I had a great brunch with fresh organic eggs, vegetables and bacon! Definitely recommend to visit if you are around on a Sunday in Santa Monica!
11 months ago William Mcvicker
This farmer's market is pretty sparse, mostly carrying basic produce with a few other novelty vendors. It only took a few minutes to walk through and see everything. I definitely would have liked to see more variety in the vendors and products available!
8 months ago Sam LeBlond
Good for high quality, low-cost fresh produce. Any time I go back home after coming here, I'm just so inspired to eat more fruit and vegetables. So inspired, guy. Not a spot to have a lot of fun and explore, since it's tiny and mainly veggies, unless you're like me and intrigued by vegetables. I will strongly recommend the Farmer's Market!
11 months ago Kristin White
Family friendly market with jazz The Teddy Bang Trio playing. Picnic area on lawn & rearranged the seating to be more inside the market. Walking in, the Flowers pop out, probably selling more BEAUTIFUL flowers!!
6 months ago James Wilson
I loved this place years ago, and I love it even now! I think they have changed owners or managers? But I still really like their food. Hearty, tasty and healthy.
2 weeks ago Lisa Thayer
This is our go to place anymore for a decent meal at a decent price when we dont want to cook. A big bonus is that our 5 year old loves the place. Not a fancy menu or meals, but always satisfying, good flavor and healthy.
10 months ago Perla Mba
Not a ton of vendors but really easy/quick to get in and out and get the basics (veggies, fruit, bread, eggs and even chicken and seafood).
8 months ago meghan burke
Great healthy options that are super flavorful. We were in town for a couple months and ate here multiple times a week. The soups were the only thing I wasn't crazy about.
11 months ago Maksim
The apples were good, the melon was perfect, and the vegetables were amazing. Everything inside this place was incredible. I was able o get the things that I need for my cooking lessons. I am pretty sure I can get my desserts completed with this farmer's market's fresh fruits. The most visited farmer's market place in my area. A5 stars!
4 months ago Alexsandr Konoshevich
We come often ! You can't beat his prices !!! So good and great service . Love love love the Santa Monica Sunday Main Street Farmers Markets to his menu.
11 months ago D L
Tasty and quality food but greatly disappointed in the small portion size. Expensive for the amount of food you get. Wouldn't eat if I was especially hungry.
10 months ago Mario Herron
Limited amount of vendors, but still some good ones there. Not crowded.
8 months ago Stacey Quinn
Super clean and everyone is following COVID safe practices. The bread from CORDAROS is the BOMB!!! You have to try it, you don't know what you're missing. It's like bread 2.0!!! We also go for berries, last week we bought 7 baskets of strawberries that were gone in 4/5 days!!! What a great buy. Never crowded!
11 months ago Karen Wilson
After an adventurous day in LA, I was starving. I had never been to a Santa Monica Sunday Main Street Farmers Markets location so it was finally time to try it out.
10 months ago Karrie Ludwig
Great fresh squeezed OJ and avocados
8 months ago Calen Cooper
This farmers market has a huge variety of bread, seafood, fruit, vegetables, and spices. The cheese selections are very good too. They've got everything you needed. They were more likely to be one-stop-shop. They had food stalls as well. It was such a fascinating experience. I will definitely visit here again.
8 months ago Miguel Rodriguez
It's a great place for out of town visitors who are looking for a colorful place to eat. With lots of food selections, and some of the best taco stands in town, the people in charge was really friendly and professional, just love it!!!!!
10 months ago Ryan Daly
Nice selection & variety.
7 months ago Jonathan McHatton
Two aisles of stands, everyone masked and spaced out ❤️
11 months ago Jacob k
Amazing vendors and produce AND super safe!
11 months ago Captainhook Paul
Fresh and beautiful produce and fruits. Food vendors and delicious baked pastries! You can buy plants and flowers at very reasonable prices. A great way to spend Sunday morning
11 months ago Eugene Young
What a wonderful market! It's worth the hassle of trying to find somewhere to park on a sunny day to visit this place. There was a range of stalls available selling fresh produce, fruit juices and handmade items, but my favourite was the crepe stall - go for the nutella and banana crepe! The pastries were really tempting too but they sold out before I visiting them (I should have stopped off there first for breakfast!).
5 months ago Jeff McAteer
Yeha, it's okay is a pretty good summary. Very pricey and hipsterish. Food is delicious but you better bring your credit card.
6 months ago Chelsea Southerland
Nice Farmers market. Small though. Lots of seating and very pretty although the other farmers markets really have more options. Also the parking here can be a little bit challenging
6 months ago D Baidya
Loved the vendors and samples. Great way to spend a sunday morning!
7 months ago Chante Michaud
My mom and I visited and absolutely loved it. GREAT veggies and fruit and fresh food to eat. A must on your Santa Monica stop by.
6 months ago Marshall Lavoie
It is a lovely market! My wife and kids really enjoy going.
7 months ago Jay Peters
I love this farmer's market. Everything was so fresh, and everyone so friendly. The parking was very cheap, I was really surprised. The lot right next to the market was only $1 an hour. The lot looked full, but as we pulled in, 3 cars were leaving. The market is located in such a good area; there are a lot of little shops and restaurants to visit after, or before you shop at the market.
5 months ago Ulla Meyerhof
This market was huge! Such a happy find minding my own business walking around Santa Monica. Nothing fancy, but offers products of all kinds. This ranges from soaps, jewelry, cute homemade stuff, eggs, veggies, fruits, flowers, plants, etc. The stalls went on and on. I did not feel any pressure to buy (even though I really wanted too) and just got to walk around enjoying the scenery. It was the right amount of busy. The prices seemed fair. If I lived there, this would be a Sunday favorite for me. But I do kind of love all Farmers Markets, so there is that.
9 months ago jaslynn Delgado
Varies slightly from week to week, but a great Farmer's market with an assortment of fruits and vegetables, cheeses, breads, flowers, beverages, and prepared food options. Highly recommend the Keto breakfast burrito.
5 months ago Valcin saintilien
Such an awesome market. Super expensive, but a good experience just to walk through and buy a small amount of good produce.
6 months ago Brian Chalupa
There are much better Farmers Markets in the area, but this one has all your staples, good vendors and located in the center of Main Street in Santa Monica. There is usually live entertainment on a small stage in the center of the market and tons of hot food vendors and Crafters. A great place to walk around and get the local fare and flavors.
7 months ago Emily
Hadn't been there in 6 years, and was reminded why. It's a little small and a little boring. The one on Saturdays at 3rd St is a lot more fun to go to.
6 months ago Elaine Reall
Fresh produce and great food stands. Has a small seating section to bring the food and eat at.
10 months ago Richard Futrell
I enjoy frequenting the farmers market regularly. It's a healthy way to start off each week by getting up early, drinking coffee, buying fresh organic veggies and listening to music. There's always a bunch of kids running around smiling and dancing as well! :)
5 months ago Brandt Miller
Fun place to enjoy a lazy Sunday in Santa Monica. Plenty of food and live music. Be sure to grab locally grown produce, and California honey.
5 months ago Lani Perez
Very nice, local farmers market. Plenty of fresh and organic options. Been very happy with all the produce we picked up and awesome honey! Can tend to get crowded and very dirty.
8 months ago Kittie Jenkins
A really nice way to spend Sunday morning. In addition to produce, they have prepared hot food, live music and shopping stalls from local stores. I always take out of town guests to this market to show one of my favorite local hangouts.
5 months ago Alvin Edwards
Good Produce, Good food, fresh Organic eggs.
9 months ago Pretty Butterfly
This one is a lot smaller than the Wednesday one, but cool vendors nonetheless. I highly recommend trying a tomato from Shady Lady, or any other tomato vendor as organic tomatoes taste 20934820980384x better than any one you can buy at the grocery store. Seriously, these tomatoes will change your life. The produce here is more expensive than what you'll get at the supermarkets, but you can taste the difference, and you can meet the people who grew them! Don't believe me, take a stroll down the Farmers Market, and try the samples. Things that you can also buy here: herb plants to grow your own, seafood, incense, meat, organic eggs, cheese and A LOT of fruits and veggies. Also, I love to see local chefs pushing around huge carts to use these ingredients in their restaurants. love love love!!
3 months ago Sophie Coppola
Pretty good selection. Upscale.
6 months ago jillcvh
It was my first time at the Santa Monica Farmers Market this past weekend. I was there to volunteer for Food Forward, an organization that focuses on food conservation and preservation. They offer bike valet for customers traveling on two wheels, a petting zoo for children and a lawn area in front to picnic and listen to the awesome jazz band. I've never seen a farmers market that had a jazz band performing live. What a wonderful treat. This farmers market offers an eating area and various coffee and food vendors that sell breakfast and lunch items. Others vendors offer crafts, unique clothing, gift items, honey, dried fruits *nuts, breads (a few bakeries) and obviously, produce. If I were you, go for the experience!
11 months ago Chance Hoover
Cute & nice, good food options and vegan options
6 months ago Timothy Bordages
Great place great atmosphere, and if you like riding scooters then you'll love Santa Monica
5 months ago Terry Bryer
Meet the people who grow your food and become intimate with what you eat. Good for farmers and good for us, a total win-win. Experience the difference of freshly harvested fruits and vegetables. Why eat a tomato which was picked green and ripened in a warehouse, when you can get the real deal straight from the vine? The only place I know to get goose eggs, no need for a golden one when you've got one that lays five dollar bills.
5 months ago Tiauana Cooper
Unreal to stumble onto this awesome experience. Everyone was selling what tbey grew or made. I loved it..healthy..peaceful loving atmosphere. I ate one of the best omelettes ive ever had in my life!! I will be back...many times over.
7 months ago floyd spearman
I love this farmers market it is a place where families gather and grab food and sit on the lawn and hang out. Kids are running around there's usually a band playing. There are a lot of prepared foods like breakfast burritos and freshly squeezed juices and things like that in addition to the vegetables and fruits brought my local farmers. If you ride your bike there they have a bike valet.
1 month ago Drew Jeffcoat
I love this place! The food in here its delicious and the products are always fresh!!
11 months ago Veronica Hoyt
Love my little neighborhood Sunday farmers market
6 months ago
Popular places from the category Farmers' market