Centinela Feed & Pet Supplies
Pet supply store Centinela Feed & Pet Supplies, 1164 S Robertson Blvd #1404, Los Angeles, CA 90035, United States:
58 reviews
of users and employees, detailed information about the address, opening hours, location on the map, attendance, photos, menus, phone number and a huge amount of other detailed and useful information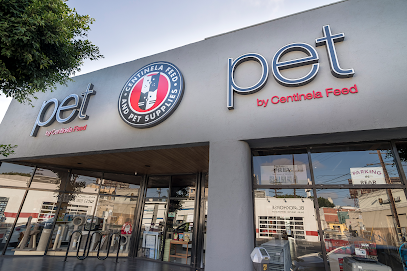 Address:
1164 S Robertson Blvd #1404, Los Angeles, CA 90035, United States
GPS coordinates
Latitude:
34.0553686
Longitude:
-118.3834067
Location on the map
Reviews Diana Reyes
Great pet shop! They have almost everything you can need when you first get a pet. The store employees are so helpful. I went in three times during the first week I adopted my cat. Their prices are good (slightly cheaper than a nearby store). They also have a great loyalty program and they have discounts every weekend. There is also parking in the back which is great.
7 months ago veronica Arguijo
I went their to ask about my dog eyes issues ,The salesperson at the store, gave me that #eye wash for her #eyes infection !!! Her eyes are clear !!! Now ##My poppy is happy #ChunkaChanka !! Thank you so much for your help ????????
4 months ago Roy Tuttle
My dog is a picky eater, even when it's treats. I have gone to multiple stores hoping to find the treat that my dog like and nothing worked. The employee at this store took the time to see my dog, understand his issues and find the right treat for him. The staff here are super friendly. They have plenty of parking space on the alley side of the store. Even otherwise finding metered street parking is not that difficulty.
6 months ago Elizabeth Brewer
This pet shop offers high-quality merchandise at fair prices. I wanted to buy some dog supplies from this shop the other day. They were truthful and thankful to me, and I reciprocated. This shop is one of the best in my city, in my opinion. If you're looking for a dependable store, this is the way to go. It's undeniably tasty!
8 months ago Mordechai Hoschander
Great place. Great customer service Itzel was very nice and informative in regards to recommendations for my puppy. Will definitely go back.
6 months ago Josh John
In addition, this pet shop provides low-cost, high-quality services for all dog and cat breeds. Managers, on the other hand, make it a privilege to work with them. They were able to respond to all of my questions, showing their knowledge. If you haven't already, you should go to this pet store.
10 months ago Thomas P
This pet store sells reasonably priced, high-quality items. I had to go to this store the other day to get some supplies for my puppies. They were respectful of me, which I appreciated. This shop, in my opinion, is one of the best in my neighborhood. This is the place to go if you're looking for a dependable grocery store. It's an absolute must-try!
8 months ago Debarghya Das
This pet shop is well-maintained and easy to find. Employees are also friendly and courteous. They have a wide selection of pet food, including some tasty locally grown dog food. Cat food is available in a variety of flavours. This pet shop has had a lot of good press!
9 months ago pat sweeney
What a lovely pet store! They're all stuffed with goodies for my four-legged pals. Many of my friends and coworkers would undoubtedly be familiar with this pet shop. Their goods and services left an indelible impression on me. If you choose one of their proposals, you will not be disappointed.
9 months ago Denise Presley
Kinda weird and depressing lighting. Not so great as a place to be excited to go to, but they have good supplies. Could barely find it, business needs more visibility.
7 months ago Tina Crane
What a lovely pet store! They're all full of food for my four-legged friends. Several members of my family and coworkers have visited this pet store. Their goods and services made an indelible impression on me. If you choose one of their suggestions, you will not be disappointed.
8 months ago Ford Firm
Wonderful product - I am a return customer again and again! Exceptional tags, very quick shipping and holds up so well! I recommend to everyone.
10 months ago Alyssa Podevin
Support local! The staff is super friendly and always eager to help. They have a loyalty program too - buy 12 bags of dog food get the 13th free!
3 weeks ago Barbara Davies
Wish they had a better selection of squeaky toys.
7 months ago Jero Sanchez
Andres was soo helpful, got here at 7:03 and was so bummed that I couldn't buy my cats food! Luckily andres was in and opened up and told me he could help me out quickly! Thanks so much for the awesome customer service brotha, definitely will be my go to for all our pet food and supplies! Thanks to Andres
11 months ago Atong Takpiny
The customer service is really nice and I can always find what I look for. I recommend this shop!
2 months ago Emille Hall
Amazing staff!! I couldn't afford some stuff for a rescue dog i found on the street and they pitched in to help! No better dog place
11 months ago Kerill K
I have purchased many tags here and will continue to do so when I get more pets or move again. I love the options and styles.
1 month ago Used Rubbers
Very helpful and friendly. Highly recommend for pet needs. Every time I go to Centinela Feed & Pet Supplies the staff makes me fell like they care about our dog and go out of their way to connect with him.
3 months ago Ski Pearlz
I recently discovered Centinela Feed & Pet Supplies and I couldn't be happier ! They carry top quality products for your pets. I can't find some of my favorite brands at most pet shops, but I have found them here at Centinela. Some of my favorites include the rawhide free products, Merrick, and Ziwi. I highly recommend shopping at Centinela as opposed to Pet smart or Petco. You will notice the major difference when you see the more safe ingredients in their food products. Many major brands have rendered products in them - if you haven't heard of this please google search it. I've noticed Centinela doesn't carry any of these big brands that use rendered products - which makes me really have a lot of trust in the Centinela name. Go to Centinela to find high quality products for your loved ones. I was so happy that you all have what I needed at that moment. Thank you, guys!
9 months ago Nicole King
Great friendly service lots of sales all the time.
10 months ago Dahlia Adair
Very helpful and very well presented store.
9 months ago Kris Brasher
THANK YOU Centinela Feed & Pet Supplies, for donating space in your dog washing station to help PAWS nonprofit organization assist the needy in maintaining clean and healthy dogs!
5 months ago Surya Kuruturi
Great staff. Very knowledgeable and friendly. Love supporting them
5 months ago Diana Campbell
They had what I needed, everyone was masked, salesdude carried the heavy things to my car. Shopping as it's supposed to be.
3 weeks ago Bruce Tormanen
Staff really know their stuff and they're Uber helpful.
3 months ago Nikolai Kolev
Really appreciate the buy three get the fourth free and really good service and product.
4 months ago Ana Luisa
Parking is tough on this busy street but worth finding. Staff, friendly & helpful, easy to find things. Nice to support a locally owned business where the employees actually know the products compared to the big corporate stores.
9 months ago Nicolle Grassl
This is a nice store. Quality selection and polite, helpful employees. Reasonable prices and many good sales! Free parking in back!!
8 months ago Bee El
Well where do I begin... frequent Centinela feeds more than 10 years. Customer service is excellent. Their people know about these little Furry Friends inside and out. I was there the other day on Robertson and the customer service / research that they did to find a cat food that was discontinued went beyond the Call of Duty. I was so impressed. Food from Italy organic for cats and dogs... imported from Italy. they're located on Robertson Boulevard. Although I love all of the stores because they all are trained professionally. Knowledge of all furry creatures products.. Thank you everyone for your support. No I'm not getting paid... I'm just thankful!????????????
8 months ago Talitha Alissa
Super nice helpful staff ! Convenient rear parking. Nice neighborhood pet store outside the corporate Petco and Pet Smart blanket.
8 months ago Arthur Colwell
Anything that my pet needs is in just one place. This store is very convenient. The staff is also very knowledgeable.
9 months ago James Parsons
Centinela Feed was the solution to my frustating problem: what food would my newly adopted 12-year kitty enjoy and be able to eat (his jaw locks up) without upsetting his sensitive tummy. Ricardo at CF&PS is personable, patient, and extremely knowledgeable about their products, which are high-quality and competitively priced. He listened as I explained the special needs of my cat, and he knew exactly what to show me. I can't tell you the wave of relief that washed over me. Not only did I have great options from which to choose, but I the service I received was outstanding. I thank you Ricardo, Christopher and Leo. My cat found a new home, and I found my pet store!
9 months ago NITHYA NANTHAM
New and clean. Wide open and large without feeling cold. Great selection and they had the cat food I was looking for. The staff is a great help.
8 months ago aida abed
The place was clean and nice. Staffs were good and friendly to all. Recommended!
6 months ago Joel Gonzalez
I didn't necessarily talk to anyone or really experience this place much, but after 5 days of being away from home and missing my cats, this place was a good place to get my cat-fill.
5 months ago Syreata Brassell
The facility is very clean and the animals look healthy and happy. The experience was great.
8 months ago Thomas Cochet
Smaller store than most of the other Centinela I've been to. They didn't have the Zignature that I usually buy but the employees there were sort helpful and recommended one similar. My pups likes it so I see it as a win
8 months ago Julie Villa
Wow I had another bad experience with the store manager, didn't even greet me ,the first time I came here he looked at me like in a way like I was going to steal something, first of all Mr Store Manager I'm a soon to be first responder SEARCH AND RESCUE K9 UNIT ,you made me feel very uncomfortable I emailed someone!!! and never got a response about my visit and it wasn't the first time I've been here shopping at this store....so anyway I will no longer be purchasing at you're stores and I know I ain't the only one that has complained about this store Manager, a little small tiny ,tiny I mean tiny advice Mr Store Manager, Smile and greet at all times it ain't hard sir!! Goodbye Chris, Pablo ,Andray it was a pleasure and thank you for being customer friendly!!!!
6 months ago bravo hash
It is an amazing place. They have quality food and their customer service is very helping,friendly, and polite.
8 months ago Ronald Viers
Awesome place, best articles for my pets and very attentive staff. I highly recommend it
10 months ago Dena Craghead
Awesome place that has everything. Super helpful and family owned. Discuss and reward program.
11 months ago joe codispot
I have been coming to Centinela and everyone is always pleasant and couteous. Also, they have great quality dog food. Come and visit Centinela!
6 months ago Amanda Knight
They had helpful staff but very little variety.
6 months ago Tabitha Plummer
Great Customer Service, the store is very Organized and Clean, I found the most Healthy Dog Food recommended By a Supervisor Francisco... Thank you Francisco for all your Knowledge.
11 months ago Mohammed Mohammed
Love this place. Very friendly and helpful
9 months ago Akseli koskela
Nice service
2 months ago Mark Franusiak
There's no parking in the area.
2 months ago lorna williams
Helpful people but very pricey
10 months ago mohammed Yimer
Quiet and quick. They had everything I needed
9 months ago
Popular places from the category Pet supply store