Red Rocks Church - Littleton Campus
Christian church Red Rocks Church - Littleton Campus, 9136 W Bowles Ave, Littleton, CO 80123, United States:
103 reviews
of users and employees, detailed information about the address, opening hours, location on the map, attendance, photos, menus, phone number and a huge amount of other detailed and useful information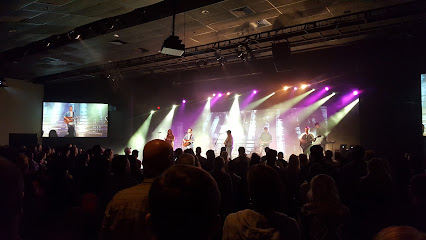 Address:
9136 W Bowles Ave, Littleton, CO 80123, United States
GPS coordinates
Latitude:
39.6080642
Longitude:
-105.1009701
Location on the map
Reviews Nick Masek
Absolutely love this place, saved my life.
9 months ago Shneki Minsky
Since we began attending and serving at Red Rocks a little over a year ago, my wife and I (who is currently an intern at Red Rocks) have been enjoying the most healthy and life-giving seasons of our marriage and life in general. Is Red Rocks perfect? Of course not. As Pastor Shawn says we are a bunch of imperfect people pursuing a perfect God. As someone who is a regular attender and volunteer as well as someone who knows a little bit more of what goes on behind the scenes, I can wholeheartedly say the way God is moving here is nothing short of miraculous and the directional leadership at this church is one of the most gifted yet humble teams any church has ever seen. Red Rocks is huge, with over 12,000 attending weekly as of February of 2017. If you are attending for the first time and want to get to know people the best way to do so is by serving in one of the ministries or signing up for a life group. It is easy to be anonymous at this church because many of the worship gatherings have 1,000+ people and you cannot expect the staff to meet everyone. If you want to get plugged in, take initiative to make it happen. If you attend for the first time, I recommend arriving 15 minutes early to find a good parking spot, especially on Saturday evening since that is when the pastors preach live. This is my most long winded google review but I feel strongly about this place because of how much it has impacted my family! You will not regret visiting.
1 month ago Jerry Tendar
Love being a part of this uplifting church and getting to see all the good the church is doing around us! Wearing a mask during worship is hard but we truly feel the space is safe during this time.
3 months ago Neal Fillmore
EVERY time I've visited the sermon has been well delivered and well received. Seriously uncanny timing for many of them, no coincidence I'm sure. The pastors are passionate about the message. The sermons are seasonal and timely, without being overly about the literal text and more about the message and how we can apply it to our lives in modern times. The music is uplifting and the band always puts their heart and soul into the performance. Thanks for being here for the community.
10 months ago BiRD MaN
Great service and great pastor. Beautiful facility.
8 months ago Nnini Stokwe
I haven't been to church in over 30 years. My son and his new wife have let us know about this newer concept. We watched the Christmas eve sermon on TV today and I was truly moved. Not bible thumpers like I was raised by, young and excitable people that are so passionate. I would love to go and see it in person. Thank you for helping us...
11 months ago Alex Guevara
It's been many years since I've stepped foot in a church setting. As most often happens, in tough times we lose direction. I've visited 3 times so far, with my daughter who is 3.5. She loves it and so do I. It has become our Sunday routine, followed by a trip to the river to catch a few trout together. My daughter loves drums. Last Sunday, she was begging me to go on stage and watch them play. I told her to ask Conrad. It was my first interaction with him and he made us both feel extremely welcomed. We made the right choice. Thanks in advance, Red Rocks!
11 months ago Tegan Swift
Want to just be happy you went somewhere? Like a concert at Red Rocks.Fun - Positive - to the point,and you will feel like they know you and are talking directly to YOU.Caution - Will be habit forming.Several services all weekend,and the musicians are top 10 quality. I had to be talked into going the first time,and now I ask what time we are going.FEEL GOOD EXPERIENCE!! NON DENOMINATIONAL - SOMETHING FOR EVERYBODY.
2 months ago andrew luther
It was my first visit to the church. The worship was inspiring and the message moving. I would recommend checking out the church if you are looking for a new church home.
8 months ago deepa palur
Amazing! Dont even have the words to explain. God's presence is definitely at Red Rocks Church. The worship is superb, Sean Johnson and Conrad are great. All of the pastors are excellent.
2 months ago Jodie Jones
Love this church! Especially love it when the sermons are updated on the website the same day it actually happens! Gives us the opportunity not only to watch the sermon or full service again but if we can't make it to mass we can just hop online to watch it! I recommend everyone to stop by! Such an amazing place ! Great people and amazing pastor !
8 months ago Sami Salman
Very down to earth and real. Accepting of everyone and truly caring. Everyone is treated like family not members. Great way to connect with God in worship and fun to listen to sermons. Their website says it all. Very professional and loving people. Recommend checking any of RRC locations.
10 months ago john hall
Love this church. Have been going nearly 8 years. Would suggest to anyone. We accept ALL.
11 months ago Jonathan Martin
Worship is wonderful. Sermons are great but you will usually have to watch them from a prerecording at church. The young adults are very "cliquey", even the staff members. I volunteered for kids rocks and there were days nobody said hi to me. My friend had the same experience years ago. If you're a new, young adult... good luck connecting. They closed Evergreen location because of money but they are building a church in Parker and Texas ???? I will not return to any Red Rocks churches. Going to find a church that people and staff members actually says hi to you.
11 months ago L Mathew
I've been looking for an uplifting church where I don't feel shame. 3rd week and I love it! Love the mix tape! I'm 38 And I like that there is a close age group. Thankyou for sharing your past and present with us today. Can't wait for the next service????
8 months ago Emil Hood
Open the church please!!!!!! Do not fear!! God is with us, for us!
9 months ago Low Low
Excellent church. Non-denominational, bible believers and great teaching!
9 months ago Chuck Laster
Awesome first time going to church here. Resonated well with church being born in the 70s. Very hip and open to the love of Christ. If you don't like religion but are curious about Jesus, stop by. Similar to the great work of big churches like Flat Irons. You won't feel judged here. Everyone is welcome if you're curious.
3 months ago Priscilla Briggs
Great atmosphere, great people. Would like to see the ministers message live every time rather than video and would like to see same leader of the church weekly give message versus having random people give the message.
10 months ago Ray Johnson
It's a wonderful experience to see a church touch so many lives. Their God behind bars service changed my life.
11 months ago Sergiyny
Love this place. So thankful that we found a church we can call home! First timers will find a relaxed atmosphere where you can go to hear truth about the word of God.. in a very real way! Very positive experiences and very thankful to find such a down to earth, heaven-seeking crowd. Hospital for sinners, not a museum for saints. All are welcome no matter what. Hope to see some new faces next week :)
2 months ago Stephanie Morris
Contemporary worship & Spirit filled. I've been really enjoying the worship and message! I've attended 4 times in a row, and each time the message has been very personable and challenging. The pastors seem to be very friendly, approachable and transparent.
1 month ago Mitch Versloot
Amazing place. Everyone is so kind and accepting. A gem for the community of Littleton. Highly recommend visiting to anyone and everyone!!!
8 months ago Jillian Bakke
Red rocks has been amazing, we started attending when we moved to Denver 3 years ago and never looked back! Love this place so much ❤️
4 months ago Hadian Hartanto
There is no other church like Red Rocks. Amazing in every way that a church can be. Great leadership, excellent messages and the services are never too long.
8 months ago Michael Saia
Awesome people and what a message! Anyone can attend, not a "perfect person only" church. The Saturday evening 4pm service is presented live, others may be taped. It's was full, arrive early.
1 week ago Andrew Zemlock
Always greeted with open arm.and great cents of belonging.
10 months ago Donna Bowden
Our family started coming to Red Rocks about 5 years ago and we absolutely love it! Everyone is so warm and welcoming and the music is great!!
10 months ago Mike Day
The worship here rocks you to the core! Very freindly people and solid teaching. Parking is an issue, so come early.
11 months ago K Koz
This church is run by Jesus Christ. Never in my life have I found a better experience than I have found at Red Rocks Church. I was rasied in a different faith but I found what a relationship with Jesus Christ looks like by attending and by serving the Red Rocks Ministry. The Ministry of this church is divinely inspired. I am so thankful that Red Rocks Church is in my life. I am a single mother of 5 boys. I find hope in raising them here. Pastor Shawn thank you, your love shows for people. Your messages and those of Chad have moved me in such a way that I want to make Heaven more crowded every day by helping others to see what a relationship with Jesus looks like. My prayers go out to you and your families, thank you for listening to the Holy Spirit speak to you and bring it to Denver. My life and that of my sons will be forever changed.
11 months ago Libby CJ
My son found this church. He invited me to come with him. These people are the very best and some of most messed up people you will meet. They invite everyone. Remember this church is for the lost, outcast and sinning people who are looking for Jesus. It is not for those who want a polite cover dressing. So come, worship, pray, repent and get to know Jesus our savior.
8 months ago Keeley Carter
AMAZING church with relavent, mind blowing sermons and the best praise and worship team I've ever seen.
1 month ago Bobby Gallo
I go to Celebrate Recovery at this campus and I love it!! It's helped me get through a lot of really tough stuff. I love my CR family and my Red rocks family
11 months ago Janelle Jesse
I'm new to religious followings, but the unanimous messages given are uplifting. If not to find god, definitely go for inspiration. Love the music, love the message. Do it up RED ROCKS CHURCH.
8 months ago Dahlia Adair
Beautiful place.
5 months ago Faith Witt
Since the first time I walked into a Red Rocks service, this place has been home for me! I have grown so much closer to the Lord and have such a strong community of friends by my side. Red Rocks is so different than any other church I have ever gone to and the pastors are some of my favorite people in the world. The mission of Red Rocks is to make heaven more crowded and it shows through their every action. Just jump right in and get plugged in by volunteering, joining a LifeGroup, or the many other ways to get involved! You will not regret it and it will change your life forever!
8 months ago Steven Hester
I do not recommend this group to any existing believers. If you are completely lost this is a great place to start. Trendy and very cliquey. LIKE HIGH SCHOOL! However if you are looking for real leadership you'll have to look elsewhere. They preach the feel good stuff like personal development and lack a real devotion and understanding for The Word Of God. Several years ago the lead paster gave a sermon on Easter about a visit to Israel and laughed about his time over the Sabbath and his complete lack of understanding reguarding it from a Jewish perspective. A leader in the church should know these things before attempting to lead others in my opinion. Not even a sermon on the crucifixion on the day of. Anyways if you want to give your money away to grow a select few's wealth, go here! This place will be one left in the end and bring their followers with them into darkness awaiting for those who don't go when the tumpets sound. These folks are the exact ones who will say only their god can judge them for the life they live outside the light. Actually it is a duty of a believer to identify sin and sin lives here unfortunately. Sad but true. A kindergarten church and not a place to stay to truly grow in the scripture. Maybe The Lord will bring some righteous leadership to this house before the end so it can truly bleed life. Any place I need my inhaler to sit through that claims to represent The Father IS doing it WRONG. Fog machines at church is a dang joke! I feel it is my duty as a follower of Christ to make it clear where this place ranks for one's spiritual growth. Dont sell yourself short and end up here for too long.
8 months ago Tim Davis
A great place to come to learn about God and grow spiritually. Everyone who is part of RRC is friendly and their mission is genuine. They welcome everyone and truly accept you no matter where you are at in your walk witj Christ. The messages are ro the point, norhing weird, just the message of the gospel and the desire to share it with all. People of all ages, even kids find something for them. Come with the family or on your own. It is truly a welcoming church.
1 month ago Autumn Hobbs
LTN4Life. Lakewood and Arvada are amazing and changing lives everyday, but Littleton youth is where God wants me and I'm beyond thrilled He put me here. Listening to God's voice becomes easier the more you do it and the more eager you become to hear again.
8 months ago Amanda Williams
It's used to be so good now anytime I come I smell a marijuana from people, sound they are just smoked and run in. Certainly not recommend
9 months ago Daniel Humphrey
This place will change your life! HIGHLY recommend (any of their locations).
8 months ago Merlotte Toussaint
Our home church. This place is amazing. Everyone is welcome, no questions. Online, several campuses, and no dress code. Love RRC!
1 month ago Spencer Christie
My son and friends love it and I know they are safe
10 months ago Miz Divine
Love this place! My all time favorite church.
11 months ago Katherine Leblanc
If your looking for a extent church this is the one and that make you feel at home
4 months ago jonathan ortiz
Growing rapidly, Red Rocks Church speaks for it self. I LOVE MY CHURCH... I LOVE VOLUNTEERING, I LOVE OUR PASTORS AND I LOVE OUR MUSIC MINISTRY, OUR CHILDRENS MINISTRY, OUR YOUTH MINISTRY AND THAT'S JUST THE TIP OF GOD'S MOUNTAIN. WE ARE THRIVING TO MAKE HEAVEN MORE CROWDED. MAY GOD'S WILL BE DONE.
3 months ago Falaq Sohaib
I used to love this church. I think for the most part their heart is in the right place, I just feel uneasy about some of their expansion moves.
4 months ago Alistair Randall
Great church! ⛪
9 months ago Jessica
A place where honesty and vulnerability are encouraged to help make people whole and healed. The name of Jesus Christ is proclaimed. And a place you can go to fellowship with God and refocus on Him.
1 month ago Doug Scott
Such an incredible place to find fellowship and worship GOD! I am home here ????
3 weeks ago
Popular places from the category Christian church