Incredibly Delicious
Bakery Incredibly Delicious, 925 S 7th St, Springfield, IL 62703, United States:
220 reviews
of users and employees, detailed information about the address, opening hours, location on the map, attendance, photos, menus, phone number and a huge amount of other detailed and useful information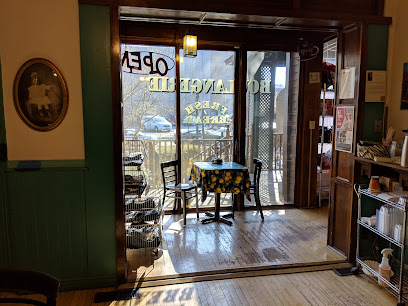 Address:
925 S 7th St, Springfield, IL 62703, United States
Website:
incrediblydelicious.com
GPS coordinates
Latitude:
39.7919296
Longitude:
-89.6469664
Location on the map
Reviews Man God
One thing I could never comprehend about incredibly delicious is spending over 15-20 minutes waiting for goods that are already prepared. This is not a covid issue. This has been the case for years of eating here. Edit: I'm aware it's not fast food. I will call in ahead of time to get a faster turn around time.
5 months ago Alan Wilson
Should be renamed, Incredibly Affordable, Beautiful & Delicious. I sent a design inspo pic to them by email and received a quote wayyyy below what I was expecting. I wanted fresh flowers for the design and the finish product looked even better than the inspo pic. Everyone kept talking about the cake and taking pictures with it. Did I mention how DELICIOUS this cake was?!! OMG. Really amazing. This will be my go-to place for special occasions cakes. Thank you so much for making the most beautiful birthday cake for me.
5 months ago Kevin Meade
Was super excited to try this cute place. A little disappointed at the set up? After the very congested ordering station . I then went outside to find a table. Only one left was dirty so I kind of stood behind it waiting for an employee to pass by. Once they did I asked if they could clean the table. His remark was that " I should've found a clean table". There were not any other tables. The employees seemed discombobulated and super stressed out. The quiche and tomato soup was just okay. The portion size was extremely small as well. The decaf americano was very watered down. Not sure I will return for lunch close to $20 including tip. There really wasn't any service so in reality no need to actually tip.
6 months ago Mark K
Absolutely gorgeous french bakery in a historic building. The ambience is chic and inviting, the staff informative and friendly, and the food is scrumptious!
1 month ago Jeremiah Rodriguez
Such a cute place. Outside felt like something from wonderland with the beautiful plants. Rabits. And birds even sang to us. Our puppies were welcome outside while we ate as well. The tarts are incredibly delicious. We drove back on our way home from vacation and stopped in springfield just for their tarts!!
6 months ago Miriam Sadofsky
Great fresh baked goods as well as delicious breakfast and lunch items. Best bread in town with real pastry chef creations in an old Springfield mansion...almost European in feel.
8 months ago Sandra Park
Great food and great location. The breakfast croissant is amazing and the seating is unique inside and outside.
6 months ago Doc Van
I have a Chicago friend who visits regularly thanks to the goodies he can get at Incredibly Delicious! Birthday cakes are ordered there and never disappoint; the raspberry croissants they sell at the farmer's market are reason enough to get there before 8:00 a.m.or risk them being sold out: the fruit tarts are visually breathtaking with flavor to match and they always have macarons that melt in your mouth. Its truly Incredibly Delicious!
8 months ago Migel Kams
Appropriate name as the bread and pastries we got we're incredible! Staff was very friendly, helpful and patient while we decided which delicious pastries we wanted.
6 months ago Derek Marsh
Only visited once to order curbside. The pastries were delicious. We can't wait until the pandemic is over to visit inside. Looks like a cool place and we really appreciated the friendliness of the curbside staff.
11 months ago Sheila Saxton
The people at this bakery are friendly & helpful & kind. My experience is from a gluten-free perspective at breakfast time. I knew they had gluten-free options before I went & I am glad for that. The only option was a sald with feta, 2 eggs, and dressing. When it was delivered it had bread on top of the salad. I explained that bread should not be included with a gluten-free meal. It was just an oversight. They apologized & all was wel, however, it would be nice to have had a gluten-free bread & butter with my meal, especially at a bakery. The only gluten-free options in their baked goods was a flourless chocolate cake which I got & it was good, but I have had better (Big View Diner in Charlotte, NC) and some macarons. When staring at all the many options with gluten in their display case, I would have a few more gluten-free options. My sister said her quiche & her bread were excellent! There was no butter for her bread though. My decaf latte did not have a good coffee flavor. That would be the roast of the beans being used as espresso. For gluten-free there are a couple options. For those who can eat whatever they want, this is a good place to go.
6 months ago Rosana Santos
I've been loving this place for years. I get so excited to try their new seasonal dishes. I bring all my friends and family here anybtime I get the chance. Amazing service, too.
9 months ago rasika yamal
They make some the best pastries and desserts around... you've got to give them a try
7 months ago Jay Draeger
Lovely French bakery in the heart of Springfield! A must if you are in town. Only place to buy fresh macarons outside of Chicago. (Not macaroon but macaron)
3 months ago Susan Brighenti
An absolute gem here in town. Lovely setting, the pastries, cakes and such are stunningly beautiful. Did I mention delicious? Fabulous.
10 months ago Carolin McDonald
Chocolate croissants are worth it. My husband and I order a bag of bread for the week. They never disappoint.
8 months ago Tim Fox
This place deserves beyond five stars. I have never been to a more superior bakery, even in Chicago. It is very hard to find such excellent places. The quiche was the best I've had, and every bakery item I had was great as well. Even the bread was delicious. Plus, the historic building has a charming and interesting decor. There is also a beautiful garden. Definitely worth the trip and a must-go-to place. I wish we had such quality in Chicago.
7 months ago Stefanie Greene
The name says it all! I've eater here or carried out dozens of times, and the baked goods and salads are A1.
6 months ago Yasemin Tml
My favorite place in Springfield! Wonderful food made with quality ingredients and with great care. Love the beautiful old building too. Plenty of seating. And did I mention the fabulous desserts?
11 months ago Meagan Caraballo
I placed an order for a layer cake with fairly short notice. They were great on the phone. Said no problem I could get a cake . Picked it up a few days later and it was very nicely done and oh my was it delicious!!! They did a wonderful wonderful job on the cake! It was just what I wanted!!!
1 month ago Marcus Hawkins
Try the apricot croissant! It is incredible and very unique. The coffee is delicious and the ambience is unique. It is a wonderful Victorian home. Friendly staff too. ???????? The name says it all.
6 months ago Ioakeim Zoumpanidopoulos
We enjoyed our choices of the breakfast horseshoe and the bbq pork Mac and cheese. They were delicious. Yummy ❤❤
8 months ago Gregory Crump
They made our wedding cake and it was fantastic! Went back for a globe cake and it was perfect!
9 months ago Mitch Castro
Great food and awesome atmosphere.
6 months ago Jeanette Ivy
I want to eat all the cakes & cookies! The food is also incredibly delicious! I love sitting outside in the beautiful garden it's so relaxing
8 months ago Christina Pendergrast
They live up to their name! Beautiful, historic building with gorgeous flowers. Chicken salad is divine. Pastries and desserts also perfection.
2 months ago Madison Davis
The name speaks for itself. Whether it's breakfast, lunch or dessert they have never disappointed. It's a breakfast staple.
4 months ago Mandy Rope
Their avocado toast, chicken salad, macarons, and croissants are so good! I can't wait to try other items off their menu. Plus their outdoor dining in their garden is so peaceful and a great setting. Their location is easy to get to. I'd definitely recommend this place. You can even order on the Cloosiv app. It's super easy.
6 months ago Stan Rothstein
Easy to order on the Cloosiv app, drove up and clicked the I arrived button in the app and my order was brought right out. Got home and I was missing part of my order, called the cafe and the staff assisted me to either refund my missed items or come pack to pick them up. I went back and Patrick went and got the missed items right away even when they were trying to get Easter orders out to everyone waiting. Thank you for all the dedication and great delicious items to help us celebrate Easter at home this year.
9 months ago TEKEISHA TAYLOR
There lemon raspberry cake is absolutely delicious
11 months ago Vincent Tanner
The bakery is unique with many delicious treats available fresh daily. The macrons are the best I have ever eaten, and the flavors change all the time. The lunch menu is very satisfying as well.
6 months ago Sara Beard
Favorite bakery - try to go there for all my baked good needs. Everything is delicious particularly the croissants (almond and raspberry) as well as the macaroons. Options range from sweet to tart and they sell a variety of local goods. Love it.
11 months ago Renata M
The best deserts I've ever eaten. Huge variety of olive oil as well, all of which is a new experience of flavor. The shop itself is beautiful with a comfortable ambiance. Customer service is outstanding.
6 months ago heesop kim
The croissant breakfast sandwich was very good!
7 months ago Joe McLellan
We buy bread and pastry and occasionally have lunch here. The food is excellent, and the setting in an old mansion is pleasant. Being able to eat outside adds a nice, seasonal touch. The staff is always friendly. Try the almond croissants. Mmmmm.
7 months ago Idel Bass
Great place for breakfast. Lunch as well. The desserts are amazing as well.
2 months ago Ashley Ingram
My first visit to a tea room has left me feeling aloof. Food was eh, service not so good and the delivery of food was timed wrong. Out of items. 40 bucks for 2 concluding dessert and coffee. I will give it another chance just for the desserts.
1 week ago Traverus Moore
The food continues to be very good - best croissants you'll find in town. However, staff can be hit/miss (cashier acted as if I was annoying her, yet another staff member was very attentive in the dining area) and the premises needs maintenance - dust you can write your name in, loose tiles, etc. The exterior also needs restoration - the original restoration work is getting worn. As it is a National Register site, parts of the exterior shouldn't be crumbling, peeling, rotting...esp. if the disrepair presents a hazard. Now is not the time to start riding on your laurels.
8 months ago Ashish Jain
Such a nice bakery in a historic old home. I love the chocolate croissants. I do wish that there was more labeling in the display case so I knew what i was looking at. It would make it much more tempting to order.
9 months ago Marius Lutz
Good coffee and super charming location. The only thing I was surprised about was the lack of wifi. That would be a welcomed edition.
9 months ago bapurr
Relies too much on reputation.
9 months ago Sienna Wheeler
It led us right to the bakery! We just had to find a place to park, but it was good.
3 months ago Edwin Hall
Friendly and helpful staff are just the icing on the cake to their super yummy offerings!! Best in town!
6 months ago subto popFREAK
Great selection of food in a variety of options. Ordered the organic yogurt with fruit. Very helpful and fun bunch of staff. They always have a great time helping and serving people.
7 months ago Roger Chambers
The cake was beyond delicious.
2 months ago Joevis Tai
Excellent food!
7 months ago Tiffany To
Wonderful pastry, quiche, sandwiches, coffee. I highly recommend. It is in a 100 year old house which usually is charming. I temporarily needed accessible location with a walker, and accessible tables are on lower level away from most of the restaurant. That is why only 4 stars.
9 months ago Caroline Walker
Such a gem! Definitely a must! Quiet cozy and welcoming atmosphere. Excellent spot for a morning coffee and pastry! Delish! Highly recommended.
11 months ago Jus Me
The name is no lie, it is INCREDIBLY DELICIOUS! I've never had a bad meal or drink here. They make the best French Macarons I've ever tasted....and I've traveled extensively and tried them pretty much everywhere. Even ordering desserts from them was painless (cookies and French macarons for my sister's bridal shower) - they were adorably done, reasonably priced, and the staff so accommodating over the weekend after Thanksgiving. 100% recommend!
11 months ago Charles Seeley
Overrated. Lunch selection is nice, but the cakes and desserts don't offer that "from scratch" richness or "I couldn't make this myself" pleasure I look for in a bakery. We considered them for our wedding cake anyway, given that they're probably the best show in town. When we went for a pre-scheduled tasting, they just gave us two pieces of cake from the sale case in a seasonal fall flavor that wouldn't even be possible for a spring wedding. They also handed us six forks --- a bit awkward for parents who had just met each other. We have a few other complaints but I think that's enough; I do want more businesses like this in Springfield, but I wish there was enough competition to make this one better. In a more foodie town, it would just be one of many decent possibilities.
11 months ago
Popular places from the category Bakery