Incredibly Delicious
Bakery Incredibly Delicious, 925 S 7th St, Springfield, IL 62703, United States:
220 reviews
of users and employees, detailed information about the address, opening hours, location on the map, attendance, photos, menus, phone number and a huge amount of other detailed and useful information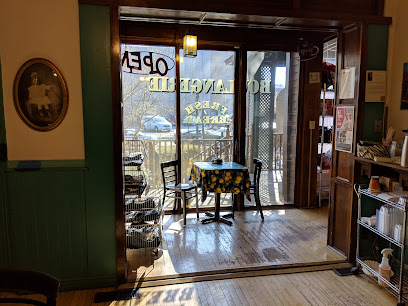 Address:
925 S 7th St, Springfield, IL 62703, United States
GPS coordinates
Latitude:
39.7919296
Longitude:
-89.6469664
Location on the map
Reviews Bryan Adams
The food is great here, amazing bakery!
9 months ago madhu mithaa
My favorite breakfast place in Springfield! We moved to Idaho almost 2 years ago and came back for a visit and had to come here before we leave.
9 months ago Jennifer Jolicoeur
Wow - never had such bad service in my life.
3 months ago Kevin Quek
Really nice upscale bakery and cafe. Nice selection of French pastries. Speciality sandwiches.
11 months ago Jessica Lugo
Staff is very good and warm, food is to die for, simple yet so tasty, and their bakery is the best I've found in Springfield. I go here for all my breads.
6 months ago Arif Jamal
The outside garden and decor is so cozy and beautiful! Breakfast croissant a delish! And their Iced Chia coffee is perfect for a summer morning
2 months ago jacinta hillis
Best Bakery in Illinois try the wonderful place to eat, visit and work.
1 week ago Joseph Cooper
It was really nice and cozy. They have great macarons!
6 months ago Pavel Aprosov
I love their courtyard and the croissants are A+
11 months ago Sharon Skyler
Great food! It is indeed incredibly delicious.
1 month ago Kerill K
I was leaving Incredibly delicious when I heard 2 ladies looking a the line and trying to decide whether to stay or go when they mentioned they were from Chicago and had heard about IC , I couldn't help but to tell them it is worth the wait. They stayed so I'm sure when they got back to Chicago they had a lot to talk about
6 months ago Susan Lehan
Authentic french food and pastry. Iconic local bakery and restaurant. Wonderful place to work!
1 month ago Kory Drake
Incredibly wonderful and tasteful soups, sandwiches,pastries and cakes at incredible prices. Second to none.
1 week ago Merlandie pierre
Very good food and good service.I see why it's popular.
10 months ago Auto Grue
The food & desserts are excellent! The many flavors of macaroons are my favorite!
1 month ago Nate Paine
The best coffee in town .The orange almond coconut cookie IS SO DELICIOUSSSSS
6 months ago Saikat Mukherjee
Shop local first! great place. Little pricey
11 months ago Deb Huston
Everything served is just as the name promises. Baked goods are exquisite, baguettes just like Paris. The best coffee, too.
1 month ago Shifali Doda
Great place, beautiful house! The staff is really friendly, great experience for breakfast!
1 week ago Lynne Kokoski
The best kept secret for the best breakfest in Springfield.
10 months ago Clark Nelson
The best bakery in town ! Have some macaroons if you have never tried one. They have huge selection of macaroons to choose.
6 months ago Gloria Martinez
As good as the name claims. My favorite item: french toast.
1 week ago David Spellman
Amazing! Beautiful home and made from scratch treats and lunches!
10 months ago Chris Romp
If you want food w/a European feel this is your place. It's expensive but worth the splurge!
10 months ago Richard Ross
they have the best breakfast sandwiches I've ever had!!!! Yummmmm!! Also the garden and house is adorable!!
6 months ago Brad Holmes
Ok but hoighty toighty!
1 week ago Wilson Blanchard
Outstanding bakery. Expect a line on a Saturday for brunch, but totally worth it.
9 months ago Duane Rigsby
This is THE best lunch place in Springfield by far. Geoff Jr.
2 months ago gourav gaykwad
A must taste place, best treats in town.
11 months ago Rob Yapchanyk
Great food!
8 months ago Tre Customer
Almond croissants are amazing . . . Love this place!
10 months ago Abhishek Saxena
Enjoy the quiches. Good desserts.
6 months ago John Bruce
Great espresso, amazing macarons and flourless chocolate cake
11 months ago Mark Mann
The name is absolutely descriptive of the experience!
1 week ago Tamim Belal
Great pastries, okay breakfast menu.
6 months ago Patrick Maguire
The name don't lie.
9 months ago Will Westmoreland
Enjoy ❤️ Excellent
2 months ago Niculaie Ciotlos
Awesome love this place????
6 months ago Adel Ahmed
Excellent pastries and soups. Love the mansion.
4 months ago N KB
Good food! Had a red pepper, olive and mozzerella quiche which was fab!
3 months ago Angela Slore
Great tasting pastries and bread. Very friendly staff.
10 months ago Shannon Keefer
Yummy food and beautiful historic location.
4 months ago Storm Booker
Love the service
6 months ago Chad Bennett
"Incredibly Delicious." Perfect description!
6 months ago Nicole Hundley
Very best in French cafe food!
6 months ago Reginald Robinson
Cherry tart slice was amazing.
1 week ago Gerlie Polvorosa
Great flourless chocolate cake!
6 months ago Chelsie Tandy
Everything about this place rocks. A must visit
1 week ago Marco Butler
Great landscaping, interesting menu
10 months ago Melissa Beckler
A great place for lunch.
6 months ago
Popular places from the category Bakery