The Royale Food & Spirits
American restaurant The Royale Food & Spirits, 3132 S Kingshighway Blvd, St. Louis, MO 63139, United States:
220 reviews
of users and employees, detailed information about the address, opening hours, location on the map, attendance, photos, menus, phone number and a huge amount of other detailed and useful information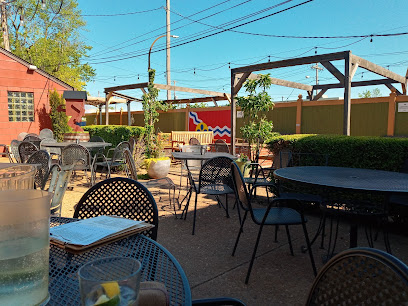 Address:
3132 S Kingshighway Blvd, St. Louis, MO 63139, United States
GPS coordinates
Latitude:
38.6040331
Longitude:
-90.2691822
Location on the map
Reviews Edward Sanchez
The Royale is great little restaurant! They have food for everyone; meat eaters, vegetarian, and vegan. Their menu is a bit small but they have an awesome beer selection and the food is excellent. Highly recommend for some food or a quick drink.
5 months ago Manuel Aguilera
If you haven't experienced this place, you're missing out. The food is consistently good, and the service is great. Their cocktail and beer offerings are spot on. The courtyard is the one of the best in StL, and the interior of the restaurant offers local artists' work as well as honors many from our past.
6 months ago Mark Bingham
Family, Family and Friends become family! Delicious food, Amazing owner who dedicates his time, heart and talent to create a fantastic neighborhood grill and bar and devotes that attention to his customers and neighborhood. Fish tacos, hummus, burgers, vegan....whatever you eat...he makes it really good.????????????????????
6 months ago Colin Dalton
Low Key Gold Mine The Royale has some of the best well-balanced cocktails in St. Louis. These bartenders really know how to make drinks well. l'm not a particular fan of Gin by itself, but their Gin drinks are absolutely delicious!
6 months ago sue dunham
Sadly I wasn't impressed.. 15.00 bucks for a buger !! Plain 70/30 ground beef? Over cooked..Over priced.. The goat chips were awesome would have loved having more then 7 chips. The bun swallowed the burger which made it appear even worse then it tasted. ????
6 months ago Roger Maurer
Great place to meet up with friends. There's a lovely outside patio and the staff are friendly. The food is delicious!
7 months ago Mario Pare
Cute south city bar. Quaint patio. Specialty drinks. Didn't eat...but sat outside. Hear they have music and good food. Covid compliant with unique set up..order at hostess stand with limited table service.
3 months ago Corey Smith
Great patio! Staff was great so was food and drink
5 months ago Heather Stevens
What an awesome first time! Good atmosphere and delicious food. The staff are great - Alex is the best! Had the spinach and artichoke dip, fish tacos, and jerk chicken sandwich and loved all of it! Highly recommend.
8 months ago David Teague
This place is the bees knees for food, cocktails and service. The patio is also boss. Love them so.
6 months ago Asnath Thobejane
We had not been here for a while but stopped in today. This place was busy even on a Sunday afternoon at 2. We have always loved their tacos but they were even better today. Apparently they are using catfish in their tacos now. The crunchy fish was complemented by even crunchier cole slaw and a tangy sauce. The black bean salsa served on the side was also delicious. Big variety of beer. There were even people out back in the garden area on this February afternoon in the mid-50's. The brisket tacos are also good but the
2 months ago Nisha Nisha
Small neighborhood bar with glass brick windows that provide great light and a cozy feel. Warm wood interior, good drink selection, very pleasant wait staff, and a small yet ambitious menu. I tried the jackfruit tacos -- flavorful and spicy without being too hot. Nice place!
8 months ago Aurelio Monte
American food and the feeling at this location is great. I will be back with my friends. This place has a great feel to it. Feels similar to a restaurant in Philadelphia that I enjoyed visiting.
11 months ago Chris Hamilton
Food was great! The hungry planet burger was phenomenal. I wish they had fries, my only reason to give 4 stars. Tve backyard patio was a beautiful haven - fireside seating and comfy chairs!
1 month ago Juliet Badke
First time there and we will be back! The tacos are amazing. Our table tried three different tacos; Jack fruit, Fish, and Beef Brisket tacos... they were all good! Even the salad they have with each is wonderful.
10 months ago Amy Deerinwater
The Royale is a hidden gem in South City. Tucked away by itself, it boasts a nice patio with a small fountain and fire pit. The spinach dip it warm and thick, and the Cajun pot pie is hearty and filling. We also got the bacon apple flatbread, which was pretty good. Could have used some more sauce. Overall nice place with an original STL vibe.
11 months ago Erin Stanley
Really good burgers that are paired well with a good drink list. Fantastic place to go out with friends.
10 months ago Felicia Mahdi
Great drinks and good atmosphere.
5 months ago Channing Cornett
I have never been here before and I fell in love! This place was great: the bartenders were friendly and gave great customer service. I got to try their impossible burger, completely vegan with daiya cheese - so delicious! Everything on the menu can be customized to be vegan and I'm super thankful for that! I can't wait to eat here again!
7 months ago Eric Norberg
Eccletic patio spaces appropriately for distance socializing. Lovely spirits and lively snacks. A good place to have a careful, clean and, Covid conscious good time.
3 months ago Xavier Dias
This is one of my go to places in S City. The food and atmosphere are top notch and the outside patio is gorgeous. Great place to spend an evening with friends.
9 months ago Ashley Roman
Amazing service staff! Wow!
7 months ago Ivelys Hilario
Very good food, better than the typical bar menu and it's got a cozy yet hip vibe. Everything I've tried on the menu is fresh and delicious! What are you waiting for?!
9 months ago Anthony Moskal
Two of us had Sunday dinner. We both had the griddle burger and a beet salad. We had read that The Royale was one of the top 10 places in St Louis for a burger. The burger was good but not great. The beet salad was excellent. Service was very good. The outside seating had an excellent ambience.
11 months ago big Cadillac
This is our go-to when we want to eat out but don't know where. Great food, great beer, great staff. Their courtyard is one of my favorites in the city, and the interior is all hardwood and cozy. Vegetarian-friendliness: They have the impossible burger, tempeh bacon, and all kinds of deliciousness.
8 months ago Ellen White
I highly recommend The Royale for good food and a nice selection of local/national beers and spirits. Try the shrimp and grits! They have a cozy inside bar space with an open patio out back. The patio separates drinkers from eaters so outdoor tables won't be stolen by folks who are just there to drink. Trivia on Monday nights as well.
1 month ago Jheon Norvell
Been to The Royale many times. While I love the atmosphere, patio and drinks, I wish the prices were a little lower. They display a sign stating that they pay a fair living wage, a bartender confirmed that the owner pays service staff well under living wage and rely on customers to make up the difference. They also don't provide health insurance or other benefits to their full time employees. Lastly, fill in the blank: burger and _________. I'm guessing you didn't say chips.
5 months ago JAMES BONO
Had a wonderful time!
5 months ago Jaime johnson
This is one of my go to places in S City. The food and atmosphere are top notch and the outside patio is gorgeous. Great place to spend an evening with friends.
4 months ago Melinda Coker
Good curated beer selection and amazing Sweet Potato Salad
5 months ago Brian Hawley
Good service, good food, good beer
6 months ago Ram Bas
Wowwy wow wow wow! What a great find. Amy and I ate on the patio, had a magical evening. Make reservations, food was great. Greatest gazpacho ever.
6 months ago David Heck
Expertly prepared craft cocktails from an extensive selection of spirits. Cozy indoor seating with a large outdoor patio/yard area when the weather is nice. Friendly staff and owner,.to boot. You'd be hard pressed to find a better bar in St. Louis! Cheers!
11 months ago J Elj
I CANNOT WAIT to eat my way through this menu. Oh my gosh!! The food is meat-eater, vegetarian, vegan, gluten-free friendly and everything I ate was delicious!! I even ordered dessert just to try something else on their menu. The ambiance is chill and relaxed. Our server was amazing. He talked about the menu with us, told us good stuff to try....I felt like he should have joined us at the table for dinner. He made it a very family like experience. I can't wait to try their cocktails. Seriously......eat here.........
1 month ago MrSteal YoGirl
Great, socially distant patio with a great hot toddy.
1 month ago David Michael
Classic yet contemporary STL spot, neighborhood fave for locals and city visitors
2 months ago Nancy Hammill
Great vibe on the patio. Fab folks all around.
2 months ago Laura Hoyer
Um, this place is my jam - patio never disappoints!
9 months ago Nena Chavez
We love The Royale for their food, affordable drinks, and basically any menu item. Last week a friend had a screening of her video on the patio, and it was so cozy with a fire pit, hanging lights and the smell of fall. 'Best bar in TGS!
9 months ago Thelma Bouts
Delicious food. They have a unique menu. Every item has its own little twist. I like that they had a vegan and gluten free option for a lot of menu items. Oooo and what restaurant have u been to that offers fresh pressed juice yum!
8 months ago Paulina Guerrero
Short review: It's a great place to have a drink or some food. Comfy/cozy setting with lots of options for food and drink. Long review: THE DRINKS: a pretty large assortment of options. I had the Really Rye Old Fashioned and enjoyed it. Not your typical old fashioned. Had some bite I didn't expect. (Yeah, yeah, I know rye as some bite, but it went beyond that!) THE FOOD: On my most recent visit I had the hummus appetizer and the impossible burger as my main. I was a little disappointed to see they give you less pita than they used to with the hummus. But they used to give you A TON. So I get it, probably not cost effective to be handing out that much pita with every order of hummus. Plus, you get some good veggies to dip as well. The impossible burger was GREAT. THE PLACE: I love the ambiance of The Royale. We sat inside and it was really chill and not too noisy (but noisy enough, you know what I mean?). THE PEOPLE: staff were all friendly and prompt with service. THE PRICE: I'm probably not equipped to compare The Royale to other places of it's kind. All I can say is the food and drink was worth what I paid. Go here!
8 months ago Omero Gamez
Nice place, good food, fun atmosphere. Good for casual hang outs or even a business meeting and even a date.
5 months ago Gladwin
We LOVE the Royale! Fantastic beer selection, great cocktails, and the doggo loves the patio!
11 months ago Tracy Davis
This place has a cool hip vibe, great high end gourmet bar food, drinks and liquor selection is exceptional.
8 months ago Hernan Lopez
The Royale has premium bar food and exceptional service. The patio is also really neat, especially considering its close proximity to busy kingshighway (it's fenced so you don't notice the noise).
6 months ago Kelsey Russell
Great for some casual drinks and great food! Menu is limited but really well done. Get the brisket tacos, they are amazing. The service is ways great here and they have a ton of outdoor seating.
6 months ago Maria Martinez
Small cozy. Good food. Live music Sunday afternoon.
8 months ago Stormy T
Thia place makes me cool. My local bar with deep neighborhood roots. Cocktails on the patio is a must with great fair.
7 months ago Ahmed Naushad
Great experience all around. The menu is above expetations and mostly Vegetarian! Some meat options... be caters to vegan and veggie friends the most. The beer selection is on point and cocktails are well made. Pretty beer garden in the back, staff is friendly and professional.
9 months ago Lee Kafka
Great place to enjoy food and drinks with friends. Great atmosphere. Interesting menu.
7 months ago
Popular places from the category American restaurant