Come Back In
Bar Come Back In, 508 E Wilson St, Madison, WI 53703, United States:
220 reviews
of users and employees, detailed information about the address, opening hours, location on the map, attendance, photos, menus, phone number and a huge amount of other detailed and useful information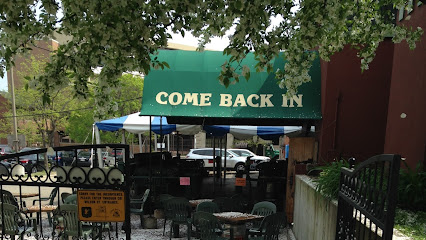 Address:
508 E Wilson St, Madison, WI 53703, United States
GPS coordinates
Latitude:
43.0760750
Longitude:
-89.3767080
Location on the map
Reviews Austin Alexander
I seemed to remember the experience being better years ago but just know what to expect going in. Ambiance is a tad rustic and the mimosas as inexpensive as they are are more juice than anything else, at least from this bartender today. The food was just alright although my stuffed french toast was superb. I won't need to go back is my conclusion especially with so many better options out there.
9 months ago Monica Nell
Excellent food for a great price! Can't beat the bottomless mimosas and bloody marys on the weekend from 8-3! Outdoor seating is great by the large parking lot where many community events and live music take place. Wonderful place to grab brunch or lunch in the sun! There's plenty of indoor and bar seating available as well.
7 months ago David Smith
Great food. Priced well. Waitress was fantastic. So was the rest of the staff. Enjoyed the outside bar too in below 0 weather. Thought we were in Iceland. Bartender there very friendly and cold!!????????Had a good talk with the Chef. ???????? We will be back!
11 months ago RL Pelshaw
This place is awesome Super friendly staff, nice people, the fish fry was so delicious! Check it out for live music. Thanks for hosting the show!
7 months ago Miles Henry
Food surprisingly good for what appears at first glance to be a common tavern. Brunch portions were very generous.
8 months ago Robert Jergensen
Breakfast on the weekend is amazing! The perfect way to ease into your day!
7 months ago Amanda Lawson
Cool spot, one pool table, some darts. Not overly loud. 9/10
7 months ago Nico Helton
The biscuits & gravy, eggs, & potatoes all were delicious. The service was great and I had a nice view of the lake at my booth.
7 months ago Julie Winter
It was great. I enjoyed karaoke on Sunday and they have kept it very social-distance-adequate.
9 months ago Leah Blake
This is a great place for brunch/ breakfast. The staff was friendly and very helpful. From the coffee to bloody Mary's and then the food, everything was delicious. The building and restaurant have a lot of character and a casual vibe. A great place to meet friends on the weekend.
8 months ago Rebecca Sivak
Great breakfast, wife had walleye and eggs and I got breakfast enchiladas.
7 months ago Nancy Ricany
Criminally underrated hangout in Madison along a stretch of other criminally underrated hangout. Big bar, lots of warm wood, big draft list. Just a laid back place to kill a couple hours with a good beer. Seen some good music here, too. Heard the food is good, but i havn't had it.
1 month ago Rachel Willis
Nice spot to meet new people, fun karoake when applicable.
7 months ago Danielle Collins
Come Back In is a great neighborhood bar!! Sister Bar and Restaurant to Essen Haus with a similar menu and with options for beer boots and such! It's a fun place to drink and hang out! TRIVIA TUESDAY is super fun! Pool, darts and other things to do. Live music often! Had popcorn and peanuts at the bar for all to enjoy! Fun waiters and bartenders! Good bar food- some traditional German things offered here as well! Cool place to be and always a good time!!
11 months ago Alan Harder
Great patio, live music, get the meat and cheese plate
7 months ago Cola Randomle
Great Cajun omelet. Good eggs Benedict. Coffee is regular diner coffee.
3 weeks ago Ernie Johnson
The atmosphere is awesome. Some people that go there tend to be a little judgy I would say, but mostly everyone is cool
1 month ago Geisha Tiburcio
Wonderful customer service! Great beers and delicious food. Definitely worth visiting. Have been coming here for about a year now for atmosphere and the food
3 months ago lalo
Great bloodies, couple TVs even got to watch Harry Potter. Good Sunday spot.
1 month ago Elissa Peragine
Try the $3.50 chicken sandwich deal (Tuesday's) and $1 taco deal (Monday's). Great place!
1 week ago Mike Antici
This place was amazing! The band was amazing! Gin Mill Hollow. The venue was perfect.
2 months ago Bonita Caldwell
This is our go to brunch in Madison. Friendly staff and good food.
10 months ago Carlie Bissler
Classic local bar and restaurant. Excellent prime rib.
2 months ago Jomarie Kilian
We had brunch here after spending the morning walking around the farmers' market. The service was fast and courteous, the brunch menu is pretty expansive, covering traditional offerings as well as some trendy Mexican-American fares (huevos rancheros, some breakfast burritos, etc.). Prices are great, and you can order liters of German beer on draft, or 0.5L glasses if you too weak to heft a real glass. This place is a classic, but it could use a little updating, and maybe not blast "smooth" '80s R&B "classics".
6 months ago Katie Kristiansen
When you're not in Madison it's a place that you will miss.
6 months ago Joanne Corley
For drunks. Be careful.
8 months ago Valeria Galvan
If you are looking for super greasy bar food, it doesn't get much better than Come Back Inn. 20 years ago, I had many fun times here. Now, I order carryout a few times per year. Food is prepared quickly and served hot. Packaging is excessive and consists of plastic and styrofoam. French dip competes with any in town. Nice fried cod sandwich. Biscuits and gravy are good, but not as good as the old 420 Bakery and Cafe. Biscuits are a little on the small side and the gravy, while tasty, is greasy and quite dark in color. Gravy should be brighter to offer a clear contrast to darker pieces of sausage. We avoid the breakfast potatoes now because they are consistently served in little pools of grease. Check out my photo of the kids pancakes. They were covered with little burned pieces of stuff that should have been cleaned from the griddle before putting the pancakes on. Clearly some smoke point issues here. This place has been an infrequent guilty pleasure for us, but I think we won't return in the foreseeable future.
9 months ago laura randall
Amazing location .. perfect snacks ... great drinks and awesome service!
2 months ago Tim Hemmis
Home town bar feel. Great bartenders and good food
6 months ago Bairma Gombozhapova
Good breakfast and friendly staff!
9 months ago Steven Reynolds
Very nice place for a few drinks. I haven't tried their food yet. Edit: their pretzels are super good. 50c each, and plenty of dips. Some may say that eating 10 soft pretzels in one sitting was a bad idea, but I argue it was amazing experience for only $5.
8 months ago Ana Vasquez
The quintessential Wisconsin pub. Visit here if you're ever in the area.
4 months ago Tegan Swift
Great place for brunch before a Badger football game. Good menu, good food, decent beer selection. You might have to wait for a table. But they will bus you to Camp Randall and pick you up afterward. Not a bad deal.
2 weeks ago kristina s
Monday night dollar tacos ..go for it!
7 months ago Keith Franklin
We stopped for the drink specials and a brunch. My husband ordered and omelette and bloody mary. I got a half order of stuffed french toast and a screwdriver. Drinks and food were both amazing and the prices are cheap for the area.
8 months ago Dwayne Strickland
I love Come Back In. Doren, Logan, and Andrea are amazing servers/bartenders/hosts(es). They are friendly and always provide prompt service. The selection of beer is top notch and always rotating. As for food my personal favorite item is the French dip. Enrique in the kitchen always cooks it to perfection! This place is amazing!
2 weeks ago John Dall
The dive bar that makes you feel like home! A great stop for some day drinking and then make your way to up north. Lots of cool history in these buildings.
10 months ago Lisa Tickle
Nice place. Went with a big group and they handled it decently well. Not, like, the best breakfast in town, but still good. Plus, they give you fun mugs!
2 weeks ago joel kavkaz
Decorated awesome, hometown feel, phenomenal food!
2 months ago reginald bolden
The Bloody Mary's were excellent, just the right amount of spice and flavor. Cheese curds were super tasty with the chipotle ranch, and the bourbon tacos were awesome. The brat and parmesan fries were also delicious- their fries are that perfect fried crispy crumbly texture. Great beer options on tap too! Logan was our server and he was great, very friendly. The atmosphere was relaxed and casual. We'll definitely be back!
8 months ago Aubrey Donielle
The perfect place to spend time with family, have some inexpensive food, and drink away our sorrows after the packer game ???????? plus they have daily specials, karaoke and live music on select days, so there's something for everyone! This was my second time here, and both times we drank enough boots to win a t-shirt ???? lots of fun!
7 months ago carol korb
This place is definitely one of my favorite bars in Madison due to the always fantastic tap list and equally great service.
6 months ago Lindsey Bloomquist
Great food. Fair prices. Amazing beer selection. Nacho appetizer should fill any two people you know. Their chef is very talented and takes his time to make the meal as good as it can be. Five stars well earned. We shall return!
2 months ago Patrick Dennison
I hope you can figure out a way to support local bands when it soon gets cold, but for now, you're the best!!
10 months ago Anne H
Great food
7 months ago rvagourmet
Best omelet in town prime rib on Saturday is the best
4 months ago Mark Baker
Great brunch
7 months ago The Boyds
Come back In is nestled in the corner of an intersection that most Madison natives are very familiar with. For those who decide to visit, you'll find yourself pleasantly surprised. The old school vibes and truly amazing looking bar are enough to make you want to sit down, and the food and drink will make you want to stay. I've only been here for breakfast, but I can say that the Cajun Hash is one of the best breakfasts I've had in town for under $10. Plus their diner-style coffee is equally as nostalgic as it is satisfying. The prices are great and the menu is expansive - this restaurant is becoming my go to place for breakfast on the weekends.
7 months ago lalo
Stopped in last Friday for a quick beer. There was live music, the guy playing was great and super awesome with the crowd. Our bartender was awesome and quick. We did not eat here but I will say the food which had been served to the people next to us looked awesome. We will for sure be back!
9 months ago Carol Boyd
My friends and I were visiting Madison and wanted to check this place out, it was certainly memorable in a bad way. We had the worse waiter who was extremely uninterested in us, poor service and just plain rude. He also tried to bill us for several items we did not order, absolutely awful service. The customer experience was not his nor the establishments priority.
8 months ago
Popular places from the category Bar