Smyth Jewelers
Jewelry store Smyth Jewelers, 2020 York Rd, Lutherville-Timonium, MD 21093, United States:
220 reviews
of users and employees, detailed information about the address, opening hours, location on the map, attendance, photos, menus, phone number and a huge amount of other detailed and useful information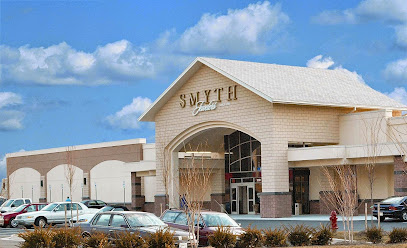 Address:
2020 York Rd, Lutherville-Timonium, MD 21093, United States
GPS coordinates
Latitude:
39.4374198
Longitude:
-76.6255722
Location on the map
Reviews Steven Wukasch
Quality. Quality. Quality. Friendly and helpful staff always willing to ensure you have a great experience. A large selection of gold and silver jewelry, gemstones, and trinkets at various price-points. Smyth has been my jeweler of choice for 20 years. I do miss the free watch batteries (seems like there could have been option to limit the number of batteries per visit or a program for customers who reach certain spending thresholds). Plenty of free parking so you can take time and browse. Since the pandemic the complimentary beverage offering is discontinued; I look forward to its return along with the cookies and popcorn!
7 months ago Klodian Nezaj
I thought the customer service was really nice. I was there to get my engagement and wedding band put together. I felt they were honest with my choices. They also helped me choose a replacement band which matches perfectly with my rings! Luca was really great!
6 months ago Miguel Hartford
As always, Smith delivers flawless customer service. After retrieving stones saved from a gold buy, Tracey went out of his way to talk with me about ways to reuse the stones to preserve our family heirlooms! Have used them for every jewelry need since I registered there for china and silver over 30 years ago! They are a Baltimore mainstay for a reason!
7 months ago Reuven Glanz
WONDERFUL staff! Reasonable prices... I was very happy with my watch repairs and battery changes today. I highly recommend Smyth for any jewelry services.
8 months ago Steven L
"The Disney World of Jewelers" is the best description of the place - the store has a celebratory atmosphere complete with fresh baked cookies and champagne. While that's all well and good, when I first set foot into the store I was on guard. Initially, thought the place seemed "plastic" and disingenuous. I was afraid that I wasn't going to receive the help I needed when selecting a ring. But then I was introduced to Mr. Robert Marx - an amazing sales associate. Professional, knowledgeable, and nice, Rob is a genuine guy who was able to put my fears to rest as he helped me through the ring building/buying process. He was once in the same exact situation I was in when he was selecting a ring for his wife. With my budget in mind, Rob presented me with a large set of options, and helped me craft the perfect ring for my fiancee. She has a classic sense of style, distinct but reserved. She needed something that would reflect that, but would also be able to keep up with her as she is a Baltimore City Public School teacher. Therefore, I chose the pictured engraved ring with peekaboo diamond with an emerald cut stone. The stone is 1.2ct, with VVS1 clarity with M color which cost me $2,500. I agonized over the stone thinking it wasn't perfect because I thought the color was "off". I constantly bothered Robert with texts and phone calls about alternative options. But then I realized I was just being crazy. If you're reading this, Rob - I'm sorry I annoyed you outside of work so much, I was a nervous wreck before the proposal. The ring camera, and "warranty" plan are unique to Smyth. I opted for both. You can rent the ring camera for a small fee and you can record the entire proposal. My proposal will remain buried and hidden away because I might have had a little too much to drink when I proposed. The "warranty" plan is useful because it basically covers any and all damage to the ring, which will be needed because my fiancee is a very active woman. Additionally, I purchased my own ring from Smyth. It once belonged to my father. He died when I was 12 years old, and my mother wished for me to have it. Originally, it was just a plain beat up gold ring. I wanted an engraved styling that would match my fiancee's ring, but stand out on it's own. I wish I had a "before" picture...because what they did with it was amazing, I didn't even recognize it. I just want to say thank you to Smyth, and thanks again to Robert Marx. My fiancee and I are grateful customers, and appreciate the exceptional service.
2 months ago Amber Stock
Smyth Jewelers gives the most outstanding service. Over the last few years they have helped me, long distance, to place orders for an add a Pearl necklace. Their sales counselors have been so helpful and the pearls always arrived wrapped and ready to present. Yesterday I had the pleasure of finally visiting their store and it could not have had a better experience thanks to Tracey. He assisted me with my next purchase of pearls and took in the necklace and pearls that I'd already purchased to string them and then ship back to me. I browsed while waiting for my pearls to be wrapped and WOW, their gift selection was incredible!! I highly recommend Smyth for your jewelry and gift needs!
10 months ago Peyton Clark
Customer service was very prompt, professional and courteous. It would be great if 1. the online order form had an option to " review" the order before placing it. 2. the " recipient's name" was shown as I was proceeding through the order. 3. The monogram was visible as I proceeded through the order. The orders worked out well even with extra attention from a service representative but I was unsure about these items as I was creating an order. Thank you for your help Excellent customer service!
7 months ago Andrew Crider
My family and I have been going to Smyth Jewelers for decades. They have a wonderful selection of jewelry and gifts. I was recently in the store to have the rings my mother gave to me cleaned. I was helped by Charlie Morgan and he was awesome. My Mom has been wearing her wedding rings for 69 years and the settings have become worn and frail. Charlie helped to get them cleaned and tightened. After their deep cleaning service, they sparkled so beautifully! Even though they were able to tighten the prongs, he told me they would need to be reset as they would eventually come loose. He spent time drawing and discussing how to make the rings into one low profile ring that would suit my active lifestyle better than the high prong settings. If you go to Smyth, seek out Charlie. His customer service is exceptional and his expertise, kindness and desire to help are why Smyth Jewelers as been in business for so long.
9 months ago Shaudee Baskin
My wife and I have been going to Smyth since 2017 when we picked out her engagement ring. Since then we've gone back for our wedding bands, gifts, and cleaning and repairs on all our jewelry and watches. The customer service is always fantastic and we've never felt pressured to buy. Most recently, we went to Smyth to celebrate a professional milestone and worked with Ed. He was kind, professional, personable and honest, and helped us find exactly what we were looking for to mark an important occasion.
7 months ago Harold Monroe
I was shopping online for a watch as a gift. My online assistant, Ed, was very pleasant and helpful. Having moved out of the area I haven't established a jewelry store in my new state. My trust in Smyth is decadeslong and it's nice knowing I can still rely on them.
7 months ago Mary Thornburg
Great experience! Very helpful staff. Excellent products and service.
6 months ago Jacob Owen
They are so helpful and kind here! Charlie helped me with my watch that I brought in and was so helpful and friendly and I couldn't have had a better experience. I will always come back here!
7 months ago Kaylean Mendoza
I could not love Smyth any more! We have been using them since before we got engaged 6 years ago and they have always exceeded our expectations!! But they really outdid themselves recently. Last week, I upgraded the center stone of my engagement ring and Josh (at Smyth) was able to find exactly what I was looking for (a little larger and better clarity), within my exact budget. When I got my ring back with my new diamond, I was completely blown away. Their jewelry is amazing, the customer service is unmatched and I love the relationships that we have built with the employees there. Thank you, Smyth and Josh for making this experience so amazing. It's not only the jewelry, but the memories that are attached to these experiences and both of these are unbelievable, thanks to you guys!
8 months ago Matthew Rathbone
I came to pick up my wedding ring and band that was repaired. I always look at the estate jewelry, it just speaks to me. I found a beautiful bracelet, but talked myself out of bringing it home. I have to think about and digest things before I make a big decision (I had looked at another piece in that display for at least 2 years before I decided to take it home... sadly, it had sold before I got the chance)! I thought about this piece for hours, offered a lower price that I could justify spending (50th birthday coming up soon) and submitted my offering to the after hours chat line. I got a phone call this morning that the bracelet was mine, if I wanted it! I don't do a lot of frivolous things for myself... I am truly happy!!! Thank you all so much!!
9 months ago A Jones
To hear my husband entered this establishment on May 11th looking for an anniversary present for me and no one greeted or acknowledged his presence but moments later when a Caucasian man entered he was greeted with a Hello, how can I help you today. Even after waiting a few moments after that still no acknowledgement. This is truly unacceptable. There were several employees working and not one person acknowledged him. You have one chance to make an impression and you missed the mark big time here.
7 months ago Steve Bano
I used Smith's online chat to reach out and order a custom engraved gift. I was able to do the entire transaction via text with Matt and it was exceptional from start to finish! I always loved going into Smyth as a kid and now that I live in Texas their online ordering really has taken their service up to a new level!
7 months ago Homaranha
The staff at Smythe are always incredibly helpful and accommodating. They are my go-to store when I'm looking for just the right gift. While their jewelry is amazing, the other gift options are also really nice and are more affordable than people might think.
7 months ago Matthew Parsley
The folks at Smyth Jewelers are amazeballs. I placed an order, and when the in stock reality differed from what the website said, they called and texted right away. We worked it out via text, and I ended up getting something I like better at the very same price. Hands-on customer service was much appreciated.
7 months ago Ramonita Vega
Went to buy a wedding band, and found just what I wanted ! The sales associate was helpful and non intrusive! I had recently gone there and they allowed me to exchange a diamond necklace that we purchased 4 years earlier for another similar necklace and gave me a very good price on the first one. If you buy from them initially Smyth will normally give you a good price if you want to exchange for a similar type of jewelry.
10 months ago Billy Keener
My name is Andrew Hanson and I want to begin the campaign for Lilly Singh as President. She is a Goddess. My engagement has unfortunately been prolonged due to Covid, yet every step of the way she has been eager to help and assist whenever possible. Random Christmas gift in the middle of planning a wedding? No problem, she dropped whatever she would do to ensure I was satisfied. Helping me last minute to find groomsmen gifts? Easy. She had every reason and right to tell me sorry Andrew, there's just not enough time to get the cuff links engraved before your Wedding; but she didn't, she pushed through and wanted to make sure that my wedding, my planning, was done so perfectly. I will ALWAYS use Smyth's for the rest of my life due to having Lilly by my side every step of the way. And I want her to read this know and this please. Thank you - and Lilly, I love you! Andrew Hanson
7 months ago Brady Chan
We've been customers of Smyth for many years and every experience is a good one. The best customer service ever. Lilly in particular has been amazing these past few years - and is awesome helping husbands navigate jewelry purchases ???? !
9 months ago Don Robinson
Absolutely the best jewelry store online experience ever!!! I can't stay away lol!!! Great sales, beautiful jewelry --- something for everyone!! Oh and always the absolute best customer service should you have any questions!!! I only wish they had a brick and mortar store in the state where I reside, but again their website is also fantastic!!! You won't be disappointed!!
9 months ago Dominic Ditosto
I was treated pretty disrespectfully here, and didn't appreciate some of the high-pressure sales tactics at the end of our visit. I came in just to take a first look at engagement rings with my girlfriend and see what we liked. They have a pretty large selection, so it was easy to get an idea here. Once we picked a setting we liked, we were taken into a little cubicle and shown a bewildering array of diamonds. After being asked what my budget was, the saleswoman repeatedly asked if I would go up despite me saying no multiple times. When I asked about the price of a setting and stone we liked, she kept rambling about the diamond using tons of acronyms and industry jargon that we barely understood, since we are very new to this. Then she went on and on about how I would need to upgrade the stone at each anniversary, add more rings, and so on. This went on for about 5 minutes. When we wanted to go, she then pressured us into making a deposit on the setting and the diamond and told us someone else might buy it up that day if we don't. Finally she told us the price — ~$1,000 over the maximum in the budget I told her about! We left, and don't plan to come back. I'd rather go somewhere that listens to you and doesn't try to bewilder, confuse, and pressure you into spending way more than you can afford.
1 week ago Brandon Pomerleau
My experience with Smyth was A+ from start to finish. I was treated with stellar customer service. My order was completed before before estimated completion date and everyone I interacted with was knowledgeable and kind.
7 months ago nasim khan
Charlie was helpful, patient, and kind. He spent well over 45 minutes assisting me with putting charms on my charm bracelet.
7 months ago Isabelle Andre
My husband and I wanted to give our three grown daughters something very special this Christmas. We can't go visit them because of covid-19 and it breaks our hearts. We went to Smyth hopeful but not expecting to find something special in our budget. That's when we met Cara Franco. She talked with us and showed us a sweet stifling heart that could be engraved with our message and their names. She showed us just the right chains and promised they would be ready for us to ship in time for Christmas. Sure enough we got them Friday! We love them and know the girls will too! She even boxed and wrapped them in beautiful paper and bows! Thanks Cara! You made our girls' and our Christmas one to remember! God bless you and everyone at Smyth. You have always been our family jewelry store!!
1 month ago Clayton Mathis
I have always loved shopping at Smyth's - the staff are always friendly and knowledgeable, they have items of superb quality to choose from, and a beautiful showroom. I especially love their selection of children's jewelry for my daughter - the safety screw-back earrings are reasonably priced and more substantial gold/silver for your money than other retailers. I highly recommend them to anyone looking for fine jewelry and gifts for any occasion!!
11 months ago Wesley Thiessen
I wasn't harassed while looking through the displays. I was asked once if I needed help ,which I declined. When I was ready to pay, the salesman was very friendly and accimadating.
6 months ago Pamela Lamb
This is my go to place. Since 2005 Smyth has always found what I am looking for. This year Smyth assisted me in finding the perfect surprise birthday gift for my husband. Thank you.
7 months ago Jason Kessinger
My experience with Smyth Jewelers has been extremely positive in every aspect. In particularly, with one of their consultants Ed. I did not expect to encounter such a kind, professional consultant miles away as I did with this person.I highly recommend this business establishment for their beautiful merchandise and customer care services. I live far south, but would travel the internet to purchase again from Smyth Jewelers.
7 months ago kristina s
Service is always first class. Inventory is large, there is a price for most budgets. I highly recommend this business.
9 months ago John Burton
Bought an engagement ring here from Wanda and was very impressed with their selection. What brought me back to buy our wedding bands here was the service and knowledge I received from Wanda along the way.
7 months ago Ethan Yang
Make sure when you purchase, you get warranty! My wife and I purchased her engagement ring and wedding band a 5 year ago. The saleswoman that sold us the ring never warned us that the thin band that my wife wanted should be taken off when shoveling snow or lifting over 30lbs etc and my wife bent the band in the first 6 month. Luckily, we purchased the extended warranty and it was covered. I've renewed warranty coverage already for the engagement ring but asked about how long the coverage will last on both rings today and was told "you only purchased coverage on the engagement ring." News to me... I asked if I could add it on and was told you can only do it when new. Now if the ring has an issue, I'm left with the bill and they'll probably try and get more money out of me. I'll wait until my warranty expires and take it to another local jeweler for repairs and check ups since this place can't seem to keep it together. They love you when you make the big purchase but they'll screw you down the line!
7 months ago Lawrence Adams
Thank you to Anthony for giving us excellent, personalized service. I love my Tacori ring (an engagement ring/wedding band replacement for my originals that were lost/stolen last year while I was at work). Smyth is our go-to and we will definitely return!
10 months ago JD Smith
My boyfriend and I drove an hour to the Timonium location to look at a specific brand of engagement rings yesterday. When we walked in and started looking, no one greeted or acknowledged us, despite the fact that there was a sales lady in the immediate vicinity who was having a personal conversation with a security guard. She saw us and did not come over until my boyfriend finally asked someone else if someone could help us. The man then asked the sales lady to help us. She helped us, but her service was lackluster. We had been to other stores, so we were expecting a certain level of service that we received everywhere else except Smyth's. I was pretty much turned off from the outset and knew we weren't going to buy anything from that store, but we stayed and looked because they had a good selection and we had already driven an hour to look. On the bright side, we found a beautiful ring that we plan to buy from another jewelry store. The selection is the only reason I gave them 2 stars rather than 1.
7 months ago Claudia W
All I can say is Natasha is getting a wedding invite!! My fiancé and I had fun and felt very informed about buying wedding bands with her. Kim also helped out with measurements and was incredibly knowledgeable as well. Our experience at Smyth's was the best part of your day!
9 months ago Lowell Zelinski
Sales person was very helpful picking out jewelery for my gift.
7 months ago Tina Buskey
Easy online order and the best price for the item I have been looking for. Quick reply via text and great customer service. Very friendly and the entire transaction was quick and easy. My Brian May Seiko watch was packed with care and gift wrapped with a beautiful ribbon. I almost hated to open it. Item was shipped out very quickly! Thank you for the great service!
2 months ago Rob Briggs
My first visit to Smyth but not my last. I was pleasantly surprised with all the amazing items available. Customer service is wonderful and I can't wait to go back.
2 weeks ago Jennie C
I had the best experience ever! I live in Chicago and accidentally selected "pick up" for the Smyth store in Maryland. Matt texted me right away to inform me of my mistake. We texted over the course of a day and a half because there was also a specific charm that I wanted. He went over and beyond to try to find the charm for me. Matt's customer service skills are absolutely superb and he just found a customer for life!
3 weeks ago Thalia Davies
Erin helped me decide how to use two birthday gifts and was so friendly and helpful. She understood immediately what I was looking for and showed me items within my interest and budget. She is a gem and I love what I ended up getting.
11 months ago Margo Mitts
I knew exactly what I wanted so I did not seek out an employee. When I checked out the gentleman who helped he was ex tremendously helpful and extremely pleasant.
8 months ago Cathy Albea
Great customer service! Very efficient and fast shipping! Beautiful products and would absolutely buy from again!
9 months ago Beverley Morrison
Smyth got my order sent out immediately, and it was wrapped and boxed with the greatest of care. A+ Love my Coton Colors! Thank you!
8 months ago Ralph Proctor
I worked with Lily on purchasing a ring which she was very helpful. Lily's is very professional and knowledgable. She made me feel special and treated me as a valued customer. Hopefully I will get the pleasure of working with her again.
11 months ago Miriam Herman
I was searching for a small jewelry item to take with me that day and Smyth came through, great service great selection
9 months ago Yossi Klement
I went in with a budget and an ask, and Kathy was amazing to help me find what I was looking for in my range. Being able to trade up from prior purchases made it even easier. Thanks Smyth!
3 weeks ago jimmy smith
Tracy James was very professional and courteous ...making sure all of my needs were met. I 'll definitely recommend him????????
2 weeks ago Daniel Pilachowski
Love me some Smyth !! Always fun lots of choices and great people!
6 months ago Roger Chambers
We have been shopping at Smyth Jewelers for over 35 years. Our go to place for Christmas, birthdays, St. Valentine's Day and anniversary. Even for work related service anniversary and retirement gifts. We have been dealing with Anthony for years. He always has great suggestions and takes good care of us. Their level of customer service is unparalleled in Baltimore.
2 weeks ago
Popular places from the category Jewelry store