Brothers Floor Covering, Inc.
Flooring store Brothers Floor Covering, Inc., 5352 N Tacoma Ave, Indianapolis, IN 46220, United States:
79 reviews
of users and employees, detailed information about the address, opening hours, location on the map, attendance, photos, menus, phone number and a huge amount of other detailed and useful information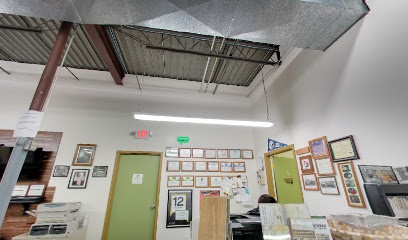 Address:
5352 N Tacoma Ave, Indianapolis, IN 46220, United States
Website:
brothers-floorcovering.com
GPS coordinates
Latitude:
39.8505673
Longitude:
-86.1208286
Location on the map
Reviews samantha burghardt
Best experience with Brothers. We moved here from out of state and upon closing on our home decided to replace the carpet. I looked at several well rated flooring companies off Google, even called a few others, but I decided to go with Brothers based on reviews and the initial phone conservation. Every customer service point of contact from that point on was impeccable. I was seriously blown away by the very genuine care Brothers gives their customer's. The flooring timeline couldn't have worked out better. Andrew lead out our project and he was so incredible at communicating updates and explaining the process. Really went above and beyond to make sure all moving parts were in order. Exceptional guy to work with. The install team was so awesome! They were fast, yet over the top efficient and the best install I've ever seen. Also, very considerate and cleaned up every spec of dust or debris, even in areas they didn't need to. Their lead guy was great at communicating, which was appreciated. We couldn't be happier! We walked away feeling like there is no better company that models white glove customer care. Brothers comes highly recommended!
5 months ago mary burr
Great experience with Brothers Flooring. We had new laminate installed in most of our house. Floor selection was straightforward, plenty of selection and time to evaluate samples. Quotes provided quickly and no sales pressure while browsing/following up. They were able to schedule us within about a week, and the crew amazingly finished in one day (including demo). We also had all new baseboards installed and those ended up being much nicer than we expected. Overall a great experience, and I wouldn't hesitate to recommend Brothers to anyone looking at floor replacement!
6 months ago Rob Kingas
We had out house floors updated from vinyl/carpet to Laminate using Brothers service. They did about 1,200 sqft of flooring (a lot) and it took them about 2.5 days to finish all the work once all the floors were clear and leveled. The particular job required the stairs thread to also de changed to laminate, this made the installers work their magic to make the house floors and the stairs look neat. Overall the installers were incredibly professional and respected out house rules to be masked while inside our house (during on-going virus pandemic). They started the job on time and all went as promise and on schedule, and when they finished they made sure to clean up all the new floors before finishing. After a weekend of having new floors there are no issues so far, all the family enjoys the new floors and the installation of floors in very well done. Thank you Brothers for making our house move to the XXI century
11 months ago Kortney Reijh
We love the job that Brothers Floor Covering did on our new floors. We replaced the old carpet on our first floor with beautiful hardwood and we are so pleased. Everything about the process was painless. Andrew was great to work with and made sure we were well taken care of the entire way. The contractors were friendly and very thorough. We will definitely be going back to Brothers for when we get new carpet on our second floor too.
6 months ago Monica Seidenstock
The whole expereience from the initial trip to there office all the way through the installation was completed to our satisfaction. I would highly recommend that anyone considering new carpeting to check out Brothers!!!
5 months ago Tom Wilton
We had a great experience with Brothers. Jessica and Andrew answered all of our questions and helped guide us to a great product. It was easy to get and schedule a quote. The flooring install was very smooth and professional. We love our new floors! They look wonderful. We would recommend Brothers to anyone!
8 months ago Samantha Stanley
We hired Brother's Floor Covering to replace our hardwood floor back in 2019 after struggling with another company for weeks. They were prompt to respond and had a quote to us within a day or so. The install went smoothly and the flooring looks great. We enjoyed doing business with them so much we ended up hiring them again to replace the carpets in our bedrooms. Again, they were quick to come out and get us a free estimate and have a quote to us within the day. The install went great, as expected and the floor looks amazing. I highly recommend you look at this company for any flooring projects you might be working on. You will not be disappointed.
9 months ago Target Cordova
Excellent experience. Greg and his team were very helpful and professional. Due to hold ups with other parts my remodel I had really couldn't give a firm date for wood floor installation, but they were very patient and understanding. Flooring installation: This too went very well. The guys worked hard for a day and a half, working around kids on spring break and a busy household and they didn't seem to miss a beat. Job site: They kept the work area clean and free of debris while they worked to the best of there ability, it's a construction zone. At the end of the job, they did a great job leaving the areas of work as clean as when they arrived. Workmanship: Again, no complaints. Before the project there were a few areas I was curious how the cuts would look when done and the areas all look great. Because the wood flooring we choose had both different lengths and widths, there was no way I was going to tackle this myself, they made the job look easy. Floor shopping: I went to another store in the Castleton area and while they were friendly enough, I had asked a few questions where the answers were not what I expected. Such as undercutting door jams, etc if needed and was told to choose a floor with the same thickness as my current flooring. Not the answer I wanted to hear, so I looked on the manufacturers website to see if there were other retailers in the area and found Brothers flooring. After only a few minutes asking questions with Greg (owner) I felt comfortable and decided to purchase. The rest is history. I would not hesitate to refer my friends and family to Brothers flooring. If you value competitive pricing, loads of experience and quality workmanship, give them a call.
7 months ago Mark Halloran
Outstanding quality and customer service! Andrew was fantastic and answered all of my many questions and handheld me through the purchase and installation of my new carpeting. Most appreciated was his honesty and patience with me answering my endless questions. Installers were very professional, timely, very hard workers and polite and completed the work in one day. I just love the look of the new carpeting and am so happy with the quality and level of service they provided.
7 months ago Sas R
Awesome experience with Brothers Floor Covering. Exceptional from start to finish. Highly recommended!
5 months ago Mahmoud Allahyari
Brothers Floor covering quote was nearly twice our first quote and about a quarter more than the other one that we considered. We choose Brothers because of Andrew and his explanation of quality carpet vs. mid range carpet. Additionally we noticed prompt communication and commitment to detail. The install crew performed as discussed. Polite, respectful of our home and attention to detail including vacuuming upon completion. We have a business and we know paying additional to get the correct result is well worth it.
9 months ago Mike Gray
Outstanding service in all areas from start to finish. We could not be happier with Greg as well as the install team. We are so excited to have our new flooring!!! I highly recommend Brothers Flooring to anyone, you will be happy too!!!
8 months ago Christian Lee
Beautiful floors after Sanding and refinishing! Great price! Customer service a 10-star!! Family owned local business for three generations
6 months ago Lisa T
Excellent service to work with! From start to finish we were impressed. Thank you and we will be your returning customers for future projects !
6 months ago Ken Shaffer
They were able to match the material my builder used and installed it sooner than they promised. Finished job looks great and the price was extremely reasonable. Andrew's follow up and professionalism are second to none. Would highly recommend!
9 months ago Melody Hatten
They gave a free estimate, then provided a very professional and timely installation once we authorized the work. They also refunded the leftover material. I would use their services again and highly recommend.
8 months ago Tara Harvey
Brothers did a great job on my flooring. They tore out ceramic tile, carpet and older hardwood and installed wide plank hardwood through out the house. It was a large job and they finished in 6 days! The crew was great and did a nice job of cleaning up daily. I would recommend Brothers to my friends.
4 months ago Brooke Henderson
We had looked at several Floor covering stores to get ideas for vinyl flooring on the first floor and carpeting on the second floor in our home. We needed information and guidance and Jessica did a great job of listening to our needs and educating us on her recommendations. Brothers was the only shop who followed up with us after we checked out some samples. The two other places we got samples from never did. From measurement to installation of our flooring the entire process was flawless. Our floors are beautiful!
1 month ago Victoria Kalogerou
I could not be happier with our decision to use Brothers! We replaced hardwoods, tile, and carpet throughout our entire first floor with beautiful LVP, as well as up our stairs and in the upstairs hallway. The estimate and selection of flooring was easy, and we felt no pressure along the way. And installation was a breeze. Friendly, honest and professional service from start to finish.
11 months ago Lindsay Sylvester
We used Brothers to refinish our hardwoods. The wood is so beautiful now! They also pulled up old carpet, installed linoleum tile in the laundry room, and installed fresh carpet and padding throughout the house where we wanted it. They did it all! The customer service was excellent. We were always treated as if we were the most important people they were dealing with...Very professional! The workmanship was excellent. The workers were a hard-working, happy crew, and they took pride in the job they did. They were also exceptionally clean and neat, vacuuming and dusting before they left for the day. We had them move furniture in all the rooms and everything was put back exactly as it had been when the job was finished. The attention to detail was exceptional. It is with confidence that I highly recommend this family flooring business. It is managed with good, old-fashioned integrity and honesty.
6 months ago Pavel Chinyanin
What a pleasure to do business with this company. Pricing was fair -- not the cheapest, but not the most expensive either. The installation crew was fantastic and they were meticulous about clean up at the end of the job. Communication was awesome and their attention to detail was outstanding. Do not hesitate to hire them for any of your flooring needs. Incredibly knowledgeable team.
3 months ago Cynthia Abbott
We just had flooring put in throughout the house and could not be more pleased with the installation of the flooring and the service provided. We had one concern and called the owner and he came out the next day and resolved the problem. We were very impressed with this. They installed a new product a Waterproof Hybrid which so far has been excellent. Really glad we went with this company
3 weeks ago Cameron Garmoe
Brothers makes redoing flooring in your home easy and enjoyable. I've redone ~2000 square feet of flooring with them, both carpet and hardwood, and both experiences I had were top notch. Andrew and Jessica are both super knowledgeable up front, and the contractors that come into your home to actually install the product are super professional- on time, courteous, efficient and do a great job! Finding good contractors can be really difficult - Brothers is at the top of my list for friends and families who want recommendations.
4 months ago Harry Ishler
Brothers flooring did a phenomenal job replacing carpet in our kids rooms, stairs and play space. They were professional and took great care of us. Thank you, Brothers!!
10 months ago Collin Compton
Brothers installed luxury vinyl plank flooring in our home, and we could not be happier. They were a pleasure to work with from start to finish, and the final product is beautiful! So glad we chose Brothers!
11 months ago Dennis Hamilton
Brothers Floor Covering did a fantastic job on our carpet installs. Andrew went above and beyond during our sales consultation and provided us valuable education on carpet that no other retailer was able to do. The install crew (Ricky and Gus) exceeded our expectations. Their professionalism, attention to detail, and education on the carpet was remarkable. We will definitely be going back to Brothers for any flooring needs in the future!
10 months ago Surti Swad
We are so happy with Brothers and the service they provided! Greg and the entire team are friendly, knowledgeable and wonderful to work with. Highly recommend them!
10 months ago Erin Terry
Andrew is a wonderful person and it was truly a pleasure working with him. He is professional and kind, a true testament to the high values and integrity of Brothers. I highly recommend Andrew and his company.
11 months ago Ally Smith
The entire team at Brothers exceeded expectations, from the store room to the quote process through installation and follow-up to make sure we were happy. The wool carpet is gorgeous! As important, all Brothers staff were friendly and responsive. The process was quick and professional. Glad to support a local family business and would recommend to anyone.
3 months ago Roger McManus
We had Brothers re-carpet our basement and we couldn't be happier. They provide exceptional service from the start, helping us pick out the perfect carpet, to the professional installation, it was a pleasure working with them from start to finish.
9 months ago Kay Zindani
Brothers was thoroughly professional, the installation crew was outstanding. I highly recommend them to anyone needing floor covering.
1 day ago Teresa Lampe
Brothers Carpeting was so easy to work with. We feel we received great service, quality carpeting for a fair price. Special kudos to their installer Ian who did an amazing job. Would highly recommend. Terry & Patsy Bucksot
7 months ago craig mclaughlin
Amazing experience end-to-end. Our sales consultation was pleasant and attentive to our needs and budget. Our install happened within the expected timeline, and we had our entire first level completed in 2 days! While it was chaotic having our main living space moved around for 48 hours, the installers were considerate and efficient. Less than an hour after installation was complete, we had a follow up call from the owner! Oh... and did I mention our vinyl floor looks AMAZING?? We will be calling Brothers again in the near future for our carpeting needs on our second level! Edit on 1/12/21: We most definitely did call Brothers for our carpet, and they delivered a white glove experience for the second time. Very, very happy with how incredible our floors look!
10 months ago Christan M
I had a great experience with Brother's Floor Covering. They installed new flooring in my kitchen and did a wonderful job, it looks great and they were reliable, prompt and gave us a good price. I would definitely recommend this company to others.
6 months ago Md Jasim
Excellent service from start to finish. The estimator arrived promptly and gave us a favorable quote Within an hour of leaving. The gentleman who installed the flooring arrived on time, did a wonderful job and left the room ready for us to move our furniture straight in. I would highly recommend them.
4 months ago Dezi G
Great Overall Experience. Great Value. Andrew was excellent. On top of everything, great follow up before, during and after the install. Installation crew was fantastic. Stayed late to finish in one day. Definitely recommend this company.
5 months ago tom renard
I shopped around for quite awhile before choosing Brother's to install vinyl plank flooring in my home. Everyone I dealt with was kind and quick to respond to any questions I had. Their pricing is very competitive and they had many options to choose from. Can't beat a family owned business.
7 months ago Anthony Wilson
Excellent job. Good communication and a fine finished product.
10 months ago Wenbo Chen
Love our carpet we recently purchased from Brothers! Greg Hill and his staff did a great job of showing us multiple options of carpet and padding. And their installation team was extremely professional and friendly! If you're thinking about getting carpet for your home or business, I highly recommend shopping Brothers Floor Covering in Broad Ripple.
11 months ago Gwyneth Salesky
We needed almost every floor in our new home re-done, and I'm so glad we went with Brothers! We had the flooring in 2 rooms stained, new carpet in almost every other room, and bought wood. Working with Andrew over the past couple of months planning everything has been wonderful. His responses were always fast, sometimes even surprising me with how fast he got back to me! The workers who installed/stained everything were such a pleasure to have in our home too. Always so friendly, and making sure we were happy with how everything came out. For anyone else needing flooring done in the future, I'll be recommending Brothers! Thank you! UPDATE: We just had them back for a second time, and if i could post another 5-star review, i would! This time they re-did our entire kitchen/family room, and when they ripped up the old flooring they found a HUGE mess of a job underneath (done by another company back in 2013), but Brothers corrected it all, and made our floors beautiful! The workers are very experienced (some have been doing this for 25-30 years), friendly, and actually care about doing your floors correctly. Thanks again for another wonderful job! :)
3 weeks ago Chris Legge
I had carpet installed in my condo it looks great sales and install staff were friendly helpful and professional I would highly recommend for all your flooring needs
3 weeks ago Alexandra Schrubbe
Amazing experience from start to finish. Floors look beautiful and everyone was easy to work with, professional, and friendly. HIGHLY RECOMMEND!
8 months ago Brayan Sanchez
Done business with them a number of times. Always excellent work and prices
1 month ago Tonya Compton
I highly recommend this family owned flooring company in Indianapolis. In June 2019 they put a cushy sheet vinyl in my kitchen and it was an amazing transformation! Yesterday I had new flooring put in my bathroom. Beautiful! It's a vinyl that is cork backed. I asked for something they had in their warehouse (saves money) and they came up with Coretec Plus flooring. The installer was professional and a hard worker. He answered my questions and asked my preference on details. The results are stunning. I'm providing before and after pics of the bathroom. The before pic of my bathroom floor is a result of improperly laid flooring from 8 years ago. My only regret is not doing this sooner! Visit Brothers Flooring on Tacoma in Indy!
7 months ago Jim Patterson
If I owned a business, I would want it to run exactly like Brothers Floor Covering. I am a huge customer service advocate, and they checked all the boxes there. Their follow-through and communication is excellent. Not to mention, I LOVE my new flooring! Don't look elsewhere; choose Brothers!
9 months ago michael wells
Brothers Floor Covering just finished installing luxury vinyl plank and carpet in our home. Our house is just short of 2600 S.F. and we chose to install the LVP in all but the bedrooms leaving only the master bathroom and two bedrooms for later upgrades. We could not be happier with the choices we made and the service we received throughout the process including the installation. I think the word I would use is "thrilled"! Brothers is a family owned business and they emphasize customer satisfaction! Andrew (son) and Greg Hill (father) were very friendly, professional and helpful throughout the process. In fact, everyone employed there are obviously trained and selected to have those qualities. The LVT installers were a team of three with a combined 70 years experience and it showed. They were on time, hard working, efficient and respectful of our time and privacy and went to great lengths to make it right the first time. I highly recommend you give them your business. You will not regret it!
6 months ago Erika Paine
Easy to work with, patient, and flexible. Would definitely work with Brothers again!
1 month ago Gregory Lewis
We received exceptional service from the entire team at Brothers Floor Covering. From the moment we entered the showroom to select our carpet to the day that the carpetlayers tore out our old flooring and recarpeted our entire second floor, we have been amazed by their attention to detail and outstanding customer service. Our floors look and feel amazing! Throughout the entire renovation process, they maintained excellent communication and made sure that they met and exceeded our expectations. Thank you, Brothers team!!
9 months ago Lettie Carlasare
I'm so happy I chose Brothers! The gentleman at the store was helpful when it came to picking out the carpet and our estimator was friendly and prompt. Our installer, Jack, was so kind and I had a great time talking to him while he perfectly installed our new carpet! I would recommend Brothers hands down. They have been doing this for a long time and do it the correct way!
5 months ago Peter Gould
Just had vinyl plank installed on our main floor and couldn't be happier. Andrew was patient with us as we decided on which floor to choose and George did a fantastic job on installation.
2 months ago
Popular places from the category Flooring store