Kraft-Sussman Funeral & Cremation Services
Funeral home Kraft-Sussman Funeral & Cremation Services, 3975 S Durango Dr Ste 104, Las Vegas, NV 89147, United States:
211 reviews
of users and employees, detailed information about the address, opening hours, location on the map, attendance, photos, menus, phone number and a huge amount of other detailed and useful information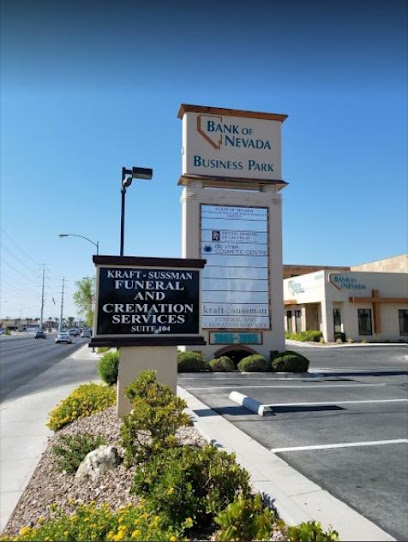 Address:
3975 S Durango Dr Ste 104, Las Vegas, NV 89147, United States
GPS coordinates
Latitude:
36.1179431
Longitude:
-115.2793947
reviews Kyle Guzman
I give nothing but praises to this company. Laura, Aaron and the rest of the staff are truly amazing and warm-hearted. They took the time out to answer all the questions I had re my mother's service and the process of getting everything in order. Thank you for all your help during my difficult time.
4 weeks ago Haley Dalton
Last month we lost our beloved mother, and as heartbreaking and distressful experience as it was, we are so grateful to have selected Kraft-Sussman for her aquamation. From our initial contact with Alexis, who has excellent customer service and his warm, caring and consoling personality helped to ease the situation. He was attentive from the beginning and responsive and followed up immediately. Post cremation, Elizabeth followed up with us several times to see how we were doing. As sad as it would be to have anyone need their services, I would highly recommend their services to anyone. Thank you for making a most stressful situation a little easier. Top customer service!
4 weeks ago Sofia Maayah
My experience with Kraft-Sussman Funeral Services has been nothing short of amazing. I did some research into a funeral service while my sick family member was about to enter hospice. It was an extremely difficult time, but since the very first phone call soliciting some information until the final stages of cremation, Kraft-Sussman has been truly great. They were there for me and my family during the entire process and allowed us to grieve while they took care of all the details behind the scenes. I dealt with several members of the team and all of them were amazing, especially Jasmine who was my primary contact person. I cannot convey the support and attention I received from Jasmine at such a horrible moment of vulnerability. Honestly, I can't say enough what it meant to me. The cost of the creation service was fair and no money was requested until the process was well underway. Laura and Wendy—you have a great team, and I want to thank you both from the bottom of my heart for the way everything was handled.
4 weeks ago chris dawson
Laura and the team at Kraft-Sussman were wonderful during my time of need with the passing of my mom. I am grateful for their efficiency and sincerity in taking great care of my mom during the funeral preparations. So many people forget the emotional element. I truly appreciate their professionalism, but more importantly they always remembered the "human" element. I was extremely grateful for the referral of Kraft-Sussman by a dear friend. I felt peace in knowing my mom was being taken care of exactly the way she wanted with dignity and grace.
2 months ago Al J
Recently my 101 year old father suddenly passed away and I used Kraft Sussman Funeral home. In the middle of this pandemic none of my family could come out to help me. Laura was most compassionate and walked me through everything that needed to be done. From start to finish she and all the staff were extremely sensitive yet efficient. I would recommend to everyone when their need comes! Judy P.
3 months ago Rebecca Lamberson
Kraft and Saussman team is service exellence. Compassionate. Kind. Ever ready. Available and genuinely receptive to your needs.
1 month ago Maryury Andrade
During our time of need, the office worked hard to make sure that there was only one pick up and our loved one brought directly to their facility. Adam was very helpful the night out of Auntie's passing; preparing us for what needed to be done and how to accomplish that. We had done well as a family up to and through the transition, but were not prepared for all of the after activities that needed to be tended to. Zoe took care of us and walked us through the paperwork and what would be done and by when. Her caring tone makes all the difference in the world. We are aware that death is a business, but Zoe went above and beyond what I would consider normally good caring service. Death proceedings can be expensive. Plan accordingly. Expect the highest level of service here.
9 months ago GV
Laura Sussman and her team go above & beyond for their clients. From the paperwork to moral support and follow-up, they are there for you both physically and emotionally every step of the way. With all that you are going through with the passing of a loved one, it's nice to know they have your back and are working hard for you. One less thing to worry about during a very difficult time. I highly recommend Kraft & Sussman. They are great at what they do and they are genuinely nice and caring people. Thank you for all you do!
4 months ago Aubrisha Allen
Although we have been utterly devastated by our loss, Kraft-Sussman, especially Alexis, has provided our family with compassion, respect, and comfort during this time. He was there for us from the very first day and guided us through the difficult process of laying our loved one to rest. He always communicated with us and ensured that the funeral service was worthy of of our loved one. We made many requests and Alexis worked with us endlessly to honor our requests. One of the owners, Laura, would also take time out to check in with us every time we came in to finalize details and could sincerely feel the empathy from her and the staff present. We are so grateful and would highly recommend Kraft-Sussman as our family feels that Alexis went above and beyond for us. We deeply thank you!
5 months ago Shelby Kube
I can't begin to express how glad I am that we chose Kraft-Sussman to handle our needs when my loved one passed away in March. I made contact with several staff members. Each one was familiar with me and my needs. I never once had to remind one of them about anything that had to do with the cremation or the Celebration of Life we were planning. The owners are visible also. I met Wendy Kraft and Laura Sussman on property and they were gracious and truly thankful that I chose Kraft-Sussman for my needs during this sad time.
1 month ago oPolishAssassin
Kraft-Sussman was very helpful during a very difficult time. I highly recommend their services.
1 month ago Josshua Alba
Kraft-Sussman was one of the few places that took our phone call late in the afternoon, was informative and responsive. A gentleman by the name of Alexis took great care of my sister, mom and I when my father unsuspectingly passed. We felt peaceful and listened to with their services.
4 months ago Shi Reads
I was very impressed with how kind and helpful they were. When my Father passed away I had to have him buried in 2 days and they were able to take care of that. Even during the Covid they were able to take care of my needs and in a very kind and friendly manor. I am very pleased that we used their services. I am very great full to the people that work their. Thank You for everything and helping make things easier for me with my Father's passing. Cheryl
10 months ago Kyle Smith
After an horrific experience with another, corporate, mortuary, Kraft-Sussman was truly a balm to our family's hurting spirits. They were nimble and responsive to resolving the issue with that other company, and we were allowed to see our loved one and resolve some of our doubts and griefs, before discussing any plan for her remains or what our wishes were regarding her. From our first phone conversation with Gary, our consultation with the co-owner Laura and our final sending under the care of Aaron, we were treated with amazing gentleness and compassion that was remarkable in its warmth and sincerity. These are real people doing valuable work to help those of us hurting from the loss of loved ones. I also have to say that the costs were VERY reasonable and presented with transparency and clarity, unlike the obfuscation and hidden charges we faced elsewhere.
6 months ago Mike Small
They help coordinate my brothers funeral, transportation to New York for a family burial. They worked with our New York furneral director for a smooth transition. They were able to take care of all the required paperwork to send his body via air As well as death certificates which was needed. This is a company you can trust to get things done in a tough time . Thank you kraft-sussman funeral home
4 months ago Danny Chong
Despite a complicated funeral arrangement, Kraft Sussman Funeral smoothly handled all arrangements during this difficult time for my family. Their kindness and efficiency is so very much appreciated.
2 months ago Randy Field
K-S helped us out of a very difficult situation with another mortuary. I cannot express adequately how GREAT this team of professionals were to me and my g-daughter in viewing her body and making arrangements for Aquamation of her cremains. They were helpful, supportive, kind, caring and considerate of our time and resources. Gary, Aaron and Laura were super hero's to our family. They helped explain everything to my 10 yr old g-daughter and made things so much easier for her to understand and process her grief! THANK YOU!
5 months ago John Bellesfield
We have used Kraft-Sussman for several family members now and we always get the best service. Laura was very helpful and accessible which was surprising for a Co-Owner. She took care of all the details and was very accommodating with some special requests we had. She found a beautiful casket that I wanted but wasn't able to find on my own and went above and beyond to make sure our loved ones were laid to rest with respect and love. Would definitely recommend!
10 months ago Cynthia Allen
My husband and I could not be more pleased with the level of care and consideration we were met with by the team at Kraft-Sussman. Our wishes were carried out with grace and ease. We are beyond thankful to have been able to work with such a compassionate and competent group of individuals. We felt like family..like our needs at a quite tender time were a priority of the utmost importance. We weren't worried about a thing. Thank you, Laura and team.
7 months ago Elroy Jones
Our son lived in Las Vegas, NV and suddenly passed away. It was such a shock. I called Kraft-Sussman and spoke with Lakeshia regarding cremation so we could fly our sons remains home with us when the time came. Lakeshia answered all of our questions and made us feel more comfortable about the cremation process. They were also very efficient about getting the paperwork completed when it was time to take him home. We felt blessed to have these people guide us through such a sad time in our lives. Anyone there can help you...they are good people.
6 months ago cheryl Whiteman
My mom passed away suddenly and Kraft-Sussman was there to help us every step of the way. On the night of her passing, I called Kraft-Sussman after hours and immediately recieved a call back from Laura letting me know that they would be at the house shortly to pick up my mom. The staff was so sensitive and compassionate when they arrived at the house. They took such good care of her and made sure every detail was addressed. I am so grateful that the staff from Kraft-Sussman was there for our family during this difficult time. I highly recommend Kraft-Sussman.
2 months ago matthew howell
I had the pleasure of working with Kraft-Sussman Funeral Home from 2000 miles away while dealing with the loss of my Sister. I honestly was quite nervous because all of the arrangements to have my Sister back home had to be perfectly timed and pulled off without a glitch in order to make the Funeral Date set up. LaKeisha, Aaron and Elizabeth were there for me every step of the way. Kind. Courteous. Compassionate. The list of adjectives could go on and on. Even with the great distance separating us, they made me feel like they were right here with me. Always available and ready to help they made getting my Sister back home go flawlessly. It's time like these that you need people like this. Maybe more so than any other time. A very sad and stressful time was made so easy for me. I can't be more thankful Kraft-Sussman was the choice I made and for everything they all did when they took my Sister into their care and brought her safely home to us.
3 months ago Noelle Murray
The team was so wonderful . They were diligent and resourceful as they supported me and my family in this time of covid.
6 months ago arthur efantis
All the personnel at the mortuary were very professional, courteous, kind compassionate and helpful during my family's time of grief. I especially would like to thank Zoe for going above and beyond to help me with various issues I encountered. I chose Kraft-Sussman because they are located in my neighborhood, but I would have no problem going across town to patronize this mortuary. The personnel are all awesome.
6 months ago Heather Chapman
Choosing a funeral home is something no one wants to do, and I'm grateful to Kraft-Sussman for showing my family the respect and caring that our loved one deserved. Their team is extremely considerate and accommodating, even under the difficult circumstances caused by the pandemic. I am forever appreciative of their attentiveness and the way they communicate -- you can depend on them to pick up the phone or respond to a message promptly whenever you need them. I know that, should it be necessary, Kraft-Sussman will be there for our family again.
10 months ago Sandi Gagnon
Kraft-Sussman was amazing when my dad passed away. Zoe helped us every step of the way expressing her knowledge and compassion. She took care of way more than expected. Words cannot express the service she gave us. They have even checked in on me in the weeks that followed. I highly recommend them!
9 months ago Queen Rehal
Gary, from Kraft-Sussman, was so compassionate and helpful during this very difficult time for my family. Kraft-Sussman treated us like family, and I would recommend them to anyone during a time of loss.
3 months ago Brian Cormell
I really appreciate the service of Aaron and the staff for the memorial service of my father in law. They did their best to provide all the things we requested, and did so in a professional and warm way.
5 months ago None Ya
We experience excellent service from Kraft and Sussman while planning my mother-in-law's funeral. They were very detailed and loving during a very difficult time in our family. They thought of everything I couldn't and provide everything we needed for a sweet, memorable service. We are deeply grateful for the service they provided.
7 months ago Jodilyn Owen
My loved ones death was sudden and unexpected and in a different state I came to yes his funeral home to help me have his body moved to view his body within a very short time and I mean very short time as in 1 to 2 hours I had to be on a plane back home and they were able to accommodate me and that was amazing also later I needed to do Have a autopsy performed on my loved one and they were able to provide a doctor and facilitate having the body shaking there and returned within a couple of days and assisted in every aspect of beyond the call of duty with Grace dignity and respect and compassion for the situation and for me and for my loved one They then provided contact via email phone message asking if I was OK if I was receiving support and that they were sending their best wishes for me just a great establishment I can't say enough good things about them you need a very ugly ugly situation bearable and less traumatic than it could've been by accommodating my needs and by holding a strict level of integrity in every aspect of the profession and human dignity I deliver a question between the funeral home and any other I would put my money here I would put my trust here and I would put my loved one remains here is the facility and I can't be trusted I think you and I think you and I probably can't thank you enough for the support you've given in this process you'll see my goodbyes from now
1 day ago Nathan Reynolds
Gary was very kind and sensitive during the worst time of my life. They made the process a bit easier. I'm so glad me and my family chose them. It's very obvious why they're rated 5 stars. Thankyou all so much.
4 months ago Lauren Taylor
My sister and I was treated with great care from the owner and staff. Absolutely no additional stress, great help with the paperwork. Took time to answer all our questions. The staff treat our departed with care and dignity.
8 months ago Nicole Williams
My experience with kraft-Sussman Funeral Service was great everyone that I spoke with was very caring and helpful and I would recommend their services
3 months ago Anne Pinkerton
Aaron and the staff made the process a lot easier to deal with under the circumstances. Attention to details, their ability to make arrangements quickly and answer all our question was great.
5 months ago Hershy Noe
Kraft-Sussman was absolutely the right choice for our family. Every person we met during the process was warm and sensitive. Zoe Baicher was our main contact and I couldn't have asked for a lovelier person to help me during such a difficult time. Her caring demeanor is genuine and that made a meaningful difference to me.
6 months ago Chukanaa Tsenddorj
The people at Kraft-Sussman really made our experience as smooth and comfortable as possible. Zoe is extremely knowledgeable and the utmost professional; she took care of our every need. Her colleagues were equally as helpful in her absence. They all made an emotional process a little bit easier to manage. I definitely recommend Kraft-Sussman.
7 months ago Lavece Smith
They made a difficult process as easy and smooth as possible. Compassionate, genuine, prompt, reasonable - consummate professionals. Give them my highest recommendation.
6 months ago Carolyn Boyington
From the initial consultation with LaKeshia to the day of the service everything was handled with care and dignity. The staff was wonderful and very accommodating to our family and friends. The smallest detail was discussed and examined from Social Security obligations to the death certificates, the cremation arrangements and even the internment into the Veterans Memorial cemetery in Boulder City. The selection of memory cards, flowers and even Zoom participation was discussed. At those times of great sorrow the staff at Kraft-Sussman were sympathetic to the needs of the family members making the decisions. Excellent.
10 months ago Gray Wilson
They were very compassionate and responsive during our time of need. We felt very comfortable entrusting them with our family members' final arrangements on three separate occasions over the years and highly recommend them. These are very difficult times but they made the entire process much less stressful.
9 months ago Lanka Thilina
At a difficult time, Laura showed compassion and concern and quickly handled every detail. So grateful for everything she did to make the process easy Would highly recommend to anyone
2 days ago Emily Causey
I really appreciate the caring and kindness from the staff. I worked primarily with Laura. She was very professional and responsive to my needs in a very difficult time. I am pleased with the aquamation form of cremation they offer. It was new to me and seems to me a better way for our environment. It is my plan to work with Kraft-Sussman to plan ahead for my own end of life as soon as the loss of my Husband has softened a bit. Fran Brown
10 months ago K P
Laura Sussman is amazing in your time of need. She was there every step of the way for us before and after.
3 months ago William Aultman
Aaron Forgey and his team were unbelievable. Such a kind and compassionate group of people who were there for me when I really needed it. Aaron not only helped with my father's final arrangements but he also attended his service which was unexpected and so appreciated. Aaron and his team were upfront and respectful of what I wanted and didn't try to push anything extra on me. I definitely trust and highly recommend Kraft-Sussman to anyone looking for funeral and cremation services.
8 months ago Jacqueline McElrea
Very good experience working with Kraft-Sussman, especially with the added complexity of coordinating with an out-of-state funeral home. They were very attentive, responsive, professional, and empathetic.
5 months ago Ernesto Romero
I had an amazing experience with Kraft-Sussman. From the initial phone call my sister - in - law had with Alexis, to the first time I walked in the doors. Everyone was welcoming & comforting. Alexis took care of us & was great. He explained everything to us, thoroughly. Answered any & all questions I had. It was overall a great experience & I highly recommend them to anybody in need.
1 week ago Alfred Johnson
Kraft-Sussman did a wonderful job on both my parents funerals. They did everything they could to make a difficult time less stressful for us. I highly recommend them!
7 months ago Shane Thomas
Did a tremendous job supporting the family during a difficult time. Thanks.
3 months ago Howard Chaney
Aaron and the team were so helpful in a very difficult situation with the passing of our father. He and the team were caring and so flexible in helping us deal with all the things necessary for this event. Hate to say but I will use them again when that time unfortunately comes again.
8 months ago Penny Graham
Kraft Sussman made a very difficult time an easy experience. Aaron was extremely helpful as was everyone I spoke with. Their caring and concern was amazing and there follow-up is appreciated.
9 months ago zoran g
During the worst time of my life, Kraft-Sussman was there for me. My husband passed away in August and due to Covid restrictions, he died alone in the hospital. Zoe of Kraft-Sussman kept me informed as to when my husband was picked up from the hospital and called me again when he arrived at the Kraft-Sussman facility, even though it was very late at night. I went to Kraft-Sussman the next day and met with Zoe who patiently explained everything to me and helped me through the paperwork and ordering the death certificates. I also met Laura Sussman, who was very kind and compassionate. I highly recommend Kraft-Sussman to help you through the difficult time of losing a loved one.
1 day ago
Popular places from the category Funeral home