Siebke Hoyt Jewelers
Jeweler Siebke Hoyt Jewelers, 4800 1st Ave NE, Cedar Rapids, IA 52402, United States:
220 reviews
of users and employees, detailed information about the address, opening hours, location on the map, attendance, photos, menus, phone number and a huge amount of other detailed and useful information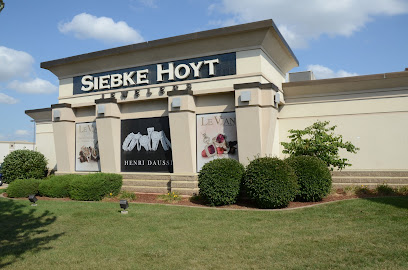 Address:
4800 1st Ave NE, Cedar Rapids, IA 52402, United States
GPS coordinates
Latitude:
42.0265071
Longitude:
-91.6211010
Location on the map
Reviews Kevin Hargus
Great, personalized service! You can walk in whenever and get fast service. Clayton and all the ladies there have been amazing to work with. Clayton helped my husband and I pick the perfect engagement ring setting for two heirloom diamonds …
9 months ago Timmi Kimball
As a wedding planner, and a Siebke Hoyt bride - I love working with them so much! My wedding ring was custom designed at Siebke Hoyt, I referred my brother to them as well as all of my wedding planning clients! They're so fun to work with, and they're dog-friendly, which isn't something you see at jewelry stores very often!
9 months ago Marley Leandro
We were blown away by the amazing customer service at Siebke-Hoyt. Cate stayed late after closing to help us. Fast, friendly. Wouldn't go anywhere else in town!
8 months ago Anita Caine
Immediately greeted upon entering the store and directed to the jewelry I had seen on Facebook. Walked up to cashier and able to talk to someone about resizing of rings. All were friendly and helpful!
8 months ago Lynn Snively
I couldn't be happier with our experience at Siebke Hoyt! My, then boyfriend now husband, and I had previously visited a few chain stores while engagement ring shopping and were completely turned off by the experience. Within moments of …
6 months ago John Swick
Always hoped I'd be able to walk in this store to get customer service for my wedding! You are welcome to friendly faces. And a beautiful building. I dropped off my ring to get sized and it was done in under 24 hrs. I was delighted. So thankful.
10 months ago Sara Wilder
My better half and I were there to look at mother's day gifts for her mom and grandma. Maddie helped us. While not purchasing directly in person, were ordering from the on line. It was a beautiful store with great jewelry. We WILL most …
9 months ago TREGAROT Idriss
I'm pretty satisfied with this local jeweler. Only disappointment I had was once I purchased the ring I got on the mailing list which almost Ruined the gift surprise with my fiancée ;) but Im very impressed with the professionalism of their store! I highly recommend this place!!!!!
8 months ago Jovana
The best Jewelers in town. Repaired a lot of jewelry for me. They're the BEST!
8 months ago clara aikins
Siebke Hoyt employees were beyond helpful when I was trying to figure out my ring situation. They took their time with me and not once did I not feel like I wasn't important in their store. They went above and beyond even when my son was …
3 weeks ago Mohamed Diallo
There is no one better than Siebke Hoyt!! Everything is flawless when it comes to communication, quality of jewelry, prices and overall customer experience. Joe and his team are truly a magnificent team and I wouldn't buy jewelry …
9 months ago Debi Smith
We worked with Joe on a custom wedding bands for my husband and I and had an amazing experience. Joe was very knowledgeable and communicative as we worked through the process (so was Dawn!). Joe took his time to answer all of our questions …
11 months ago Sarah Neville
I have always loved going to Siebke Hoyt-from my first 'adult' purchase at Westdale Mall when I was 15, to our wedding sets, and all of our other jewelry needs. Not only is the quality consistent and trusting; prices are great! Though what …
6 days ago Burkhard Streit
Unique quality jewelry with varying price points. Excellent Service!! Do not miss visiting this locally owned business!!!
9 months ago Quynh Dang
I had 2 rings repaired and got them back before the due date which was a nice surprise. My rings look fantastic. I am so so happy with them. I will be a loyal customer forever. The staff was professional and very friendly. It was a great experience.
11 months ago Isaac Aronow
Absolutely the best jewelry store in the area! The staff are great! They are knowledgeable, professional, and personable. I had a custom piece made by them and it exceeded my expectations! If you want a simply unique piece of jewelry with great customer service I'd recommend Siebke-Hoyt Jewelers in a heartbeat.
11 months ago Timothy Gaughan
My husband and I love Siebke Hoyt! This is where you go for amazing service and great quality jewelry. We will never buy anywhere else.
10 months ago GAVIN SMITH
Friendly, helpful staff and did a great job fixing my ring and evaluating another one. Honest recommendations. Will always go back to them for repairs or to purchase anything new. Cate was super to work with. Thank you!
10 months ago Rachael Langin
I brought two rings to Siebke Hoyt to repair scratches when I took a tumble. They really did look pretty rough. I got them back today and both shine like new - I couldn't be more pleased.
8 months ago laurie vinal
Dawn has always been very helpful and her customer service is awesome. She always has gone above and beyond to make sure I am taking care of. I highly recommend her to help you with any of your jewelry needs.
11 months ago Martin Henderson
Only giving 5 stars because google doesn't have the option for 10 stars! Siebke Hoyt is the place I recommend to all my friends and family! They will take care of any needs you have! Great place!
11 months ago Vickie Fentz
I went in to order a custom bracelet and they got it made and ordered in a very timely manner. Dawn was very helpful and able to answer any questions I had and even made sure the words were in the correct order. I will definitely be going back if I need any jewelry work done in the future.
2 weeks ago Laurel Hollins
Great service....glad to have my ring appraised. In the mean time the cleaned my other rings while I waited. Thanks Angie
9 months ago HTM
Knowing just enough about what I wanted, Joe was amazing at helping me refine my decision & getting me an even better choice than I had hoped for. Fiancee was beyond happy. Thanks again, Joe!
11 months ago April Eaton
As usual, I was made to feel welcomed and comfortable on my last visit. It is always a pleasant experience to walk into Siebke-Hoyt.
9 months ago silvya manquero
Really great customer service. This is where I go to buy jewelry....plus they have good watch adjustment services
10 months ago Bryndis Curtin
We were in and out quickly, great customer service, and they cleaned my fiancee's wedding ring (even though we were there to get a different ring resized).
10 months ago Amos Waranch
Excellent service, good work, and very friendly. Plus my car's battery died out front and as soon as I popped my hood up, two employees came out to help and jumped my battery. Talk about your full service jewelry store.
10 months ago Jennifer Doyle
Took my Cartier Ring in to make it look new again. They did a wonderful job, got done fast and employees were great!
8 months ago Rasha Mahamed
I live in Colorado but I am from Iowa and wanted to take my mother for a second opinion. We went to a bunch of different jewelry stores around Iowa. In a lot of stores they would tell me what I wanted, ignoring what I was looking for …
1 month ago Yesha shah
Small town feel & they always remember your name! They make you feel like your their customer for life! Had a special request & they went above & behind to make it happen! I am in sales as well & they get that a sale is never complete! Thanks again Dawn & staff! Mike & Tina O'Brien
1 month ago Kim Brown
Love doing business at Siebke Hoyt Jewelers.. just always have the best service and Joe always seems to know just what I am needing!! Great service and great business!
10 months ago Susan Fly
I took my rings in to get resized. I hadn't wore them for two years after my daughter was born. The whole process was seamless and the folks Seibke Hoyt were amazing to work with. I was told 3 weeks and they called to say it was ready after a week and a half! Thank you Seibke Hoyt!
9 months ago Tom Jedli
The staff at Siebke Hoyt made my experience so pleasant. I needed to exchange a necklace, it was easy. The staff gave me different options when looking for that perfect replacement. I would highly recommend.
3 weeks ago Jouliya Mourzova
Everyone at Siebke Hoyt is very helpful and friendly. They offer great deals all the time and great products. Other places don't take care of you the way they do at Siebke.
11 months ago ME D
They were so helpful not only in helping me find a gorgeous ring in my budget but also helping me to find a ring that I absolutely love!! Thank you!!
9 months ago Carolin Oelschlegel
I buy lots of Jewelry from here and Julie, Dawn, Megan, and Joe are AMAZING! So Helpful!
9 months ago Seth Mcclanahan
My fiancé and I walked in with no idea what we were really looking for; he needed a wedding band. The gentlemen that assisted us was incredible. As soon as he saw us he gave us a warm welcome, asked us if we needed any help, and then …
10 months ago Julie Sattler
My husband and I had a ring custom made for our 20th anniversary. It was gorgeous! Unfortunately, the band broke only a few months later. Siebke Hoyt sent it back to the maker, had it fixed, then sized it perfectly for me, all at no charge and within 2 weeks! Great customer service; which is hard to find nowadays.
2 months ago Amanda Grace
Everytime that I have stopped in they have always been professional, courteous, and pleasant to work with. Tess helped me with a warranty/sizing question and handled it quickly and helped me feel at ease leaving my beloved wedding ring.
6 days ago Amanda Morrill
Joe is THE BEST jeweler I have ever had. Creative, amazing styling, fair prices! Worth the effort to go to Iowa from NYC! He is amazing!
6 months ago Richard McFee
Great service! Always a good experience with them. Clayton Hoyt help me find my perfect engagement ring and wedding band.
2 weeks ago Krystal Melton
Had three rings repaired by adding stones and resizing. Beautiful job. Took 3 weeks tho.
9 months ago Tinamarie Lazalde
I have used Joe Hoyt at Siebke Hoyt for the past 4 years. From custom designed rings and bracelets, to new stud earrings, there has been nothing they can't accomplish. Living out of state the communication and easy of transactions is …
5 months ago Alondra Garcia
Wonderful customer service. I love that you can place a custom order.
10 months ago Jon Ehred
My ring was fixed completely and quickly. I trust SH with my fine jewelry.
11 months ago Andrii Azaiev
Always very kind and helpful when I've gone in. Jewelry is absolutely beautiful as well!
10 months ago Eric Walker
Excellent customer service! Thank you so very much!
8 months ago June Lite
Employees are very knowledgeable of the products and are very respectful! They genuinely want to make you happy!
6 days ago Clarke Thomas
The ONLY place for fabulous jewelry! I always feel so welcome - the staff are seriously exceptional. So helpful, knowledgeable, fun and sincere. A huge variety of jewelry at all levels. Megan has been amazing at helping us, as all the staff always is!
5 months ago
Popular places from the category Jeweler