Vaporized Bridgeton
Vaporizer store Vaporized Bridgeton, 12158 St Charles Rock Rd, Bridgeton, MO 63044, United States:
184 reviews
of users and employees, detailed information about the address, opening hours, location on the map, attendance, photos, menus, phone number and a huge amount of other detailed and useful information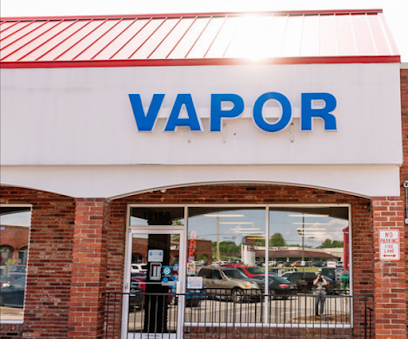 Address:
12158 St Charles Rock Rd, Bridgeton, MO 63044, United States
GPS coordinates
Latitude:
38.7495593
Longitude:
-90.4261029
Location on the map
Reviews GREY WOlf
Clean, organized, friendly and knowledgeable employee; I was in and out in 10 minutes. I purchased an awesome yet user-friendly vape mod and "juice" (peach flavor). Love it!!
7 months ago Hussain Raza
I went in yesterday because unfortunately my rig got stolen. The employees are very welcoming and very well versed in the large variety of vapes. They have all kinds of flavors i purchased something cool and very good quality while i think …
10 months ago charles young
Ok store but never open on time. I'm here in the parking lot waiting. They do have good prices.
6 months ago Kayla Neff
What an excellent experience for me. The shop is clean and well organized, the gentlemen helping me were very accommodating - even made up a special mix [which they can do for anyone] to try and then GAVE it to me! Easy access off St. …
7 months ago Jose Olvera
Staff was great and they carried the exact coils I needed,,however I don't recommend to many of the house juice they taste like your chewing on flowers.
8 months ago matthew dingus
Great disposable electronic cigarette options. I enjoy that they have multiple locations as well!
9 months ago Ryan Shelton
Wanted to try this shop because my regular place was closed. Such a disappointment
7 months ago Umair Waheed
They sell juice that has not gotten FDA approval. Just being greedy and putting people at risk. They used to be my favorite.
6 months ago Justin Savickis
The guy was the definition of a bad salesman with no customer service skills what so over I will not return to spend any more or waste any of my valuable time
7 months ago Dawmella Fortier
The always take care of mixing the juices my wife prefers.
10 months ago mary gould
Bad aura and bad service only thing I walked out with was more stress
7 months ago Sue Wentworth
Do not do business with this store. They sell a measly $13.00 defective vape and the next day when I try to exchange no way. No even exchange just accusations from where I charged it to being frozen on a 5 minute drive....etc. Very sad and a disgrace to Bridgeton.
10 months ago Mela Terese
Initially walked into store did notice Master mandatory sign before I could even ask the gentleman if they had masks there he told me I needed to leave the store cuz I don't have a mask when I asked him do you have mask he told me no it's …
2 months ago Alexis Heyn
I want to like this store but I always get frustrated them.
7 months ago Amber Wilson
Great place to get your juices and if you want you juice made they got you but i love this place
6 months ago Vi Jack
This is our home store they always treat us good
2 weeks ago Kara Gaines
Awesome . They are very informative and helpful and I appreciate the business
1 month ago Diana Patterson
Good knowledgeable service. Decent prices
1 month ago JC Patrick
Shout out to Dan who took care of me today! I called ahead for 100ml of juice and he had it ready by the time I got there. Super friendly and professional. The shop looked great and I can't say enough about the service. I'll definitely be back! ????????????????
10 months ago Daricka Wilkins
I called to see if they had my coil. Drive 10min and they don't have it. Thanks for wasting my time.
7 months ago hisham nazir
I vape CBD, and have found the best prices here. Also, recently, my battery died, and I had my eye on a multi chrome battery on display. I also bought two cartridges for my CBD, and the person helping me gave me multi chrome cartridges! …
4 months ago Catherine Keenan
This place is great and the prices are great for a physical location. I like it here a lot and will frequent this place often.
2 months ago karen allen
Great pricing. Strongly suggest 3 for 20$ deal on house juices. Good selection and mix of choices. Staff was knowledgeable and polite. Fixed my girlfriends battery instead of just making us get a new one.
7 months ago Arunkumar GV
Scott helped us and was very helpful! Wonderful store front. Very clean and great selection!
7 months ago Benjamin Fallon
First time customer, and will make this place my shop going forward. The gentleman that answered the phone was wonderful, Rachel B was outstanding with answering questions and making recommendations. 5 star customer service!
7 months ago Carolina Brito
These guys are freaking awesome cool beans in the Jean's, the greatest store in the history of stores.
4 months ago Jeff flores
Jayson B is an awesome employee for helping with the issue I had! I bought a smaller battery the morning of April 22 and started charging it with the micro usb port for a few hours and sadly it didn't charge the slightest bit. Went back to …
7 months ago Joe Cantabrana
What an amazing place! The staff especially Beth, are amazing and know what they are talking about. They have given me such great advice that I will no longer go to any other vape shop....bookie advice.... but now only come here. The amazing flavors and selection will blow your mind.
6 months ago Diana Kirby
My go-to vape shop. Highly recommend Havok vape juice. The best imo!
6 months ago Jamie Chell
Good vape store
11 months ago Semo SYUS
Very pleased with the Bridgeton location. Treated with respect and compassion by Lindsey and other staff. HIGHLY RECOMMEND
6 months ago Lydia Griebell
Cool place to get vape supplies and juice.
6 months ago Laila Khan
Joel was great. Staff is very helpful
7 months ago Calena Bates
just recently I bought my tfv12 Prince tank there love it btw . great prices and great quality
1 month ago Gerard Dias
Want safe vaping juice? American-sourced, USP-grade ingredients await you at Vaporized. The great customer service is also appreciated. They offer excellent rewards for faithful customers.
9 months ago Jill Free
Always friendly and helpful here. And, great prices.
2 weeks ago Brad Egeland
The juice prices are great, and the staff is always very helpful and knowledgeable when you need to buy a mod or tank.
7 months ago Jonathan Vu
Love love this store and staff so friendly and knowledgeable. A great E -Smoke.Great flavors.
7 months ago Darian Richardson
Decent priced home brew with inconsistent flavor quality. Tanks and coils are priced higher than local competitors. EDIT: Giving another star since I keep going back, The juice is awesome I just wish it was more consistent in flavor.
9 months ago Dave Groves
Very helpful associates, awesome clearance section, great find in general.
8 months ago Osama Zia
On vacation with my fiancee checked out this small shop it was nice and very organized and friendly staff to help us with what we need now we know they have a website with some of our favorite juices with free shipping!! Really recommend them!!
10 months ago Mary Futch
This store blows every other store out of the water. If you're looking for quality products, great prices, and AMAZING customer service... This is the place for you. I refuse to go anywhere else.
11 months ago Kurtis Simon
My personal go-to shop for juices and coils -they even add nicotine to juices that don't have a specific percentage, making it more personalized. However I always seem to see a change in staff on the regular which kinda disappoints me...
2 weeks ago Dana Ploof
Quick service & exactly what I needed. Good price too. Will keep in mind for future needs.
9 months ago Zhenya Mkln
Not bad
1 day ago Jodi Abington
Very friendly and very helpful people working here. I had a lot of questions and got answers to all them questions. Prices are reasonable. I will definitely be going back.
1 week ago SanraS Uzumaki
Dan and Joe at up Vaporized in Bribgeton are absolutely hands down the best salesmen in a vapestore I've ever talked to. They're very knowledgeable and helpful with fixing any problems you may have with your mod and tanks and take the time …
7 months ago Jessica Kallert
First time customer. Very relatable and educated staff. Super helpful. Pointed me in the right direction and didn't try to get into my pocket. Very relaxed environment. Recommend to anyone. Definitely going back!
4 months ago Shariff Hunter
Extremely helpful and not afraid to joke around or have fun with their customers.
6 months ago Xuan Shao
I bought a vaporizer here...about 4 mos ago...and it has gone out already...I plug it on the charger...and it doesn't charge...I just called the store...Calvin and associate hung up on me...and the manager wasn't helpful at all...this is my …
11 months ago
Popular places from the category Vaporizer store