Cancer treatment center City of Hope Comprehensive Cancer Center - Duarte
Cancer treatment center City of Hope Comprehensive Cancer Center - Duarte, 1500 E Duarte Rd, Duarte, CA 91010, United States:
153 reviews
of users and employees, detailed information about the address, opening hours, location on the map, attendance, photos, menus, phone number and a huge amount of other detailed and useful information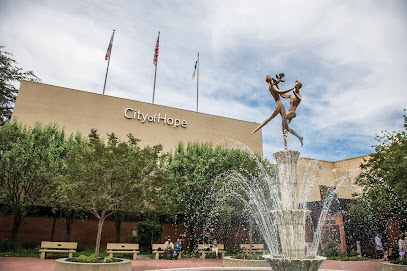 Address:
1500 E Duarte Rd, Duarte, CA 91010, United States
GPS coordinates
Latitude:
34.1298507
Longitude:
-117.9707722
Location on the map
Reviews lalo villasana
I pretty much grew up in this hospital... throughout my childhood my dad was battling leukemia and then pneumonia a few times. The doctors at Queen of the Valley Hospital gave him 2wks to live before we took him to City of Hope! They NEVER gave up on my dad and saved his life!!! I am forever grateful and thank God for blessing us with such amazing doctors and staff at City of Hope!
2 months ago Nay Hetfield
City of Hope saved my brother's life. He had a very difficult cancer and has been in remission now for 4 years. Unbelievable work being done there. Thank you City of Hope.
9 months ago Irene Ho
The best MDs, RNs and scheduling staff I have ever encountered, particularly Drs. Gernon and Masserelli. Courtesy, efficiency and care for the condition with frequent consultations on treatment. Old, non-profit hospital concentrating on cancer and diabetes.
1 month ago Noah Bisaga
Nationallyband internationally recognized cancer treatment center
11 months ago Mike Sorenson
The best care patients get
11 months ago JD Hilzendager
Friendly staff, lots of parking, valet parking. You can eat at the cafeteria or the Bistro. Plus they have a Starbucks. It sucks if your or your loved ones need to go here, but at least your treated well and nice environment.
2 months ago Justin David
COH saved my life. Best Doctors and staff. Kudos to everyone at COH.
11 months ago copsman
EXCELLENT DOCTOR!
7 months ago Talisha Bailey
This Hospital blessed me and my family by letting me come to the city of hope and I had my BMT transplant 31 years as of April
5 months ago Lissa Marinaro
The Doctors, nurses and staff are all wonderful and caring people, helpful, friendly and enthusiastic, They love their job and excellent at it, This place saved my wife's life and many others.
5 months ago Mensah Thompson
Gracious staff everyone is very well spoken and loves doing their job.
8 months ago Linda Jones
Hello my name is Adrian Brito, I use to donate some charities, like city of hope. But recently a friend of mine visit the hospital in city of Duarte , and it was an horrible experience for her because they did not want see her even not get in the hospital, because she did not have money , they charge 1500 dollars just to see doctor . And my friend has a sister who has been donating to the hospital for many years. THIS HOSPITAL JUST PROVIDE CARE TO RICH PEOPLE LIKE MR. TRUMP.
1 month ago Michael Milligan
EVERY HOSPITAL SHOULD BE LIKE CITY OF HOPE. AND EVERY HOSPITAL SHOULD LOOK AT COH's PATIENT QUALITY CARE AND IMPLEMENT IT AT THEIR HOSPITAL.
10 months ago Joe Bo
My mother died on July 27, 2016 of a brain tumor. Here's my experience with the illustrious City of Hope; draw your own conclusions. In early July 2016, I was desperate to get my mother some help; she was diagnosed with a Stage 4 brain tumor and time was of the essence. I called City of Hope asking for inclusion in a clinical trial that I had identified online (we live in Las Vegas, NV). I was coldly told in no uncertain terms that the cutoff age was 76 (my mother was 83). When I repeatedly tried to obtain a phone conversation with a doctor (vs. the front-line clerks), Dr. Maryanna Koczyuas spent about five minutes with me and again coldly told me City of Hope charged $736 for a 60-90 minute consultation but that she could not see my mother at all without a previous biopsy of the tumor (a process that would take about 5 weeks, time that she didn't have according to her Las Vegas oncologist). Any clinical trial inclusion was out of the question. I had been told by a former work colleague that City of Hope cherry-picks its patients, ensuring that its cancer survival statistics stay high. I saw in July 2016 exactly how that may play out with desperate people in dire medical straits.
5 months ago Angela Metzger
Everyone is extremely kind, compassionate, skilled and helpful. I feel blessed to be with City of Hope. I know that I'am on good hands. Thank you, City of Hope.
1 month ago Hadley Corporon
Staff and facilities are all great. Volunteers to take you to the appointment are a great idea
9 months ago Rahul Kumar
Such wonderful and giving staff on the pediatric floor. Best hospital I've ever been too Very clean!
8 months ago Bill T
I always have the best experiences when I come to City of Hope. I have never encountered such a dedicated, caring and professional staff. Thank you City of Hope for all the amazing work you do in saving lives, especially mine!
3 months ago Jomarie Kilian
My dad has received excellent care by the most professional providers. We are so thankful for COH!
1 month ago Oliver Palma
Saved my life or a least made it a little longer because I'm still here enjoying life with my loved ones and still breathing!!!
9 months ago Demos Ioannou
Easy going low stress hospital with an excellent staff and cutting edge treatmen's not available most places.
10 months ago Ujjo Jay
Wonderful place such of wonderful caring stuff and Drs. The best hospital you can go I'm been going there for over 12 year for breast cancer thank god i was there on time thank God and to all the Drs and nurses for all their kindness
9 months ago Sara Iverson
Very compassionate cancer care facility. Wonderful team!
6 days ago Darktechi Network
The Wold Leaders in Cancer research hospital Beautiful campus and wold class care & service.
9 months ago Kannan Ramasamy
Wonderful volunteers and staff, great facility and the best care you can ask for
11 months ago Abbas ramadan
I can't imagine getting better care than provided by City of Hope. I've been a patient with several hospital stays and over a hundred in-patient visits over the last 5 years (Multiple Myeloma & Leukemia). The only significant problem has been finding a vacant hospital room for stem cell transplants.
5 months ago Missy Abbott
The Ciy of Hope is a life saver. The bone marrow transplant I received at the City of Hope saved my life. They are experts and will do what they can. They offer a team approach and the entire team really focus's on the patient's individual care.
5 months ago Natasha Godbold
The security staff is very professional, proficient.
5 months ago Gloria Tucker
Well trained staff nurses, labs, radiology, Doctors front desk, volunteers, everybody very helpful, but do your home work ask questions labs side efects alternative meds.
9 months ago Steven Powell
My dad is going there for his stomach cancer...and Dr. Joseph Cho is just an amazing doctor.
2 weeks ago Denny LI
Cancer hospital, not the most upbeat place but they have AMAZING FOOD! Never said that about a hospital b4!
1 week ago michael wells
This hospital has helped 4 members of our family... Best ever
4 months ago Yaro
WOW CITY OF HOPE NEVER GAVE UP ON MY MOM THEY WERE NICE BUT MY MOM DID DIED ON 8/25/13 THE CANCER WENT TO HER LUNGS BUT CITY OF HOPE TRIED EVERTHING THEY CAN THANK YOU FOR EVER THING YOU GUYS DID FOR MY MOM MISS YOU MOM SO MUCH LOVE YOU :(
4 months ago Jessica Jordan
I wish to thank the surgeons, nurses, anesthetists and staff of C of H in Duarte for performing a successful total male urethrectomy on me this November 16th. I am cancer free now and recovering splendidly. I especially wish to thank Drs. Wittig and Chan for their professional perfection for what was a daunting experience for me. God Bless all of you.
9 months ago Rahul Verma
I have breast cancer; but my tumor wasn't in either if my breasts it was in a lymph node just above my collar bone. I saw Dr Vito at the Arcadia , City of Hope office. I was so scared I'd have to have a surgery . Beast remove'd and tumor too ! Dr Vitro wanted to run tests and Waite a bit to see results first then deside the next step. So after 3 byospys and many scans, ultra sounds, PET scans she decided not to operate. I did have chemo and radiation treatment with City of Hope, Pasadena. I'm still in treatment and felt I had the best of care from all the Dr's who treated me. My tumor is gone and I've completed my chemo and radiation therapy. I have a wonderful support team at home and that's everything. They keep me fighting and with a positive attitude and a new diet I know I'm make it ! Once you have cancer it's never really gone, just on vacation so I'll keep a close watch, eat right and encourage friends I've made during my treatment to keep fighting along with me ! Thumbs up my friends!
1 month ago Brian Willett
The city of hope gave MY very dear friend lover another chance HOPE thank you DRS staff nurses from ernest trujillo and kristopher condon
1 month ago Stefanie Turner
This a a great research hospital.
7 months ago Suzi Sauvage
One of the finest hospitals in the world! Papa Dan
11 months ago Glenn Taylor
They're taking great care of my mom!
1 month ago Camille Dunoyer
Dr.Yuman Fong is a world class surgeon. He was caring and completely trustworthy. He performed whipple surgery on my father who had pancreatic cancer. My father recovered in 8 days and is doing wonderful. He was back to normal in a few weeks. He lost weight but that is to be expected. He is 81 years old. The entire hospital staff were professional and kind. The facility is the best that I have seen. We were at UCI hospital before but their surgeon treated my dad like a piece of meat. I am so glad that he did, because we found Dr. Fong.
5 months ago Alycia Pascoal
Was diagnosed with Multiple Myeloma in 2009. Thanks to Dr.Pullakat and the team of doctors I am doing pretty good.Special mention about the nurse that gave me hope before BMT-she held my hand all night talking to me to"you will be ok, don't give up ",while I was almost letting myself "leave this world ". Wish I knew her name.
4 months ago Lukas Fanders
They should call it The City of Hopeless. This review has nothing to do with treatment. I never got that far... I have a disabled relative diagnosed with lung cancer approved by her insurance for further evaluation and treatment at the City of Hope. Thought that was all we needed. "Do you have a biopsi?" "No, but the primary care physician who is a pulmonologist (lung specialist) has diagnosed her with a scan on her lungs, etc which we provided for you." "Sorry, we can't can't help you without that biopsy". "Don't you guys do your own biopsy and evaluation work up?". "Sorry we can't help you without a biopsi". "It has been five weeks since she was evaluated, can't you just see her and do the biopsi?" "Sorry we can't see her without a biopsi". Is this messed up, or is it just me? They wasted a good week of the patient's treatment time with kind of B.S. Crappy communication. I shared this with two other physicians who agreed there was really something wrong here.
7 months ago Ike Webb
Exceptional care and treatment for breast cancer!
7 months ago Roberto Clariond
Everyone here is so niceeee, love this place ????
11 months ago Amy Hall
Great Facility ,Service ,Doctor's,and You Feel Peaceful walking the Beautiful Gardens
5 months ago Eli Hamann
Caring staff, excellent medical treatment in a referral center
8 months ago La Mode
Excellent customer service, very considerate of patient privacy...
1 week ago Johan Halvorsen
Treated my guys cancer but not the whole person. Sent him home alone to a hoarder house immediately after surgery. Ignored his depression, a normal occurance with cancer.
9 months ago ravi kavita
????️Beautiful place.✝️ Bless all these patients that are here.???? Staff super helpful. Picked up my cousin with Leukemia here
1 month ago dlm fts
God bless this place and all the docs
11 months ago
Popular places from the category Cancer treatment center